Remember when Apple announced at the Worldwide Developers Conference in June this year that it would require developers to disclose to customers the privacy practices of their apps by the end of the year? Today, app privacy shortcuts will appear in all Apple app stores, including iOS, iPadOS, macOS, watchOS, and tvOS. The privacy methodology will be presented in the form of a summary that appears on their app's product pages in the App Store.
The new rules must be followed by those developers who want to submit a new app to the App Store or update the existing one.
Apple's new privacy policy is intended to help users understand what information the app collects in three categories: data used to track you, data associated with you, and data not related to you. All of this data is used by developers to generate revenue. It is done using third-party advertising and analytics SDKs (software development kits) embedded in the application code.
But all the information collected is personal information tied to your identity through your account in the application, your device, or other data.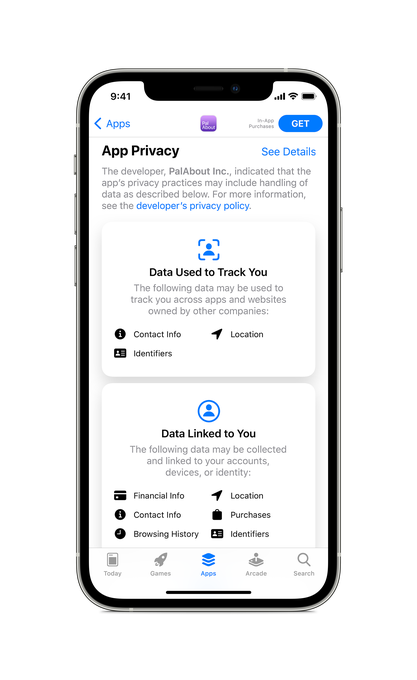 So, let's look at what data applications can collect today:
personal contact information (such as an address, email, telephone, etc.);

health and fitness information (for example, from the Clinical Health Records API, HealthKit API, MovementDisorderAPIs, or health-related human research);

financial information (such as billing and credit information);

location (precise or rough);

contacts;

content (e.g., emails, audio, texts, gameplay, etc.);

browsing and search history; 

purchases;

and much more.
The company implies that the developers will talk about what data the application collects and how this data will be used. It is not uncommon for the collected data to be passed on to a third party to display targeted ads in an app, using the data for retargeting users in other apps, measuring ad performance, etc.
While a developer must disclose information when it collects data from Apple frameworks or services, it is not responsible for revealing data collected by Apple itself.
The new requirements will not include feedback forms or customer service requests. But otherwise, the developers are forced to reveal absolutely about the information that the application collects. Notably, Apple apps that are not in the App Store will also have privacy labels posted online.
Also, applications will need to include a link to their public privacy policy, and the company can also provide clarifications on collecting user information if desired. You can find privacy information on the app's page in the form of reading tabs that explain what data is collected under various categories, starting with "data used to track users."
Apple says it will not remove apps from the App Store unless they include this privacy information, but no longer allows apps to update until their privacy information is specified. It means that eventually, all applications that have not been closed will contain this data.
The decision to implement such transparency for users is a big step. This year, we have seen the US antitrust committee and Big Tech companies debate for hours over whether they are profiting from users' personal information.
Although there are pitfalls in this matter, and if you look deeper into the case, you can see that Apple is promoting its policy in advertising technology. As an example, the company is forcing the Adtech industry to switch from IDFA to its SKAdNetwork. Time will tell how regulators will react to this. Will they believe the App Store is exhibiting anti-competitive behavior towards third parties?
In the meantime, Apple has relieved regulatory pressure by cutting App Store fees to 15% for developers earning less than $ 1 million.
It's hard to predict consumer reactions to new privacy labels right now. There is a chance that applications that collect too much data will see a decrease in user activity, as many users are quite careful and try to avoid such software products.
For more information on Apple's privacy policy, visit the new Apple.com/privacy website, which includes not only the App Store changes but also lists every other area where Apple protects consumer privacy.
As a company in which mobile development is a mainstream business, we have vast experience creating applications and submitting them in the App Store. We recently published an article based on our expertise in preparing your application for submitting in the App Store.
We know how to build an application that meets all of Apple's requirements
Want to create your iOS app?