Amazon is expanding its range of services today and is introducing Amazon Explore. Thanks to this service, customers will order a product overview, a specific location tour, and much more online in real-time. A local expert will host any event. What new can you learn or even get with this service? Creative DIY workshops and lessons, virtual tours to distant places or cultural attractions, or in some cases, shopping at local boutiques from around the world.
Unfortunately, while the service is only available for subscription in the United States, Amazon promises to expand its geography soon, as tours and events offer the opportunity to travel the world virtually.
As we mentioned, virtual tours and training will be led by local experts trained and supported by Amazon. This experience is not the only one available for virtual travel. You can watch a video on YouTube or walk the streets of cities through Google Earth. A distinctive feature of Amazon Explore is communicating one-on-one between the presenter and viewer in real-time. Such an opportunity should give the client new user experience and provide the feeling of real "presence" compared to the experience when you passively watch videos on the screen.
☝
The platform is currently only available in the web version. You need a Chrome, Edge, or Safari web browser, a functional microphone (built-in is also suitable), headphones, or speakers.
During some sessions, there will be an opportunity to shop, especially when visiting local stores and markets, where the customer will browse the goods and ask the store owner questions as if they were there in person. The user will then make a purchase and receive the purchased items as if they were shopping directly on Amazon.com. Upon purchase, payments will be processed through Amazon's secure payment processor, associated with the buyer's account.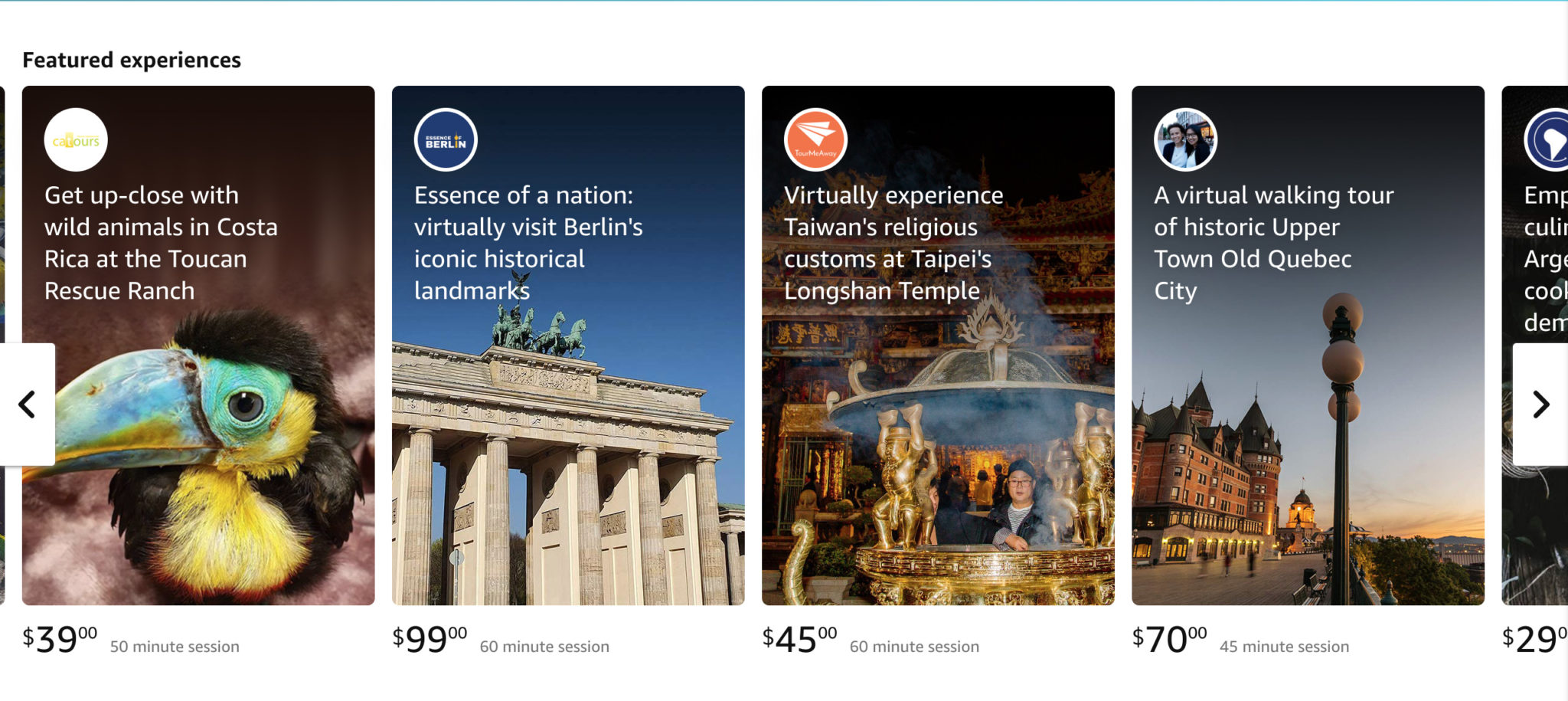 In this way, Amazon joins the live shopping trend, but instead of using famous bloggers to showcase a product like Amazon Live, Amazon Explore has people buying from people.
Though Amazon has built live-streaming tools for its Live platform, the company says the Amazon Explore experience uses unique technology.
So is the company that the platform aims to help small business owners generate additional income, especially since the pandemic has hit many businesses. The cost of the sessions varies, as does the duration. This digital solution assumes that business owners set their prices and hours of operation without complying with any set minimum or maximum prices. What commission will be charged for selling through Amazon Explore has not yet been disclosed.
Almost any business can participate in this platform. Currently, 86 interfaces are available in 16 countries, and the choice will expand every day.
When so many people yearn for travel and discoveries in times of fall, such an experience should satisfy the demand in such niches as travel, hand-made training, history, art, and much more. As a company with experience in video streaming app development, we have appreciated the Amazon Explore platform. Every day the demand for remote event organizations is growing. For example, we recently completed the project TheClub that is a live streaming app for music lovers to find and support Live DJs & Virtual Parties. The main reason to create it was 700,000 DJs globally is out of work, many with no access to unemployment assistance due to clubs and parties' closures. TheClub gives DJs, and soon other creators, the opportunity to monetize their passions via unique live-streamed party experiences of which diverse users of all kinds can enjoy.
Inspired?
Do you want to create your unique video streaming app?
Do you want to see such articles in your inbox?
Stay up to date with latest tech trends and products