This year the developers from all over the world watched Apple WWDC 2020 holding their breath. It was clear from the very beginning that something absolutely new awaits for us and we will have to adapt to those changes and make new solutions taking into account the upcoming functionality. Apple presented a lot of iOS 14 innovations like adjustable widgets, more compact Siri, improved smart house options. And we will definitely cover all those features in our upcoming posts. 
But in this article we would like to focus on one particular options called App Clips. It is predicted that App Clips will transform the way we interact with digital solutions and they will also slightly complicate the work of developers and marketing specialists. But who doesn't like challenges if they lead to better results? We do. So, without further ado, let's take a closer look at App Clips, what they do and to what things the developers should be prepared. 
What does App Clip do? 
We all got used to searching for a necessary app in the App Store. Sometimes we even can spend an hour or two exploring the categories, reviews and trying out different apps. But what if we don't have to do this anymore? Is there any way to get the exact app that you need or use a feature that you like without looking for an app or even installing it on your device? Actually, as strange as it sounds, now it is possible. Apple presented new option called App Clips that allows to take advantage of a certain app feature without installing it on your iPhone. Here is how App Clips work: a person scans a special code and gets an instant access to the necessary feature.

Image source: https://developer.apple.com
Let's imagine you are travelling and you need to rent a bike. You come up to the renting spot and see that you can either install an app to take a bike or scan a code to make instant payment and do not bother yourself with checking other app options. Of course many users will choose the first option because it is faster. But what is more exciting, if you use App Clips for the second time it will provide you with an instant suggestion, which will make renting a bike almost automatic. 
One more advantage of App Clips over usual apps is that they will not get access to any sensitive data located on your iPhone. So in terms of security this feature seems really reliable. On top of that, if you are not going to use App Clips for some time after you've tried it first (i.e. rent something or ordered food), then its data will disappear without any efforts from your side. 
Have an iOS app but not sure whether you will need App Clips option after iOS 14 release? Our Business Analyst can help you!
What businesses will benefit from App Clips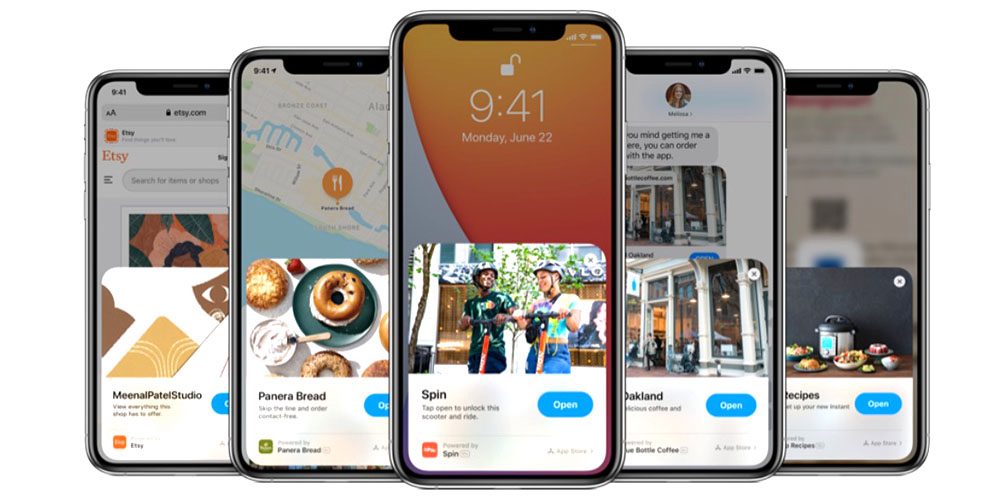 First of all we would like to mention that App Clips are going to be fully compatible with Apple Pay and Sign in with Apple option. This means that the users will not have to register or add any payment information (like credit card number) while using the app through App Clips. Users can just scan a code and pay for a good or service at once. 
Taking this convenience into account App Clips are predicted to become popular among various businesses and service providers who offer:
renting of bikes, cars, electric vehicles;

paid parking spots; 

booking tours or apartments;

buying food and goods on the go;

making reservations in busy places;

pre-ordering seats in cinema or restaurants;

making prior orders or food takeouts,

access to AR content or audio commentary (museums, art spaces, excursions). 
As there are way more businesses that can benefit from new iOS 14 option. So as you understand the possibilities are endless, because App Clips will provide a seamless way to use any app. They will combine a visual code and NFC so that any user could wither tap a code or scan it and instantly access an app. Also, according to Apple, App Clips can be set up to support multiple experiences. F.e. some restaurant apps support multiple restaurants, so by configuring App Clips in a special way it is possible to provide access to various restaurant services through one App Clip. 
App Clips are just the lighter versions of initial apps and if you already have a solution then you are lucky because you do not need to build an app from scratch and invest a lot of money in it. Basically you just need to consider adding App Clips and maybe review your code. 
Need a reliable team to do a code reiew of your app and explore new opportunities for your particular business?
Some developers' concerns
While common app users can celebrate App Clips option the developers seem worried that no one will want to download the whole apps now. We can say that there is no need to panic since this iOS 14 innovation will only allow to reduce marketing and SEO costs, since you will not have to struggle to win the top position in the App Store. 
And actually App Clips can even attract more potential app users who will end up installing your solution. For example, they can cache user selections and choices and next time that person uses App Clips, he or she will get an instant suggestion. There will definitely be changes in users behavior, however there are always good old ways to attract people to using the whole solution (like additional bonuses, loyalty programs, etc.). So there should not be any major issues with that. 
Now as to some technical aspects. Since App Clips can be called a lighter version of an app, they will require special development approach. First of all it is crucial to learn the ways App Clips can be launched by a user since there are a couple of them:
by scanning NFC tag or QR code, 

by tapping location-based nearby suggestions from Siri or Maps, 

by tapping smart banners on a website using Safari,

by following the link shared by people via Messages.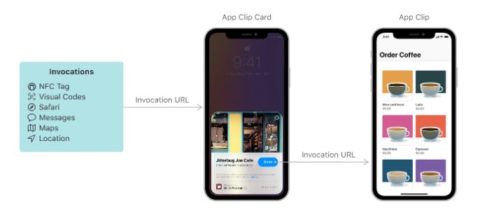 Image source: https://developer.apple.com
It is no less important to preserve some necessary go-to functionality in App Clips like option to leave a fast review, rate the place or provided services, access in-app purchases, open documentation, enable notifications, etc. But all developers should remember about size restrictions, because App Clips should weight no more than 10 MB. So many things to do and so little space to implement them. seems like a hard task but it isn't really. 
When it comes to creating App Clips, Apple recommends to follow certain recommendations. They can be found in their Design and Development Guidelines on Apple developers website. This all makes it a little bit easier to update an existing solution and it will take less time. 
It is preferable to do a code review of your app before iOS 14 is released. You may contact the developers team for that and they can also help you to update your app and add App Clips feature since it should be designed and built according to certain guidelines.
You need to ask a professional Business Analyst for an assistance. He can analyze your business niche, explore your competitors and target audience, and then let you know whethr App Clips can boost your business and add value to it.
No, because you do not need to build a soltuion from scratch. You app will require code review and creation of a lightweight version of it. It may take up to 3-4 months on average and the price depends on your app complexity.
To sum everything up 
Although iOS 14 will only be released this fall we can say that it is already influencing the development decisions. With so many great options to come more and more app owners consider improving their solutions and adding new features such as App Clips. This option is what we all have been waiting for because we value user experience and speed. 
Now you will not need to worry if you are travelling and need to use an app instantly but your Internet connection is slow or weak. With App Clips you can use any app without wasting your time on downloading and installing it. Now any desirable activity is a single tap away. App Clips are perfect for both business owners and their customers and we would highly recommend incorporating this feature into your app.
Have an awesome iOS app in mind and want to discuss its development and App Clips implementation?