Altamira's mission is to boost growth, successful scaling, and sustainable development with the help of efficient technical solutions and brave decisions. Seeing that our efforts and commitment are recognized and admitted is very inspiring and motivating. Since the end of the year is coming, we are ready, to sum up, our main achievements.
We are excited to share that Altamira has won the award for the best app design 2022, according to Design Rush's best app design awards competition. it is a great achievement.
This award was attributed to our mobile app design project – CRTL Golf. It is an IoT-powered device serving as a training tool for people eager to improve their golf-playing skills. It offers a unique way to train and improve your skills. It is characterized by absolute usability, user-friendliness, and a highly intuitive interface. 
Best design awards by design rush present certificates of excellence for powerful design solutions in various categories including:
The results are announced once a month, as a result of expert analysis and commentary. Gaining the reward allows for boosting credibility-built recognition of the brand, provides the possibility to reach the defined KPIs and serves as a powerful social proof of the advanced expertise of the brand.
Impressive user experience thanks to advanced design
When the Altamira team started working with the client, his main requirement was to fundamentally improve the design of the app, and make it more user-friendly, readable, and convenient. Also, our design team has created unique manually drawn illustrations and icons making sure that each element is intuitively clear for the end-users.
Thanks to the professionalism of our team and the ability to work closely with the client and orient on regular feedback from app users during the app design and visual elements creation, we achieved the maximum clarity of each element to the target users.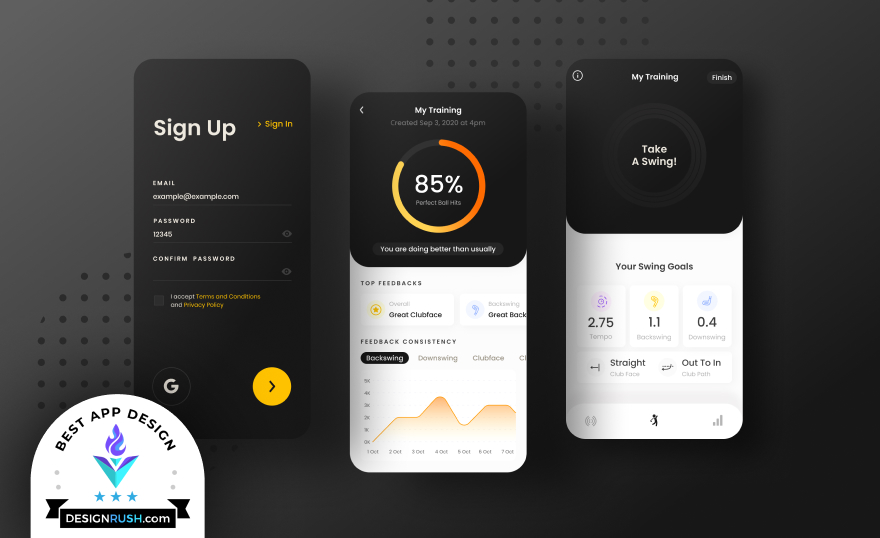 We looked for unique solutions to enhance usability. For instance, not to overload the user with the comprehensive screens, we have built an easy-to-navigate wizard assisting to get more familiar with the golf terminology.
Striving to achieve maximum clarity for users, we have turned the simple statistics charts into three clear tabs – Lifetime, Training, and session. It boosted clarity for potential users and enabled them to see the overall training rate and feedback, keeping a high level of user motivation.
We deserve an award thanks to our expert team
Being awarded by Design Rush is a persuasive proof that the designs created by the Altamira team are excellent. It also ensures the high professionalism of our team and our advanced skills which allows us to gain high credibility, taking into account the main users' needs.
Our creative designs have the power to inspire and persuade, demonstrating professionalism, individual approach, aesthetics, and functionality.
However, building designs of such complexity is possible thanks to many years of experience in the field and the flexibility, skills, and expertise of our designers. Moreover, our main focus is the client and our customers.
The client already had the previous version of the app, which allowed us to build the new design based on the previous user feedback. We had all the negative and positive experiences indicated, thus we took them into consideration in the new iteration of application functionality and design.
As a result, we have created an interface that will help users to connect their sensors easily, and enjoy using the app in any conditions and any weather.
Enjoy the user experience of our advanced personal pocket golf trainer
CTRL Golf is an advanced personal pocket golf trainer powered by IoT technology. App connected to a glow help to polish golf skills always having a personal trainer beside you. Aiming to minimize the interaction between the golf player and a smartphone, the app also has a voice assistant and the ability to disable screen auto-lock to keep the app screen active.
One of the main focuses of our team while working on this project was to achieve maximum usability and make the design able to satisfy all the needs of an active golf player, making the app intuitive and easy to use.
Our team of designers has successfully managed to satisfy the desire of a customer and build an app with impressive design. The best proof of it is the Design Rush award, which Altamira gained this month.
We are proud that not only do our clients recognize our impact and contributions, but also external experts give awards to us. We are highly motivated and ready to conquer new heights and impress our clients with impressive and user-friendly designs.