The pandemic has brought many inconveniences, but there is also a positive side to this situation. Today we see how rapidly developing and improving digital solutions for organizing remote work.
A demonstration of a product like Board took place a few weeks ago. Developed by French startup Klaxoon, this software is a visual interface that allows you to work together during a video call. While it's nice to look at your colleagues in the eye, it's more productive to have a standard canvas that you can use for presentations and suggestions.
The company understands that the provision of video conferencing services will not surprise anyone now, mostly since, after six months of remote work, many are used to using Microsoft Teams, Zoom, or Google Meet.
Klaxoon tries to make it as easy as possible to use the board to visualize what you are talking about during a conversation using Zoom, Microsoft Teams, or Google Meet.
How does it work? Open Board, then create a Zoom link or any other video conferencing application, and you can use it. Klaxoon also has its video conferencing service called Live.
"Video is less than 10% of your screen area. "Our goal is not to compete with other services when it comes to pixels, HD or thumbnail counts," Klaxoon co-founder and CEO Mathieu Böscher told me.
Using Live has certain limitations, which in turn can help you focus on the meeting. By the way, video conferencing is limited to 15 participants, and the meeting organizer can set a time frame from 5 to 30 minutes, which helps to schedule an online meeting.
To get an idea of ​​what the workflow will look like, imagine a work board where the participants are represented by small thumbnails on the screen's right side. This way, you can get the most out of your screen for work: you can take notes with text, add images, and even video. You can work on your whiteboard before the meeting starts, or you can add a table from the template library.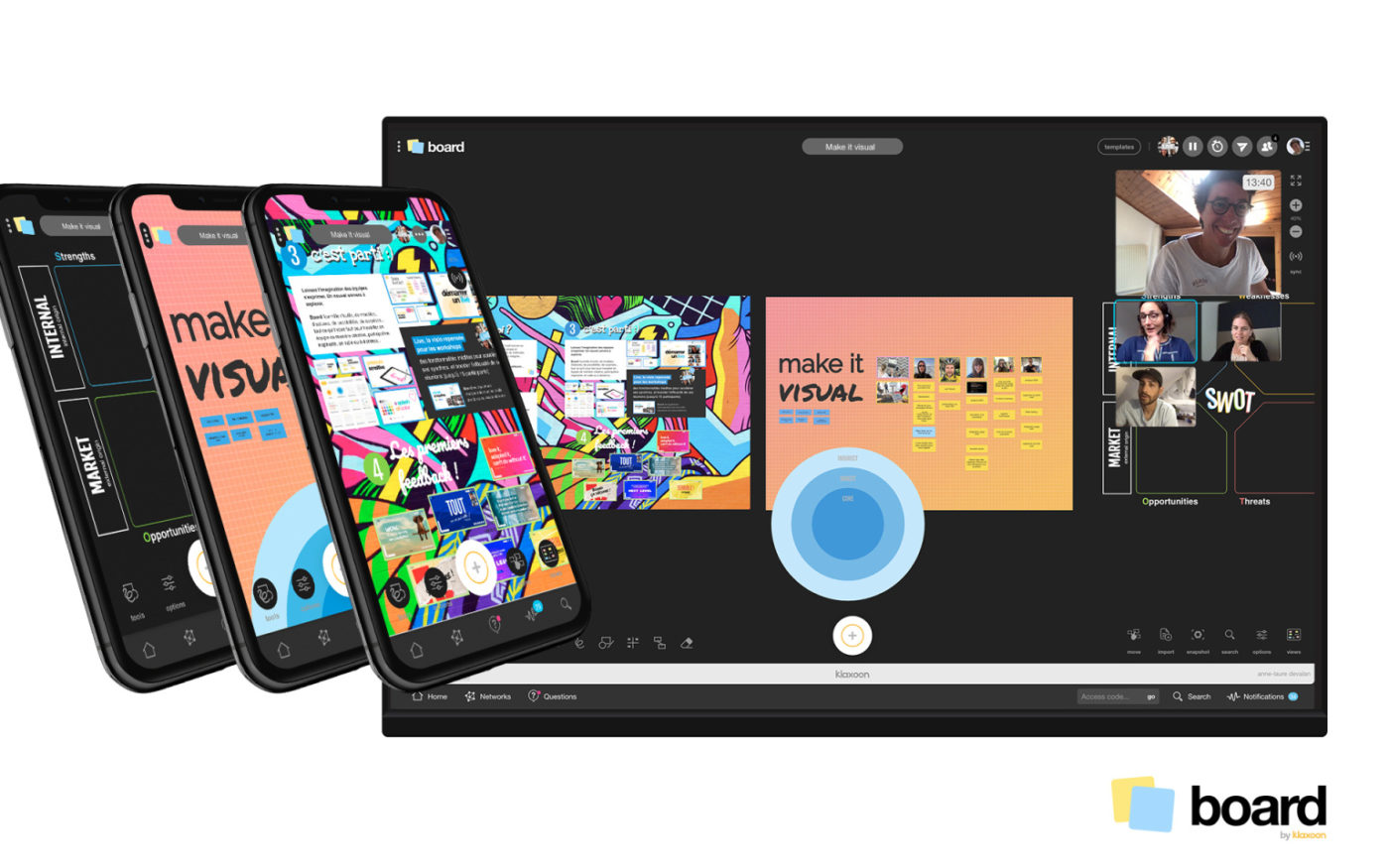 All meeting participants can share their ideas on the board using digital stickers. You can also switch from a freeform view to a more structured column view to move ideas from one category to another.
It is worth noting that Klaxoon has been on the market for several years, and its main direction is meeting tools. The peculiarity of this solution is that it is aimed at remote work. The Board launches today and will run on a monthly subscription basis for € 9.90 per month.
Have an idea of video conferencing app but not sure about unique features?
In many cases, the market for solutions is overcrowded, and there is no point in creating anything. Still, as practice shows, even solutions that have long proven themselves on the market have certain drawbacks. Use their deficiencies for your benefit and not only your audience but also your profit. We are ready to conduct marketing research and then develop a unique digital solution for you from scratch. You have been using ready-made solutions for a long time, and do you know which solution would be better than the existing one? Then write to us soon to create a compelling and profitable product.
Do you want to see such articles in your inbox?
Stay up to date with latest tech trends and products