We seriously consider to dedicate a special column to the apps we really like that are quite astonishing in their appeal. And our latest favorite is Cameo – the app that allows users to buy personalized video messages from celebrities.
You can order a birthday greeting from Charlie Sheen or New Year congratulations from Snoop Dogg. The app is really one of a kind and it makes a great showcase of how you should approach mobile app development in 2021. Read further to know more about Cameo app and what it takes to make application with similar functionality,  
How to Use Cameo App?
Cameo is a platform that connects outdated and often c-listed veteran celebrities from music, sports and film industries with their fans who'd like to send their friends personalized video messages. 
The platform is a mediator between those who'd like to, for example, wish their friend a happy birthday with a personalized video from, say, Charlie Sheen or Snoop Dogg (who is also one of the company's investors).
The prices are individual for each celebrity and start from as little as $15 going up to $3000 max. Cameo takes 25% from each purchase. Interesting, though, that users can only make a purchase via web to enable Cameo skip on Apple's outrageous 30% fee on the AppStore.   
Business Analysis
We are using our BA Team on every project to outline the business logic of your app. In order to know whether your Cameo-like app will be successful or not, you should initially discuss the business logic of your future app. A Business Analyst knows technical requirements and software development nuances that accompany your project.
At the same time Business Analyst knows your requirements for the app and also what would be better for users. Therefore, Business Analysts assist you in making sure that your app is going to serve its original purpose and will be valuable for end users while at the same time being adapted to your desires and requirements.
This is a Brilliant Idea!
Show-business runs fast and there's a vast amount of former celebrities who'd like not only to get some extra pay but to excite and amaze those who still remember them. And when it comes to celebrities, people have different tastes. Therefore, the creators of Cameo app have found a really great industry niche. There are many retired actors that we remember from our childhoods and it is a great present to send a personal video-message from a celebrity on happy occasions.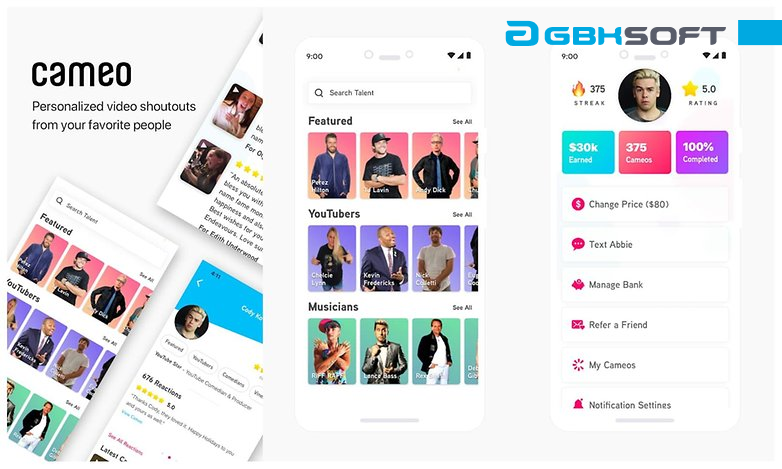 Going through the app I noticed Omar Epps and Jennifer Morrison from one of my favorite shows House M.D. Now, my sister loves House M.D. as well (so much she even decided to re-watch it recently), so I now consider congratulating her with the upcoming happy birthday, ordering a personalized video message from the two actors of the main cast from House M.D. Great, right? Even though most of the Generation Z don't even know about House M.D. at all (too bad for them). 
What Features to Include?
The functionality of your Cameo app can only be limited by your imagination. However, there are certain features that beg to be included such as:
1-on-1 Video streaming
Profiles – learn more about celebrities
Public Feed – share your videos and see what others share
Comments – chat with celebrities and ask them anything
Geo-location (to find celebrities near)
After a thorough discussion with a Business Analyst you'd be better equipped with knowledge of what to include and what to leave behind in your Cameo app.
How Much Does It Cost?
As usual, the price of any app depends on the functionality. The richer the functionality, the most expensive will be the development process. Every feature costs extra to add and takes time and effort to integrate. So, for example, just sending files and messaging can be okay for your Cameo-like app, however, if you'd like to also have video streaming to allow 1-on-1 video chat, then you should be ready to pay more.
On average, though, an app like Cameo is going to cost you around $50K. Roughly. Functionality-wise there's nothing difficult about it. The trick is, of course, to attract mid-level celebrities in the area of your choice to make the app profitable. Therefore, it should be marketed and promoted efficiently in order to get revenue.
Need a quote?
We can help you shape your idea and build an app at reasonable price/quality ratio.
Develop MVP First
Consider developing a prototype with all the "need to have" features that are critical to guarantee the app's stable and effective performance. When you develop a Minimum Viable Product, you get to test your idea, how your app performs, and whether users like it or not. Then, using this info, you can implement important updates. This is a traditional practice in software development. Perfectionism is not an option and the product should not be absolutely perfect upon the release. It will definitely save your time and money to release MVP first.
Cameo App Can Be Made Better
Although Steven Galanis and Martin Blencowe, the creators of Cameo, want to expand to ensure that the app survives and not just a passing trend, they wish to do so by attracting more talent internationally. Cameo already has competitors like CelebVM, Greetzly, and Starsona who are very unsuccessful. But we think that the idea can be improved with better software and we guarantee to deliver it, making a better web solution (not so buggy and slow as you might've noticed) and also helping you to elevate your country's former hot showbiz personalities on your own.  
To build a Cameo-like app you should create a great interactive and intuitive design. Then back it with top-notch software. Add clever promotion and a proper marketing strategy to become a great platform similar to Cameo but to serve local area. 
Wrapping Up
Now that you know what is the Cameo app, it is up to you to start developing a project of your own. Countries like Canada, Australia, Great Britain, Mexico and France have a lot of c-list celebs that beg to be remembered again. And our experienced team can help you to develop design and make an even better version of the app like Cameo.
Ready to build a Cameo-like app?
We have a team of professional mobile developers who can build your app from scratch.