If yesterday the fate of the world laid squarely in the hands of biotech scientists. Today, the world is facing the challenge of industrially scaling up the production of the invented vaccines along with the task of logistically distributing the vials throughout the world and logically administering and dispersing the doses among demographic segments of the population. In other words, the world turned its attention from being concerned with coming up with a vaccine that is proven to be safe and effective at preventing the COVID-19 infection, to now being preoccupied with actively distributing the COVID vaccines around the world. 
The rapid spread of COVID all over the world forced governments, pharmaceutical companies, and research institutions to come together in an unprecedented way and mount a strong response to the virus. Various programs were devised to expedite the process of rolling out vaccines to save humanity; namely, the main goals were to help clinicians shorten the time of vaccine development, expedite testing to show results in a year, and scale up production even before the vaccines are approved for use to ensure a head start for vaccination and buy humanity time.
Learn what challenges clinicians faced when they started working on the future vaccine against Covid-19 in the video below.
Usually, this entire process takes much more time, like several years, but with a concerted effort of pooling and investing resources and effort, we are witnessing that timeline being reduced to around a year mark. Whether that is due to the fact that the world possesses tremendous resources, such as medical and technological, or whether it is because of previous comparable sicknesses helping with creating treatments and vaccines such as coronaviruses SARS, MERS, Ebola, or perhaps because of luck, is a subject of much discussion and beyond the scope of this article.
According to recent statistics provided by Github, at least 335 million people worldwide have been vaccinated against COVID-19 by the time of writing of this article.

Github Survey
Today, clinicians from different countries have presented 75 versions of vaccines against COVID-19, and the variety of available vaccines continues to grow, especially with the mutation of the virus and vaccine makers such as Moderna working on coming up with booster shots aimed at curbing the spread of the most prominent virus variants that differ from the original strain but are no piece of cake either. Of course, far from all of them pass even the initial trials and end up undergoing rigorous layers of testing and ultimately end up getting final approval from leading countries' regulatory health authority bodies, such as the U.S. Federal Food and Drug Administration, and hitting the market.
Vaccine testing and development are approached somewhat differently depending on the underlying company and government at hand. But, in an attempt to provide one general or universal summary of the vaccine testing phases out there, six phases can be described:
#1 Preclinical trials that imply testing antigens on animal cells to see what triggers a strong immune response similar to what meets the actual virus evokes.
#2 Testing vaccine dosage and its safety on a certain small group of people volunteers to determine its influence on the human immune system, including any short-term side effects. 
#3 Testing vaccines on a small group of volunteer patients that are now split into groups by criteria such as age, gender, race, etc. and studies are conducted in that way to ensure that the makeup of trial participants is such that it reflects the diversity and ensures results present a full and accurate representation of efficacy and safety.
#4 Testing the vaccines on larger groups of people by first making sure that their bodies are not already infected with COVID-19, and have not developed antibodies in the past (to not skew the statistics). Then, dividing the population into two sample groups, one of which is given a [fake] placebo vaccine, and the other – the actual vaccine to help study and determine the strength and effectiveness of the immunization by analyzing how the two groups will go on to differ in interacting with the disease in the outside world when people are going about their regular lives. In addition to testing the effectiveness of the vaccine(s), this stage of the trials is good for investigating the more medium-to-long term side-effects of the vaccine, its impact on health, likelihood, and frequency of being infected, and how mild the symptoms if and when they contract the virus. Consequently, all of those details and more give the decision-makers an idea of dosage specifications and guidance on the vaccination schedule.
#5 Presenting the vaccine in limited edition for particular countries with the full monitoring of the recovery process, despite any risks.
#6 Approving the vaccine(s): in case the trial results look overwhelmingly positive and the jabs are approved by government watchdogs who deem the vaccine(s) to be safe and effective and clear it for use in the country. But they do not stop monitoring how the situation evolves and can always pause the rollout in case of its non-efficiency or negative or life-threatening side-effects of the vaccines such as in the situation whereby multiple EU countries decided to temporarily halt the AstraZeneca vaccine rollout after news broke that multiple people who've been vaccinated with it have subsequently died from blood clots.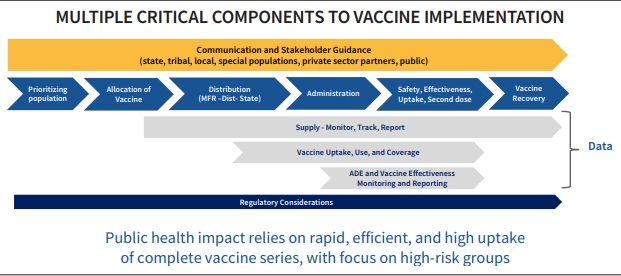 Approved Covid-19 vaccines
As of the day of the writing of this article, there were 21 different vaccines that were accepted by at least one state regulatory health authority, produced by different manufacturers. The number of vaccines being tested grows seemingly by the day; there are promising candidates such as Sanofi-GlaxoSmithKline and Novavax that have been in the pipeline for a long time, are highly anticipated, and hopefully about to hit the market. However, not all new vaccine makers that are making vaccines or booster shots are targeting the original or dominant coronavirus strain anymore; as the emergence of new COVID strains also brought about the development and testing of new versions of the vaccine.
Among the most popular and leading vaccines we would like to mention have now colloquially become known as Pfizer[-BioNTech], Moderna, [Oxford-]AstraZeneca, Johnson and Johnson, CanSino, Sinovac, among other somewhat less-known and less-prominent vaccines. Of course, everyone would ideally prefer to get a first-rate western vaccine into their arm. However, these incredibly effective Pfizer and Moderna mRNA-method vaccines, as well as the single-dose Johnson inoculation are very sought-after, and their doses are hard to pin down, which prove particularly elusive for citizens of third world countries since these companies were contracted to allocate their vaccines to the developed world first, mainly the U.S., as well as its friends and allies. And the developing world is left in tatters scrambling to secure second-rate vaccine contracts such as those manufactured by AstraZeneca, who decided to give up their profits [like Johnson], but unlike Johnson, they also agreed to share their IP with factories in countries like Pakistan and India to scale up production for the developed world.
As well as Chinese and Russian vaccines, who have seemingly and somewhat unsurprisingly politized the matter and are looking to fill the vacuum and exploit the situation to their benefit and advantage by extracting and enjoying geopolitical gain. The vaccine delivery requires accuracy, so it has to be well-managed to allocate the doses where needed and on time. This need caused the development of new vaccine tracking systems that combine data about distributors, delivery, recipients, patient data, etc. 
What is the aim of a vaccine tracking system?
As an example, let's take the cooperation in the U.S. between the Department of Defence and HHS' – Centers for Disease Control and Prevention (CDC), which aims to implement a pandemic vaccination program to distribute vaccine doses to all Americans that live in all U.S. states and territories, thereby vaccinating all of the American people, even in the most remote corners of the country, and even people who have misgivings and fears about the safety of the vaccines. This is a plan of massive scale and tremendous ambition, the unraveling of which will bring about a decrease in the number of infected people and hence bring an end to human suffering.
The expectation is that it will also eventually bring about herd immunity and allow for the safe and broad-based reopening of the economy. It may come as no surprise that something like this is incredibly challenging to execute. Thus, the U.S. federal, state, and local governments were desperately looking for a software solution with the help of which they could monitor if their pandemic vaccination program progresses and executes according to plan and successfully. Consequently, they actively started using vaccine tracking systems to help them reach their desired vaccination goals, targets, and objectives that demand:
a high level of security;
safe and swift distribution; 
scalability of the tracking system;
management of health departments.
So how exactly does the process of tracking go on?
Step 1. Initially, if a health department or any other medical facility wants to order COVID vaccine doses for a particular region, they need to register, submit their application, and get approval through a so-called special vaccine tracking system.
Step 2. A healthcare provider orders the required number of COVID vaccines and sends the order to the CDC, which guarantees safe distribution with no losses or damages. Among the establishments that can place orders for the vaccines are:
pharmacies;

hospitals;

doctors' offices;

healthcare organizations or their affiliates;

public or governmental health departments that allocate vaccines to schools, workplaces, ambulances, etc.
Step 3. The CDC, in turn, ensures the safe and sound transportation of the vaccines to the above-mentioned places. Recipients can also check the order status and track its whereabouts along its way to the destination.
Moreover, in addition to the distribution, the government also collects extensive data about the actual administration of the doses, meaning which groups of the population these vaccines went to, among the parameters being tracked are: age, underlying conditions, and type of employment. Not only that but the government also keeps tabs on the efficacy, and absence of persisting lingering side-effects from the administered vaccines. Numbers are crunched and converted into reports for general accountability, transparency, as well as general analysis and learning purposes, perhaps to learn and improve upon the vaccination rollout for this pandemic, as well as for any future pandemics. That is, the vaccination program can be tweaked or updated in accordance with the results by taking into consideration the outcomes.
Overall, although this rollout approach is not perfect, especially given the recent noise around the fact that certain clever individuals have found loopholes around the system, and decided to monetize their newly acquired skills by selling their services to those desperately looking to get COVID shots. And despite the fact that smaller countries such as Israel have outpaced the U.S. in their rollout, the U.S. at the same time has certainly not had the worst rollout model, especially from a data management and learning perspective. This will be a learning curve for everyone, but certainly, others can benefit greatly from learning and emulating from the strengths of America's: measured and calculated approach; or Israel's lightning-fast inoculation agenda. 
Core functions of the immunization tracking system 
Due to active vaccination all over the world, all establishments that control the vaccine supply have a need for a general tracking system where data about vaccinated people would be recorded and accessible worldwide. However, the aim of the vaccine tracking program is not just to keep track of the number of vaccinated people, but also to facilitate vaccine distribution and help determine the final effectiveness of the vaccines. It also implies monitoring each patient from the time they receive their first vaccine, and throughout their vaccination journey however long they will be susceptible to the virus.
All of this and more explains the need to develop and implement a general vaccine tracking system not just in the United States, but all throughout the world. As of now, the main features of this solution should contribute to its: scalability and flexibility so that it can work universally in cooperation with health departments in any location.
Wide-ranging vaccine availability and successful delivery networks force healthcare organizations to accelerate the development and implementation of new technologies to engage all medical establishments in a centralized tracking system. Among the core functions that are expected to be a part of a practical and useful COVID vaccine tracking system are:
provision of information on the availability of doses per particular location;
the ability to track vaccine distribution and allocation among providers;
high scalability that allows adding to the number of vaccinated people;
collecting and using people`s data as allowed by the government and privacy laws for purposes of reporting, learning, and enhancing rollout quality;
reports about vaccine effectiveness based on collected and analyzed data;
the software generating vaccination cards or passports for each vaccinated person;
monitoring the vaccinated people, including sending reminders when people are due for their next dose of the vaccine or booster shot against variants;
tracking each patient, meaning collecting information about first and second doses, and also monitoring the recovery process;
connecting with EHR systems;
promoting confidence in the vaccine and debunking any anti-vaccination myths or conspiracies.
Electronic Health Records
We also recommend looking through our blog post on
what EHR systems are
and why they are obvious to implement in healthcare establishments.
Current Systems for Vaccine Logistics and Administration
Today, people working for governments and healthcare systems of different countries are tasked with and looking for a perfect formula to implement a vaccine tracking program. People look at how other countries are going about it to help them in their search for the perfect, optimal solution. There is no one general silver bullet system designed for this process quite yet, but there have been some strengths and successes that were used as part of in-motion vaccination campaigns that are certainly worth keeping in mind.
VTrckS application
The Vaccine Tracking System or VTrckS is a web-based application funded by the Vaccine Management Business Improvement Project (VMBIP) for better tracking and management of the vaccination process held by providers. To highlight the main functions of this system, they are:
ordering and tracking current balances of vaccine doses by healthcare departments;

distributing the vaccine through order filling with the possibility of a return in case of expired or spoiled vaccine doses;

recording people's data about being vaccinated;

monitoring the status of orders and vaccine spending;

real-time information about each provider who allocates the vaccine like shipping addresses, contacts, etc.;

management of providers` orders like submitting, reviewing, editing

view the providers` documentation;

ability to contact the CDC – the main distributor;

HHS or Health and Human Services financial system and support of payments;

inventory management for providers;

data analysis to regular monitoring and reporting the vaccine impact and effectiveness.
The Vaccine Tracking System is necessary for vaccine makers, providers as well as the CDC as the distributor-in-chief of COVID-19 vaccines. For the first group, it provides the vaccine producers various important big data insights. For the second group, it helps them manage the orders, tracking their status, allocation, and order fill. For the third group, it allows monitoring of the general worldwide situation with the vaccination rollout, analyzing data, and reporting findings of different trends and patterns to determine if the vaccines are effective and how they affect people's health.
Just 9 states have adopted the $44 million software system the CDC launched in partnership with Deloitte to help with tracking COVID-19 vaccinations, according to a Bloomberg report.

Bloomberg
VAMS platform
The Vaccine Administration Management System is a web-based platform created by the CDC and used by providers as a COVID immunization tracking software. Although this solution is available to all healthcare organizations, unfortunately, it comes with its own set of limitations. Namely, it is only accessible in regions or areas and only available to specific users. The main benefit of VAMS is that there is no need to install any kind of special software for it and it is available to be surfed freely. This system is also of interest and accessible to approved vaccine providers. The core functions of VAMS are:
vaccination scheduling;

reminders about getting the second dose or booster shot;

the registration process to become an approved clinic;

vaccination records;

patient monitoring.
Healthcare application
Check out our article on the
healthcare app that replaces in-person visits
to hospitals and takes your treatment online. Another interesting branch and area to explore off of this idea is, once again, the online vaccine passport.
CVMS application
COVID-19 Vaccine Management System is a cloud-based software system that provides a single database for vaccine makers, patients, clinics, and governments. The use of CVMS is only available in North Carolina and offers the following features:
registering for vaccination;

vaccine inventory management;

tracking vaccine transfer to approved clinics;

managing clinics that distribute vaccines in particular areas.
Tiberius platform
Tiberius is a software platform that was developed specifically for Operation Warp Speed. This vaccine tracking system covers the largest number of states and jurisdictions to date. Its primary aim was to oversee vaccine distribution and manage distributors' logistics. It records data about allocation, availability of storage to hold the vials, and facilitates the process of appropriate allocation to end-market consumers. Consequently, full-cycle monitoring helps avoid wasting the vaccine doses. Moreover, Tiberius offers:
scheduling the vaccine allocation;

data visualization that helps to define who, where, and when require vaccine doses the most;

checking order status that is an obvious pressing need for healthcare providers;

providing vaccine doses exchange between states where Tiberius is approved, enabling an even more efficient allocation of supply.
The Vaccine Testing Process
As you may know, the safeness of manufactured COVID-19 vaccines currently has a shaky and questionable reputation. One of the reasons being that a group of internet users misinterpreted Jay Walker's interview about vaccination and its tracking. Namely, people ill-conceived that clinicians are going to implant chips during vaccination that will allow them to monitor patient location. The truth is, however, quite different, and it is that each vaccine vial has its unique barcode that is scanned after the delivery of the vaccine to check its data and confirm that it's genuine.
I am not aware and I would be extremely surprised and appalled if there was any kind of chip in the vaccine. The government has done some nefarious stuff in the past, I'll be the first to admit that, but in this case, I don't think that that's at all operative or even possible.

Dr. Kenneth Kemp, American pulmonologist
This vaccine barcode makes immunization tracking easier and more accurate. You may ask – how? When a particular healthcare organization gets a vaccine order delivery, they know how many doses they have. Each vaccine barcode will be scanned as soon as each patient gets a vaccine. Therefore, the immunization tracking software records how many vaccines were made out to this organization, checks the vial authenticity, gathers patient data, particularly who and when was vaccinated to add this information into the vaccine card and all of this information into the master database.
However, the vaccine tracking system does not just aim to hold the information about the vaccinations. As the process of presenting new vaccines continues, clinicians are responsible for monitoring the vaccine impact on patients, control the recovery process, count how many people get infected with which coronavirus variant after getting vaccinated, with which vaccine they got vaccinated, and consequently investigate its effectiveness and influence on people's health. 
COVID-19 vaccine tracking system
There are several different vaccine management systems that are used in particular areas for gathering all sorts of data about vaccinated patients, distributing clinics, and main distributors and manufacturers. The COVID-19 vaccine rollout is something monumental and the importance of it can hardly be expressed with words as the coronavirus engulfed the entire world in a pandemic, causing havoc, slowing down societies and economies to unprecedented degrees; not to mention the suffering and deaths it has caused to so many.
So the immunization tracking system should encompass data about all people on Earth who are getting or will get vaccinated in the future. As we have mentioned previously, it is important for different actors, including patients – who are ultimately the end beneficiaries to everything and all of the efforts are, at the end of the day, for them – the people. Such a solution contains information about all available vaccines and their testing phases, data about main distributors and clinicians, managing orders for clinics and analyzes data to investigate the impact of the vaccination, etc. 
COVID vaccine tracking system is required for many areas, especially for large companies and manufacturers.
Vaccine tracking should be held on a governmental level to make it accessible for different industries. However, each company or any facility can have its own vaccine tracking system that will be connected to the general governmental database in a certain territory. 
All in all, the immunization tracking system has to connect three societal branches – government, vaccine manufacturers, and healthcare organizations who actually host the vaccination process. Vaccination is a global process that requires committing much money and effort. And this process requires accurate tracking with the help of developed special vaccine tracking systems. As you see, the existing healthcare software solutions cover few geographic areas compared to those that were "covered" by the spread of the coronavirus. 
Therefore, many industries need their own vaccine tracking system that will be hooked up to the general inter-governmental one. It is actually for large manufactures, business companies, and public organizations who will gain access to big data pharmaceutical-epidemiological databases ultimately aimed at better serving end-customers, reaping profits, and electoral votes. 
HL7 Standards
We recommend your reading about the
HL7 standards
about the sharing and transmission of health data between different healthcare providers and actors.
As you might understand by now, the main goal of the immunization tracking system is to monitor vaccine impact and side-effects. However, personal vaccine cards can also be useful for when people are:
moving to another country;

applying for new jobs ( or returning back from remote working to offices);

undergoing elective surgery or other in-person treatment.
FAQ:
There are several vaccine tracking systems that are currently used for distributing and tracking vaccines in different countries. Generally, these solutions cover the United States, or often merely select states within the U.S. for now. Among the most well-known are VTrckS, VAMS, IZ Data Lake, and some others.
The duration of vaccine tracking software development takes some time, you will be lucky to develop a good one within 3 months. It is not just a custom internal system for a healthcare organization. It has to work for local governments, be approved by vaccine distributors to cooperate with them, and many other nuances. If you are interested in developing immunization tracking software, then we recommend contacting us for a free consultation.
Our company has vast experience in developing and implementing custom systems into healthcare organizations. We know that usually, the healthcare system has to live up to and meet general standards. Like HL7, local laws and send required data to governmental databases in the case with COVID vaccine tracking.
To wrap up
Developing such a solution demands following strict rules and conforming to local government laws and regulations as it is not a simple internal custom system for a company, hospital, or manufacturer. Vaccine distributors should deliver the vaccine doses only through the official way to the approved healthcare organizations. The more systems in place, the more transparent the rollout, the fewer vaccines will fall through the cracks, the better the overall outcomes in general.
A vaccine tracking system is just a tool that manages the entire flow of delivery and vaccination. It includes lots of features like privacy, order management, reminders about the vaccine arrangement, scheduling the delivery for the approved organization, and others. If you are interested in whether your healthcare organization can implement any of the existing vaccine tracking systems, feel free to contact us for a consultation. As a reliable software development company, we know how to choose the suitable software system for your needs.
Vaccine tracking system development demands a vast range of requirements
Need a consultation on how to implement a vaccine tracking system into your healthcare organization?