While medics struggle to keep us all safe, businesses struggle to survive the economic recession that has touched businesses of all sizes and industries. Some of the industries, of course, suffered more, others less, and some had to close and throw away the key until the COVID-19 problem was resolved. Those who decided to keep going find almost the only lifeline in digitalization of the business processes, however, this also costs money. And the investment of money when every penny is important brings the dilemma: to invest or not to invest? So let's try to assess the risks and rewards connected with investment into technology during the crisis and how you can actually benefit from the crisis. 
How tech can help?
Needless to say that when everyone is online, it makes sense to also bring your business online. And when bringing your business online you have to absolutely know why you are doing this and what your goals are. Are you trying to reach out to your potential customers? or set up the connections with partners? Do you want to do a startup or optimize the processes of your company? All of these questions matter. Below we are giving some of the ideas that might help you to understand how tech can be helpful while all the world is working online.
Digital Presence
The development of your business website or mobile application will provide your presence for potential users. Offline advertisement is not efficient anymore, but the development of a website or application where your customers, employees, and partners can still read about you, order your services, and communicate with you suggests a huge boost in potential orders.
When selecting a team for development, talk to the one that also provides marketing as a service, so that your website is also SEO friendly.
Work From Home
Development of your business management system to automate and streamline your processes, so that employees can continue the work from their homes is something that you can not ignore during the time when everyone is on quarantine.
And if you do not want to spend money on the development of a custom solution for you, all you have to do is set up the environment on the internet, that involves:
Communication channel
Communication channel (e.g. Slack or Skype that handle day to day communications with the team in one space. They provide both text communication as well as video conferencing. Such communication systems are usually supported by other systems too, which allows keeping things organized across all internet tools you are using)
Organizational system
Project management tools (e.g. Trello, Jira that provide basic needs of any business, where you can post a task and track its completion) Google Drive, Dropbox, or similar systems keep your documents organized and secure. A huge benefit is also the online collaboration where several people can work on the same document and keep real-time communication as if they were in the same office
Control system
Time tracking of your employees' work and an agile report system will keep distant work efficient. I can name thousands of such control tools: Hubstaff, Harvest, etc. If you are using the project management system, it usually has a built-in tracking system. Most of them also provide reports on the activity of people's computers and the number of mouse clicks.
Data backup and security
Moving to the cloud from desktops by using AWS would allow people to access data from all parts of the world even if they are stuck somewhere in Bali. AWS also suggests a lot of ways to secure and backup your data.
Support
And of course while your team works from homes you would need to help people in setting up their working environments. Not everyone embraces technology so you would for sure face the problem where you'll have to guide them through the setup process. Tech departments and teams are happy to support such people.
There is really a great variety of ready-made solutions for all of these systems and all you have to do is to set them up, and there are a lot of teams that provide assistance with the configuration of those channels.
Tip Time
If you and your team are not tech-savvy, start with the simplest tool you find, do not try to find the one that covers ALL your processes. Same with the development of your own system: start with automation of basic features, then add more. This allows you to save money and teach your employees to use it better.
Expansion
Expansion of your business to new markets that are already recovering from the crisis such as Asia, is a possibility to compensate for the lack of demand on your local markets. Usually, the expansion to new markets requires the adaptation of your websites, business management tools, communication, and payment systems to support the ones of the new market, which sometimes involves the development of applications and websites from scratch.
Tip Time
Make sure to reuse the max code base you already have. E.g China has AWS, Google Services blocked for the country, but their clones are almost the same. So adapt rather than develop from scratch.
Cash-flow
The crisis is the time to make sure you have enough resources on your bank account to maintain your business. Getting the payment for the invoice can be a challenge during the regular times, not to mention the crisis. So the development of software to keep track of invoices and the automatic charging can be useful.  Better connection to your partners for in-time invoicing and cash management by the development of accounting software can be a life savior.
We get a lot of requests on the development of online banking systems and mobile apps. But apart from the development, this industry has lots of requirements from financial institutions. Make sure you have the legal team to support this.
Integrations
You might already have the tech infrastructure, but during a crisis, you would probably need integration and extension of what you already have with some additional services such as:
control systems to ensure employees keep working efficiently
distant control of your product quality and delivery
insights and reports in real-time to how your business is doing: the volumes of work, financial trends, etc.
communication with employees, customers, partners in the most efficient way
When you select a system for integration make sure it is not gonna disappear tomorrow by researching how they are doing. Sometimes the development of your own analytics chat system is better because it will keep you independent from the need to adapt to APIs and third-party system updates. These are only part of things that can be achieved by using technology in your business. If you add here more expensive sectors of IT, such as Big Data, AI, etc. you will find that you don't really need to go to the office to keep your business going.
Work during crisis
Want to know how the company you want to invest works during the lockdown?
Problems that startups faced during the crisis
Crisis influenced the world of technologies a lot and made it more valuable. The biggest level of suffering fell on startup companies. However, some of these companies coped perfectly with the problems they met during the crisis. So we prepared a list of problems and tips for startups on how to survive during the period of decline.
Reduce sales activity
This is one of the problems that startups faced during the lockdown. From February 2020, new projects were paused for an indefinite period. A key step, in this case, is to react to the current situation as quickly as you can. It is important to discuss things like upselling opportunities, free trials, pivoting to COVID-19 related business, consultancy gigs, temporary lay-offs, loans, research grants, and more. So we can see how communication with employees improves the efficiency of the work processes.
Difficulties with generating leads
Some startup companies tend to hold real meetings with customers. So the crisis complexed this process and created some borders with customers. The decision was to react to it fast. Old cold leads started to notice startup companies for the enabling of remote work.
Reduce costs
It is hard to cut many costs from the beginning. However, this step is critical. To survive during the lockdown, many startup companies reduce the costs for salaries, ads, office rent, etc. Also, you should care for your existing customers as best as you can. This crisis showed how important digitalization is and how it helped to go over this crisis.
Delay of launching the product
Some startup companies were only going to launch their first product on the market. But they didn't do it before the beginning of the crisis. The way to overcoming the crisis for these companies is to help funds last longer. Also, this lockdown showed the urgent need for technologies in all work processes.
No opportunity for remote work
Not all startup companies could work remotely like any other company. It also led to a delay in launching the product. Of course, it may scare the investors but the crisis helped to grow popularity in industries that haven't been active before.
Do you want to see such articles in your inbox?
Stay up to date with latest tech trends and products
Top Tech Stocks that worth to invest
Many of the most valuable companies in the world are technology companies. These are some of the most dominant and impressive tech stocks.
Amazon.com
It is the number one online retailer and the leading provider of cloud computing infrastructure.
Microsoft
This is a leading software company popular for its Windows PC operating system and Office productivity software.
Apple
This company produces the iPhone, the iPad, and Mac computers. Intense customer loyalty ensures plenty of repeat customers.
Intel
It is one of the largest semiconductor companies in the world. Intel designs and manufactures CPUs for PCs and servers, as well as specialty chips for uses like artificial intelligence.
Facebook
Facebook is considered to be the largest social media company, with over 2 billion daily active users across Facebook, Instagram, Messenger, and WhatsApp.
Popular technologies for investment
According to the statistics, the leading technology of 2020 is Artificial Intelligence. Also, the popularity of different technologies has changed recently.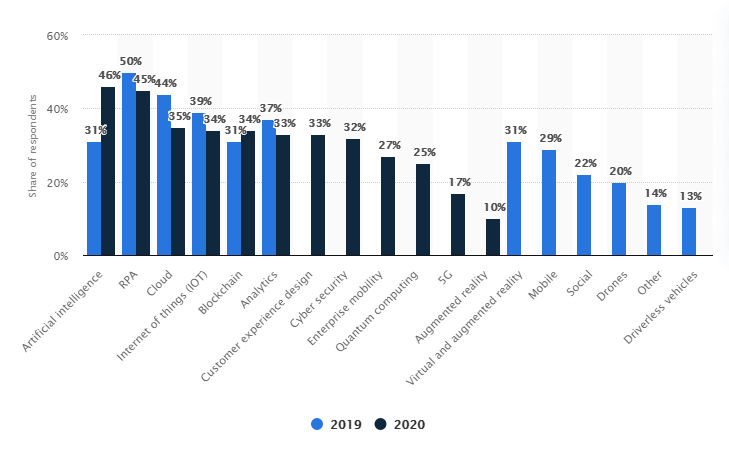 Relying on the latest statistics, we prepared a list of modern technologies that became leaders on the market of development and are worth to invest today.
Customer Relationship Management (CRM)
CRM functionality includes sales-force automation, marketing, customer service, customer self-service, customer analytics, e-commerce, social media monitoring/engagement, partner management, contact center, and estimating.
Artificial Intelligence (AI)
Artificial intelligence provides functions of rule-based reasoning, machine learning, speech recognition, natural language processing, and object recognition.
Enterprise Asset Management
Enterprise asset management solutions include asset life cycle management, asset accounting, maintenance planning, asset monitoring, maintenance supply chain, geographical information systems (GIS), and virtual/augmented reality.
IT Security Technologies
IT security technologies have functions of incident detection, firewalls, identity and access management, anti-malware, mobile device management, spam filtering, vulnerability scanners, and virtual private network (VPN).
Blockchain
A blockchain is simply a chain of blocks that contains information. Each block has a cryptographic hash of the previous block, a timestamp, and transaction data.
Invest or not?
Want to choose tech you want to invest in?
Why it is a perfect time to develop new software?
So even if you would love to invest in all those beautiful things that technology suggests, why now? Why not just wait till this all ends? Well, there are a couple of reasons for that.
Discounts from tech companies
Even though tech companies are more protected than others since they have been doing their work from homes for a long time already, they also feel the crisis, and because of that, they try to work 3 times better for the 3 times lower cost. Most of the good companies lower their rates to retain their customers and to get the new ones. Something that you would usually develop for hundreds of thousands of dollars currently can be done twice cheaper. So if you do have the financial resources and you do want to spend them but are just cautious about the crisis, we would definitely recommend investing in tech now. You have an opportunity to save a huge amount of money.
If you already have a team in place but can not afford them anymore, this is not the reason to shut down the development completely. Try changing the team to a cheaper one. Of course, you have to keep in mind here the quality of the new team as well as the costs involved with the integration of the new team.
Outsourcing can be also a way to save money on development. Outsourcing is not a new thing, a lot of big companies have been outsourcing part or their full it departments keeping only management in-house. The benefit here is that you save money on:
If you are outsourcing to countries like Eastern Europe or Asia, you can expect lower rates. The best quality/money you will get in Eastern Europe (and I'm tempted to say in Ukraine)
Ready infrastructures. Essentially you save costs for test servers, version control systems, etc. usually teams have those in place.
Hire costs.
For example, one of our customers got a discount of 50% for signing the contract for 6 months of development and saved over $200,000.
Distribution of markets
A crisis can also become an opportunity. A lot of startups that have been struggling to get to the market before, now are so quick in their development, why? Since the crisis also hits big players, startups and new products have many more opportunities to access the market and be competitive. Big budgets spent on offline advertisements are not working, so marketing budgets for small businesses become more competitive too. Now add this fact to the lower costs in development and the budget you thought would be spent over a month can now keep your business going for two or even three months.
For example, a client of ours released the taxi application for medics in his country and became the top taxi service within a week due to the support of people without spending a penny on marketing.
New demands
Another way to benefit from this situation is to use the demands that the crisis creates. This is the first time in history when all people have to stay at home and adjust their businesses to distant work. So if you already have some digital instruments, think of how to sell them to businesses similar to yours by redoing or adapting what you already have.
For example, one of our customers had a project management system to automate the process of his custom vehicle production. With our email marketing manager, they prepared the email campaign and sent out the proposals to his indirect competitors with the suggestion to buy the subscription to use the project management system to keep their production in the business. He got 2 purchases and now expands the system to more features to be reused for more industries.
Ready-Made Solutions
Due to the fact that a lot of companies need fast solutions, tech teams suggest the quick adaptations of already developed applications to your business. This is not the best case, cause you will not hold the owners of the code, but when we are talking about the development of an app within $4,000 versus $30,000, I think this is something that can be put aside.
This would be especially beneficial to the small businesses that are looking for a presence online.
For example, our team suggests the ready on-demand application that matches service providers with the Customers. A client of ours used it for the laundry services so that users could order the laundry offline and have a driver pick it up for them. During the first week of work: 1000 downloads and 100 orders. Not bad!
Clean up the mess
Having worked 9 years in web and mobile development, I can tell you the things that tech teams always want to do but businesses never find time for this: refactoring, documentation, regression testing. So even if despite everything you decided to stop the development, at least try to make the downtown efficient:
Do the code review for the quality and security
Do the security and load testing
Have business analytics and tech writers update and catch up with all documentation of the project
Have testers do regression testing or even better – automated testing
Give time for refactoring to your tech team.
Use DevOps to optimize your infrastructure spendings.
For example, our client had a team of DevOps to migrate the high loading software to Kubernetes, which allowed us to save $20,000 of monthly spending on Amazon Servers.
Investment that Business feels for years
And the most important thing about investment into technology during a crisis is that this is not the investment only for the quarantine time, your business will benefit from it for a much longer time period and when we are back to our regular lives you are more competitive than others.
It's just this crisis that gives you quick access to a big number of people online who are browsing every day in search of new offers to keep themselves busy, entertained, and healthy.
E.g. We were surprised when a client of ours from the Travel Industry said he wants to start the project anyway. The reason is that when everyone is out of quarantine he wants to be the top provider of luxury travel, which he expects to be in demand when people are finally allowed to leave their homes.
Time to invest
Do you still hesitate if it is high time to invest?
How to analyze tech stocks?
Before invest in any tech company, you need to learn it from scratch. You have to know its history of developments, the success of their products, business strategy, etc. Here is the list of main steps that should be taken where you are going to invest in a technological company:
Valuation
You don't have to rank a tech stock based on standard valuation metrics. The main point about technology is innovation, modernity, and growth. The products of the company have to be individual and unique like the world hasn't seen before.
Growth metrics are crucial
You need to be sure that the company is profitable. There are several steps that should be taken. Among them are historical growth, return on equity, earnings per share, debts, and margins.
Real Trend
Some companies can have huge popularity but not worth to invest. It happens because of suitable and successful advertising for the products. It is important to follow the real trends and not be driven just by social advertising.
Dig Deep
Before the investment, you need to learn all information about this field and the technologies that this company uses. You need to know where to find this info and foresee the development of these technologies and their necessity for people.
Things to keep in mind
As a business owner, you have to make hard choices and this is the time when you have to be extra careful assessing the risks you take and the rewards you receive from doing the development of your project now. From the risks that you have to keep in mind are:
Make sure the quality is not suffered by a discount from the tech team
Make sure that your web application or mobile software is kept secure
If you are launching a new product, speed would be essential. Make sure you work with a team that adheres to Lean and Scrum principles that allow you to release minimal viable products quickly.
But the biggest risk here is probably uncertainty, no one knows if the quarantine ends this month, next month, or in a couple of years.
If you want to know for sure if it is worth to invest or not, and can not choose a reliable company, feel free to contact us for professional consultation. We have deep technical expertise in all business areas and know what problems you can face in each of them. We provide detailed consulting with our specialists, defining strong and weak sides of the company and technologies you want to invest in. So take your time and get a consultation as soon as possible if you re ready for investments.
Conclusion
As time flies, many companies are already used and learned how to avoid losses. They continue to grow, launch new products in new conditions, change the ways, and the strategies of work processes to make them efficient. Of course, before making a decision about an investment, you need to learn the situation deeply. You need to know the history of the company, their workflow and strategy, their past products, and the quality of services. You can always contact our professionals to get some useful tips and decide if it is worth to invest.
Investment
Ready for investments but don't know where to start?
Your success depends not on the crisis but on the company you will choose. To make the right choice, you need to gid deep and learn the history and workflow of the company, also to develop a business strategy of developing technologies that there are in this company.
Among the most popular and advanced companies, we can highlight Microsoft, Amazon, Netflix, Apple. Their companies and shares rates only grow and increase.
If you want to succeed in investment but have never faced it before, you definitely need the help of an experienced specialist who will build the right strategy for you and give useful advice.