At the end of 2020, we started developing an Omni portal for an enterprise company. It is not the first project to combine several functions – in other words, "all-in-one." The popularity of such solutions is easy to explain by topics. The abundance of tools can complicate the workflow and interaction between departments since sometimes it can take half a day to collect the necessary data. It is because your company's development team has a different set of tools than salespeople or marketing colleagues. Thus, chaos can intensify when we talk about increased collaboration between teams, departments, and organizations, where everything is interconnected.
With the accumulated expertise behind us, we share exciting observations and forecasts for the near future with the blog readers.
Multifunctionality of applications
Over the years of working with office software, companies have concluded that the fuss between files and applications in search of information is an unnecessary waste of time, which affects not only the efficiency of employees but also the company's financial results. A Harmon.ie study found that 41% of workers run at least two to three apps a day to collect data. It leads to a decrease in concentration, a decline in productivity, and, ultimately, demotivation.
The need to switch between different programs explains the growing popularity of complex office applications, where the all-in-one approach is implemented.
The same approach is offered by developers of such applications, for example, PandaDoc. This software allows you to automate work with documents, combining many functions in one place. So, today, the creation and signing of contracts, discussion, and approval of texts and tables take much less time than five years ago.
Now for desktop applications, the trend is for integration with calendars, task schedulers, instant messengers, email clients, etc.
Office suites vs. performance
The popularity of BI tools (Productivity) is rapidly gaining momentum, but in 2019 it occupied only 1% of all applications in the Apple online store. Despite the small volumes, the market for such applications was equal to almost $ 600 million already at that time. Today this figure is three times more.
Large and medium-sized businesses prefer to buy software proven over the years from Google and Microsoft.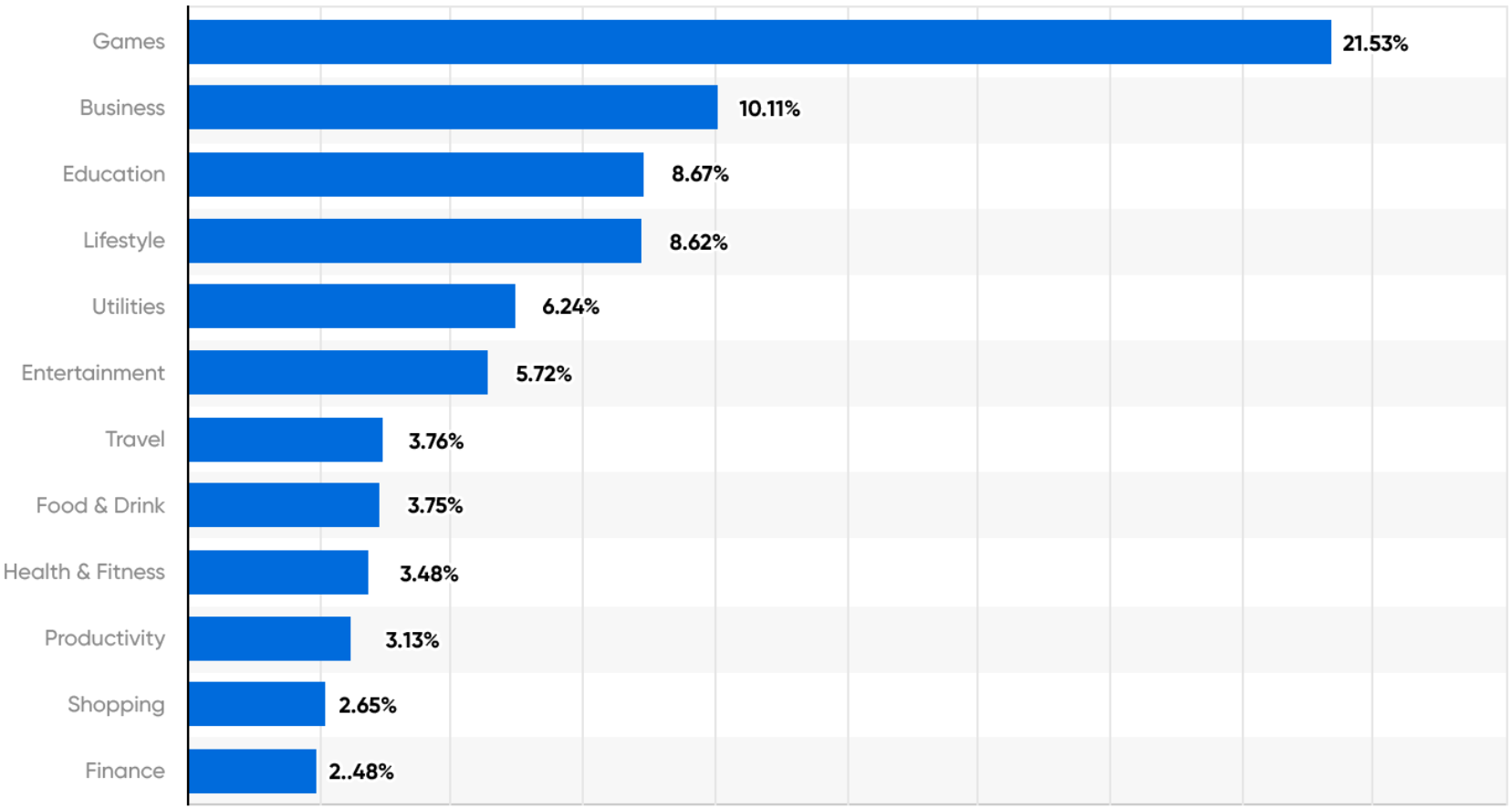 But new applications are conquering their niches and users' hearts among small and medium-sized businesses, offering precisely the necessary features and not a set of useful functions that may someday be needed. For example, Goodnotes and Notability have become favorites of tablet owners, especially among students and creative professionals.
Documentation management
According to the Intelligent Information Management Benchmark Report 2019 by Project Consult:
46% of office workers admit that it is always difficult for them to find the information they need;

86% of all respondents report that they sometimes experience difficulties in finding information necessary for work;

83% of employees were forced to re-create an already existing document because they could not find it.
It is even though modern tools should simplify these processes. Even if you know where the information necessary for work is stored, you need to open the file manager, find and open the document, copy the information, close it and return to the original file, and only then paste the data where you planned.
There will be no such problem if both the creation of documents and their work and their storage are carried out inside the application, not to search for them on the device.
Want to manage your business workflows effectively?
Collaboration
The concept of collaboration began to change even before the quarantine. According to a 2021 study by Check Point, users are increasingly concerned about data security and privacy. Uploading documents to the server does not guarantee that they will not fall into the wrong hands. A couple of years ago, users often sent important confidential documents by mail, collected additions and updates from colleagues in parts manually. Therefore, some information could be lost. It made it difficult or even impossible to collaborate on documents in real-time.
Access to documents is another problem that cloud users face from time to time as luck would have it the closer the deadline, the more annoying the difficulties. Indeed each of you had come across a situation when changes in the document disappeared due to technical errors or the server was completely unavailable for some time.
Market leaders
Now let's talk about which applications are in the highest demand —ranking based on Sensor Tower data as of April 2021.
Free and shareware iOS apps

The undisputed leaders among office and related apps on the App Store are:

Google Office Suite: Docs, Sheets, Slides, Drive, Gmail, and Calendar. Most of Google's services are free for individual users, making them the # 1 user experience.

Microsoft Office suite: Word, Excel, Outlook, OneDrive, PowerPoint, Authenticator.

File sharing services. Dropbox is an alternative to the above storages, popular all over the world.

VPN services led by VPN Master and Turbo VPN.
Much less often, but with a high degree of loyalty, happy owners of iPhone and MacBook use free document editing tools from Apple: Pages, Numbers, Keynotes.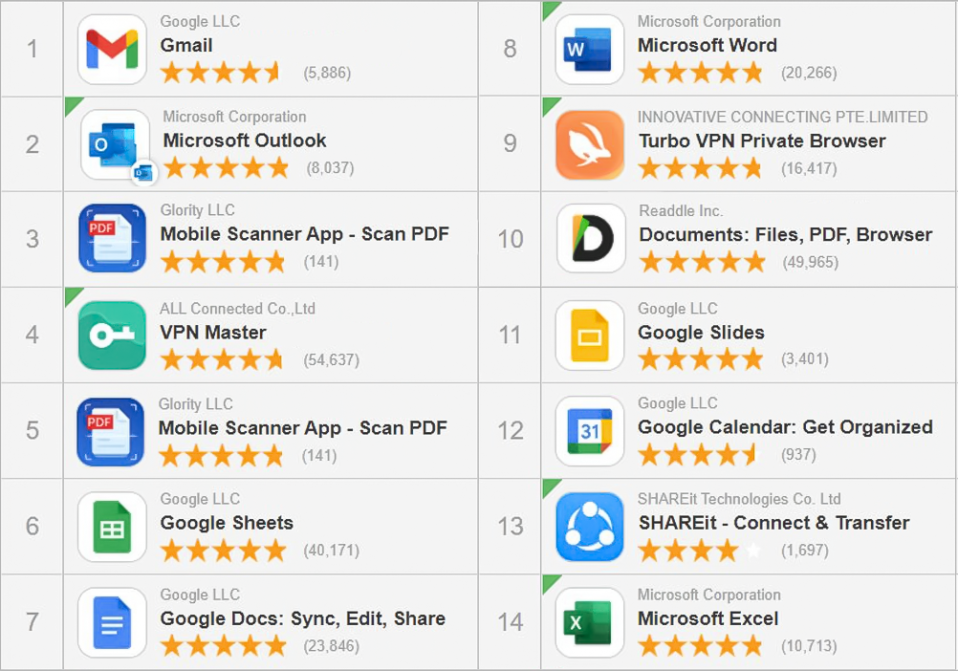 Conclusions and forecasts
New complex applications are heading for the top. If earlier people preferred established corporations – Google, Microsoft, now they are increasingly using alternative applications developed by startups.
Furthermore, today's alternative apps will rank in the top 5 apps. Industry giants are also developing or absorbing successful startups.

Now the market is still widely represented by applications for each task. We believe that there will be a consolidation of the market, and solutions of 10 in one or more will be at the peak of popularity shortly. 

People buy and will only buy what they need. As a result, in five years, people will not download dozens of programs that may never be useful but will choose niche applications to achieve their goals.
As you can see, there are many opportunities for developing complex solutions. The main thing is to listen to user feedback and respond to them promptly. However, only those applications that keep people focused on what they are doing will keep in the first positions because technology should solve problems, not create them.
Want seamless workflows for every business process, ensuring accountability for each step in moving work forward?