The struggle for the user by improving the user experience does not stop for a minute. On September 12, 2020, at the presentation of new Apple products, there were many innovations, significantly how the built-in photo editor can improve photos using AI and other tools. Now Google has introduced to the market several new devices, including two new Pixel phones. The news from the company did not end there, as Google is continually improving the software, ultimately benefiting users of other Android devices.
Yesterday the company introduced a new version of the photo editor in the Google Photos app for Android. The main feature was artificial intelligence, which will help improve your photos by offering you several better examples. All the user has to do is touch the appropriate option.
Naturally, the first device to access the new feature will be Pixel devices. They will primarily get more advanced features that will allow you to enhance particular portraits, landscapes, sunsets, and more efficiently.
In addition to solutions that can be applied in one click, the new editor will make it possible to more accurately control the settings, namely the brightness, contrast, saturation, and image temperature.
Well, we left the most delicious at the end. The new photo editor will receive the "Portrait Light" function, which will allow you to change the light scheme in an already finished portrait photo. This function can be applied not only to photographs that were taken in Portrait Mode. While this feature will only be available on Pixel 5 and Pixel 4a (5G), it will soon be available on other Android devices.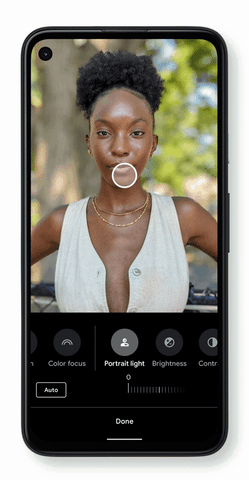 All you need is the Google Photos app on Android to test the new features. Whether the Google Photos app for iOS will receive new features is not yet known.
A beautiful photo or video now influences many factors, be it the choice of a product in an online store or an ordinary person's Instagram account. Everyone strives for a perfect picture. Therefore, if you plan to develop a social application, an interior design application, etc., consider adding an editor for graphics, photos, or even videos. This will increase your users' engagement and make life easier for them since there will be no need to look for third-party solutions. How do we know this? We have extensive experience in the development of social networks and custom solutions for different types of business.
Do you want your app to have an outstanding photo editor?
Do you want to see such articles in your inbox?
Stay up to date with latest tech trends and products