At much-waited WWDC 2020, Apple announced new iOS 14 and changes touch upon a family of operating systems of iPad, watchOS, macOS, and tvOS. If you are a real estate owner and active user of Apple HomeKit or you are only going to equip your property with new smart gadgets (IoT) then the coming update of iOS will bring you many useful features. Simplified process of adding new devices, the modified interface of the new Home app, motion zones, facial recognition in HomeKit Secure Video, and more new features will be available with new iOS. We will try to make out the details of each new option and how can you benefit from it?
The updated platform of HomeKit is intended to provide a robust experience that's why Apple improved everything from the setup process to using the Home app and controlling different devices.
The incredible thing happened this year and now, Catalyst supports HomeKit apps. This means iOS developers will be able to create their own third-party HomeKit apps for the Mac, which was never possible before. This event opens up incredible possibilities for manufacturers of home smart devices like:
a personal wireless lighting system that allows to control your light and create the right ambiance for every moment; 

doorbells, for example, August Doorbell Cam is an effective IoT innovation. August Doorbell Cam allows you to answer your door from anywhere or remote location. It constantly checks your doors and also captures motion changes in your doorstep;

air pollution monitoring device which helps measure indoor pollution and leads to improved air quality in houses, workplace;

thermostat to control the temperature that can adapt to your activities and regulate the temperature in the room automatically based on your routine;

and many other Internet of Things devices that make people's life more comfortable.
As you can see HomeKit connects diverse Apple-supported devices as we mentioned above in the home to an iOS control center app called Home. Using the Home app enables you to manage smart home devices from different manufacturers, also it allows you to organize devices together into groups to control them all at once. 
Want to find out today how to make your smart device compatible with new iOS 14?
So if you already produce IoT devices or just want to start it the right time to adapt to new market conditions and redevelop or build a software that is compatible with iOS to engage a new audience.
New specific features that iOS 14 brings to the HomeKit ecosystem that may be interesting: 
Suggested Automations option.

Your iPhone will suggest several ways how to use your new gadgets and automatically show you information based on the room and what's inside it.

HomeKit Secure Video

works with full support for activity zones as well as facial recognition. You can point to the Home app which sections are vital to monitor and to ignore. Cameras will notify you when they go offline and come back online, and all these events will be displayed on the history timeline in the Home app. Having a HomeKit-compatible video doorbell with iOS 14 enables you to see a video feed directly to your Apple TV so you will see a person at your door. There will be accessible the facial recognition feature built-into Apple Photos because Apple links up the camera feed and HomePod, enabling the last one to announce that a particular person is at your door if the system finds them in your Photo library data.

HomeKit lights. Apple takes care of the users and makes it possible to adjust the color temperature of the home lightning for eyes comfort. Any HomeKit lights that support the white color spectrum will be able to automatically shift their color throughout the day. The idea is to start warm light in the morning, going more blue midday to help the user be productive, and becomes more comfortable with warmer shades in the evening to help you get ready for bed. Third-party lights such as Hue already perform this so we expect to see HomeKit support the option originally.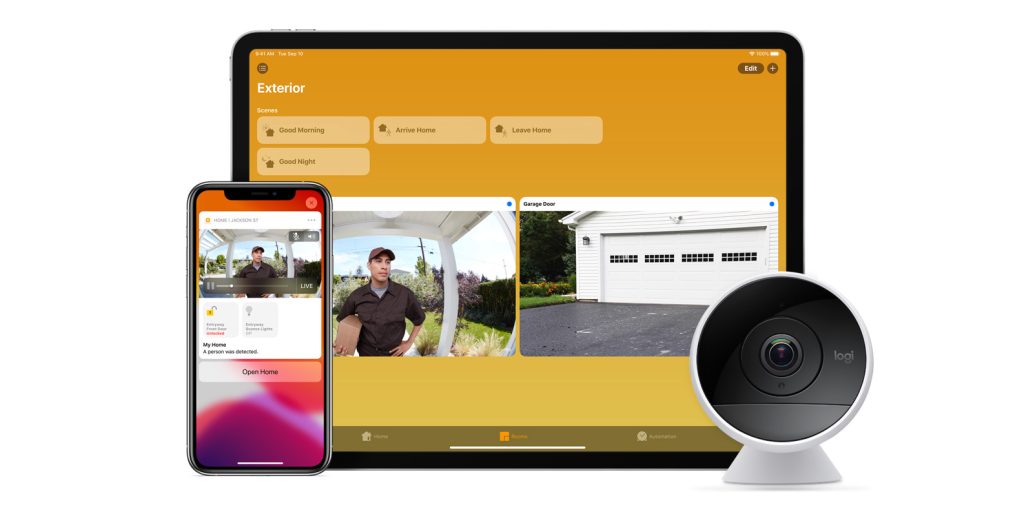 HomeKit is a framework that connects smart home accessories and add new functionalities to devices like doorbells, lights, locks, cameras, etc. You can manage and configure IoT products using apps on your iPhone, iPad, or Mac, or even Siri voice commands. We expect HomeKit becomes the most extensive, powerful and secure smart home that is available from more than a billion iOS and iPadOS devices.
Here can be a large list of smart home devices, for example, plug, security camera, thermostat, lighting products, and more. The main condition for the device to work with Apple Home app is compatibility of an IoT device app with new iOS.
According to statistic there is about a billion Apple devices currently in active use across the globe so redeveloping your smart home device app will help you to expand your target audience and increase your revenue. How to do it? Ask your development team or get a consultation from our experts
Conclusion
When it comes to a house going smart, the opportunities are really endless. Now Apple provides ample opportunity for companies that only going to build home IoT devices or already does it to get a whole new market share. Through HomeKit Apple enables your app to manage and monitor home automation gadgets from a wide range of vendors to present a holistic, user-focused interface.
As a software development company, we constantly monitor trends and help our customers to make their apps modern and ace solutions. You can take advantage of building software for your smart devices that would be compatible with new iOS and Home app to take user experience to the next level.
Check our article How will iOS 14 influence app development and what trends will appear? to keep abreast of the latest news from Apple.
Looking for professional software engineers to build a web or mobile app for your IoT device?