This year has only started a couple of months back and it already managed to bring a lot of changes. Unfortunately some of them are extremely unpositive like the outbreak of COVID-19, unstable economic situation and the population of numerous countries worldwide put in quarantine. 
Of course in such a situation priorities shifted and the health of humanity became the crucial concern. We all know that healthy eating, personal hygiene and regular training help people to keep themselves healthy. But now sport is no longer accessible. If not so long ago people could attend fitness classes, train at the gym or just jog in the park, now they are locked in their apartments and cannot do sports like they used to. Going to the gym is no longer possible or safe, because people would have to use the same training machines, benches and equipment. To make training safe and to avoid contamination people would have to wipe everything and not once, which is a questionable way to keep yourself safe and train effectively. 
This big problem affected not only the quality of our life but also all small and big businesses related to sports. All gym owners and trainers are left without clients and therefore temporarily deprived of work and income. All beginners who used to train with personal gym instructors now feel helpless because they do not have enough knowledge to create their own training plan and keep doing exercises at home. So is there any way to help people stay active and business owners to keep afloat in the times of pandemic and quarantines? The answer is yes! Digitalization can help them both. So, without further ado, let's dive into this topic. 
Fitness app and Gym Stream are today's buzzwords
Nowadays everything we do is closely linked to our mobile devices. We pay, learn, read, listen to the music, communicate and do a lot of other things using smartphones. So why not use your little mobile helper in the times of quarantine to get access to online training guides? This is a great opportunity to keep training while at home and staying healthy and fit. 
Among huge variety of mobile solutions for training at home the most popular are: 
Apps with training programs and guides; 

Apps related to a specific kind of sports (yoga, weight lifting, running, pilates, etc.); 

Apps with fitness videos and pictures demonstrating how to do exercises; 

Apps with fitness community (people train and discuss their progress in chats); 

Apps for training, tracking activity level and counting daily calorie expenditure.
There are way more kinds of applications you can benefit from while being locked at home because of COVID-19. But who actually makes these apps? Can they be trusted and would they bring good or bad to you? Based on our experience we can say that usually fitness applications for mobile devices are created by people who are deeply involved into a sport sphere. Gym owners, YouTubers, experienced sportsmen and athletes who want to share their knowledge with people tend to create their own app. E.g. Such popular YouTubers like Krissy Cellahave been training for many years, experimenting with exercises, technique, equipment and training approach and based on these accumulated experience and knowledge they build their own fitness apps (and not even one, some of them built 3+). Those applications (Home, Move, Tone and Sculpt, Alive) gained massive popularity and attracted thousands of users all over the world. 
While everything is clear with the applications – you pick one up to your liking, install and start training, there is one more interesting way to attract people to exercising at home. We are speaking about live streams and video training. Who would not like to have some company to train with and while doing this to exchange a couple of jokes, have a little chat and enjoy the process after all?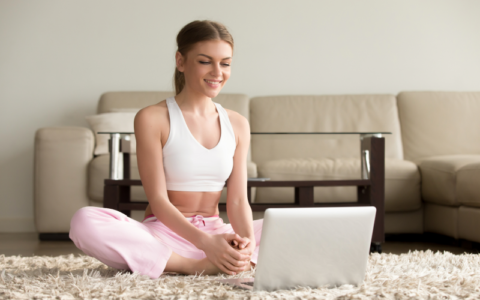 So-called gym streams are a huge trend right now, especially in the time of the pandemic emergency when people appreciate remote company. Gym owners can offer the remote services of their training instructors – it is possible to stream how a sportsman demonstrates the correct exercise technique, they can arrange remote group training, or this can be just a discussion of the training plan and goals, any diet or meal plan. 
What expects fitness industry after all? 
COVID-19 changed the lives of many people and created extremely hard times for some businesses like the fitness industry. If people can't leave the houses, then there are no clients in the gyms, there are no personal trainings and therefore no usual income. 
Although the fitness industry will experience a recession even after the quarantine period is over, there is a way to save this business. Our prediction is that digitalized business can be more competitive and attract more people. So when the gyms will be opened again, they should not expect the immediate influx of clients. People will keep being busy with recovering from hard times. So if you are still thinking whether making an app for home training is a good idea, the answer would be – yes! There is no better way to open new business horizons and to position your company as a reliable one interested in helping people to get healthy no matter at the gym or at home.
Feel that your business needs an app?