Are you as eager to test brand new features of both iOS 14 and iPadOS 14 as we are? While common iPhone and iPad users just want to try out and play with the new options, various businesses are already thinking about how to make new functionality work for their profit. Good news is that with the addition of the new feature called Scribble to iPadOS we can all greet a new era of applications related to architecture, design, personal, and business notes. 
The greatest thing is that to use Scribble all you need to have is your iPad and Apple Pencil and that's it. It can be used for creating handwritten notes, drawing sketches, and even creating professional drawings of complex objects like vehicles, facades of the buildings, or interior plans. With Scribble drawing and writing, the experience will be seamless and pleasant as never before. So, let's not waste the time, and proceed to all details right away! In this article, we will tell you how Scribble is going to work, in what business niches it can be applied and what apps will become extremely popular after iPadOS 14 release. 
What can you do with Scribble? 
First of all it is necessary to mention that the initial purpose of Scribble was to allow iPad users to add handwritten text to the corresponding fields without switching to keyboard and typing. This is a totally new fast and enjoyable user experience. And the second great feature is recognition of drawn objects of any kind and transformation of them into perfectly shaped ones. So let's take a closer one at each of the named features and how they work. 
#1 Transform handwritten text into typed 
The nicest thing about Scribble is that it allows us to copy handwritten text and paste it as a typed one. So literally it performs the transformation of text making the creation of notes, reminders, and search on Google faster and more convenient. Let's check out how this works by watching the video provided by Appleinsider on their Youtube channel. 
If you've watched WWDC 2020 then, you've seen a real example of how Scribble works. You can, for example, open Apple Maps, write there "coffee shop" and that text will get transformed into a typed one and you will see the nearby coffee shops on the map. The greatest thing about Scribble is that it is smart enough to wait until you completely finish writing. I.e. the search will not begin generating results until you finish writing your request. 
Whatever you need to do on your device, you can do it using Apple Pencil and forget about switching to keyboard mode. Writing emails or adding Calendar events, formulating your search request in Safari, etc. Scribble will even recognize the most complicated handwriting and if you made a mistake in your text you can simply remove it using Apple Pencil. 
Even handwritten phone numbers can be recognized by the operating system and dialed. You tap the number, then it gets detected and converted into a format that can be used by iPad for calling it. The links and email written by hand will also get clickable on tap which offers instant access to numerous actions while you are using the Internet. 
Have a note making an application in mind but not sure what to do with your idea?
#2 Irregular drawn objects will get the perfect shape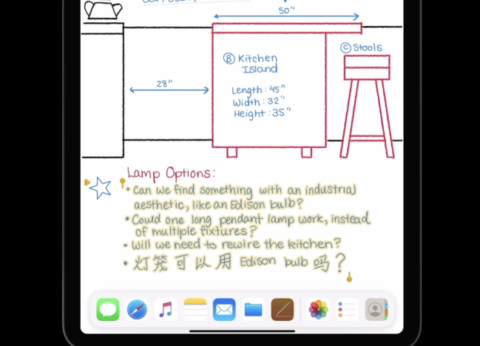 (Image credit: Apple)
Have you ever been irritated by drawing on your device and ending up with inclined lines or imperfectly shaped objects? You may be a master when it comes to drawing on paper but drawing with a pencil on screen is absolutely another story. It is way harder. 
So Apple took care of all struggling "artists" and added object shape recognition and feature that will automatically change it. Let's say you've drawn a triangle that turned out a bit sloppy, well now you will not need to remove it and perform a couple more attempts to draw a perfectly shaped one. Scribble with doing this for you in less than a second. 
Shape Recognition tool will be present in iPadOS 14 and it will change the way users interact with usual applications for sketching, taking notes, creating drawings. What we can say for sure – it will be much easier to express your idea on a screen in the form of a drawing. As a software development company with a big experience in designing and developing various solutions, we are sure that Shape Recognition tool will launch a new trend for apps somehow related to interior design and architecture. Or course those solutions will not replace more professional tools but will allow us to speed up initial preparations for project creation. 
Already have an awesome app for drawing but think it needs to be updated?
What businesses will benefit from Scribble features?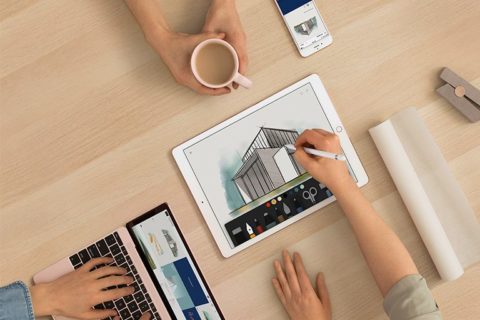 While some developers are already so focused on learning guidelines for implementing new features into iOS apps, we would like to emphasize how crucial it is to pay as equal attention to iPadOS 14 and Scribble. So many businesses can make use of new Scribble features and open new professional horizons and among professionals who need these new features are:
interior designers;

construction makers;

clothes designers;

illustrators;

architects and restorers;

animation makers;

graphic designers. 
And the list goes on since any profession that may need high-quality devices and tools for drawing can make use of Scribble. Therefore the release of iPadOS 14 can become a great opportunity for all people who have a great drawing app idea in mind and enough money in their pockets to develop it. 
We all get used to great tools like Linea Sketch, Procreate, Autodesk Sketchbook, and many more, but it is high time to create a decent highly competitive solutions for drawing. This business niche is not overcrowded and there is still someplace for new revolutionary ideas. While iPad sketching solutions cannot replace real professional desktop programs, they can really help people prepare for presentations, shape their ideas in a quicker and more convenient way (after all your iPad is always at your hand unlike a computer). 
With the features Apple is going to incorporate into Scribble it will be possible to get quite precise drawings that can include handwritten notes. Let's imagine you are an interior designer and you need to furnish a kitchen. With Scribble, you can draw a plan of the kitchen space, add necessary furniture and write crucial figures and ntes (i.e. furniture color, size, materials, etc.). Isn't is great in terms of productivity? 
Even if you already have an app that works with sketching or writing notes, consider updating it. How this can be done? First of all, you need to contact the software development company and ask them to review your old code and then enable and customize Scribble feature according to your app needs (this can be done by adding interaction and the procedure is described on Apple developers website). 
Handwritten text can be easily copied and then used not only in Safari, but also in presentations, charts, and Messenger, If you write telephone number, it can also be copied and added to your contacts in a couple of taps.
It can be called so thanks to numerous options related to work with text. First of all the handwritten text will be transformed into the typed one, you can easily copy and paste it, to erase something you can use Appl Pencil and scratch a thing out, you can also select pieces of text by circling them and then moving.
Scribble uses onboard AI that allows to recognize phone numbers, addresses, emails, handwritten words, and formulas. Thanks to handwriting engine Scribble performs shaping of painted objects and converts them to their ideal form.
To conclude 
The future is closer than we think and it is all about speed and quality. Whatever creative profession you take, you will face the necessity of high-quality tools. Now when tablets are used even more often than desktops or laptops it is reasonable to take care of user experience and provide a new way of using the common app's options. 
Scribble that was announced by Apple and will be added to iPadOS 14 is a revolutionary tool that will provoke the rise of sketching and note-taking apps. By offering users a chance to transfer handwritten text into a typed one and by turning your sloppy drawings into perfectly shaped objects, Scribble will become a new black among all other iPad options. 
Have a great app for drawing or making notes in mind? Or maybe you have an app that requires code review?