A recent presentation of Android 8 (knows as Android Oreo) and consequent total solar eclipse cast a shadow on Progressive Web Apps. How could it be to have all Android Oreo Features in PWAs?

What is Progressive Web Apps?
Progressive Web App (PWA) – is a specific application type developed and promoted by Google that uses web technology stack (JS + HTML + CSS). PWA allows users to combine the ease of use of a traditional website with features and UX capabilities specific for native mobile apps. In other words, PWA is a hybrid of a website and mobile app that features best of both worlds.
Advantages of Progressive Web Apps:
Can work offline.

Great performance rate.

Effortless install without app store mediation.

Near instant page loading speed.

Direct communication through push notifications is possible.

No updates required (PWAs make updates on the go).

Portability and High adaptability (work on any OS platform).
Some drawbacks of Progressive Web Apps:
Need for an experienced development team.

Minor issues with SEO and PWA indexing may occur.

Some feature won't work on iOS devices (home screen shortcuts, push notifications).

Adoption of PWA is relatively slow comparing to development of web techs.
Despite all advantages of Progressive Web Apps, Google still doesn't pay great attention to them. Some of the best features, as well as old tricks, turned out to be unavailable for PWAs.
Let's explore what lies inside Android Oreo and how it could be applied in Progressive Web Apps.
Best Android Oreo Features We Put Our Hope In
Notification Dots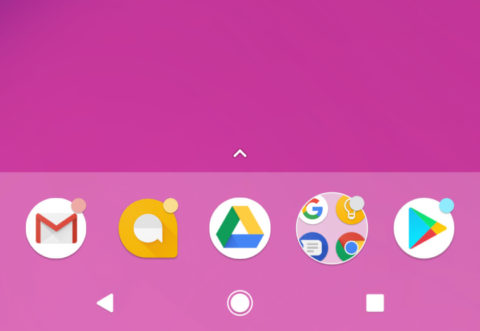 New Android Oreo has learned an old trick – Notification Dots. You're right! UI feature that has been part of iOS for years was introduced into Android Oreo in 2017. Dot is an indicator of pending notifications. Yes, dots are annoying. And yes, they can be turned off.
Bad news, though. Dots are unavailable for PWAs yet. Still, we hope this feature will be activated soon.
Notification Channels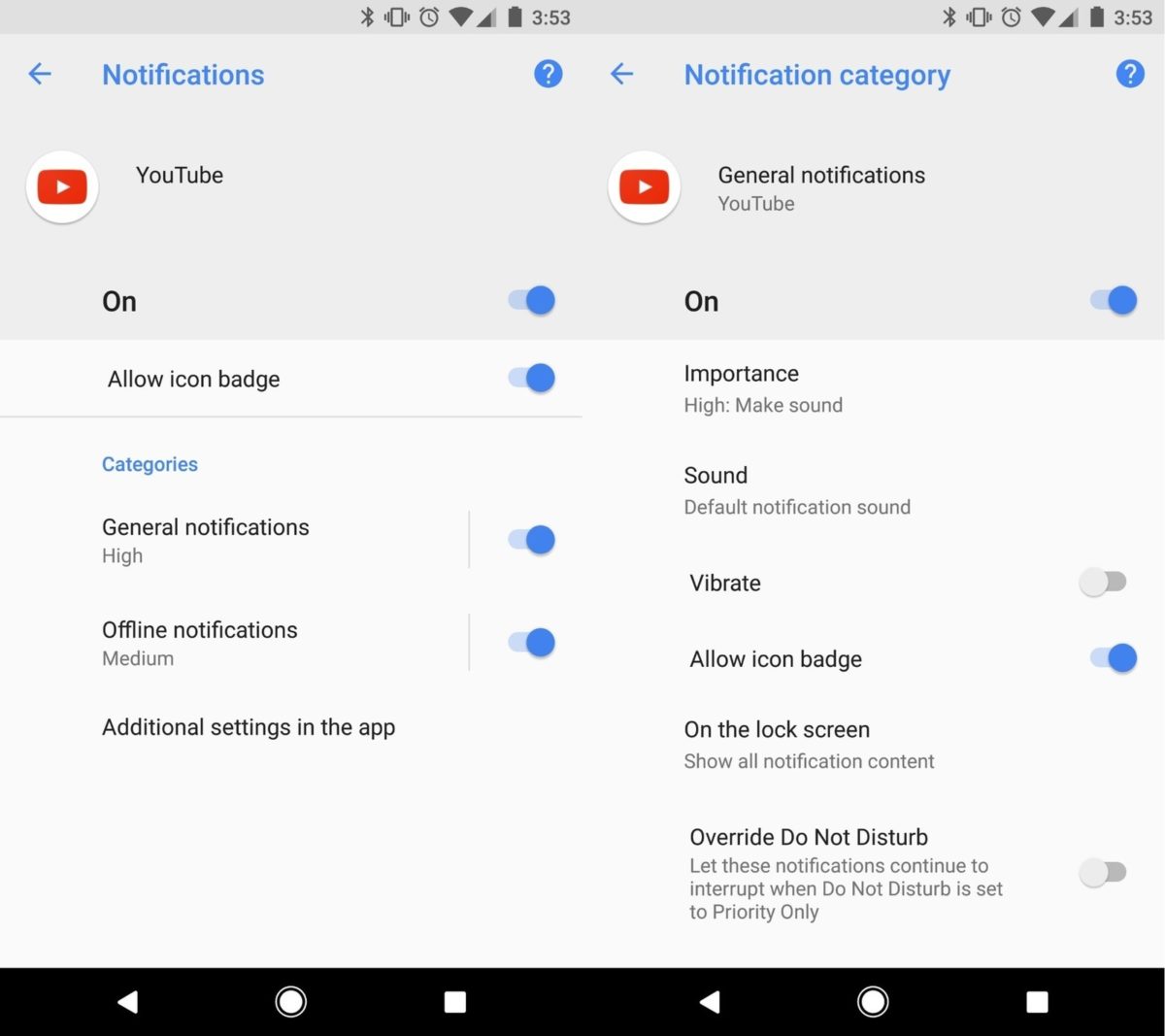 Another great refreshment of notification functionality. This time a new one. The new Android OS allows users to group notifications into channels by sorting them into categories. In the ever-growing notification world, this feature comes right on time.
In addition, Android Oreo supports users with snooze option, which is definitely a relief, given the persistence of some apps. Users will be able to snooze notifications for 15 minutes, 30 minutes, or one whole hour.
For good or for bad, channeling option is still not available for PWAs. On the bright side, users won't be able to tag your notification as "Unimportant Staff". On the other hand, we hope this feature will become available for Progressive Web Apps soon.
Just imagine possibilities the feature opens for e-commerce platforms and digital outlets. Those businesses always have plenty of new content to share with their audience. Using specific channel the news will be stored Instead of blocked by default. For example, users could tag Zappos' notification into "Shopping" channel and browse them when needed.
Shortcuts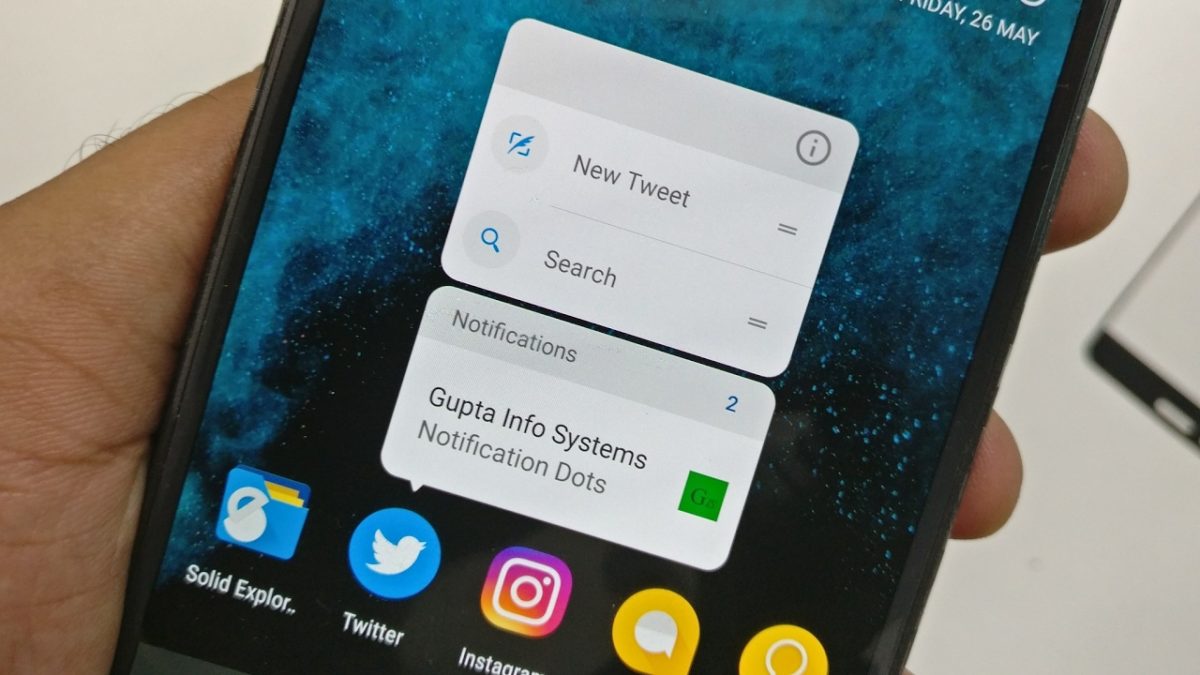 Shortcuts were first introduced in Android Nought. When the user touches and holds app's icon a little pop-up menu appears with most common tasks inside. Android Oreo has refined shortcut menu and added widget access from the shortcut.
Needless to say how useful shortcut functionality could be if it was available for PWAs. You could apply different access point for different sections of your site. Or, you could finally create a widget that would broadcast required information to your clients.
Icon Shape Change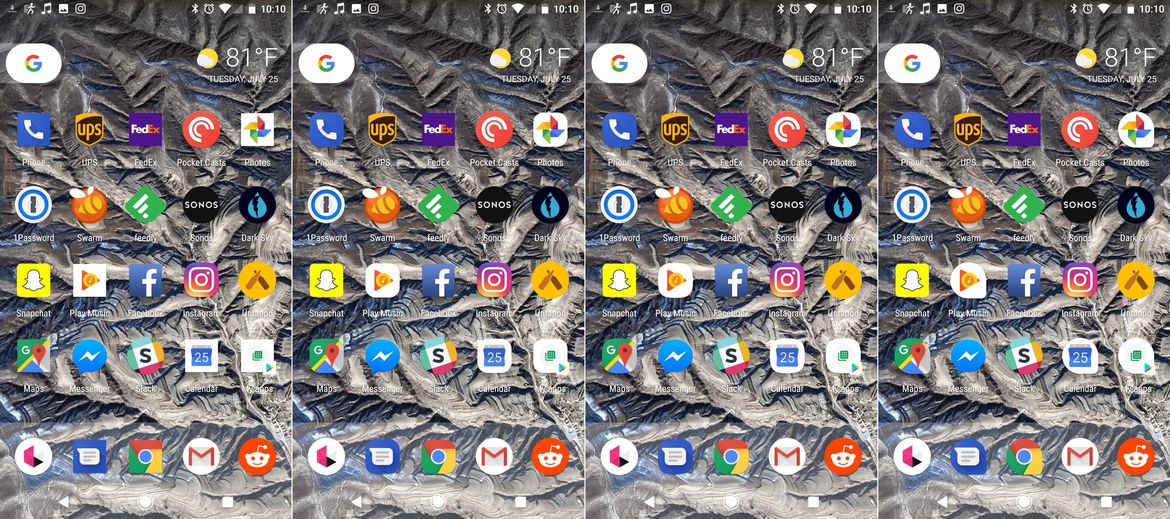 Android Oreo opened a new customization option. From now on users can change the shape of app icons without installing a theme. Currently, new OS offers for option: square, rounded square, squircle, and teardrop.
Unfortunately, PWAs can't take advantage of this feature. Moreover, there were some problems with default icon display in Oreo version (square icons were reduced to fit round boundaries). Hopefully, developers at Google resolved this issue by activating WebAPK for all Android Chrome users.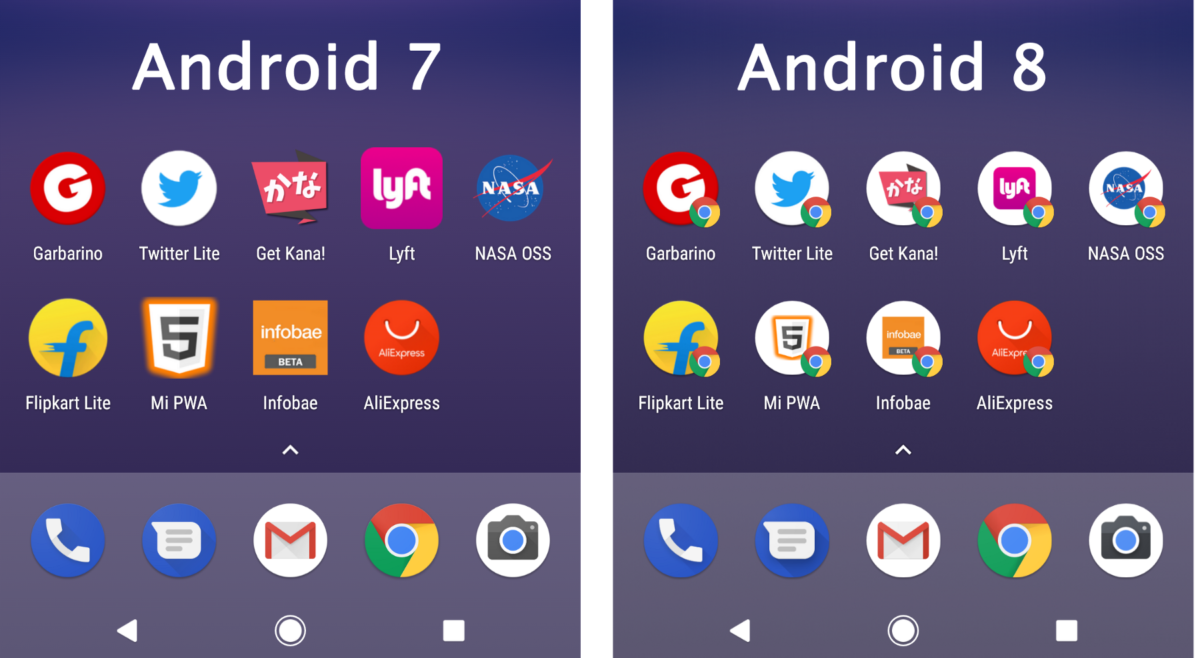 But WebAPK is a patch that resolves the issue for Chrome users only. Samsung Internet, Opera, Firefox and other browsers are still experiencing same troubling PWA icon presentation.
Another questionable decision is badging app's shortcuts with Google Chrome symbol in the lower left corner of each PWA. These badges go against the core concept of Progressive Web Apps that should be perceived as sovereign applications. Instead, those little browser badges confuse users by presenting PWAs as browser bookmarks instead of full-fledged apps.
Picture-in-Picture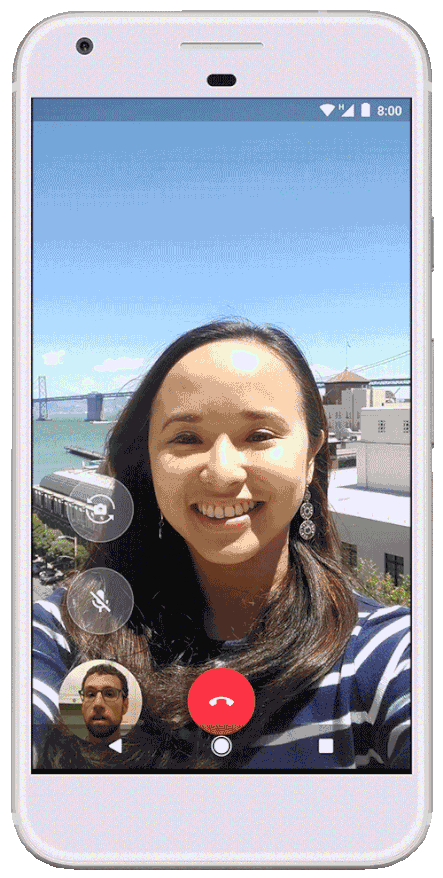 On the bright side, a long-awaited picture-in-picture feature is performing well in PWAs. If you wrap your video content in the <video> tag it will continue playing on the home screen as a floating window. This feature definitely can be paired with live streaming technology and used to enhance UX of broadcasting websites. Finally, tablets will become a little bit more useful.
Bottom Line
Sad to say, but we must admit that Progressive Web Apps is more on a "concept side". It is frequently praised by industry experts and developers, but still underperforming compared to the development rate of native apps and web technologies. Android Oreo release just proved it once again.
Still, we hope this paradigm will change in the near future because the functions that were introduced in Android Oreo promise such a great opportunities for PWAs. Meanwhile, you can develop a straightforward web app and turn it to PWA when the technology will be ready.