The coronavirus outbreak is first and foremost a human tragedy, affecting hundreds of thousands of people. It is also having a growing impact on the global economy.
Just yesterday, companies discussed their ambitious plans for 2020 and to make significant projections for their growth. But today we all have to reconsider our plans and operating models. Some industries like travel and aviation were worst affected. Others, like the IT companies, face a lot of financial challenges caused by the virus and alarming macroeconomic trends.
The IT industry in Ukraine is one of the largest outsourcing service sector. the USA and Western Europe tech companies and enterprises use over 60% of Ukrainian IT companies for outsourcing software development. Companies involve Ukrainian engineering specialists not only to reduce costs but also to find rare tech professional and decrease the time to market of the products. 
GBKSOFT is a global software development company with over 100 specialists and 9-year experience of working with customers across 5 continents. During the time of crisis, there are a lot of exciting questions from our customers who have outsourced development teams in Ukraine and those who are only addressing to outsource Ukrainian company. What is the current status of the coronavirus pandemic in Ukraine? Is it safe to outsource to Ukraine now? How are Ukrainian IT companies respond to the changes? We will try to cover these and some other questions.
Ukraine take measures to prevent the virus outbreak
Ukraine wasn't among the first affected countries. The country was able to take precautionary actions. Ukraine acted fast and within two weeks after the first confirmed case, both the government and businesses undertook radical but necessary activities to prevent the spreading of the disease – from closing educational institutions to travel prohibition.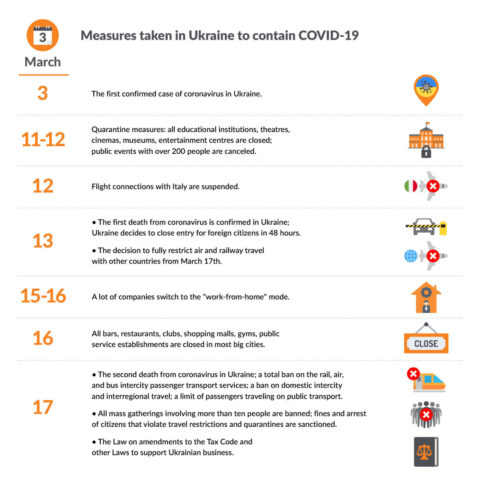 This action helped Ukraine to contain the virus for a while. When talking about the economic impact, it is clear that not everyone will get through this. And although Ukrainian IT service companies are used to working with distributed teams and have necessary infrastructures and processes for surviving the quarantine, they will fill the impact like any other business.
The Ukrainian companies took a series of actions to keep their employees safe and avoid disruptions in the working process since the beginning of March. They include organizing remote work and providing the latest information about the virus. In particular, we at GBKSOFT started reviewing our office work after the first confirmed case of COVID-19 in Ukraine. We started by giving our staff necessary information about the virus, increased office safety, optimized our online working tools, etc. Our next action was shifting to the WFH form.
How Ukrainian IT companies adapt to the coronavirus effect
Our clients in the USA and Western Europe felt the impact of the coronavirus outbreak several weeks before the first confirmed case in Ukraine. GBKSOFT team began ongoing business planning at an early stage. Our priority was to keep delivering results to our customers efficiently and remain our high-quality standards.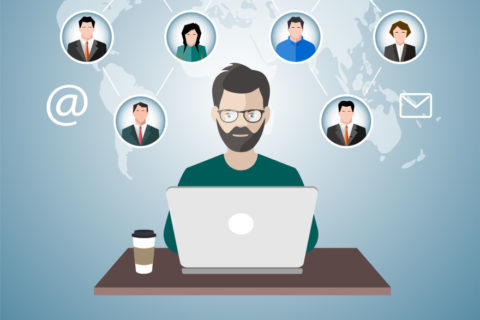 After the quarantine had been introduced in Ukraine, all companies switched to the working-from-home mode and increased the preventative actions as:
All business travels were canceled; 

Implementing a "remote workload test", gathering results and eventually switching to the stay-at-home form;

Prohibition all in-person meetings, switching to online communication tools;

Arranging all group activities with online communication tools;

Focus on productivity during the working day, detailed reporting, sticking to all the schedules.
After 3 weeks of WFH mode, the GBKSOFT team showed a high productivity performance and readiness to work under new development projects. Almost every company faces difficulties and uncertainty at these challenging times. To give up or adapt your business to the new situation it's up to you. Business digitalization is a necessity not just a trend. Companies who shifted to online stay afloat. If you are still thinking about whether to go online or not we can suggest a great digital solution with up to 40% discount. This is a good chance to save money on the development and use quarantine as benefit. Stay safe and let us worry about your business!
Don't know which digital solution will fit your business?