Let's see how the emotional component is formed within a project team and how to manage it to make the project beneficial.

Henry Ford once said: "Why is it every time I ask for a pair of hands, they come with a brain attached?"
This means that wherever people are, there are always emotions and relationships, not just ideas and skills for getting the job done.
The emotional environment of the project is its emotions, as well as the emotional relationships that arise in people during project preparation and the project execution stages.
Emotional management equals the emotional handling of the project, in order to increase its effectiveness. But it doesn't empty scattered emotions that you show to the left and to the right. Let's face it.
What Emotional Management and Emotional Intelligence is Not
1. Emotional management and intelligence are not about being nice all the time.
They are about being honest. One equation written by Charles H. Green stated that the called trust equation works very well in this case

Intimacy relates to the ability to understand how the other person ticks—what may be things that affect him or her and how they respond to developments after the fact.
2. Emotional management and intelligence are not being touchy-feely. They are about being aware of your feelings and those of others. By others, we mean understanding project stakeholders. Get more on this later in the article.
3. Emotional management and intelligence are about not being emotional. They are about being smart with your emotions. Emotional Management – In Practice and In a Team.
 First off, you shouldn't use your computer to learn about your employees that you are working with side by side. Try to go around and let them know who you are in person. Interrelationships always make a stronger connection than the hierarchical commitment or having the desire to keep the job do.
Second, you need to humanize the working operations, working practices and metrics to be clearly written, and then make them meaningful. Some employees like to be under control and provide a full commitment to their manager on an hour-by-hour basis. Others don't like that structure and prefer to be involved through self awareness, while keeping the manager informed about ongoing situations.
From my point of view, when employees understand that they are not being tested all the time and that there's a need to learn from them how things work, they will want to put more effort into their work, They'll work harder to prove that they are an asset to the company, both professionally and socially. We're not talking about hourly estimated projects where each task is assigned with a time for preparation. We are talking more about human essence and spirit.
I really like the picture below, depicting the opportunity to visualize how much of the project is occupied by human relationships, and how directly they affect the results.
Already have an awesome app idea?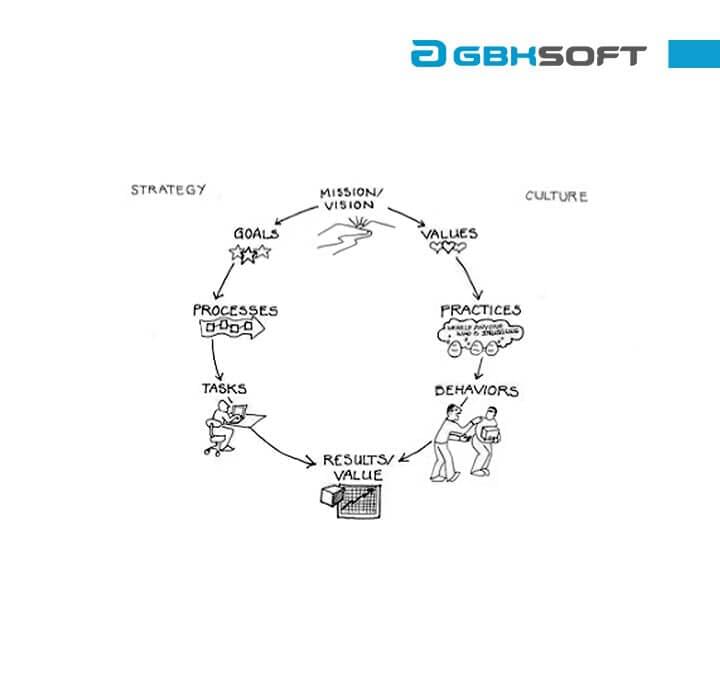 Pic.1 from the publication on Emotional Intelligence for Project Managers
Behavior is always based on values where values create a practice to behave. Statistics show that the impact of emotional competencies on effective performance is around 67%. Emotional management in a technological, fast-changing IT world means that you should also ensure that employees want to stay within the organization at any time and in any situation even when difficulties and problems arise along the way. When an employee feels good about their self every morning when leaving for work, they will not want a new job where they take a chance with other managers within a new and unknown working environment.
What Emotional Management and Emotional Intelligence is Not
Here, I would encourage us to define the typology of emotional management in relational service work. You, as a manager, manage emotion in a way that satisfies the client, in order to generate profit that leads to a successful project, and meets and anticipates the client's additional needs in order to build a strong and far-reaching working relationship. You also might care about the client if and when it is a part of the job. You can't extend care that is beyond job expectations, BUT you should be the one to go ask for it. This will be a Win factor, when the client relies on you full time. Many managers say that they get to know the client's feelings about their work by reading it in an email first. But then, controversial questions are necessary to bring up, leading to the use of Skype or establishing a one-on-one meeting.
Emotional signals through live communication are organizational in that they might be communicated by clients, but are only contingently supported by employees and thus, not universally understood so they are not rules. You as a manager should be able to identify critical connections and keep the state of the situation far from conflict mode.
First, map out your client on your interactive screen app — same as in pic.2 and classify him or her by their interest in your work and their power over your work.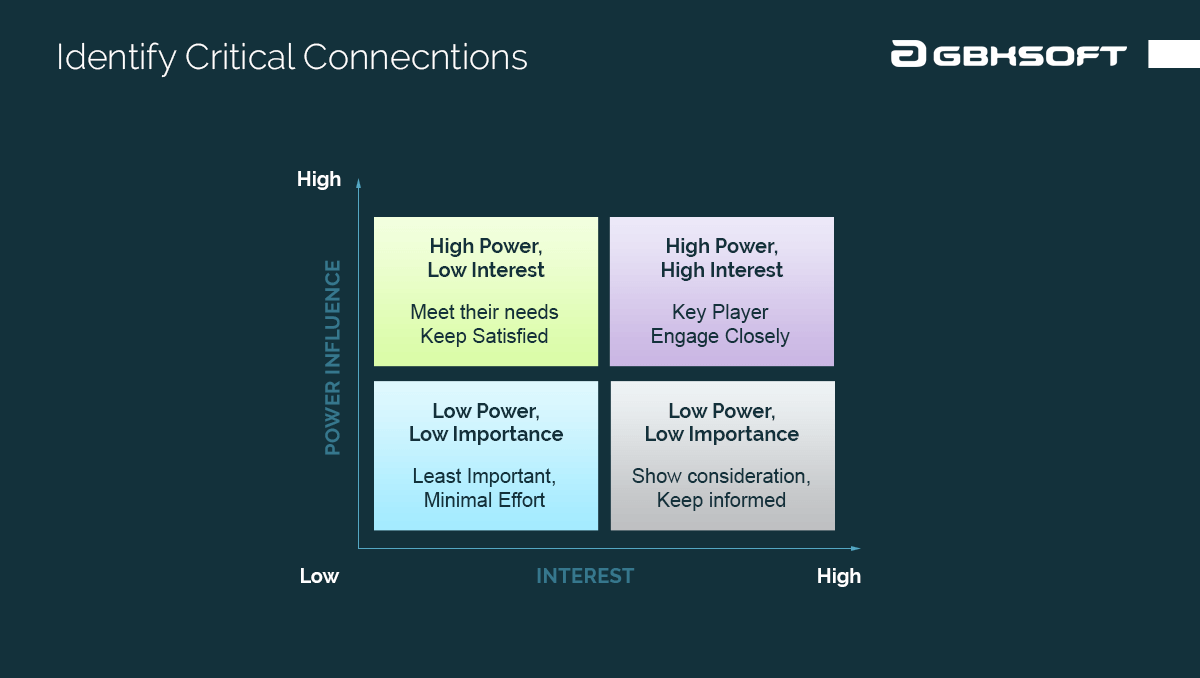 Pic.2: power interest grid for stakeholder analysis
1. High-level and high-interest type clients should be fully engaged and have the greatest effort in achieving satisfaction. Get involved at the first step and consult with them regularly, but any overdoing with emotions isn't acceptable. Build a trustful relationship.
2. High-level and less interested people, keep them satisfied, but don't bother much to engage in their job.
3. Lower-level clients, interested people. They are the ones that usually work with you on a regular basis. They are really helpful with the detail of your project. They might be closely connected to the first type of people as well.
4. Low-level clients are often less interested people. They have no need in excessive communication.
Don't let your customer struggle at any time alone. Support them, ask and support again.
For this reason:
Maintain neutrality in judgement.
Maintain harmony and cooperation.
Do compromising things once in a while (if this doesn't affect the functional parts of development.)
Achieve win-win outcomes.
Don't let emotions own you, but let them be…
Already have an awesome app idea?