It's all because of the ability to customize the iPhone home screen. If you have already updated the operating system on your phone to iOS 14, you probably know that the picture on the screen can be customized and consist of several slides. It is also essential that the wallpaper matches their new widgets. All this led to the fact that users began to search for pictures for their iPhones actively, and as a result, daily downloads of Pinterest started to rise the App Store charts vigorously.
Apptopia and Sensor Tower, an app store research firm, were the first to see the impact of the iOS 14 customization trend on Pinterest downloads, according to data from Apptopia and Sensor Tower. According to one company, on September 21, Pinterest recorded a record number of daily downloads with 616,000 new installations worldwide. This figure is a record because such a surge in activity was previously observed only in 2014.
The excitement has brought many positive changes for Pinterest, incredibly moving it from 47 to 7 on the top free iPhone charts in the US on Friday, September 18.
Today, on the Pinterest homepage, you can see iPhone designs as one of the Daily Inspirations. This is where users find iPhone backgrounds and share other custom designs and icon sets for people to use in their creations.
As we predicted back in late June, the iOS 14 update significantly impacted the app ecosystem. Thanks to these changes, Apple users, like Android users, can now make wallpapers and widgets on the home screen.
Thanks to the new library of iOS applications, it became possible to hide less frequently used applications. Users were able to personalize the iPhone interface according to their tastes and interests. Additionally, iPhone users now use the Apple Shortcuts app to create custom icons – although this looks more like a hack, as the process doesn't actually replace the icon itself, but instead creates a shortcut to launch the app.
Possibly redesign has affected Pinterest and other applications with which you can redesign widgets and tools for creativity. This is evidenced by the growing activity in the App Store.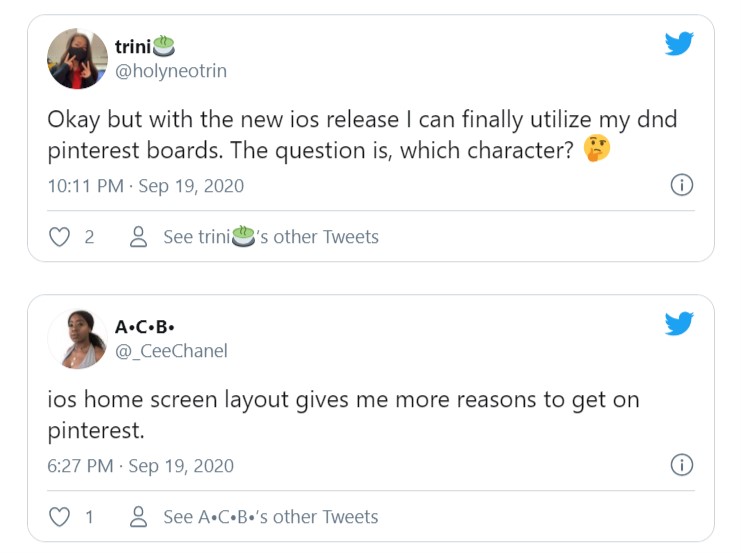 For example, the top three best free apps in the US are occupied by widget makers: Widgetsmith, Color Widgets, and Photo Widget, respectively.
It is still difficult to predict how the demand for design tools will behave. Some users have voiced their open frustration with how shortcuts are launched – they have first redirected to the shortcuts app and then launch the corresponding app.

Pinterest has yet to comment on the situation but says it sees organic growth in both downloads and searches related to iOS 14.
We all got used to the fact that Apple surprises us with its innovations and updated operating systems every year. And as a software development company, we got used to adjusting to all changes. We are catching trends and helping our clients make their iOS apps modern and top-notch solutions. As we expect, widgets and lighter versions of apps are becoming huge trends. So don't waste your time to make your app much better for users.
Already have an excellent app and think that it requires some updates?