Today Snapchat has put its plan in action to add all users' ability to add music to their photos. The feature was launched under the name "Snapchat Sounds" and all users with the iOS operating system. Music that you can add to your photo is available in the catalog, where there are carefully selected compositions from both beginners and established performers.
You can select and add music either before or after the Snap consciousness. Such a publication has no restrictions and can be added to the story or sent to friends directly.
It's worth noting that the Snapchat directory already contains "millions" of licensed songs from Snap's music industry partners.
After the photo is sent to another user, the second will have the opportunity to see the album art, song title, and artist name. There will also be a link to the full song to listen to on your preferred streaming platform, including Spotify, Apple Music, and SoundCloud.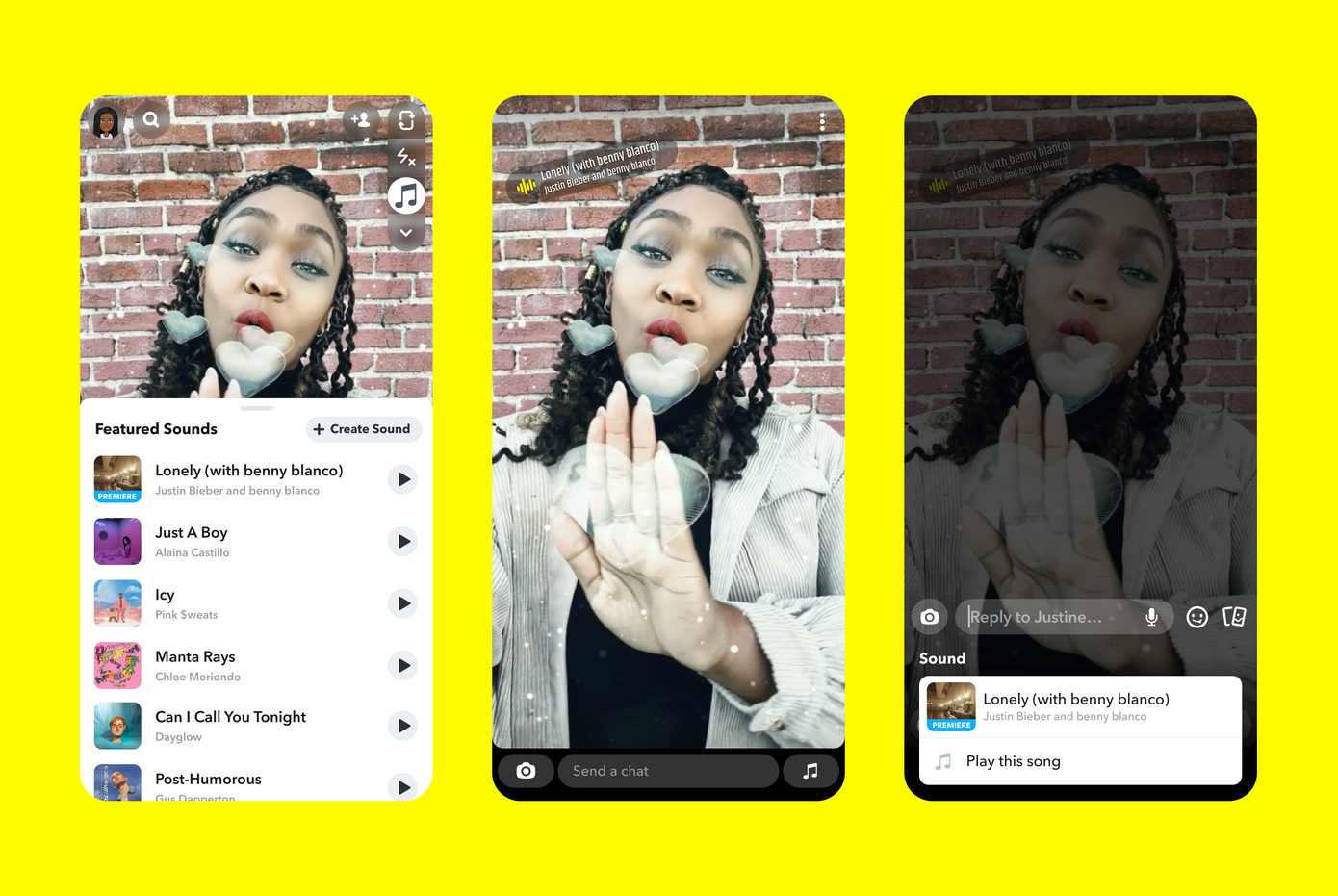 Features like these make Snapchat stand out from its rival TikTok, where clicking on "sound" takes users to a page in the app that shows other videos using the same music video. But listening to the entire composition is practically impossible.
"Music makes video and communication more fun and offers a personalized way to recommend music to your closest friends," the company said in its launch of the feature.
To implement this function, the company had to make many agreements with other companies. Multi-year contracts were signed with popular and independent labels. The move was taken to keep the audience from completely switching to TikTok.
Even though the operation of a competitor's app has been uncertain for several months due to the ever-changing nature of the Trump administration's ban on TikTok, it remains one of the most requested apps in the US.
Many social networks have taken advantage of the problems of TikTok in the United States and are more actively involved in the struggle for users than before, take at least Instagram Reels.
Snapchat is now running all sorts of advertising campaigns for young or even young users since they are the active users of such features.
According to statistics in the United States, about 90% of all people between the ages of 13 and 24 use Snapchat. As for the audience aged 24 to 34, about 75% of users are active.
The news from Snapchat doesn't end there as the company has teamed up with Spotify to launch the first Spotify augmented reality portal on Snapchat. The app's "Lens" feature invites you to visit the Latin American Art Gallery to celebrate Hispanic Heritage Month.
If you know what other social networks could get a fair share of users, you should not postpone development on the back burner. As you can see, for example, while passions are raging around TikTok in the USA, many companies took advantage of this and gain additional audience and profit. But remember that when deciding on developing a social application, it is essential to choose the right software development company. It is imperative to conduct a discovery phase to draw up the correct product concept initially, and then a detailed development plan.
Do you have an idea for a social network but don't know how to frame it? Get a free consultation from our Business Analyst
Do you want to see such articles in your inbox?
Stay up to date with latest tech trends and products