Uber for Babysitting: Finds Best Sitter for Your Kids
Every parent has an emergency situation when they need to leave kids at home for a couple of hours or even days. Each of us can have such problem once in awhile. Furthermore, many parents have a constant need in a reliable sitter to stay with their children. Imagine a mobile application that finds a reliable Uber nanny in a matter of minutes!




Surely, a $5 billion market size in the U.S. can't live without competition and legal constraints. Fortunately, we know how to deal with legal complaints like COPPA and know which value propositions are in demand right now.
Babysitter Booking App Features
Background Check

– Every parent wants to be sure that their kids are safe. Integration this feature into your app is a must in order to make sure that all babysitters are checked a safe for hire.

Booking & Scheduling

– This is a core feature that will allow parents to book an exact time and will manage sitters schedules letting them focus on primary tasks.

Personality Matching

– The educational process goes much easier if you match nannies' and kids' character types. This app feature will save a lot of time for parents that are careful in their choice and value their kid's personality.

Internal Messages

– Provides a direct communications channel between parents and babysitter for all those little questions a nanny might have along the work.
Families spend an average of $180 a week on childcare and there are more than 32 million children that need it while their parents at work in the U.S.
Babysitting on Demand App Development
We live in the times of gig-economy but you continue to struggle finding the nanny at the right time for your night off? It happens all the time. Don't worry since the right app developed with care can become the source of huge incomes. 
Do you know of a Facebook group or a babysitting forum that could use ecosystem-like containment to streamline babysitting services optimally for everyone, using payment system for checking and geolocation for the prompt arrival or even a live video footage feedback for parents? You can have it. Your users can write down all the additional requirements and remindings for a nanny and it can all be attached to their order, pay, get a reliable nanny all in no time with just a few screen taps.   
You need the right team of dedicated professionals. They will make the best out of your idea and transform it into the real project.
How much money can you earn with an app?
There's no limit to how much your app can bring in revenue. Software providers today are the most successful businesses because the demand for a foothold in digital world increased critically over the past years. Now, if you're not online or in the app and have no social media presence, you exist outside of what's happening. 
You can monetize the app, integrating in-app purchases but that is not our case. In the Uber-like on-demand app economy you profit from a fee you take off every job found and completed on your platform. You are a provider of babysitters for parents and your are a job provider for the babysitter. Essentially, though, you are a digital intermediary whose digital babysitting platform makes possible connecting the demand with supply by creating a more optimized ecosystem.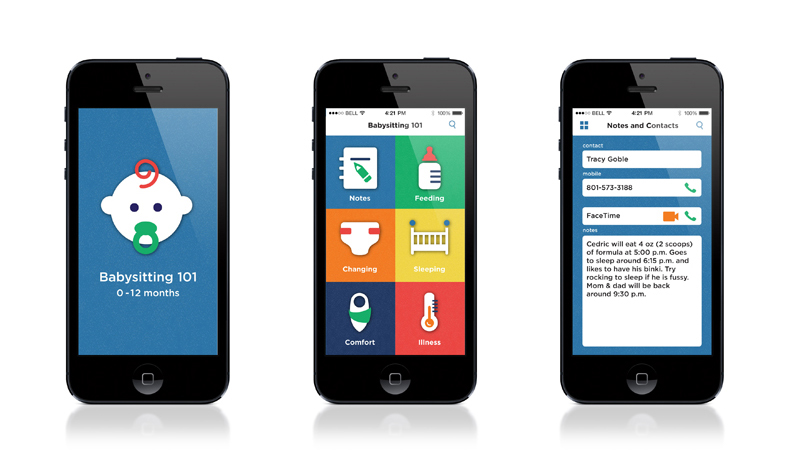 Your app provides necessary infrastructure for those that need/provide babysitting services. And the more babysitters there are, the bigger your cut will be. Which is why it is your challenge to promote and advertise your app effectively in order to gain users. There should be enough skilled and authentic babysitters available with adequate charges and there should be enough parents using the app to book babysitting services. Do that by attracting more attention from your target audience.
Star with MVP
To develop and release MVP first is a widely accepted golden startup rule. This is a "fail fast" approach when in development you "move fast and break things" to expose vulnerabilities and fix them before they become inherent to your business and before they grow into bigger chronic problems risky for your whole operation. 
Be bold in the beginning, embrace mistakes and dangerous issues. You can always upgrade and update your app later but you should start gathering real feedback as early as possible. This allows to make a better judgment of your whole idea and see if your concept's theoretic promise stands up to it actual abilities in practice. 
Benefits for your business
It's unlikely that your job is to oversee a network of babysitters, though the provision of such services were in demand in the past. A freelance gig worker of today shares his cut only with a platform provider (AppStore, Amazon, Uber, Netflix). Modern idea of the intermediary has changed and today software is the mediator. Whoever provides a software platform gets to decide what happens on the platform, regulates it and benefits from everybody who benefit on it. 
You may know a babysitter or two in your location who struggle to schedule and plan their work accordingly. It is common for people in the same field of work to communicate and socialize because they definitely have one solid reason to exchange their experiences. A word of mouth is a powerful thing, so the networking will promote your babysitting app and you will then manage the babysitters that use your platform to find work. 
You should definitely market your app to young parents as well, especially single parents for whom any social visit means leaving their kid/s alone for the evening.  
Babysitting apps can be useful for certain locations. For example, there are millions of apps that work only in certain cities or even certain neighborhoods. Your cut out of every members' transaction is passive and doesn't require you to do anything once the app is developed. But it should be targeted precisely, so that those who can really benefit from it would be able to do so.
Perfect software does everything for you, making you richer passively since you are the owner of a platform and, thus, gets to be rewarded as intermediary without whom the demand wouldn't have meet the proposition. 
How much does it cost?
To make a Babysitter Booking App you need designers, developers, business analysts, project managers, and hard work by many professionals. Usually price for such Babysitter App starts from 40K per one platform (iOS or Android ) and it increases, depending on the company you will choose. However, as we have ready-made developed modules as well as extensive experience making such applications, our prices are lower. We may deliver your own on-demand app with unique design developed specifically for your Babysitter App Business for only about 20K.
We have been developing Babysitter Booking Applications for a long time. Thanks to this we accumulated a huge base of knowledge, expertise, and even ready-made MVP. Using such modules, we reduce app cost down to the most affordable on the market.
Already have an app idea in mind?