Uber Courier Saves Money on Logistics
Logistics has always been on the edge of progress and one of the first industries that adopted all the best technologies available. Mobile application technologies are no exception. They are already used to track packages, order delivery from restaurants, cafes of just from food stores.
On the other hand, the mobile market still untouched by private delivery services or on-demand delivery services like bike/on foot couriers. And here is where Uber for couriers app may prosper.
Ironically, you can order courier service to deliver whatever it is you need to be delivered. Courier services on demand work much like Uber. It's just your parcel instead of you that travels with the driver in delivery cycle. Perhaps, you run such operation, equip your couriers or just hand out orders for gig workers and freelancers to work on. You can streamline your business model with a software automation to handle all steps involved in the delivery of courier services. 
The simplest example of such app is to connect the courier base directly with customers through the mobile app. Such app can be a required third-party that will guarantee security and customer right in case of private couriers will fail to deliver package safe and on time. For sure there are many other ways of sharing logistics services, get in touch with us and we'll gladly discuss those formats with you!
How Does It Work?
Uber-like delivery app will have have two user roles and with the distinctive but reversely familiar user journeys. Delivery volunteers that would like to take orders and drive the parcels around town for a fee that is counted for every consequent destination. People who need something to be delivered register to be identified as the senders. They indicate pick up place and time, end address, and pay for a delivery. Users can have something delivered to another part of the city the same day.
Urgent orders can be given preferential treatment for a higher fee and be delivered in an hour. Every other package is usually delivered within a day with the exclusion of late night packages that are delivered in morning on the next day.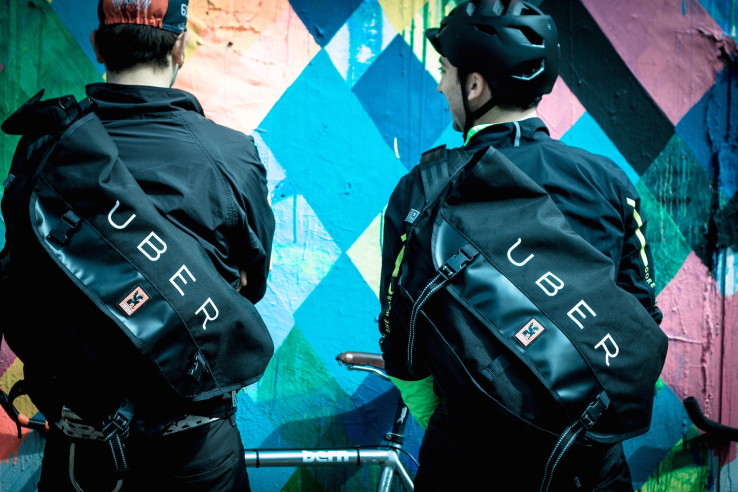 What Users Get?
Using this service, clients can give their stuff to couriers in person or use a system of lockers to leave a package to be delivered or pick it up. We have covered Uber for Luggage before and mentioned there the idea for a network of lockers around the city to be unlocked with the app and used to leave tourist luggage while on the stroll in another city. Couriers use lockers the same as a postman uses a postbox. 
The same storage network can be used for a city wide courier delivery on-demand accessible to anyone through the app. You granny can ask you to bring something from a  pharmacy or your sister needs somebody to stop by and took a document she needs to send to her kid in school. Anything physical that needs to be removed to another location can be moved with Uber for Delivery courier on-demand service app.    
Best Features of Delivery App
Package Tracking

– Allows users to track their deliveries and know exactly where their package is.

Delivery Notifications

–  Send SMS or Push notifications when the courier is around the destination place.

Courier Standing

– Provide users with the search option, so they could find the most trustworthy courier.
How much does it cost?
To make an App Uber for Delivery you need designers, developers, business analysts, project managers, and hard work by many professionals. Usually price for such Uber for Delivery Apps starts from 30K per one platform (iOS or Android) and it can increase, depending on the company you will choose. However, as we have ready-made developed modules as well as extensive experience making such applications, our prices are lower. We may deliver your own on-demand app with unique design developed specifically for your Delivery Business for only about 20K.
We have been developing Uber for Delivery Applications for a long time. Thanks to this we accumulated a huge base of knowledge, expertise, and even ready-made MVP. Using such modules, we reduce app cost down to the most affordable on the market.
Already have an app idea in mind?