Imagine you have one day in the city for sightseeing, the only problem is that you have luggage too. You have just checked out of a hotel and your plane leaves at 10 pm and there is no storage service provided in the hotel. What would you do? The good news is that they actually have an app for such an inconvenient situation too.
Like AirBnB and Uber revolutionized the way we move and travel, Uber for Luggage App can make the lives or its users easier. This is a ready-made business model. With a dedicated team of software developers and a few dozen lockers installed in the busy city areas you have a green light to grow your business.
A clever idea like Uber for Luggage with the right underlying engineering behind it can deliver great results. 
How to build your own Uber for Luggage?
There is a wide range of luggage storage apps to choose from in both Play Market and App Store. You will find there such well-known solutions as  StoreMe, Stasher, LuggageHero, and others. They all have one general principle, you download an app, choose a place on the map where your luggage can be stored (such as a hotel, a gym, a boutique or a cafe, that are usually situated in downtown or not far away from the sights) and confirm your selection. After you've done it you should not have any worries about your possessions safety, because all the luggage is insured. So you can leave your suitcase or a bag and enjoy the vacation. The fee is usually charged per hour or per 24 hours for one bag and depends on the city. Just make sure the service is available in the place you are traveling to.
The restaurants, hotels, and shops that have secure extra storage space can become third-party providers for this service after the main service provider ensures it meets the safety requirements.
The luggage storage service is represented in many cities around the world that attract lots of tourists. The service is in high demand and its popularity is still growing as more people discover it.
With the rise of on-demand economy and uber-like apps for everything, it can't be a bad idea to meet the demand of luggage storage in the places this service is represented scarcely and build an Uber-like app for luggage.
Wondering what features your potential users might like? We can help you with that. We have researched the marked and discovered what are the most helpful options that your app should have:
Mapping (an integration with Google maps so that your users can select the necessary luggage storage and get to it);
Luggage parameters checker (a table with fields to insert information about luggage, its weight, height, number of packages, when you need to leave and take it back).
Review (an option that lets users share opinions regarding the storage locations and their reliability).
Rating (so that your users can see top places for luggage storage and leave their rates).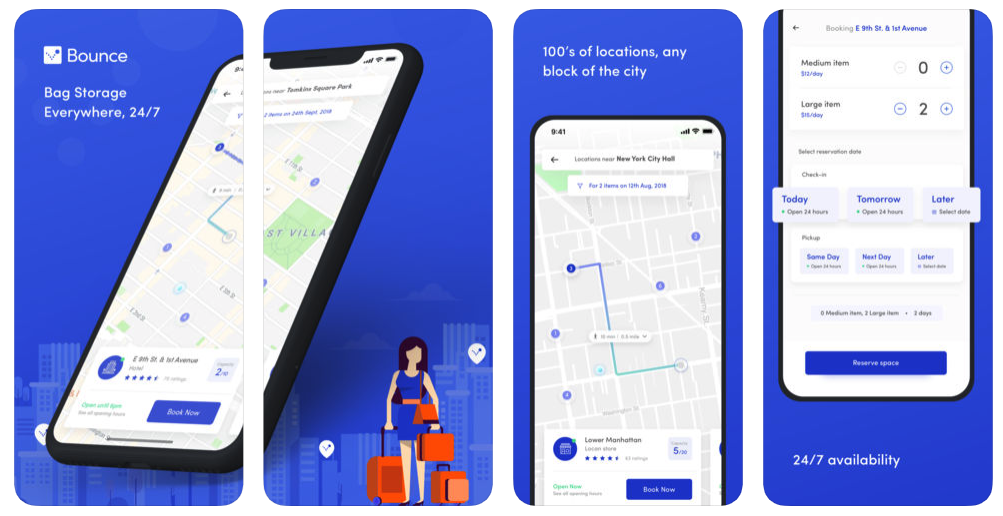 The demand for luggage storage apps is brought by the ever high popularity of traveling. Today, more people can afford long-distance traveling than ever before thanks to the low prices of air tickets and a lot of convenient service to guarantee safe and comfortable traveling. 
How many times have you found yourself with a couple of hours spare before moving to another city for some different tourist destination or killing time before catching a plane back home? You probably used airport lockers or train station storage facility to drop your bags and have a light stroll, right? 
How much does it cost?
Uber for luggage is a holistic solution and it should be of a high quality. Therefore you need a team of qualified specialists to build it for you. As the development cycle is a complex procedure, you will need a range of tech takes starting with developers and  testers and ending with designers and business analysts. Each specialist does an important part of a job to build your app from scratch. Usually software development companies offer the discovery stage (market research), full development cycle, UI and UX design and of cource software maintenance.
So as you may understand, the price for such Apps for finding Luggage Storagemade by professionals starts from $30 K per one platform (iOS or Android) and it can increase, depending on the company you will choose. However, there is a way to reduce your costs.
F.e. you can choose a company which has ready-made developed modules as well as extensive experience in making similar applications. Here at GBSOFT we can build your app at lower price. We may deliver your own on-demand app with unique design developed specifically for your Business for only about $10 K instead of $30 K. We have been developing  Uber-like Applications for a long time. Thanks to this we accumulated a huge base of knowledge, expertise, and even ready-made MVP. Using such modules, we reduce app cost down to the most affordable on the market.
Want to develop Uber for Luggage?