You may have heard that recent US-China tensions escalated to a full scale trade war between the two states and that Huawei is to blame. Such global geopolitical occurrence highly affects world economy and, specifically, high-tech industry. But, as it usually happens during the periods of crisis and when challenges arise, you can use it for your benefit. 
Even though the majority of smartphone users in US own iPhones and iOS devices, Apple depends on the parts it imports from China that are assembled and produced there. With iPhone price already being high enough to draw controversy (phone does the same it did 5 years ago but costs a fortune), in case of the new tariffs on all products imported from China, Apple would be forced to increase prices. And it is very likely that the Android share on US market will increase. Read on to find out more about the benefits it gives to Android market in US.
What's it All About?
Global superpowers US and China reached a stage in their competition when China produces smartphones and computers that are much cheaper but yet have the utility and quality of their American counterparts. Huawei sold 200 million phones worldwide and was banned in US as a consequence. Chinese companies like Meizu, Xiaomi, Tencent, and Alibaba for sure have a potential to outrun American high-tech giants in the future. So, for US it is a question of whether they will or will not be a world economy leader in the next 5 to 10 years.   
Trade wars are good and easy to win

Donald Trump
Trade war explained most simply: Chinese learnt how to make technologies themselves and they no longer depend on US expertise. Leading in high-tech, they also hold leadership in IT and, consequently, in economy. And US is afraid, trying to bring high-tech industry back in country, forcing companies like Apple to make production in the United States, providing jobs for Americans and disallowing intellectual property theft and corporate espionage.   
Apple Will Likely Increase Already High Prices
iPhones are already on the edge of being overpriced. iPhone sales are at record low because iPhone X series and its features do not justify the price. Apple's CEO Tim Cook approached president Donald Trump personally and asked him to give Apple exclusive treatment and do not increase tariffs for the company. He got a firm "no" on that. 
Android Market Share in US Can Increase as a Consequence
The price of Android-powered smartphones will also increase. However, as they are already, generally, twice as cheap as iPhones, more customers will likely to consider buying them. It is also true it becomes harder and harder for iPhone to distinguish itself from other phones and provide users with something truly unique and original to justify paying twice the price of an average quality Android-powered smartphone.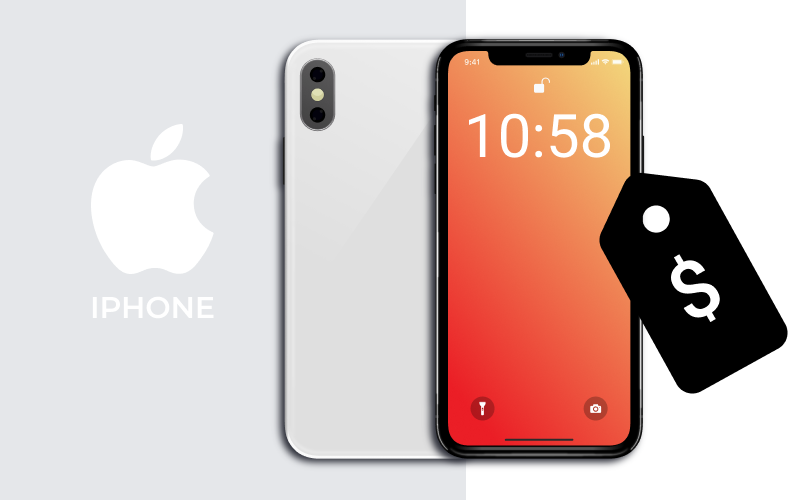 Bet on the Android Development and Google Play
Google is to benefit from this and it already urges some politicians and experts to accuse Google in being China's ally. You can reach a bigger audience, choosing Android as your app development platform because it's market share in US will likely increase in the nearest future. Choosing Android mobile development also comes with a possibility to attract more clients around the world. 
The main reason for you to consider Android mobile development first is to get those customers that might disappointed in Apple increasing its already high prices. Even though it primarily affects hardware, Apple's intent to compensate will affect its services as well and they cannot afford to increase prices without being blamed in overcharging their clients. Consider that AppStore is already being blamed in monopoly policies and overcharging for the apps admission. 
It also became truly difficult to introduce real innovations with most experts stating that mobile revolution has come to stall with high-tech companies playing around the same things they did 5 years ago. Yes, there's a foldable Samsung to come out and 48 (and even 64) megapixels Huawei smartphone camera, however, essentially, these are not revolutionary innovations but, major or not, improvements of the already existing technologies. 
When to start developing?
Now is the best time to start your Android development project. According to global economy forecasts US-China trade war won't be resolved in the nearest future and analysts tell that global economy will feel the effects fully by the end of the year. The authoritative sources like The Economist and The Independent claim tensions between US and China will probably continue to escalate further towards US Presidential Elections in 2020 unless something extraordinary happens (which is unlikely). That is because China explicitly shows that it is not to be bullied while America's own companies feel extreme pressure because of Trump's new tariffs since China provided them with cheap workforce for decades.    
Wrapping Up
Clever marketing and effective promotion are all about making the right things at the right time. You may use current US-China trade situation to your advance and bet on the rise of Android use in US. Your Android app will more likely be a success because the possibility of increased Android market share in US is clearly present. You may actually benefit from the new tariffs on Chinese import because with iPhone price going 25% up fewer people will choose iPhone over an Android device. Apple has a core of loyal users but it became harder for them to acquire new clients over the years because, as it was said earlier, technological progress has stalled and fewer really innovative features are presented in each new model. 
Want to make Android app?