A new operating system started developing by Google in 2016 known as Fuchsia that had to revolutionize the mobile industry into a twirl. Many experts speculated that Google Fuchsia OS will be the next big thing in the operating system ecosystem and is considered the next Android replacement OS. Until the beginning of March 2020, we didn't know a single fact about Google's new OS.
It's essential to find out about this evolving operating system when so much is going on in Fuchsia.
This article will explain what Fuchsia is based on the released information that we've collected on different professional resources. We'll also make some guesses about the fate of Android.
What is Fuchsia?
Fuchsia is an operating system in Google's portfolio that also includes Chrome OS and Android. On December 9, 2020, Google made changes to the current development model. The project will become more open, and all representatives of the developer community will propose any changes that can be made to the OS to improve it.
Fuchsia is not based on Linux. It was used Zircon microkernel for this project. And this means we're going to see a completely new and standalone product rather than just an upgraded version of Android or Chrome OS.
Fuchsia differs from Chrome OS and Android since it's designed for different platforms. It is an open-source project similar to AOSP (Android Open Source Project), but it targets a wide range of platforms, including mobile devices, IoT, and industrial systems.It will be developed on the all-new Google-built kernel Zircon, also known as Magenta. Google made a website where they provide all tech information for developers who want to design a Fuchsia app.
Developers say that Zircon is made for "future smartphones and personal computers." Someday there won't be a surprise to see Fuchsia on our devices. Moreover, Google has also integrated Apple's programming language Swift in this operating system. Fuchsia OS will have all chances to become a market leader since IoT is expected to grow in popularity in the nearest future significantly.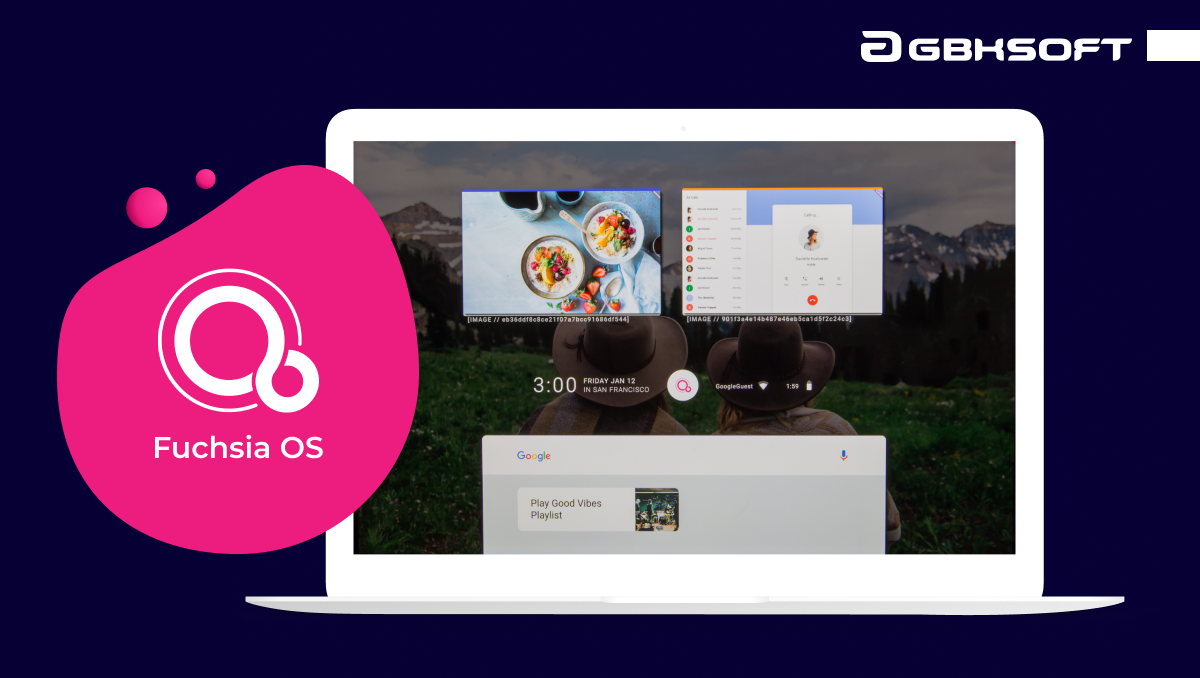 Fuchsia is still not a finished product, but you can clone, compile, and help develop it. It supports a limited set of x64-based hardware and can be tested using the Fuchsia emulator. The source code can be downloaded and built according to the getting started guide.
Benefits and main features
One of the main advantages of Fuchsia OS is its complete independence from the Java programming language. The second advantage is its scalability, making it possible to work in one system on all devices you use within the same interface, which significantly speeds up both ordinary everyday tasks and highly specialized ones. 
An important fact is that Fuchsia's development is based on a self-written kernel devoid of all the flaws of Linux used in Android, making it possible to customize each device's system.
The critical feature of Fuchsia OS is multitasking. Users can place several application windows on the desktop at once, "glue" them together, and switch between them, just like we switch between tabs in any browser.
Do you want know how to ensure your mobile presence and reach out to more potential customers in no time?
What's inside the operating system?
File model
According to the Entity-Agent model, Google designed the new system, which implies complete management of the system by various built-in services (agents). These services interact with each other by generating and processing any data (entities) that the user operates on. One of the advantages of this approach is that the model learns itself based on user activity data, which means it will provide the owner of a device with the most relevant content.
Google Assistant
The new operating system will have integration with the voice assistant Google Assistant. Since the assistant is the "control center" of other agents in the system, the device user can easily control both existing and create new system components through voice commands.
Cloud
Fuchsia uses the Ledger cloud storage system to provide fast syncing across all devices from the same ecosystem. Thus, all data is entirely safe, and the user has access to them from any of his devices. Thus, the cloud becomes not just a place for backup, but a whole chain of data storage is created. It is also worth noting that this function will be maximally used when using 5G since this approach's implementation requires a high-quality and high-speed Internet connection.
The heart of the system
As we mentioned at the beginning of this article, the new operating system is based on a new microkernel developed by Google called "Zircon." This core will play the role of the "heart" of the system, distributing system resources between the system components. Dart will act as a programming language in Fuchsia, which is also Google's development and is positioned as an alternative to JavaScript. According to the above, we can conclude that the operating system will be maximally protected from outside interference and will only be partially available to developers to release their shells. It is also worth noting that third-party applications will not have access to the kernel, which means that the installed applications will not conflict with those same updates when the system is updated.
Distribution
Fuchsia will be distributed free of charge, but it is worth considering such a feature that the system has a modular code architecture, which means that developers will make changes only in those areas where necessary, without affecting systemically essential objects. Perhaps this will help developers update the system more quickly.
Do you want to see such articles in your inbox?
Stay up to date with latest tech trends and products
How does Fuchsia look like?
A graphical interface has been created for the Fuchsia platform, written in the Dart language using the Flutter framework. Within this project framework, a framework is also being developed for building user interfaces, a package manager, a rendering system, file systems, etc., in the language build system – Python. Since Fuchsia is created using Flutter SDK, it is easy to run Fuchsia pieces on an Android device. Flutter SDK apps are written in Dart, and they are designed for high performance and support for 120 fps frame rate. Let's raise a veil a little bit and overlook the OS look.

Material design
The Material Design of Google OS will make an impression on you. It has its renderer and Escher that is specially designed for shadows. To give depth to the components, notifications, buttons, windows, and pop up boxes are cleanly layered. There are two versions of Fuchsia's UI: desktop (called Capybara) and mobile (called Armadillo). Both of them are built according to Material design rules. And it's no wonder since Material design is a big Google's thing that is forecast to overcome a flat design trend soon.

Card-based interface
A truly unique feature of the Fuchsia design is the way a screen is presented. To be more precise, you'll not see the traditional rows of app icons on it. Instead, there will be a scrolling list of the cards representing the apps. Other elements you'll find on a screen include a profile picture, date and time, location, Google bar with suggestions for you, and a battery icon.

Split-screen mode
This is another feature we haven't seen before. If you take one app icon and drop it on top of another app icon, a screen will split up and you'll be able to use both applications simultaneously. In desktop orientation, you can choose between vertical or horizontal split. And both Fuchsia's UIs allow you to have up to three apps in a split-screen mode.

Functions
Google hasn't revealed any Fuchsia's functions which can be considered completely brand-new. The functionality of this OS that is currently presented to the public is rather limited and includes many placeholders. The things you can do with Fuchsia now are quite primitive.
For instance, you can switch between several profiles. And you can even enter your email address and password to login but the system will not let you go any further after that. The Wi-Fi doesn't work, but if you're trying out a desktop version on Pixelbook, you can connect to the Internet via a USB Ethernet adapter. The Google search bar will bring you no real results and the apps do not work at all or do some basic stuff.
Fuchsia is a microkernel operating system based on the Zircon kernel written in C ++. Like the kernel itself, some of these components are implemented in C ++ (USB drivers, for example), the other part – in other languages. For example, the TCP / IP stack is written in Rust, and Go is also supported.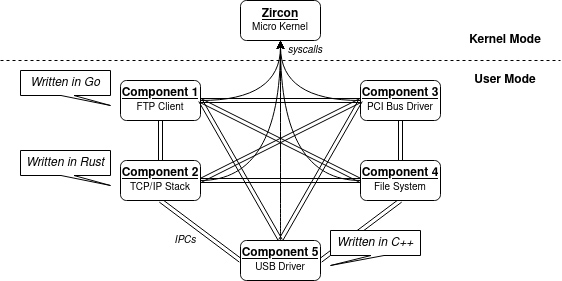 Although Fuchsia OS is a technical platform, it exists in the form of program code, has its interface, and can be run on different devices via an emulator. The developers confirm that Fuchsia OS works on Mac, Linux, Pixelbook, and Android smartphones. It is made possible by the custom Zircon core and versatility.
There are certain risks for developers when switching to Fuchsia from Android and Chrome OS. The huge existing ecosystem of hardware and software solutions can hardly be quickly transferred to the platform being created. The risk also comes from the architecture of the Fuchsia operating system. The Linux kernel is based on the operating systems Google Android and Chrome OS, where instructions related to the hardware and software structures of smartphones and other gadgets are processed. The Fuchsia kernel is deliberately shielded from many old Linux problems, and at the same time is completely incompatible with it, which in the long term may lead to incompatibility of a number of already released devices with Fuchsia.
Is Android era close to its end?
From the very beginning, the Fuchsia project developers set a goal not to repeat the limitations inherent in the Android platform. So, unlike Android, created based on Linux, Fuchsia is wholly created from scratch.
Android was developed at a time when phones were getting the first touchscreens. Also, there was no talk about the practical implementation of voice control technologies in those days, for which Google sees a great future. In contrast, Fuchsia is being developed with integrated voice control and adaptive adjustment to any screen size.
Sources say Fuchsia includes significantly tighter security features than Android. For example, in the Web code, the company's engineers have embedded encrypted user keys – a privacy tool that protects information with every software update.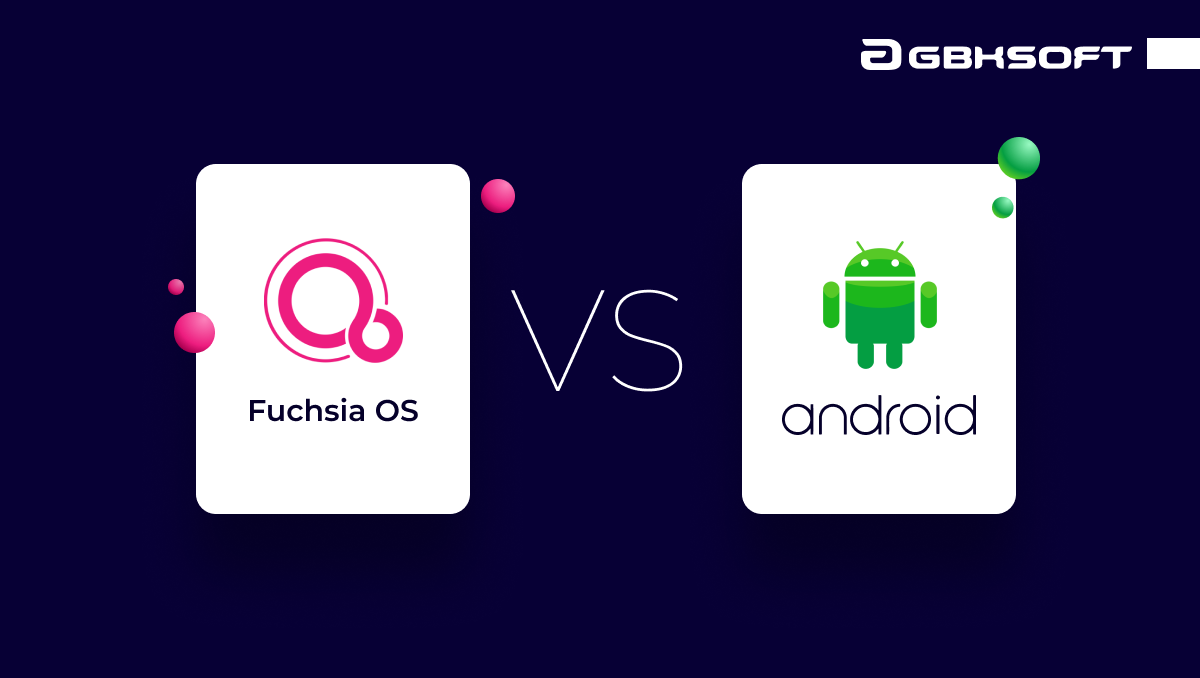 Google hasn't provided us with any explanations of why they started the Fuchsia project at all. When Fuchsia appeared on the horizon for the first time, many thought that Google attempts to replace Android with something more advanced and, thus, remain competitive. It's not a secret that the company faces many challenges related to the support of Android at the proper level since the latter was initially planned as OS only for cameras. So the guess was pretty logical.
Moving away from Android could give Google the ability to hit the reset button for any mistakes they believe were made a decade ago. They can also regain the benefits that have been lost because of deviсe manufacturers and carriers.

Jeffrey Grossman, co-founder of the Confide messenger company
There is no access to the Fuchsia operating system for developers, as soon as it will be available, developers will be free to develop apps using any programming language with the help of the new Flutter software development kit.
One thing that Google will try to bring into force with its new operating system is that it will take full control of the open-source OS platform, even if its partner companies distribute it.
But we found out that Fuchsia is going to be a hybrid operating system that will work at least on PCs and phones. That's why it's unlikely to be built just to fix the problems related to Android. It seems more likely that the main goal is to unite the entire Google empire under one OS.
If this is so, then we can just applaud Google's farsightedness because when smart devices conquer the world completely, it'll have a ready and well-developed solution. So we cannot say that the release of Fuchsia will cause a direct threat to Android. But we cannot rule out that Android will become obsolete when Fuchsia comes on the scene. Especially given that Fuchsia will support Android apps, and it's now a confirmed fact.
Putting it all together
According to Google itself, in the next few years, Fuchsia will start working on devices such as Google Home, and after a while, it may well replace Android. More recently, it has also been reported that Fuchsia will have full support for Android applications. Simultaneously, they will be launched not in the emulator, for example, in Chrome OS, but the full-fledged Android runtime is built into Fuchsia. However, it's worth noting that while Fuchsia looks pretty in its current state, it still has a long way to go in terms of functionality. Our team will keep an eye out for any news about Fuchsia, and we'll, of course, keep you informed. What do you think about the new OS Fuchsia by Google? Share your ideas and let us know in the comments below.
Are you looking for a professional coding team to make your app idea a reality?