On June 18 Facebook has finally shed light on its upcoming global cryptocurrency project Libra. Facebook's official cryptocurrency alongside with Calibra wallet will be launched worldwide early in 2020.
Meet the New Financial Market: Libra, Libra Foundation, and Calibra
It is particularly interesting that Facebook won't own Libra, making it decentralized and distributed among the members of Libra Association. ?ompanies involved in the project are Uber Corporation, eBay, Vodaphone Group, Lyft, Stripe, Paypal, Visa, Mastercard, and other big players. They are going to guarantee stability of the new cryptocurrency on the market. Thanks to that Facebook won't have a monopoly over the project but just one vote among other partners.
Did you know that the average transaction fee for international money transfers is 7%? Libra promises to reduce this number to 0.1% or even make it fee-free. This will provide vast layers of world population with quick and easy payment method.  Libra algorithm is hundred times faster than the one used by Bitcoin or Ethereum. Making payments with Libra will be just as easy as sending a message in one click. Facebook announced that Libra will be integrated in Whatsapp and Messenger but even users without FB account will also be able to use it.
Outrageous!
The average transaction fee for international money transfers is 7%
In the contest Libra vs Ethereum vs Bitcoin it is a sure win for Libra. Unlike other cryptocurrencies, Libra will have a stable value worldwide. Companies who have joined Libra Association invested in the reserve that is going to guarantee stable price of the cryptocurrency. Entry price for them starts with 10 million. Only ? of the companies involved are somehow related to blockchain technology. Moreover, specifically for the purpose of exchanging/buying/selling Libra a new programing language was created – Move.
While the key objective is to promote small businesses around the world, reduce transaction fees, and speed up/simplify international money transfers, companies in Libra Association (which is registered as non-profit) are definitely interested in potential dividends if Libra is adopted worldwide. But that won't happen overnight.
Facebook answered the concerns regarding privacy issues, claiming that it won't connect transaction histories of the users to their social media profiles or use it for target advertising. Due to that Facebook invites everybody, even its competitors, to participate.
App Ideas for Libra Integration with Your Business
Though Calibra will most likely be the main Libra wallet, other players are encouraged to create their own. Thus, startupers and business owners should look forward to adopting Libra in about a year. It is even a better idea to start developing your own wallet or currency exchange/rate comparison app that works with Libra. It is more than just a suggestion to start planning Libra strategy because huge players like Booking.com, Uber or Paypal wouldn't be onboard if it wasn't serious. Thus, consider making profit on the so-called Paypal 2.0 launch.
How can you benefit from Libra? There is a lot of ways to use this exciting opportunity and increase revenue. The number of options to maximize your profits is only limited by your imagination. Here are some of the paths that qualify as smart when dealing with Libra.
1. Make Your Own Libra Wallet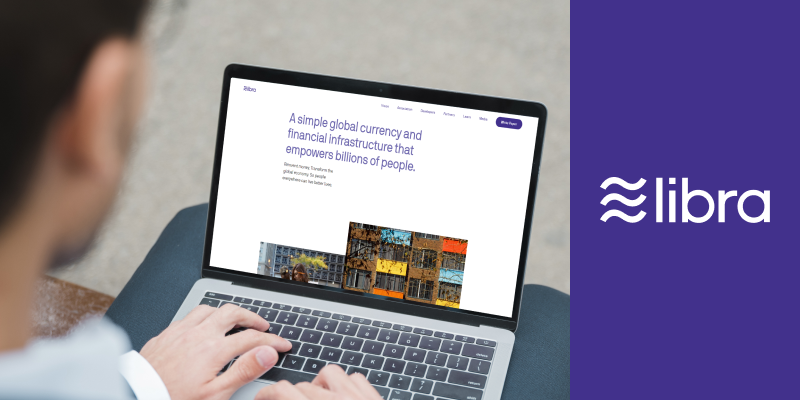 Yes, Libra will be integrated with WhatsApp and Messenger. But, not all people use these messengers because Skype, Viber, and others are still present on the market with a considerable share. Moreover, not even all people have a Facebook account. Perhaps, those people will also use Libra (because they can). Facebook's Calibra wallet will become the most obvious option to buy or sell Libra. However, it is a good idea for you to be among the first ones to introduce your own Libra portmoney. Again, just as Messenger co-exists with WhatsApp and Uber shares market with Lyft, so does your wallet have a chance to stand out. Just be quick to develop and introduce it earlier than later.  
2. Provide Analytics and Infographics on Libra Exchange Rates
The appearance of Libra is a wonderful opportunity to introduce your own informational platform or an app that monitors Libra exchange rates and notifies users. Even though it was promised that Libra's going to be stable, no national currency is ever completely sable, thus, business owners should consider this while thinking about how to benefit from Libra launch in 2020.
3. Accept Libra Payments
Accepting Libra as a payment method can significantly enlarge your client base. Just think of it as accepting Paypal or Stripe. However, it requires to include Libra payment gateway into the code of your web platform or app. Doing it before others do it is a great way to overrun your competitors. This should be particularly interesting for online retail distributors and other digital marketplaces. But, even if you own a cinema or an ordinary store, this decision would definitely benefit you.
Your business may be the first to accept Libra as payment method. Adopting Libra early can place you in front of your competitors because it will be a very innovative move. Consider hiring a development team to check and improve your software to make sure it's ready for the biggest fintech innovation of the century – single worldwide cryptocurrency.
Want to make profit of Libra?
Our professional tech takes know how to integrate the most popular and contemporary payment gateways and e-wallets.