A person who lives without social media. Who is he/she? Today in the world, there are many applications, and social media are no exception. Today, the average person spends 50 to 90 minutes on social media apps. Scrolling the news feed has become so common for many that many do it unconsciously. In turn, social media platforms do everything possible to ensure that users stay in the application as long as possible. To make this possible, it is imperative to take into account the specifics of the audience.
Today we want to talk about an application like Likee. In just three years, this social media has won millions of fans around the world. So what is its peculiarity? What makes it so unique? But before answering these questions, let's look it closer at what kind of application it is.
What is Likee?
It is a social media app where users exchange short videos that they have created. Users can add music to their videos from the app's extensive music library and stickers, and various effects. The filmed videos appear in the feed, after which other users can comment on them, rate them with the help of likes, and even shoot their video reactions in response. And like many different applications, there is the possibility of conducting live broadcasts.
As you may have noticed from the functionality and content format, this platform has common characteristics with TikTok, but there are several significant differences.
The creators explain the program's incredible success by choosing the target audience and constant interaction with it. Let's take a look at which audience this application is most popular among.
According to statistics from the app itself, Likee has 150 million users worldwide, who create about 5 million videos daily. Even though the app is intended for 16+ users, approximately 80% of users are between 12 and 22.
Likee is distributed in more than 200 countries, particularly in India, America, Brazil, and Eastern Europe. It has an audience of more than 8 million users, 46% of them actively publish their videos. In addition to ordinary users' accounts, you can find world stars and brands that also post short creative videos to support the youth direction and attract the target audience.
☝
Likee also has a user rating, which is calculated as the ratio of likes to broadcasts views for the past day. There are separate leaderboards by country, but there is also a general one around the world.
Why is Likee so popular?
The main advantage of the service is the 4D Magic function, which immediately won users' hearts. There are no analogs of this option in any alternative application yet.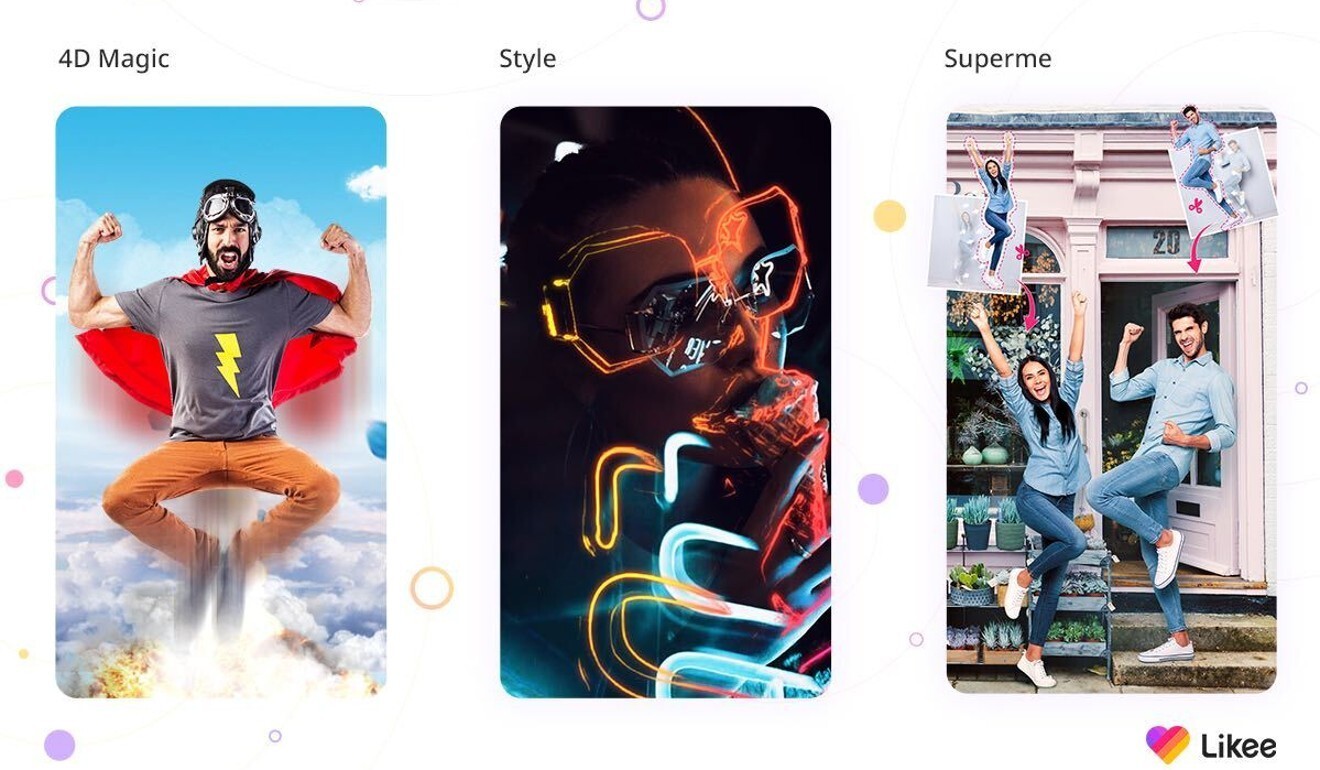 Likee app can be called a full-fledged video editor, as users have the opportunity to use it to create high-quality videos using artificial intelligence and augmented reality. It is worth to pay tribute to the developers of this application since almost monthly updates are released to the application due to which users receive new functions.
Another feature that attracts millions of users every day is
gamification
. Like the
Bigo Live app
, the Likee app contains game elements where users compete for popularity, earn points, compete in challenges, and play to get others' attention with their video or seek contact with famous bloggers.
Do you want to see such articles in your inbox?
Stay up to date with latest tech trends and products
Likee's features
The application has five sections with functions: "Stickers," "Music Magic," "Dialogue Game," "4D Magic," and "Super Power." When shooting, you can choose the recording speed and beauty filters, which will make the skin clearer and the eyes more prominent.
Stickers
Here are various masks and animations that you can add to your videos, such as multiple accessories or faces of superheroes and other pop culture characters. There are more than 180 of them here.
The magic of music
In this mode, you can choose from several styles. Moreover, the Presets contain a sound fragment and a script with special effects, filters, and other post-processing capabilities. Due to the accompanying effectively, the user may not perform any particular actions in the frame, but as a result, get a reasonably dynamic video.
A game with dialogue
This section allows you to shoot a video using a specific sound fragment, for example, singing a song from your favorite cartoon. The track library contains thousands of tracks for every taste.
4D Magic and Super Power
These modes combine special effects that recognize body position during shooting and can separate from the background. There are many options to create a handy video. These functions allow you to add an epic appearance or disappearance to the video, replace the background, or make yourself an image of the master of the elements.
As in other social media apps, in addition to filming a video, it is possible to add a finished video from the device's gallery. But it should be borne in mind that most of the functions, in this case, will not be available to users, except for the selection of a filter or animation.
Bring your idea to life
Do you want to develop your unique social network and enter the market?
In other words, the technical possibilities of Likee are practically unlimited in comparison with other applications. There are already about 1000 special effects, including masks, filters, virtual and augmented reality technology, recognition of living objects, and movements, which allow you to create unique content and share it with the whole world.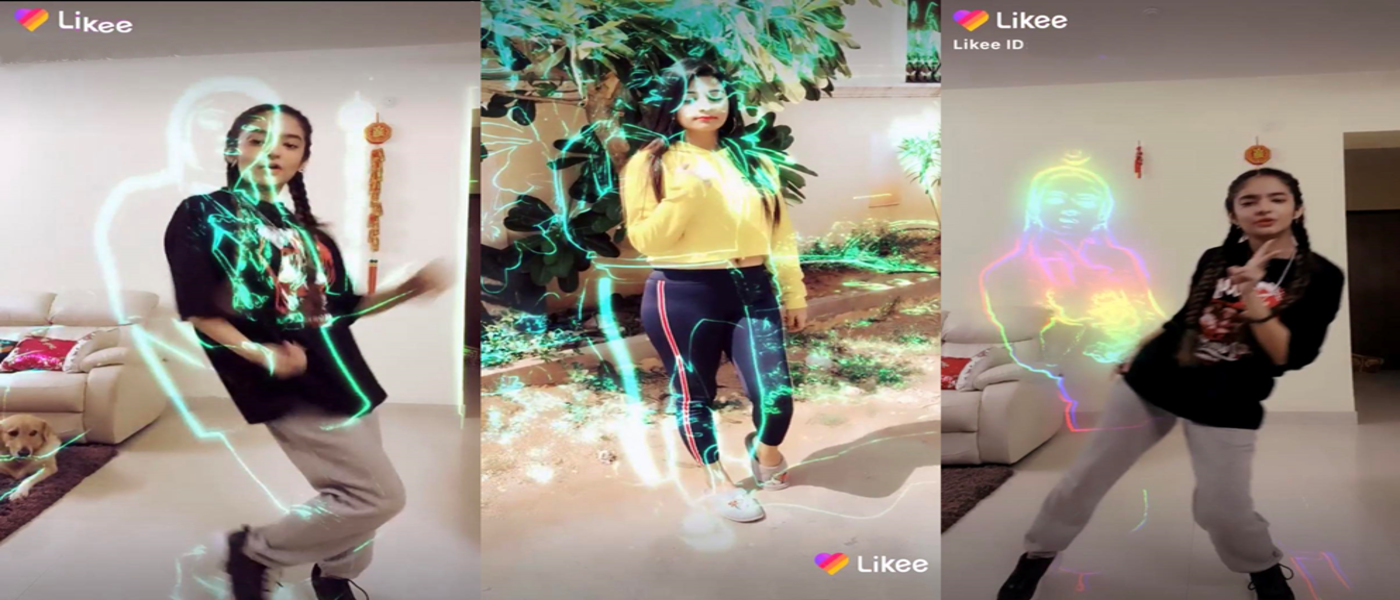 It also helps brands interact with their target audience in a creative or partly game format, increasing user loyalty, and increasing brand awareness.
А recent BCG study points out that social media is the primary channel for reaching young audiences with advertising. Moreover, the focus should be on visual content and the shortest possible formats since the more youthful generation consumes information fragmentarily.
Monetization
The app's monetization strategy is based on the app's internal currency: diamonds and beans (coins) and ads. Let's take a closer look at the currency. Immediately, we note that the currency can be converted from the dollar into the domestic cash – diamonds, and funds can be withdrawn through the conversion of diamonds into the dollar. As we just said, diamonds can be bought and turned into beans. Users use beans and diamonds to purchase stickers, masks, gifts – all this is needed to stand out from the crowd and earn followers.
There are several ways to get beans in Like for free or for a fee:
buy for real money through the "Wallet" section;

receive remuneration from the administration for active participation in contests, sweepstakes, and challenges;

ask for gifts from other users and an active audience of subscribers.
The first method
is costly since it requires the user to contribute real money. The user can buy 1 diamond for 1 dollar, which in turn equates to 210 beans. The purchase of currency is realized through the payment systems Qiwi, Google Pay, Apple Pay. These operations are completely safe.
The second
option does not require the user to spend real money. Drawings are regularly held in the application, the conditions of which are simple:
make a thematic video;

post it with a hashtag;

like publications, etc.
All participants who correctly complete tasks on time receive a reward on their account, set by the administration based on the complexity of the task.
The third option is suitable for those who have already managed to collect a sufficiently large number of subscribers and ask to give him something.
In 2019, Likee was ranked # 1 in Google's Video Editors and Video Players category, ahead of giant YouTube
How your Likee-like app can be interesting for your potential advertisers
We discussed the currency inside the app, now let's move on to what your Likee-like app can be interesting for your potential advertisers. Advertising formats are the following:
Banners where you can add a link to your landing page. They are on the main search page at the top of the screen.

Branded stickers, lenses, AR, and VR effects, some of which are shown in the picture above.

Hashtag challenge, which may involve branded stickers and effects.

Push notifications that pop up on users' phones. Yes, this may annoy some users, but this format can be used to support a hashtag challenge and include a call to shoot a video.
To summarize, we can say that Like is as promising a social network as TikTok, but with a younger audience. This platform allows you to natively and deeply integrate the brand, using modern video content technologies for the technical component.
According to the American conglomerate Meredith MNI Targeted Media, Gen Z members make $ 4 billion in purchases through apps on their devices.
The concerns of Likee  and ways to solve it
With the Likee app's growing popularity among children and adolescents, several problems have arisen, as evidenced by parents' negative reviews on the American website Common Sense Media. First of all, the question that has emerged is related to the fact that in the pursuit of popularity, children publish videos that, in general, should not be published. So what points are of concern:
# 1 Oversharing
 or excessive publication of data about yourself. Demonstrating your home on geotagged video may interest burglars. Also, documents or files that contain personal data are often flashed on the video. For example, I can brag about photographs of passports, where personal information is clearly visible.
# 2 Explicit content.
Children tend to imitate adults, which is probably why on Likee, you can often come across videos of provocative content with children's participation, filmed in pursuit of likes. More than once, pedophiles have come across the fact that they began to correspond with children online because of such videos.
# 3 Shocking content.
The App Store description of the app states that Likee may contain "horror or fear material." In addition to extreme or downright frightening materials, videos with suicidal motives or self-harm, as well as videos demonstrating potentially dangerous behavior, began to be seen. Such materials can have an immediate effect on the child's psyche that has not yet been formed.
# 4 In-app purchases.
This option will not harm your child, but the family budget is. Likee has an internal currency – beans and diamonds. They can be spent, for example, on gifts for your favorite bloggers to get their attention. This currency is not cheap, and children may not understand that they are spending real money from their parents' payment cards.
From the above, we can conclude that this social media platform has problems with content moderation. For parents to control their children, in 2019, Likee added the Parental Control function to the application. This feature allows you to control or restrict the access of young users to Likee content, namely:
block live broadcast and push news,

block viewing profiles and subscriptions for users who are geographically nearby,

disable the ability to search for a user profile,

block outgoing and incoming messages,

disable pop-up notifications,

restrict the purchase of the internal currency of the application.
Therefore, you can build the ad campaign of your app, promoting it as a spicy-free 100% decent social media service.
Are you looking for a highly experienced developers team?
We can build your social network from scratch.
What does it take to build a social media app? 
As we said at the very beginning, social media has long been a part of our life. With their help, we communicate with our friends and relatives and learn something new, find out the news, and even do business. Thanks to platforms like Instagram, Facebook, and many others, people can share photos, videos, and text messages privately and publicly. The variety of features makes these apps so popular.
If you have an idea for social media that can win your audience, it is essential to understand that a digital solution must be created with high quality. This task will take a reasonably long time. The market you want to enter is quite competitive, and your solution must have a unique proposition.
First of all, you need to find a team of developers with sufficient experience, which will build your solution from scratch with high quality, but before that, you will complete the discovery phase. This is a critical stage that we do not recommend skipping because, at this stage, our business analyst analyzes the market, looks at your competitors' solutions, and determines the required set of functions for your future application, which will help you stand out from the competition.  We also draw up a Project Vision document and specifications with a well-defined technology stack.
Speaking about the specialists that you need to create an application for Likee like app, we would name the following:
Business Analyst;

System Administrator;

UI/UX Designer; 

HTML/CSS Coder;

iOS Developer; 

Android Developer;

QA Engineer;

Scrum Master. 
Each of the named team members has an hourly rate that determines the cost of your application development. The essential cost of such an application, to clarify such a sensitive question, we have compiled a table with real numbers.
| | |
| --- | --- |
| SPECIALIST | COST |
| Business Analyst | $1700 |
| iOS & Android developers | $9810 |
| Back-end developers | $10100 |
| QA specialists | $6180 |
| Scrum Master | $6800 |
| UX/UI Designers | $2300 |
It's worth noting that the final price will depend on the application's overall complexity and the set of features and integrations you would like to include in your solution.
Want to know more about what affects the cost of developing a social media app? Then read more about it
here
.
Despite all the challenges that appear on Likee's path, the app continues to evolve and find its audience. Every day, millions of users express themselves through creative videos that this digital solution helps them create. Do not forget that social networks are now just as crucial for business because it is difficult for companies to find their customers.
If you find the right development team, then you will be able to enter the market with a competitive solution. YouTube and TikTok are still on top, but this does not mean that you cannot have an app that will be in the top 3 among the most frequently used. All you need is to develop a great feature set and find your unique audience.
Have a social media app in mind?
Our Business Analyst can help you to shape your idea and select the best set of options.
It is a social media app where users exchange short videos that they have created. Users can add music to their videos from the app's extensive music library and stickers, and various effects. The filmed videos appear in the feed, after which other users can comment on them, rate them with the help of likes, and even shoot their video reactions in response. And like many different applications, there is the possibility of conducting live broadcasts.
In-app purchases (done with in-app currency) and/or ad placement. Business owners are advised to consider that the monetization strategy should be picked in consideration with the number of users (no ads for a small audience, no in-app purchases for a bigger audience, perhaps even no monetization at all in the beginning.)
An excellent social media app should have the following:
Ability to publish and share photos and/or videos.
Ease of Use – If you find something simple, make it even more comfortable, or people won't use your app.
Customize your profile to have a personality
Find friends and follow them or make new ones using names, keywords, or hashtags.
Integration with other social platforms. Your application is unlikely to survive on its own. Link it with other social media platforms like LinkedIn, Twitter, and Facebook. Users trust integrated apps.
Privacy and security of user data.
Notifications and feeds with news from other users. Some people start social media accounts not to share content, but only to find out what's new in other people's lives.
Ability to leave comments and send private messages.