This year turned out to be quite eventful and challenging. It has brought numerous changes starting with coronavirus outbreak and ending with the global economic crisis. People from all over the world are put in quarantine and many businesses count their losses. 
While some businesses like tourism only have to face hard times and wait for the better ones, others niches like fitness and entertainment quickly went digital and continued making money even during quarantine. As to the commerce industry, we all know that whatever happens, people will keep buying things. Some groups of goods just become more demanded than the others depending on the situation. So if you own a store and feel that your sales are decreasing each day, you'd better not wait and take some actions instead. 
Statista has examined global sales and discovered that during pandemic people prefer buying all kinds of goods online (even those that are present in their local stores and can be easily purchased without ordering a delivery). Around 79% of consumers purchased something using their mobile devices. And this percentage will only keep growing. 
It is hard to predict for how long the world will keep being paralized and some stores will have to stay closed. Food markets, pharmacies and stores that sell hygiene products will keep working anyways, but what about stores that sell clothes, hobby supplies, gadgets, books, household goods, repair supplies, etc? If you own one of such stores, then you'd better keep up with the digitalization trend and create your own solution for distributing goods. 
Why is software optimization a must for stores? 
We can say for sure that to invest in the web and mobile presence of your store is a good idea. It can keep you in business during quarantine and boost your store sales and productivity even after it is over. Why? Because it is predicted that 2,14 billion people worldwide are going to buy products and services online by 2021. This is quite a big potential customer base and you should not miss a chance to reach out to them and increase your business profit. Just take a look how drastically the number of online shoppers increased from 2014 up to 2020.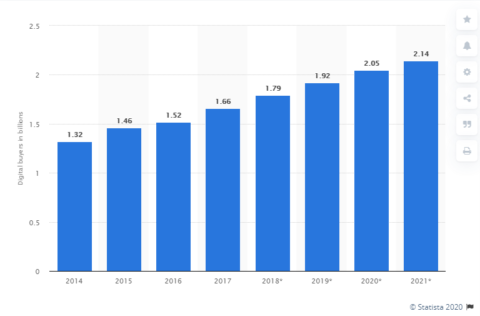 So basically to navigate your business to a whole new level you need to:
Create a website

(it will provide an easy and fast access to information about the goods or services you are selling);

Build a custom application

(it will let your customers make a purchase anytime and everywhere, even on the go).
From the customers' perspective the benefits of such solutions are quite obvious. People do not need to waste time on going to the physical store and choosing a necessary good. They can make a purchase sitting at home. They also have a chance to take a look at the comments and recommendations under each good and decide whether it fits their needs. Prior awareness of the product reduces the number of returns which is good for the income of your business. By creating a virtual community of people you make them your loyal customers. Mobile application will allow you to create your own bonus program, attract new customers and keep them more engaged. 
One more good practice that appeared during quarantine is to broadcast videos demonstrating how a certain good works. Live streaming helps to increase sales and draw attention to your business. E.g. if you are selling kitchen appliances, you can live stream entertaining and yet useful videos with tips on how to use this or that gadget.If you are selling fitness equipment, you can also broadcast some training videos demonstrating the necessity of your equipment. 
All digital solutions are important not only in times of pandemic, they will be able to optimize numerous processes in your company afterwards. Here are some advantages of software optimization:
Better customer service.

If you perform the deliveries by yourself and do not hide any other third-party organization, you can be sure that everything is delivered fast and your customers are satisfied. Applications allow to add features for tracking an order in real time. So you can perform better service control, and your customers can know where their goods are and when they are going to get them. Moreover your customers can leave you an honest feedback either in the app or on your website which usually helps to improve your business. 

Automated order management.

No order will get lost, because they all will be processed by your app or on your website. The customers will fill in all necessary information and your employees will only have to prepare the goods for delivery. 

Improved turnover of goods

You will be able to analyze information based on orders and understand what goods are more popular and are purchased more often. This allows to identify the demand and fulfill it timely. 

Deep analysis of client base.

Thanks to big data you can collect information about your customers and analyze their portraits (age, gender, preferences in goods, purchasing power, behavior, etc.). This helps to understand who your clientele is and what strategies you should choose to increase sales.
Feel that your business needs software optimization?
What features should be present in your app? 
To make your solution more convenient and user-friendly you should consider adding some key features. Based on our experience we would recommend you to pay special attention to the following: 
Intuitive registration.

Don't make your customers enter numerous unnecessary details. The registration should be quick and easy. 

Convenient payment method.

The customer will likely make a purchase if it is possible to pay for it in a couple of clicks. 

Full catalog of goods. It should be intuitive and visually appealing. This can be achieved thanks to well thought-out UI and UX. 
Mapping services.

Your customers should be able to track their order easily. 

Suggestions.

Based on previous choices of your customers, applications can suggest other goods that may be of interest to them. 

Wish list.

People who tend to add some goods to their personal wish lists are likely to buy them afterwards. 

Feedback.

People should be able to leave their honest opinion which in turn can influence the decisions of other customers. 

Push notifications.

This will help you to inform customers about new goods or special discounts. 
To sum it up 
Nowadays when mobile devices become an inseparable part of our life having your own application for selling goods or services is crucial. Current situation with coronavirus only demonstrates that many businesses are not ready for unexpected situations. Websites and mobile applications can be game changers not only during quarantine but also in everyday life. They can boost your business, optimize routine processes and increase sales, which makes them important tools every business owner should have.
Already have an awesome app idea in mind?