YouTube has long been a practice of testing new features on its users even before those features become available to the general public. But recently, the company offered to try the new package of functions exclusively for Premium users. In other words, only paid subscribers can get access to the new functions for now.
Among the new features is one that allows iOS users to watch YouTube videos right on the home screen. The company explains that one should not confuse the "Picture in Picture" option, which appeared on the new iOS 14 operating system, with their innovation. The new feature allows users to scroll through their YouTube homepage to watch videos with audio while scrolling through their channels.
Two more new features improve resource search. Now you can filter themes in the search by additional languages and use voice search, provided that you are using the Chrome browser.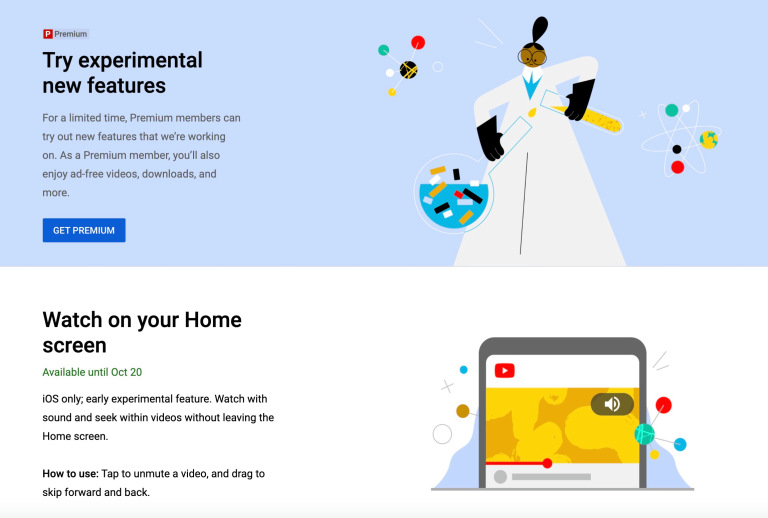 Previously, you didn't need to buy a Premium account to test new features. You just had to go to TestTube. In recent years, everyone who wanted to try new functions could do this only by going to the site.
In years past, YouTube has allowed all users to try out the new YouTube.com/new.
YouTube representatives explained this story with testing for Premium users by the fact that the features were related to the premium service.
Do not get upset in advance, because most likely, the company will not close the testing option for all users. However, still, a small part will be available only to a particular category of users.
Also, non-premium users can subscribe to be notified of additional opportunities to participate in other YouTube studies if they wish. This option appears at the bottom of the YouTube.com/new page.
YouTube says the new experiments serve two purposes. This allows production teams to receive feedback on various features, and Premium subscribers can act as early testers if they wish.
Premium users who choose to participate can select and opt-out of new features individually but can only try out one experiment at a time.
Well, this approach can motivate people to switch to a Premium account, since all the newest features will be available only to such users. Plus, paid subscribers will have ad-free videos, downloads, background playback, and more.
YouTube, which today has over 2 billion monthly users. According to App Annie, as of the third quarter of 2020, YouTube ranked 3rd in consumer spending globally for iOS and Android.
Live streaming platforms are becoming more and more popular every year, and in particular, this year has become one of the most active in terms of user growth due to the pandemic. Now more than ever, it is worth launching Live streaming projects because the conditions for this are favorable. To become successful, you should choose narrow directions and promote your project in a little niche. For example, we recently finished the project The Club, which allows DJs worldwide to stream their concerts and thus earn money for themselves. At the same time, the platform receives a commission. Are you still wondering if you should develop your live streaming application? Let's discuss your idea, and our business analyst will be able to give you recommendations on making the application successful.
Don't know where to start your video streaming service? Get a free consultation
Do you want to see such articles in your inbox?
Stay up to date with latest tech trends and products