To keep users looking for social video entertainment and are already ditching the Google platform, the company plans to launch a feature to display Instagram and TikTok videos in a separate carousel in the Google mobile app. Previously, the Short Videos carousel was featured on Google Discover.
Discover appears to the left of most Android home screens or in the Google app, also available for iOS. This feature is mainly composed of articles related to your interests and YouTube videos, weather, and more. Reaching out to hundreds of millions of users every month, Discover also shows AMP content.
The new feature differs from Google Stories, which was rolled out in October 2020 in the Google Search app for iOS and Android. Google Stories, or AMP Stories, are short video content created by Google partners such as Forbes, USA Today, Thrillist, and others.
For the first time, Search Engine Roundtable reported a carousel to include Instagram and TikTok content. They could access this feature by searching for "packers" in the Google app and scrolling down the page. This way, you can see the carousel of short videos.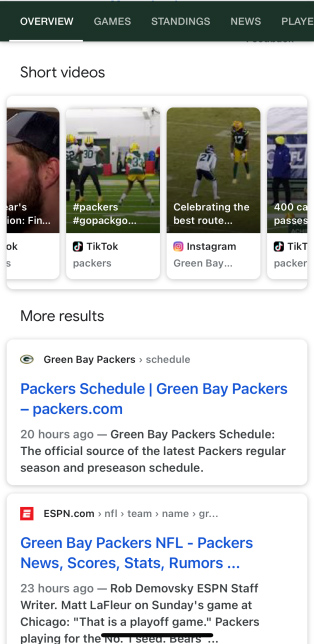 Videos on Instagram and TikTok are available in the Short Videos row, and clicking on the video will take you to the web version of the social platform. So there is a good chance that users will stay with Google as they have to hit the back arrow to return to the search results after watching the video.
Video indexing on Google has been going on for over five years, and there are examples where the company partnered with Twitter to index search results. But there are no official reports yet on how Google linked Facebook/Instagram or TikTok.
A Google official confirmed that the feature is currently being tested on mobile devices, as it is still under development, and you will not see it on demand for no reason. After a while, when Google expands this product, it may well be popular to index and view top video content from social networks.
As we said earlier, this year, all video-related platforms, whether it's video streaming solutions from Disney or Netflix to Instagram and TikTok with short videos, have seen unprecedented growth. Since many people stayed at home for many weeks, video content became their leading entertainment. They already say that this year has become a turning point in the life of cinemas and that they will probably die out as a species in the next 5-10 years, but paid online cinemas, on the contrary, will become mega-popular. Time will tell what will happen next. Our GBKSOFT team closely follows all the video industry news to create only the best digital solutions for our clients.
Do you want develop unique app that will become a must-have app for your target audience?