When it comes to hiring employees, the healthcare industry has nothing to do with other sectors. The difficulties that exist in hospital software development have become the reason for the emergence of such a startup as Incredible Health. The platform's primary goal is to become a bridge between the employer (hospital) and the nurse. The functions of this digital healthcare solution go far beyond ad delivery.
What makes this platform unique? Incredible Health's founders say the solution must meet nurses' and hospitals' needs, given the constraints of COVID-19 and the current challenges it presents. There are three more main features in contrast to other solutions:
employers look to nurses, not vice versa;

through the platform, an automated check of nurses is carried out, namely licenses and certificates, experience, etc., since there is integration with different databases;

work with matching algorithms is implemented based on the platform.
In other words, Incredible Health provides employers with highly responsive nursing professionals, which means you don't have to spend a lot of time looking at candidates who may not have the necessary skills.
During the year of the project's work, some statistics have been accumulated that speak in favor of the platform. So hiring is three or four times faster. And the platform's efficiency is 30 times higher than that of a regular bulletin board. But the most critical indicator for the platform is financial. Hospitals that use Incredible Health for hiring save up to $ 2 million a year.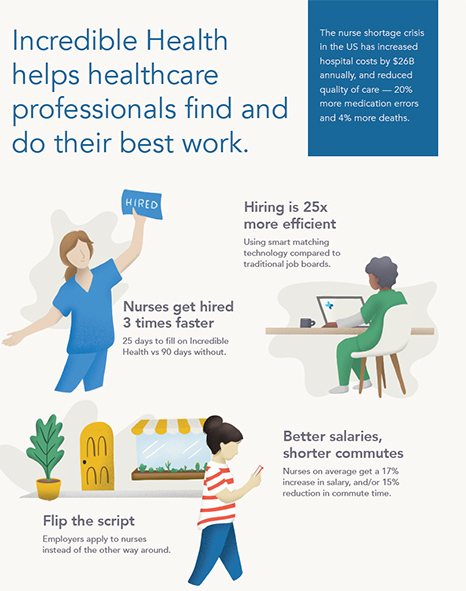 How else is the platform different from its competitors? The company has introduced an automatic interview schedule. Currently, 70% of interviews on the platform are scheduled with automation within 36 hours. There is also the ability to conduct an interview remotely. There is also an in-app chat between potential employers and nurses in iOS, Android, and the web applications that Incredible Health offers. What is not usually the case is payroll calculators, which are also built into the platform.
Finding the right candidate for the resource is also simplified. Nursing profiles are divided into 45 specializations. Sorting nurses' lists as they are displayed to employers is made randomly, not to generate certain biases.
Incredible Health recently received $ 17 million in funding led by Jeff Jordan at Andreessen Horowitz. The digital solution is already in use in 200 US hospitals and some of the nation's largest medical networks, such as HCA and Baylor, and academic medical centers, including Cedar Sinai and Stanford.
We believe that business optimization is essential to save money and other resources, such as time. We have extensive experience in development with this kind of project, as you can see by going to the section on the web or mobile apps development. Feel free to contact us about any questions related to app development.
Does your business need optimization?