FaceApp has gone viral, again. Users all around the world upload their photos to see how they do they look older. This is a fun thing to do or, at least, interesting. But, as usual, the use of photo recognition and neural networks can be applied not only to mess up your photos to laugh at with your friends. For example, recently released social media app Captured uses photo recognition to make thematic chat rooms based on what appears on a photo you upload.
There are literally limitless possibilities to use photo recognition, starting from giving you a ticket for driving too fast and ending with, well, seeing the older version of yourself. 
How has FaceApp become so popular? The incredible filters of the appraised the bar of photo editing. People always wonder how they can look like in older or younger age, and even opposite gender variants of themselves. The machine learning is used to make face manipulations on digital photos, providing a rarely correct estimation of future appearance. It seems like we all traveled to the future. You may open any social media app and you will find older versions of your friend, staring at you and making you feel uncomfortable.
Before talking about the features, we should talk about who founded FaceApp and how it succeeded in the market.
FaceApp: Viral Photo Editing App
Faceapp was launched in 2017 by Wireless Lab. At the start it was made for the iOS and later because of its success, the version was launched for the Android platform.
It is an app like Prisma in using server-side technologies to add filters on photos but it has access to the one picture at a time. According to the development company, FaceApp uses neural networks technology which is a machine learning method to modify the faces.
Important Facts & Figures About FaceApp
FaceApp has reached one million downloads within just 2 weeks of its start.

The photo app also took #1 place on the top free photo apps at once.

The AI face swap app has 100 million downloads on Play Store alone.

In fact, according to statista.com, there were about 30 million downloads in July of 2019 alone. You can see the craze of this app in the graph below.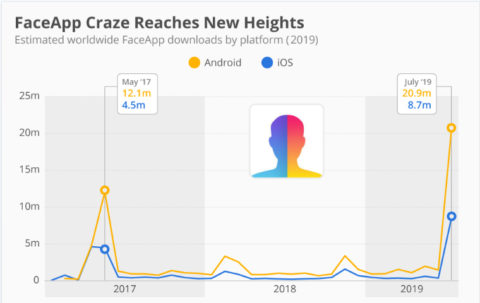 Inventory Management
You can use an app with photo recognition functionality to apply it in your business, providing your business depends on the storage of goods and commodities. With your app that uses photo recognition, it will be easier to track and list your items.
Socializing and Save Photos 
After editing photos with this funny face swap app, you can save the images and collages in your phone gallery. Also, you can share them on different social media platforms with your friends. 
Of course, photo recognition is most interesting when applied to human faces, though the above mentioned Captured mixed photo recognition of everything with social media angle, categorizing their chat rooms by the photos that users upload. You can create your social media app that, for example, tells you what mood a person on a photo is or this person's age. The possibilities here are only limited by your imagination, which is why, unfortunately, such things as deep nudes occur.
Features that can be used in photo editing app development
1. Edit video
If you wish to create the best face changing app, it would be great to add video also. Face-changing filters that can be used even in videos make the app like a video editing app. Features to edit sounds and voices in videos is also a benefit.
Slow-motion, fast forward, looping of videos like that in Snapchat will make sure that people are amused.
2. Funny filters
Age, smile, gender filters are fun. New additions and updates to such filters should be made to keep the users involved. Apart from these filters, you should also integrate other funny filters like animal filters, funny voice filters, movie character filters, etc.
3. Games
If you have ever used Snapchat, recently they have added the feature of games while using filters. Using this feature, one user can challenge another user to use the same filter and play the game. This makes the app more interactive and compels the users to use it more.
So, these features can make your photo editing app development more attractive for users, they allow you to be ahead of others.
Indicate Startup Levels
This questionnaire will let you understand the levels of average startup preparation.* Discover your level and if you are ready to launch your startup.
[yop_poll id="7″]
* This criteria is not universal and is based on answers of our blog readers.
Buying Stuff You'd Like to Try Beforehand
Imagine yourself searching through an online marketplace, looking for something to buy like new glasses or a shirt. Why not make an app that helps you pick a perfect hat without ever wearing it in the first place? The app will consider the shape of your head and facial features to help you make the best choice. There's already such an app for seeing how your new shoes are going to look at you. 
Facial and other photo recognition apps are in high demand now. This niche is not yet occupied, so your app has real chances for success. It can be quite useful for entertainment purposes just as it is for enhancing a buying process or doing business. As you can see, the application of photo recognition goes way beyond an app that makes you look old. 
Want build own an app like FaceApp?