Supply chain crisis explained: The global supply chain suffers from port congestions, lack of containers, and skyrocketing demand. For consumers, it means empty shelves, product shortage, and higher prices. For manufacturers and retailers, it is about delivery delays, inflated transportation fees, and new challenges requiring everyday intervention.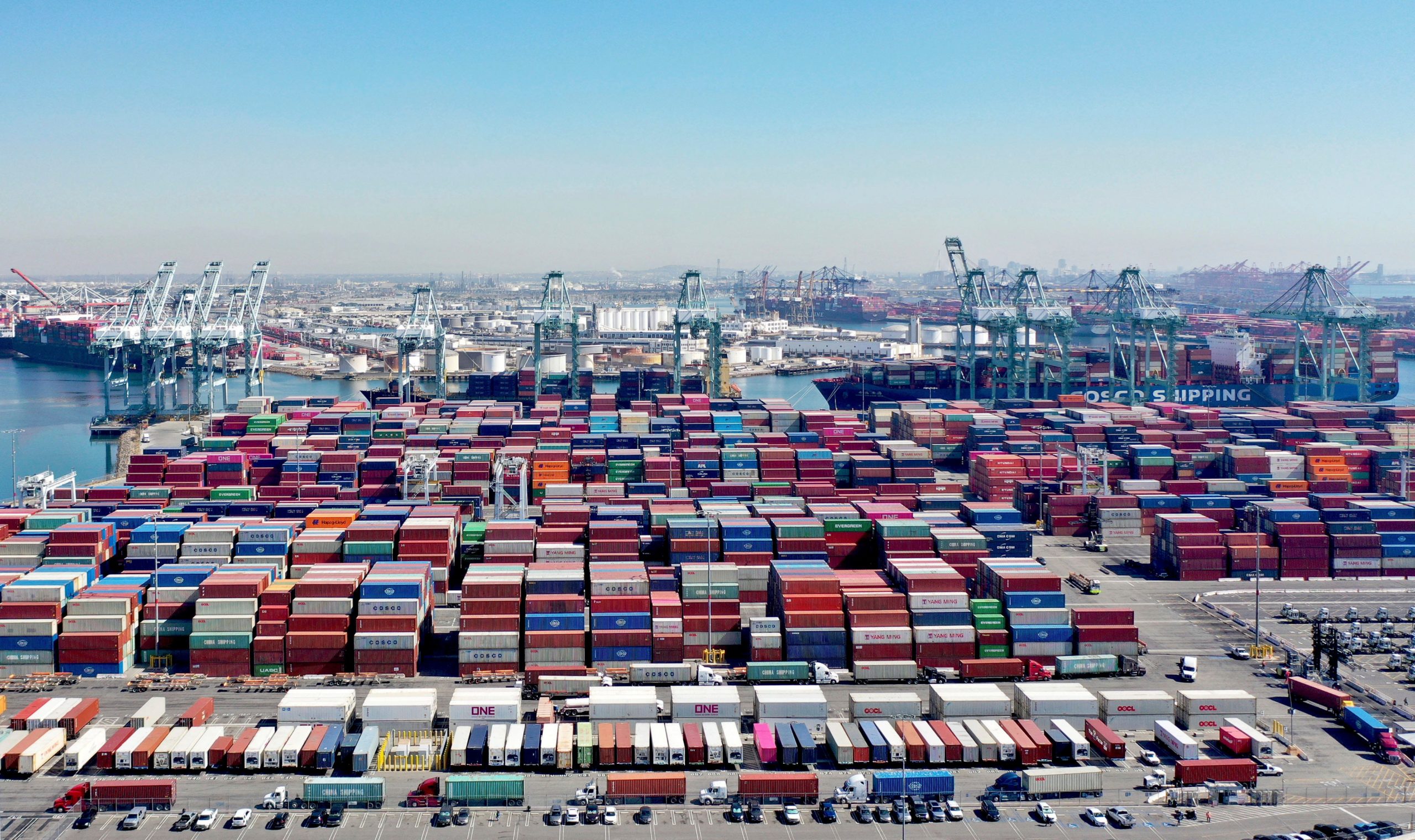 Dean Musgrove, AP, source: USA Today
The Reasons Behind Supply Chain Shortages 2021: Explained in Simple Words 
The world economy went through major disruptions last year when sudden yet all-consuming pandemics put a halt to international production and trade operations. This year, the economy shows slow recovery but encounters another bottleneck: the global supply chain crisis. 
The main challenge emerged when the first lockdown restrictions were lifted, and consumer demands stuck up. According to Insider, it created the same pressure as if 50 million new Americans suddenly came into existence. International shipping has been trying to get back on track ever since but became overloaded and stuck. The biggest issue now is a lack of Chinese containers available for transportation and as a consequence, soaring fees. A large part of containers that are sent to the US stays there, clogging ports, instead of being delivered back to China. 
At the same time, the COVID-related issues haven't disappeared into thin air. The lack of workforce, absence of a unified international vaccination certificate, and enhanced border control slow down shipping just as much. The Chinese energy crisis adds to the list of supply chain issues too, considering that China is one of the major world exporters of dozens of vital products like electronic equipment, machinery, medication, plastics, metals, etc. 
The unfortunate combination of these factors leads to the perfect storm situation we are facing right now. However, in the fear of delivery delays, supply chain vendors add fuel to the fire themselves. "Retailers and manufacturers are overordering because of these supply chain issues, and that's just leading to essentially an even worse scenario," the CEO of Quincus, the international supply chain technology provider, shares with CNBC.
The Real Scale of The Global Supply Chain Disruption
Supply chain issues have affected almost every country in the world, as well as the main industries that drive global production and trading.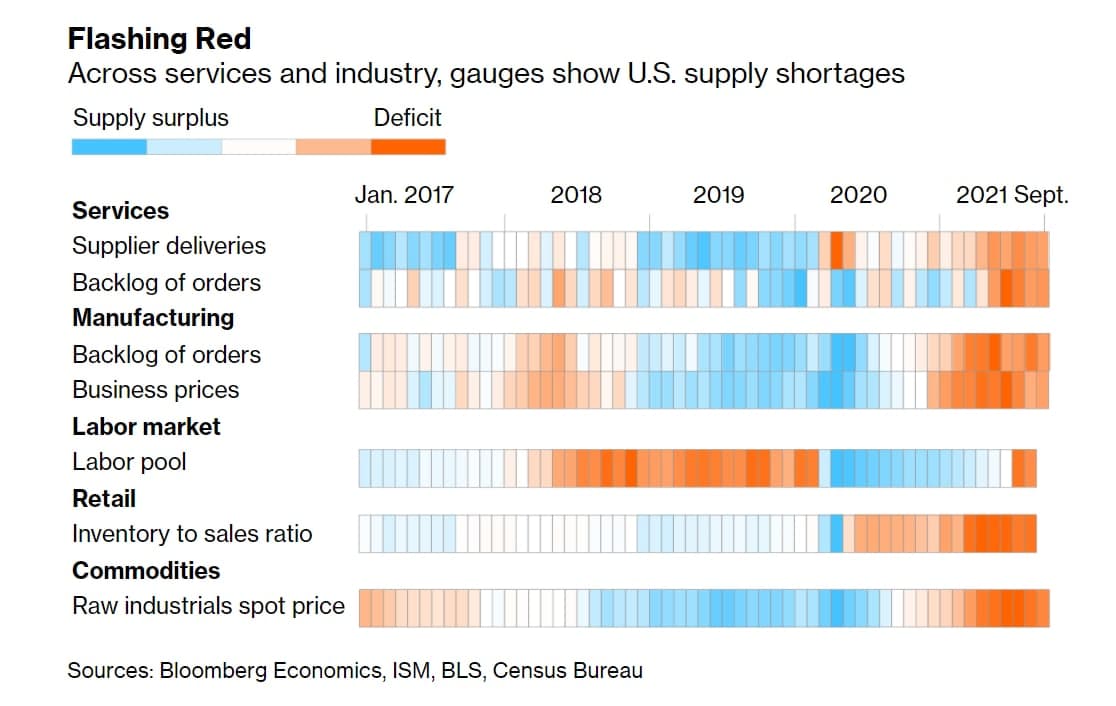 US consumers have already seen empty shelves in their usual stores, and the government warns about increasing prices that may affect traditional Christmas shopping. CBS News predicts that products like gaming consoles, alcohol from foreign countries, iPhones, clothing, and even turkeys may be hard to find during the holiday season in the US. 
Apart from common consumer goods, there is also a shortage of essential medical items, and around 85% of healthcare providers have encountered challenges with supply procurement and experienced a significant rise in prices, according to the latest report of Kaufman Hall, a healthcare consulting company. 
The United States isn't the only country having troubles with the global supply chain. Two major European economies, Germany and France, felt the slowdown of the COVID recovery and didn't reach the composite PMI that had been predicted earlier.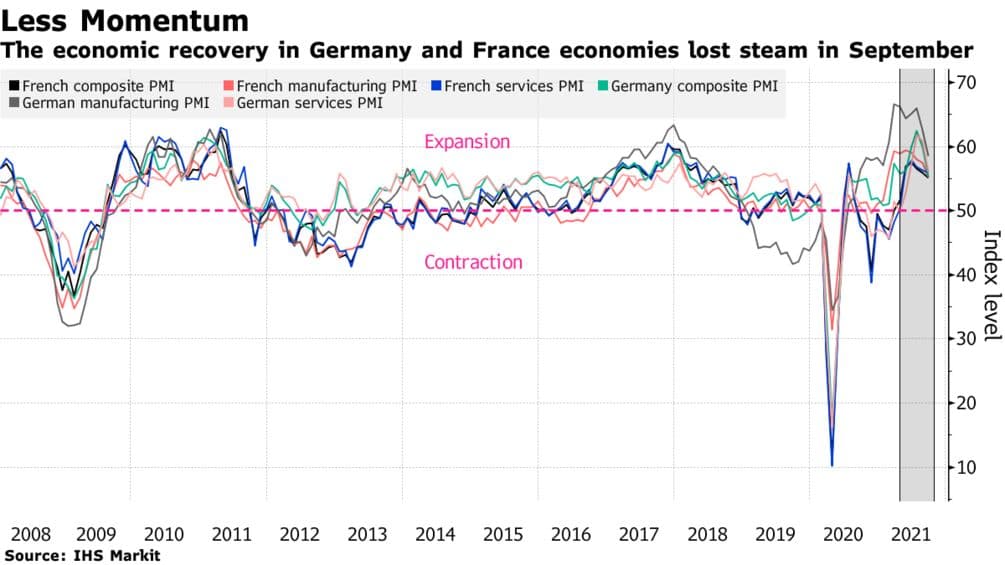 However, the United Kingdom is experiencing the worst crisis. The reason for that is that pandemic shortages overlapped with the infamous Brexit in January 2020. After new immigration restrictions came into effect, thousands of European workers went home, and the British market lost the main part of qualified HGV lorry drivers. Eventually, it led to a major fuel crisis as companies weren't able to deliver petrol to petrol stations. The food industry lost a significant part of the workforce too. For those two reasons, local stores can't offer enough milk, chocolate, and meat. 
China showed a quick recovery in 2020. But in 2021, it also has supply chain challenges that have slowed its economic growth: Q3 GDP growth is below expected.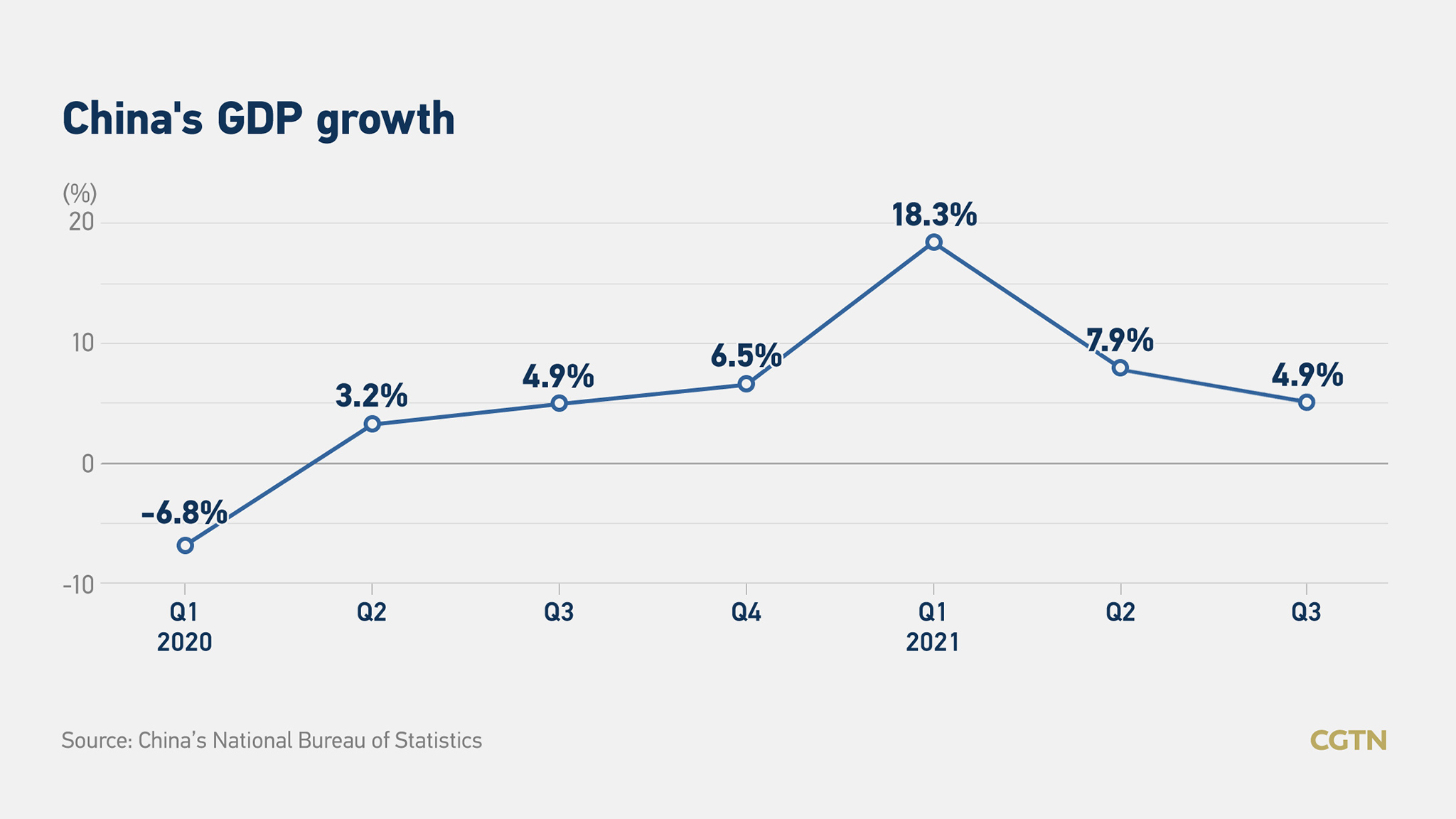 Manufacturers that were able to mitigate risks related to pandemics are now losing profits due to the global supply crisis. Small factories suffer the most, unable to fulfill orders. The recent energy crisis is also alarming, as the lack of coal leads to power outages and interrupts production.
At the same time, the country is also experiencing a shortage of workforce mainly because strict COVID restrictions decreased the number of migrant workers. On top of that demographic crisis and slow diminishing of the working-age population don't make things better either.
When Will The 2021 Shortages Come To An End?
Unfortunately, the problem is most likely to continue in 2022. Despite the increasing number of vaccinated people around the globe, the COVID still poses a threat, especially with its more dangerous variants like Delta. It seems like humanity yet needs a lot of time to come back to the pre-pandemic reality. 
Supply chain management issues won't magically resolve themselves as well. According to the predictions of logistics specialists, it might take a year and a half for the industry to recover. Vox states that the Federal Reserve is preparing to deal with the challenges of the crisis next year as well, meaning that empty shelves, supply disruptions, and chaos in international trades will need the involvement of all the industry stakeholders. 
How Convergence of Supply Chain and Technologies Could Help Companies Overcome The Shortages
The supply chain reached the breaking point even before the pandemics. The issues are present at every stage of the supply chain, from production to delivery. Companies that tend to follow lean principles and cut expenses by maximum aren't prepared to deal with the increasing demand. Eventually, they will require more time to accommodate these changes. 
The only solution here is to decrease demand which sounds almost impossible in the reality of consumerism and mass production. 
We can't suggest a universal remedy for global supply chain shortages. However, we can offer a solution for the supply chain and manufacturing companies. The current crisis is a tipping moment that businesses may use to be reborn and implement innovations. 
The main challenge now is to increase capacities, build new warehouses, and expand staff. However, fast scaling, especially in a crisis, demands clear calculation, structure, and organization. Digital technologies like enterprise resource planning (ERP) systems can help you with that by streamlining major processes, keeping track of your inventory even on the move, and granting flexibility that is necessary during a crisis.
Implementing an ERP system will change the way usual operations are conducted and increase productivity and performance significantly. However, you can go one step ahead and choose to integrate artificial intelligence (AI) into your ERP software.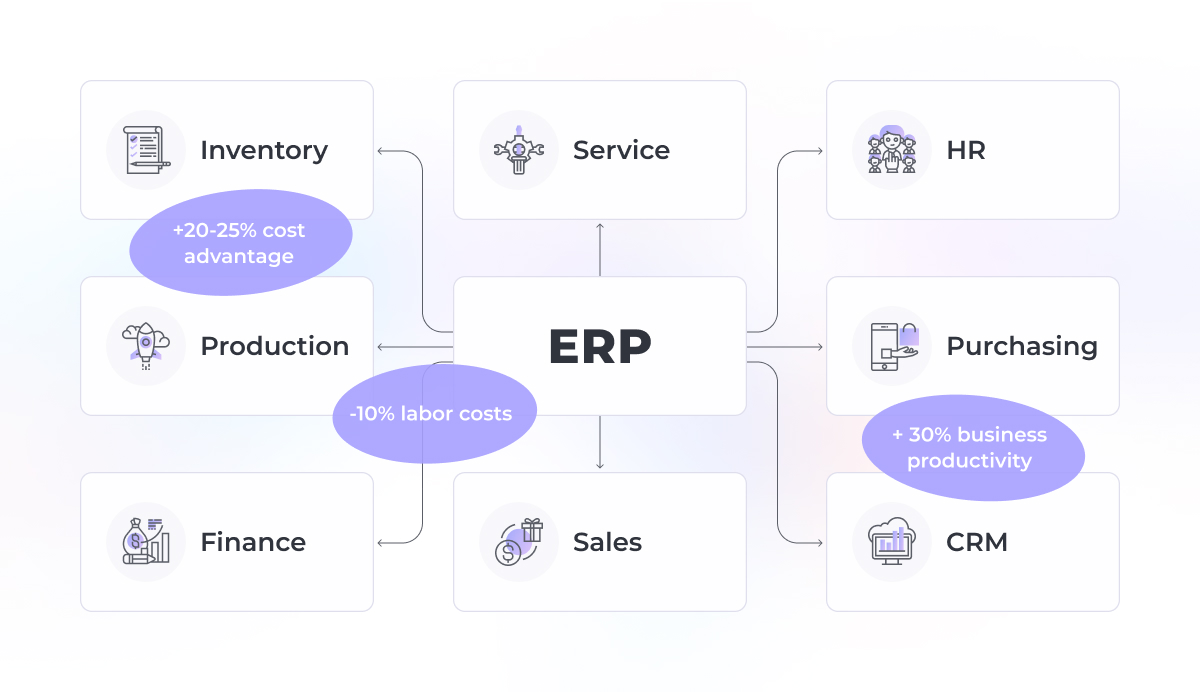 AI-powered ERP software will be able to forecast demand by analyzing your historical data, and current demand trends. As a result, you will receive an accurate prediction that will help you determine the precise volumes of production, and plan shipments accordingly. With high-precision analytics provided by AI, you may also be able to forecast possible disruptions in the shipping and adjust accordingly.
Ultimately, an ERP system integrated with AI is a way to embrace smart, data-driven approaches for the supply chain which is something that the industry needs right now. This way, companies become able to strategize more efficiently, and hence avoid unnecessary expenses, optimize shipment time and mitigate new challenges caused by global shortages.
Want to implement an AI-powered ERP system?
Consult with our managers to learn the details.