Ukraine is considered to be one of the epicenters of software talent in Eastern Europe. It counts about 205000 skilled technical engineers. According to recent statistics, 56% of all Ukrainian developers prefer to work as outsource.
It is connected with the low demand for custom software development in Ukraine as it is considered to be a pricy process. However, Ukraine still has a much lower development rate than the USA, for instance, but the quality of services remains high-level.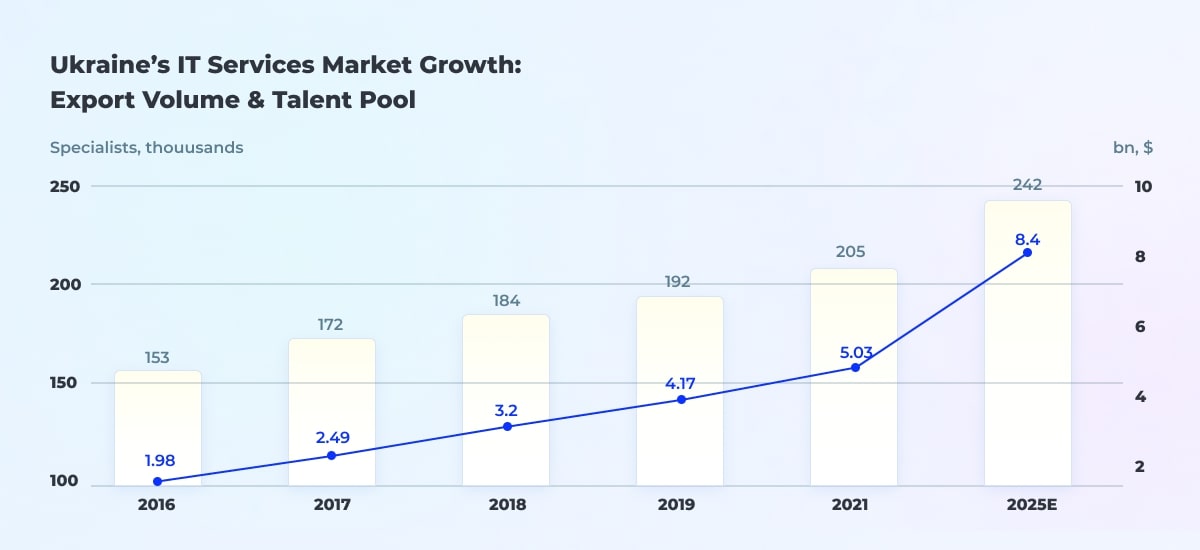 Ukraine dedicated developers mostly reside in large cities: 70% of all specialists are located in Kyiv, Kharkiv, and Lviv. Of course, software engineers also inhabit other cities, but most of them tend to work remotely in big Ukrainian cities or even foreign companies. Talking about the experience of Ukraine's dedicated developers, it mostly equals 2-5 years.
We have prepared some statistics, based on our own experience. Check out the picture below.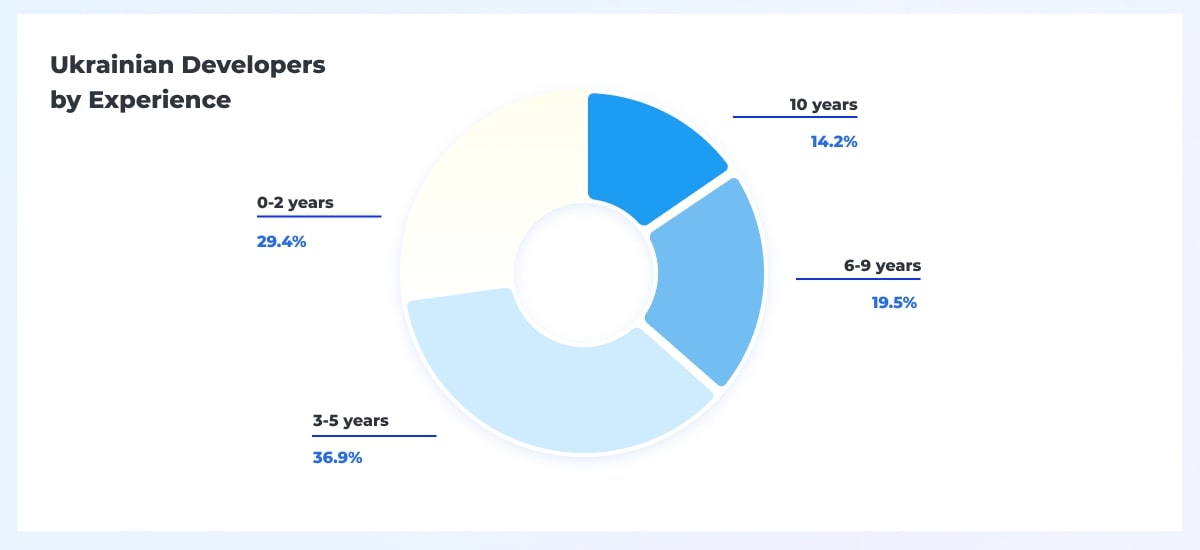 Programming languages
The tech talent pool of programming languages in Ukraine is constantly extending. Currently, JavaScript dominates among other popular programming languages: it is used by at least 18% of all dedicated development teams in Ukraine. As we have already mentioned,  Ukrainian dedicated developers are interred in learning trendy programming languages to stay in the game. So we also would like to note Python, Typescript, and Kotlin as the primary coding languages. Speaking about widely-used frameworks, it's worth mentioning Node.js, React.js, and Agular.js.
Here you can find out more about the computing languages that dedicated software development teams in Ukraine prefer.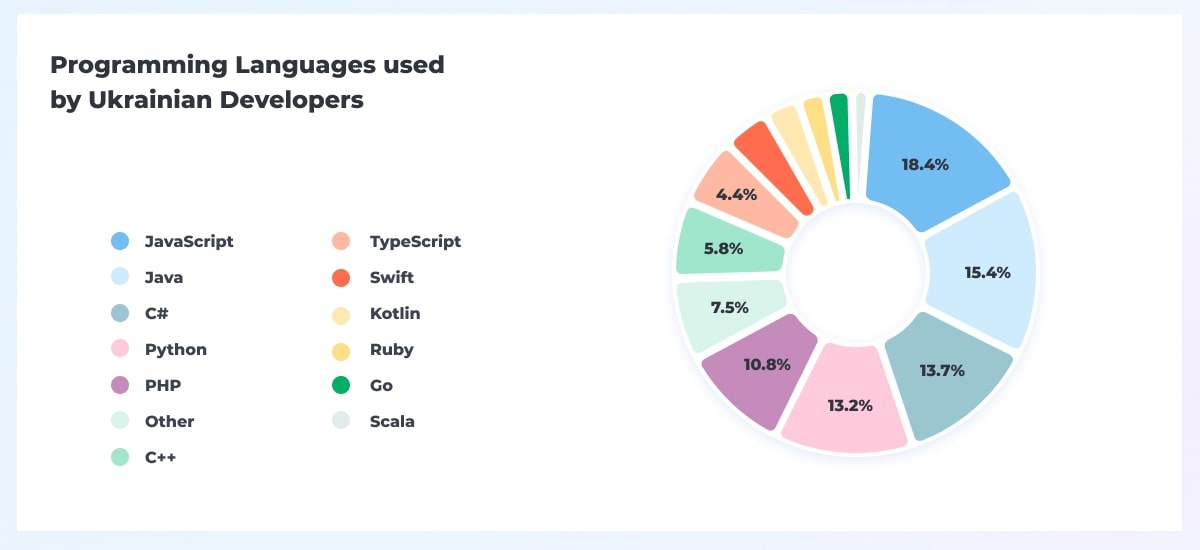 Salary reviews
It shouldn't be a surprise that the salary of Ukraine dedicated developers depends on the level of their skills – junior, middle or senior:
payrolls for juniors vary from $500 to $800 per month;
middle specialists get about $1500-$2700 every month;
A senior developer's salary starts from $4000 and goes up to eternity.
Talking about outsourcing software development companies: they offer hourly rates, depending on the experience of their offshore developers. The price ranges from $35 to 49 per hour. For instance, the neighboring countries demand a higher rate, starting from $50 for an hour. The most compelling dedicated developers in Ukraine are considered to be QA engineers, PHP, and .Net specialists.
Job satisfaction
Ukrainian software development companies look for ways to improve their external and internal services, as the success of their projects fully depends on the satisfaction of their employees. It is not only about salaries but the working environment and the attitude of the leaders. Nevertheless, Ukrainian dedicated developers were satisfied with their work conditions from the beginning of cooperation with their jobs position, responsibilities, projects, and bosses.
The competition among different software development companies in Ukraine is rather high, so team leads should value their highly skilled developers and react to their demands and needs.
Tech education
Ukrainian universities provide 16,000 qualified IT specialists and 130,000 general engineering professionals every year.
Ukrainian largest cities count a great variety of different courses and IT schools where developers can enhance their skills and experience. Additionally, people who are not related to software development can easily start their careers in this area. Ukrainian dedicated developers team up in a local IT cluster that creates a united community where specialists from different software development teams can share their knowledge and experience, communicate, and enhance software quality development in Ukraine.
The business climate in Ukraine
Several years before today, the business climate in Ukraine was troubling, to name at least. However, things have changed, and today Ukraine is on the way to becoming one of the largest centers of highly skilled Ukraine dedicated developers, and of course, it attracts more and more investors.
According to the statistics, Ukrainian software development companies have gained more than $630 million in investment for the past 5 years.
Infrastructure
The number of high-quality software development services in Ukraine continues to expand, and it is hard to count all of them as there are lots of small companies located in each regional center, of which Ukraine has 24.
Statistics say that the number ranges between 3000 and 5000 software development companies that offer outsourcing development services to foreign partners among which are Google, AWS, Samsung, and many others.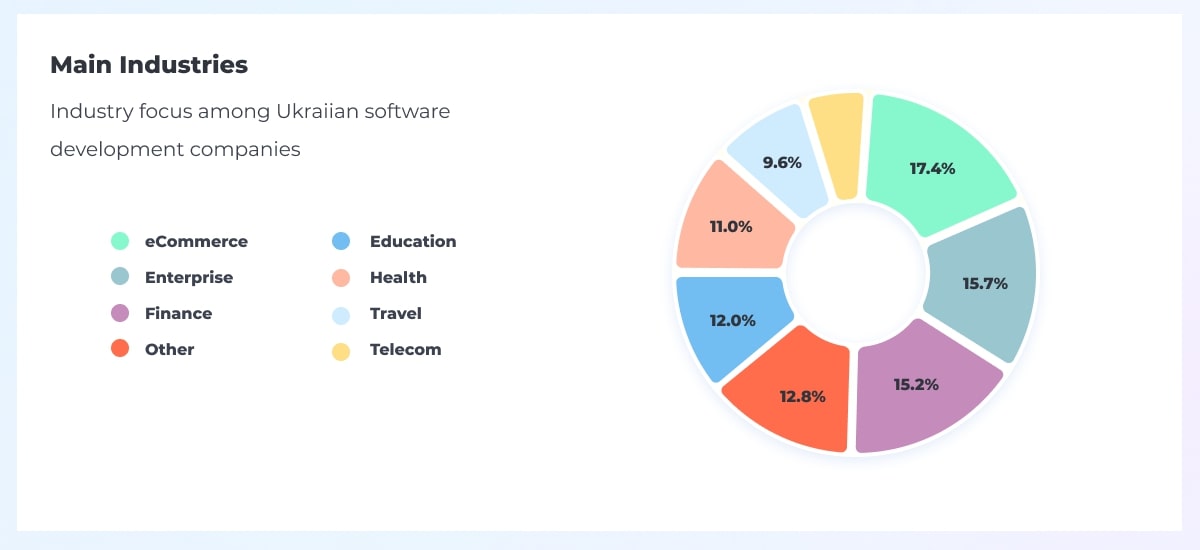 Need to talk to our experts?
Ask our IT-experts and get answer within 24 hours
Types of development work models
Basically, there are three different types of software development models that are suitable for diverse projects. 
Fixed price
The fixed price approach suits small and medium software projects with a clearly defined project scope and a fixed budget. The client is not fully engaged in the development process as it is managed by the project manager.
The development team takes care of everything during the building process, so clients are only involved during the discovery stage. Fixed price means that a client is ready to sacrifice a project scope in order to remain under the budget and originally set timelines.
As for our experience, we don't prefer working following the fixed price model as the project scope and requirements may vary during the process. We don't like giving empty promises to our clients and don't keep them. The initial project estimation of timelines and budget is always approximate and depends on the project and its development flow.
Time & Materials
This development model is a great fit for projects with vague specifications, timeframes, and budgets. It is almost impossible to estimate the final product as the scope of the project can vary. All risks are managed mostly by the client but the development team has to report on the executed tasks and explain how resources and money are spent for more transparency.
Dedicated team
A dedicated software development team is a perfect match for complex and long-term projects. Ukraine dedicated developers are completely focused on one single project with no interruption by other tasks during the development process.
As a client, you can take part in all stages of the development process, amend the requirements, and communicate with the team to be aware of all changes.
Moreover, the dedicated software development team model implies the opportunity for team extension where the required outsourced developers join your in-house team in order to create high-quality software in the shortest terms possible.
When to get a dedicated team in Ukraine?
Although a dedicated development in Ukraine team works remotely, its members are committed to client projects and are interested in their success just as much as the in-house personnel.
Nevertheless, the dedicated team in Ukraine does not suit all software projects as it is impossible to apply small and quick development processes. Accordingly, we would like to highlight when this approach is relevant and notably beneficial:
A dedicated development team is applicable for complex projects that imply long-term cooperation and the development process takes at least 6 months;
A dedicated approach demands a large scope of work and diverse tasks so that each specialist knows the responsibilities and duties;
The project's scope and specifications are controversial and can vary during the development process without any consequences;
Dedicated development implies following the established workflows on the client-side to make the software solution a 100% fit to the company processes;
A dedicated team of software developers in Ukraine is an excellent choice if the client is willing to actively take part in the development process and make adjustments;
A dedicated development team model is required when a client is willing to extend the in-house team with the required specialists during the development period.
How do companies benefit from dedicated software development teams in Ukraine?
A dedicated software development team is an excellent fit for large-scale and complex projects. This approach is entirely flexible and can be adjusted to any project specifics. Outsource dedicated development team in Ukraine is considered to be the most beneficial model in software development and we would like to prove to you why.
Complete engagement and focus on your project
A dedicated development approach makes every client feel one and only. The formed development team is not just developing a software product for your business, it does much more than that software developers deeply dive into the specifics of your industry and company, and learn your company policies, culture, values, and goals. They actually become a part of your business for a while.
However, if we talk about outsourcing development, this part of your organization is temporary and will leave as soon as the development process ends. Moreover, Ukrainian dedicated developers are completely focused on building your software solution and are not occupied by any other project to avoid confusion and delays.
Cost reduction
Outsource dedicated development team helps reduce the expenses in two ways:
The main profit of outsourcing development, compared to the in-house development team, is its temporary nature. It means that you will pay only for the hours spent developing your software solution, no more than that. As soon as your solution is ready, your cooperation comes to an end and you don't have to pay software engineers and the software company anything else.
The next profitable thing is that a dedicated team is already a tight-knit crew with vast experience working together under their belts. There is no need to spend time and resources hiring dedicated developers separately as the outcome can be quite disappointing. The chosen outsourced software development company will provide all the required specialists for your project and start development as soon as possible.
Control over the entire development process
A dedicated development approach implies that a client can actively take part in the development process. As a client, you decide what software developers will be hired for your project and interview each of them.
Due to the Scrum methodology, the Scrum master will have to provide regular meetings with the team to keep you updated about the latest changes in the product development, so you have the opportunity to make some adjustments to your requirements even after the start.
Higher productivity and speed of the development
All advantages we mentioned above all together provide a more productive development of high-quality software for your business because:
The dedicated development team is concentrated only on your project, immersing into the peculiarities of your business and the area of activity;
A united team of software developers that have previously worked together on the same projects, meaning workflows have already been established to provide a smooth development process.
The Ukrainian software development community counts 20+ clusters, located in the biggest cities, among them are Kyiv, Kharkiv, and Lviv, as we have mentioned before, but also Odesa and Dnipro.
There is a wide tendency of outsourcing software development to Ukrainian companies by businesses of different sizes and from various industries. We would like to provide a compilation of the companies that have decided to trust the development of software products for their businesses with the dedicated development team in Ukraine. 
The Ukrainian software development community counts 20+ clusters, located in the biggest cities, among them are Kyiv, Kharkiv, and Lviv, as we have mentioned before, but also Odesa and Dnipro.
There is a wide tendency of outsourcing software development to Ukrainian companies by businesses of different sizes and from various industries. We would like to provide a compilation of the companies that have decided to trust the development of software products for their businesses with the dedicated development team in Ukraine.
Elite Vehicles
Elite Vehicles is a large-scale company that deals with the manufacturing and installation of the equipment for special-purpose cars like police cars, ambulances, etc. The company owner chose Altamira as the technical partner to automate the workflows with custom software. Due to our close cooperation, out development team succeeded in developing and implementing:
Configurator for order creation to make this process automated, easy, calculated, and accurate for clients and technicians as well;
An internal mobile app where technicians can check the order details and equip cars so they actually help avoid mix-ups and poor customer experience;
Admin panel where all order information is recorded and managed by admins.
EveryMartix
EveryMartix is a worldwide B2B iGaming software vendor that provides services such as online gambling apps, products, and software solutions for online casinos, different types of lotteries, and other fintech companies.
EveryMartix entrusted the development of one more function (online payment solution) to the outsource development team in Ukraine. They needed to expand their platform to get a bigger market outreach. So the Ukrainian dedicated developers integrated their platform with about 150 different payment methods that helped them enhance their services and make them accessible all over the world.
Ayasdi
Ayasdi is a machine intelligence software provider that offers software solutions that are tasked to analyze and build predictive models based on Big Data tech. Their services are widely used in different industries like healthcare, trading, etc., for the purpose of private data protection, disease investigation, and so on.
Ayasdi decided to outsource the development of their platform for financial data scientists to Ukrainian dedicated developers. The solution aims to protect financial data from leakage and fraud during transactions.
Get in touch with our specialists for a consultation.
How can we help?
During the past years, Altamira has been providing dedicated development teams for full-cycle development and delivery of high-quality software products for our clients. We focus on enhancing and improving our services by being a flexible and reliable partner.
By entrusting the outsource development to our dedicated team, we guarantee:
Full engagement into your industry and company specifics, analyzing its process in order to define the core project specifications;
Compliance with your company policies and official regulations, related to software development in your industry;
Flexible conditions of cooperation – we are always open to adjusting to your requirements;
Highly skilled dedicated developers, managed by Scrum master, are always available to solve your problems and listen to your feedback;
Transparent documentation to keep aware of how your money and other resources are spent;
Keeping you in the loop and involved in the development process to provide any revisions if needed.
We also would like to present to your the rates to our international dedicated development team for your services in the file below. Just type your name and email to get the current cost.
FAQ
The variety of Ukrainian outsource companies is surely vast; however, there are some things that you need to consider before signing the contract: Make sure your project is suitable for the dedicated approach. Find out how long the company has been on the market; Check their portfolio, industry, and technical expertise; Access the skill set of their dedicated developers; Make sure they provide clear estimation and documentation.
The dedicated development work model is a perfect match for complex and large-scale projects where the scope and specifications are variable and can be adjusted during the development. It commonly implies long-team cooperation and flexible conditions.
To end up
Entrusting development to the Ukrainian dedicated team or international software house located in Ukraine like Altamira is definitely an efficient and safe way of building custom software for your business. You save your time, money, and effort by choosing to outsource development.
We are ready to help you enhance your business capabilities and growth by developing a solution that would fully correspond to your needs, requirements, and original expectations. Get in touch with our team of experts to consult on how our dedicated team can enable your company and answer all your questions.
Need to consult on your project with our experts? Let's schedule a consultation.
Let's schedule a consultation.