Web booking platform for fitness lovers
Discovery phase
Product development
Maintenance
QA
Rapidly growing community
See what Altamira can do for you
The client came to us with ready designs that were an inspiration for us in terms of development. We were asked to develop a web platform which would provide a unique experience for the rich community of surfers and yoga lovers.
The web platform features the registration of profiles that highlights user's experience as a trainer or as a student. Combined with the clean and good-looking interface, we've made a perfect spot for users who are in search of an instructor to practice yoga or surfing.
As it follows from the name, the site provides two categories of services:surfing and yoga. Those two options are present right on the welcome screen. From here users can choose what kind of activity they prefer and make a quick search for instructor by location and date.
We've also added "How it works" button on the first screen since the idea is quite pioneering and we wanted to make sure anyone will understand what does this site stands for. Upon clicking the button users will be moved to the introduction section right below.
Down below there is a list of destinations where surfing and yoga services are available.
Upon clicking the destination users will be directed to the page with a list of instructors in the region. From here they can see a price tag and an exact location on the Google Map.
The geolocation is one of the important Surf & Yoga features. It helps users finding perfect spots for morning yoga with a breathtaking sunrise view or sandy bays with high waves.
The biggest benefit of the service is that all instructors can indicate their availability based on their calendar. From here users can book classes, pay for them, cancel and receive a refund. Moreover, we've added messaging feature users can chat with instructors directly before booking a class.
Instructor profile contains:
Instructor's Bio
Instructor's Rating
Calendar for Reservations
List of Equipment for Rent
Session Description
Location Description
User Reviews.

The agile review and feedback system ensures that all instructors comply to the highest standards.
The web platform features the registration of profiles that highlights user's experience as a trainer or as a student. The profile page has dedicated field for such necessary information as:
Emergency Contacts
Training Certificates.
The client asked us to use Jira for follow ups, so he could be constantly updated. Each task of the project was presented in there, in order to give him the possibility track the progress, comment on bugs, and provide prompt advice.
The first step was making the agile architecture in accordance with the previously organized roadmap. The architectural phase was broke down into milestones, slicing and further developing the project through manual testing.
We've been provided with wireframes and logo design, which allowed us to jump-start the project right from the development stage and focus on the integration of additional features and payment methods.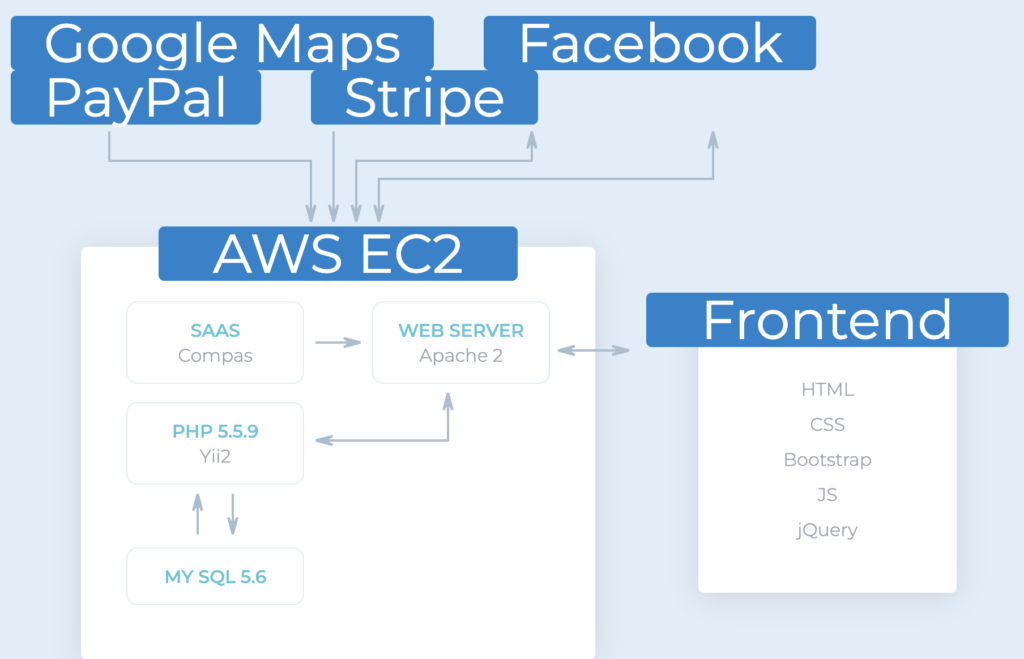 We took a simple Bootstrap theme for a page layout. Bootstrap itself is the most popular HTML, CSS, and JS framework for developing responsive, mobile first projects on the web.