In the past year, we've seen a surge in online activity due to telecommuting. Growing activity, including transactions, hello to the fact that cybercriminals also wanted to benefit from this. The maximum amount of criminal activity manifested itself in personal and corporate data leakage, credit card fraud, phishing, etc.
According to the FBI's 2020
Internet Crime Report
, the number of crimes increased by 61% compared to the previous year. The total damage was $ 4.2 billion.
The rise in crime is not suitable for anyone in most cases, but not in the case of Sift, which aims to predict and prevent online fraud faster than cybercriminals use new tactics. Clients include Twitter, Airbnb, DoorDash, and even McDonald's. Global data network with 70 billion events per month.
Sift has raised $ 50 million to meet the demand for its services. Insight Partners spearheaded funding that included Union Square Ventures and Stripes.
The company's "Digital Trust and Security" platform is designed to help organizations conducting online transactions fight online fraudsters and reduce the risks for their customers. This approach helps to balance worrying about the seller and upsetting the buyer who is legitimately trying to complete the transaction.
Sift uses machine learning and artificial intelligence to automatically guess if an attempted transaction or interaction with an online business is genuine or potentially problematic.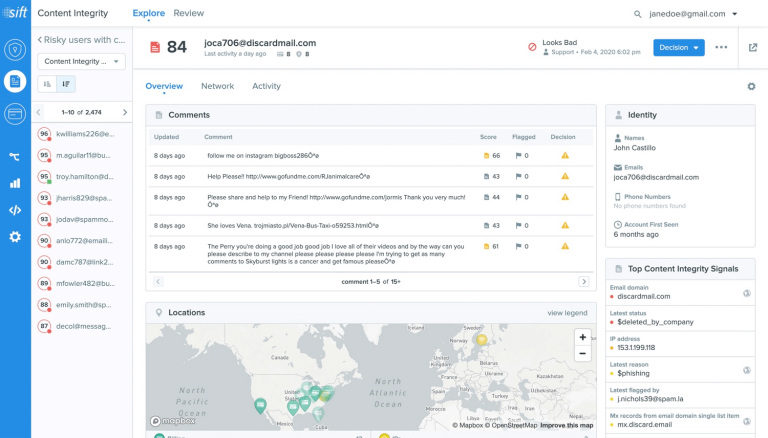 The company accumulates data on the behavior of buyers, organizations, and fraudsters with each transaction, which allows its system to learn constantly.
Insight Partners Managing Director Jeff Lieberman explained the notification in Sift that back in 2016, it became clear that online fraud would grow. Moreover, this growth was expected in dollar terms and in the number of methods that cybercriminals used to steal from consumers and businesses. And Sift uses a progressive approach to combating fraud that combines massive datasets with machine learning. This approach has already proven to be effective and has helped build investor loyalty.
"As more companies invest heavily in online channels, almost every one of them needs a solution that can intelligently weed out fraud while still providing a seamless experience for 99% of transactions or activities that are legal," he wrote.
The investments received in the new round of financing will be used to expand the company's product portfolio.
We look forward to product updates from the Sift company because the security for doing business online increases with each such product. When developing projects with sensitive data, it is essential for us that user data is protected. For example, a month ago, we received a certificate from the BSI group, which confirmed the security of our application against leaks and hacks. It was another confirmation that our team is able to create reliable solutions.
The use of artificial intelligence in cybersecurity is more of an innovation than something generally accepted. Some companies are improving their systems with cybersecurity specialists, who, in turn, are working on software to identify cyberattacks more accurately. Learn more about cybersecurity with AI in
our article
.
When it comes to payments in applications or on the website, we recommend using only verified payment gateways to avoid financial losses. Suppose you already have a ready-made solution and you doubt its reliability or are just planning to develop a new digital solution. In that case, you can contact us for advice, where our experts will be happy to help you understand the intricacies of application development and security.
Would you like to integrate AI technology to avoid cyberattacks and improve the overall security posture of your business?