Generally, we do not like to impose panic and talk about something negative. We really don't. From time to time, though, we just cannot miss certain important economic trends and there is a great worldwide fear in Western media that global economy will reach recession in 2021. 
Why? Well, for one reason manufacturing industry shows slower growth but generally you can blame it on political unrest, a shift towards clean energy, American trade war with China and many other small and big reasons. How does it concern you? If you're in business of any kind and perhaps consider starting a digital project to expand globally, now is the best time to start developing your project because it is never a good idea to start a business in the midst of the recession. 
In the following piece we are going to present the warning signs that point on the real possibility of global recession in 2021. But we will also suggest a solution, since tech sphere might be the one to not only survive but, perhaps, even benefit from the recession as tech innovations and advancements in many fields like healthcare software or on-demand economy promise sufficient revenues.   
How Software Can Help?
No matter what you do, digital presence can help you maintain your line of work in the turbulent times like the ones that are coming. Hopefully, even if they don't, it'd be best if you secure your business. Now is the best time (disregard the cliché) to make an app and redesign or create your unique innovative web platform. Consumers spend their money online and you should have no doubt that internet is where the money is. 
If you provide services, you can conquer your niche with the app. If you manufacture goods, you can advertise and promote your brand with an app. Software is a tool that lets you navigate and effectively conquer the digital sphere where more and more trade and transactions happen every other day. 
Why recession is a good reason to force your potential software development project? Because it may be the very thing that's going to save your business from losses. One of the reasons that current market volatility is high is that tech disruptions caused by digitalization and virtualization of business are too massive not to complicate former heavyweight industries like oil and gas companies. 
Which Countries Are Going to be Affected?
Primarily, western countries are facing the threat of recession while the BRICS (Brazil, Russia, India, China, South Africa) bloc of countries is less likely to experience economy downturn. You can see that these are also the countries with little external debt. On the contrary, US, Britain, Germany, Canada, France and other prosper western nations have a great external debt.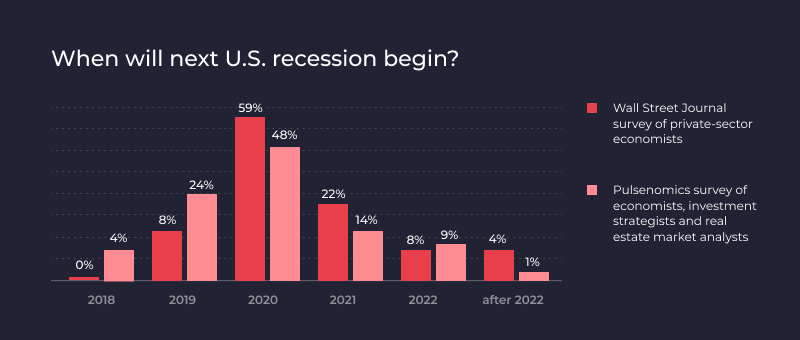 It is true that in case recession hits in 2020, all countries will be affected to a bigger or lesser extent because global economy is interconnected in a very complex and nondetachable way. Consider it a butterfly effect and remember the 2008 housing crisis or the Great Depression that influenced Europe, even though it happened in US. Western nations led by US dictate trends and are generally responsible for everything that happens to global economy whether it is good or bad.
What to Develop?
Current market trend is not just digital optimization of your existing business but a software product or service of its own that is completely virtual. For example, you may not run a hospital but you can be a healthcare software provider. Or, you can develop a product that is going to serve either clients or other businesses because today software is a synonym to optimization and in a high paced world we value nothing more than time. Develop a product that saves the time of your clients, makes their life easier and is pleasant to use. That's the secret and we covered it earlier in our article on software profit margins.
You know why technologies are always topical? Because they are constantly updated and, paradoxically, they are always innovative since they age very quickly and get old every second. Technological progress never stops and that is the secret behind its unabated popularity. 
To survive a crisis of any kind and to make sure you stay profitable in the future bet on the cutting-edge technologies and always invest in something new, edgy, stylish and sexy, something unique, something original and truly pioneering. Today it's all about apps – the little programs for your pocket computers that you use daily to manage all aspects of your life. To make an app is itself a challenge but a profitable app that improves your business model or can itself be a source of revenue is the best answer to deal with a possibility of a crisis. 
Conclusion
So, what are our conclusions? The 2021 recession will happen or it won't happen. Nobody knows it for sure. Such things are never seen or felt before they hit. The reasons are complex and many. But tech sector and digital economy are the best ways to not just update your business but make it recession-proof and minimize the risk of your business shutting down when other companies will start to fall. This means monetizing your business model via the app proposition or web application that can ease the life of your future potential customers and gain you more clients and satisfied users. 
Do you need a recession-proof software?
Our experienced developers can build a reliable solution for your business at great price/quality ratio.