Just imagine your restaurant is full of guests. Everyone enjoys the atmosphere and restaurant service, the staff running like clockwork. Sounds like a dream? Maybe, but to make it true the delicious food is not enough, you should involve your customers and improve your service in many different ways.
More and more often people prefer contactless method of payment and according to new trends to have a contactless menu is top priority. Did you know that? You might even thought about an application for your restaurant but you pushed it back in the drawer.
Today we want to overview the most popular restaurant app – Starbucks app. Nowadays, everyone is crazy about coffee and the competition on the market is indeed tough. Yet, Starbucks manages to remain a number one choice for most coffee lovers. What is even more, according to Statista, it's the second most valuable fast food brand in the world being outrun only by McDonald's.
What's Starbucks' secret of success? Is it great coffee? Well, it's for sure one of the main reasons. But, actually many offer the same or even higher quality of coffee products. We believe that people keep choosing Starbucks over other coffee houses because of its approach to servicing customers that is based on caring and personalization. And Starbucks app plays an important role in the process of its practical implementation since nearly 25 percent of its orders are made online.  
What customer's issue should your app resolve?
In this article, we'll discuss how the Starbucks app works, what key features it includes and how much it will cost you to build an app like Starbucks for your business.
How does the Starbucks app work?
In general, the Starbucks application is an order and pay mobile app with its main purpose to make a coffee purchasing process more convenient and faster. Basically, a user can order his or her favorite coffee on the go and then just pick it up in a few minutes from the nearest Starbucks.
On top of that, an app saves the history of the orders, so customers don't need to scroll the whole menu to find their favorite positions. And this works not only because personalization has been an app development trend for the last few years. A coffee choice is a thing of habit. People may try different caffeine beverages from time to time. But most of us usually stick with one or two favorite choices as part of our everyday routine.
By the way, it's a great point to consider if you sell something that people use on a regular basis. Personalized offers not only save time. They also build loyalty by creating a feeling that a company knows each of its customers in person. Implementing a similar feature in your app will probably 'eat' some of your money for app development, but it will definitely pay off in the end.
Now, let's take a closer look at the features the Starbucks app includes.
Key features of the Starbucks app
The Starbucks in-app menu is pretty simple. It has the following tabs: Payments, Stores, Customers Loyalty Program, Gift and Order&Pay.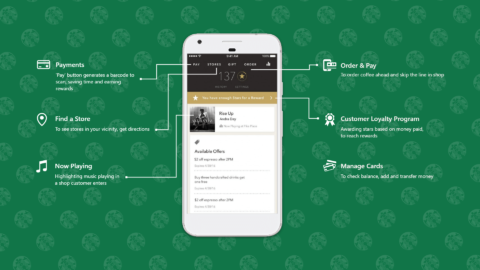 Note: according to eMarketer, Starbucks is the most popular mobile payment application in the USA, keeping a lead over its rivals — Apple Pay, Google Pay and Samsung Pay.
Starbucks mobile payments and loyalty program are two crucial components if you want to develop your mobile app. A close-loop system is a type of payment used in the coffee shops chain, it means you can order and pay only at their stores. Therefore if you are an owner of a network of stores, you should consider ways to encourage return purchases with an app like Starbucks.
One of Starbucks' innovations that eased the payment process is an e-wallet. The e-wallet holds electronic cards to which users can transfer money from credit and debit cards. Such an approach provides users ability without their bank cards to become members of the loyalty program, collect points (stars), and get gifts and discounts.
The next attractive Starbucks feature is its loyalty program. It is an effective trigger for customers to make purchases in Starbucks. The main idea is that a customer gets stars for each $1 spent and then can exchange them for items from the Starbucks shop.
Also, they added gamification to their app, and there are some levels that you can achieve. Earning five stars unlocks the Green level. And when you receive 30 stars, you reach the Gold level, with each new level you get benefits and gifts.
Starbucks changed the world and raised to a new level in building customer loyalty. It is not only about drinking coffee it is about building long-lasting relations with their customers.
What kind of features do you want to implement in your app?
The loyalty program is not the end of involvement strategy there is another entertainment feature for customers. The Shanghai Roastery is the first Starbucks to give customers an augmented reality (AR) experience.
You can use AR to involve users in the coffee-making process, teaching them how your shop makes their coffee. This feature allows you to entertain customers while they're waiting for their drinks. 
The second 'hook' for coffee lovers is  Starbucks cooperation with Spotify. With the help of the application, users can identify music playing in Starbucks and save the songs to their personal Spotify playlists.
The important thing you should consider is music licensing. Without licensing, your music database is illegal. The best way to solve this problem is to partner with a music streaming service, as Starbucks did with Spotify.
Shop Locator feature allows users to find nearby coffee shops/restaurant according to their geolocation. You need this feature to direct users to your shop and transform them into customers. 
The menu helps you attract customers and whet their appetite. But with a contactless or QR menu that gaining more popularity you will stand out from the crowd. It is very important to add pictures of nice, juicy, fresh dishes and beverages that make you feel immediately hungry or thirsty in such apps like Starbucks or any other restaurant app.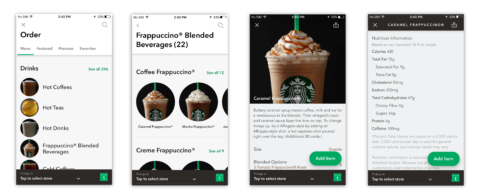 The in-app menu may perform not only a pricing function but informative as well. All menu features can be provisionally divided into must-have and additional. Here are the must-have menu features for an app like Starbucks:
Food catalog with subcategories

Item descriptions with photos and titles

Search option

Customization feature (choose the size, add or exclude toppings)

Call to action button (buy, add to order, add to favorites)
And here are some additional features you can find in the Starbucks app menu:
Nutritional information including calories, protein, fat, carbohydrates, and vitamins

A social sharing button to send an item description to a friend

Information on potential allergens
There are a lot of features that can be implemented in a restaurant app. Before starting app development we recommend you to consult with a Business Analyst for better understanding the needs of your target audience.
Need consultation with professional Business Analyst right now?
How much money do you need to build an app like Starbucks?
Obviously, a lot of businesses in a restaurant and related niches may benefit from a Starbucks-like mobile application. But the question is: how much will it cost you? If you've ever developed any software, you probably know that the final price depends on many factors. So before discussing the numbers, let's take a brief look at them for you to see the big picture.
Factors that influence the price
The first thing you should consider is, of course, the complexity of your application. As you may see, the Starbucks app is saturated with many features. But not necessarily you'll need the exactly the same functionality. For instance, you may build a minimum viable product (MVP) at first to gather users' feedback before moving forward. Also, integration of Apple Pay or Google Pay instead of spending a fortune on building your own payment system is a great cost-effective option.
The second major factor influencing the app development costs is a coding team that will work on your project. In this regard, there is the whole list of aspects you should pay attention to. It, for instance, includes the geographical location of the programmers. For example, the US software engineers are the most expensive, while programmers from Eastern Europe offer much more favorable price/quality ratio.
It depends on project complexity. If we're talking the average time of development it can take from 6 to 9 months.
Do you know that there are more than 2,7 million apps in Google Play and 2,3 million in Apple Store? It's necessary to explore the competitors and demand of the market to understand your app potential.
Yes, it's possible. But you should tell about it before starting because the development team should explore your internal system to understand how to connect them.
We also recommend you to opt for a development company instead of freelancers because the later ones have a rather poor reputation in terms of quality of work, dedication to projects and meeting deadlines.
Finally, the total price for app development will depend on the platform you'll choose (iOS, Android or both), as well as your existing IT environment (i.e. whether you have a website/web application or everything needs to be developed from scratch).
Average costs of app development
Without knowing your specific requirements to the application, no one can tell you the exact price for its development. But the average figures look as follows.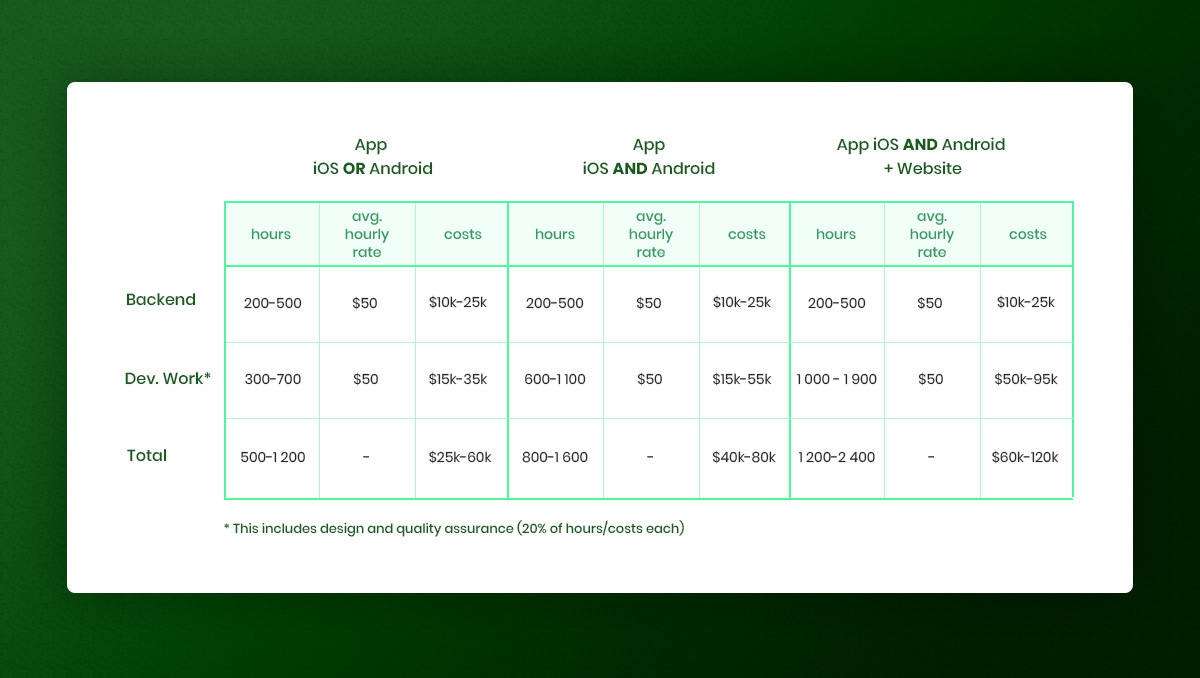 As you may see from the table, on average, a Starbucks-like app may cost you somewhere between $25,000 and $120,000.
When we were making these calculations, we assumed that the developer hourly rate constitutes $50.This is an average rate Eastern European programmers charge per hour. In practice, this figure may be a bit different since it depends on the expertise of developers who actually work on the project.
The totals above also do not include the most sophisticated mobile applications with complex functionality. This is because there is no upper threshold in terms of development hours and costs for such products.
Conclusion
Building a mobile application like Starbucks or Pret A Manger may be one of the best investments for any restaurant business. Not only will it help you build loyalty to a brand by showing your customers that you know them and care about their convenience, but it will also allow you to stand out from the competitors and increase your revenue stream. In most cases, the app development costs will vary between $25,000 and $120,000 but the exact price will depend on many factors such as complexity of an app, development team, existing IT environment etc.
Already have an app idea in mind?