If you ever thought about building a shopping mobile app? Then you should definitely consider a Poshmark marketplace as a role model for your future app. Why?
Across the internet, the resale market is blowing up. Platforms like The RealReal and StockX are making it easier than ever to buy and sell luxury goods, while ThredUP has become the world's largest online thrift store.
In the middle of the market, there's Poshmark. Today, the nine-year-old company announces it has paid out $2 billion to its community of seven million sellers. And what's even more surprising is that a year ago, the company hit its $1 billion milestones, meaning it has doubled revenues generated for sellers in a single year. It's just another sign that the resale market is gaining speed.
Poshmark is pricing its IPO at $42 per share, raising $277M, up from its $35-$39 price initially noted in an earlier filing — Online marketplace is raising $277 million in share sale — Poshmark IPO follows trading debut by consumer lender Affirm (https://www.bloomberg.com/news/articles/2021-01-13/poshmark-is-said-to-consider-pricing-ipo-above-marketed-range)
Poshmark is one of the largest social commerce marketplaces for buying and selling used clothes and it had a community of 60 million users at the end of 2019. It stands out clearly against the competitors thanks to its "social selling" model. The platform seems like a social media site, where users create profiles and chat about products before purchase. As a result, the average Poshmark user spends between 23 and 27 minutes a day on the platform, sharing 30 million listings daily.
Social shopping and resale have fueled the closet phenomenon. Shopping and selling have become more fluid, accelerating the opportunity of a circular economy — and everyone's getting on board. Shoppers are turning to platforms like Poshmark to extend the life cycle of clothing, creating a more prosperous future.
What is Poshmark?
We already mentioned that Poshmark is a social marketplace where everyone in the United States and Canada has the opportunity to buy and sell clothing. The customers of the platform can browse the marketplace and search according to specific criteria. Users can find everything from common items to exclusive luxury things.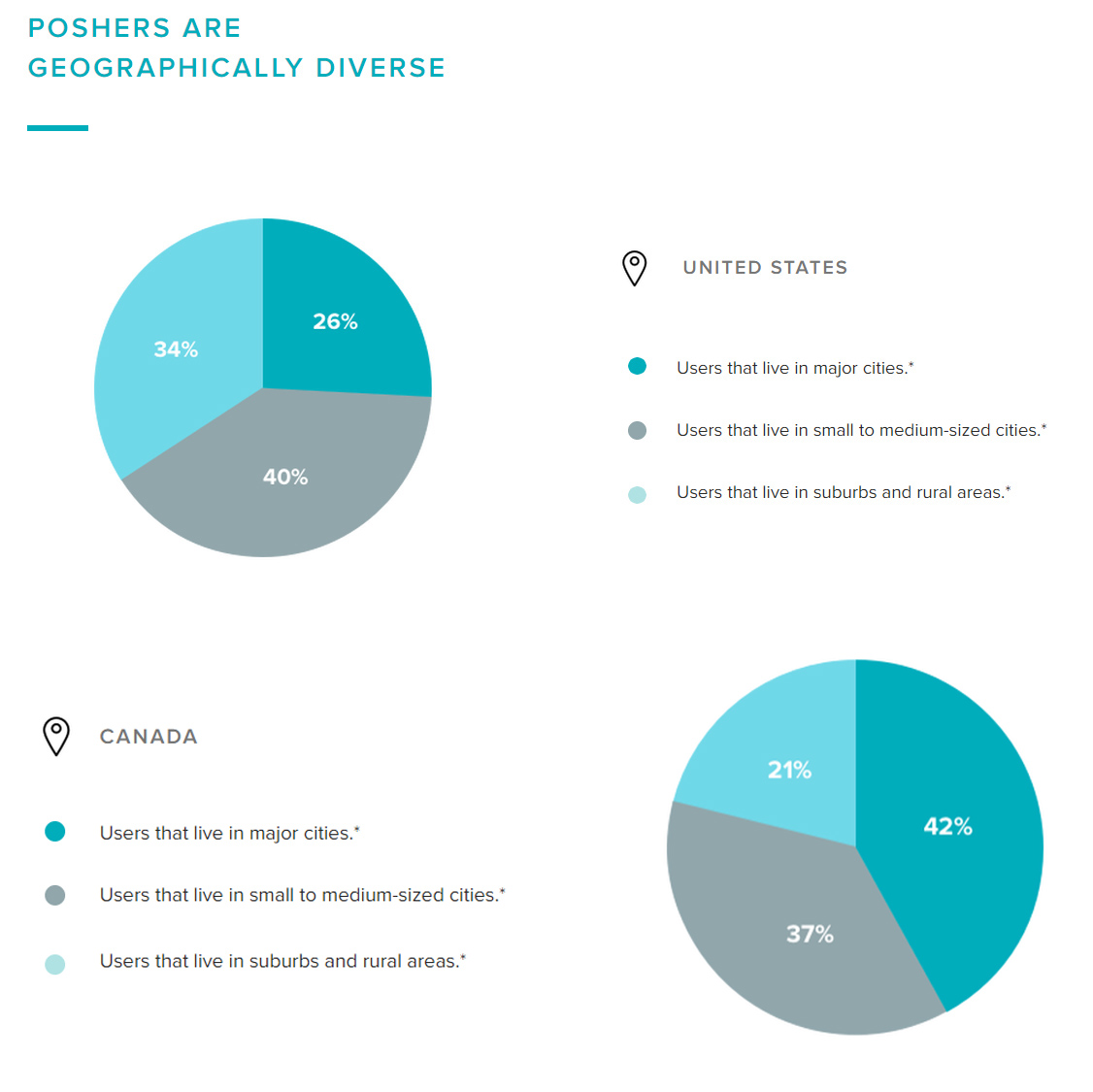 Furthermore, users can sell their unwanted or unworn clothing and accessories at this platform. Purchases can be paid through PayPal, credit cards, and Apple Pay. Inspired by the success of Poshmark? Then let's discuss how to create a website like Poshmark. It's better to start from
a minimum viable product (MVP)
. This approach enables you to confirm your idea at an early stage so you can get feedback from real users and improve your product as soon as possible.
What main features should have an app like Poshmark?
Poshmark stands out from its competitors by providing 100 % assurance to the buyers about the quality and hygiene of the goods. There are particular selling options by Poshmark which no other marketplace doesn't provide.
Reservation purchases
Is there was a situation when you wanted to buy a product and while you filled in a form someone took the product first? But in Poshmark, the 'reserve' feature helps the buyer to flag the item for 10 minutes so that they can enter their details and even though they suffer from a slow network issue, there still be a chance to get the product.
In case, if the buyer abandons the cart, still the product stays as flagged for 10 minutes and then is open for other buyers.
According to Poshmark report
58% are comfortable purchasing items through a social media platform instead of directly from a company's website. Poshmark is among the most popular platforms to purchase from, alongside Instagram and Facebook Marketplace.
Bundle Buy
When the user wants to purchase several items from one particular seller, the normal procedure that they go through is by going on adding to cart one by one item which makes no difference even if the items were by different sellers.
But by using the bundling feature, the buyers can ask the sellers to create a bundle out of the products and the entire package can be sent to the buyers together. This provides the users with the ease to shop for their closet along with all the accessories.
Inspired with Poshmark success? Want to develop such an incredible app?
A TikTok-like Stories Feature
Poshmark is about to look a lot more like TikTok. The new feature will appear at the top of users' feed, showing closets they follow in a vertical slideshow, which disappears after 48 hours. By clicking on a tagged item, you're directly taken to that seller's closet to purchase or make them an offer. Stories are intended to improve organic engagement among users.
We should forget standard features that have to be on a website similar to Poshmark:
Authorization
Start using the platform shoppers and buyers should provide their names and email addresses. It is required by marketplace like Poshmark because users usually don't like to fill registration forms and this has become a regular practice to use their existing social login credentials from Google or Facebook to sign up for the platform.
Seller profile
This page contains information about sellers (recent comments received and given, brands they follow, average shipping time, activities, registration date on the marketplace) based on this information buyers can decide whether to trust or not.
Listings of seller's goods
It would be great if buyers will be able to see all products from a particular seller but also to sort them using filters like size, color, and price.
Item search
This function must be mandatory for shoppers to pick up items with convenient search functionality, intuitive product filtering, and simple product cards.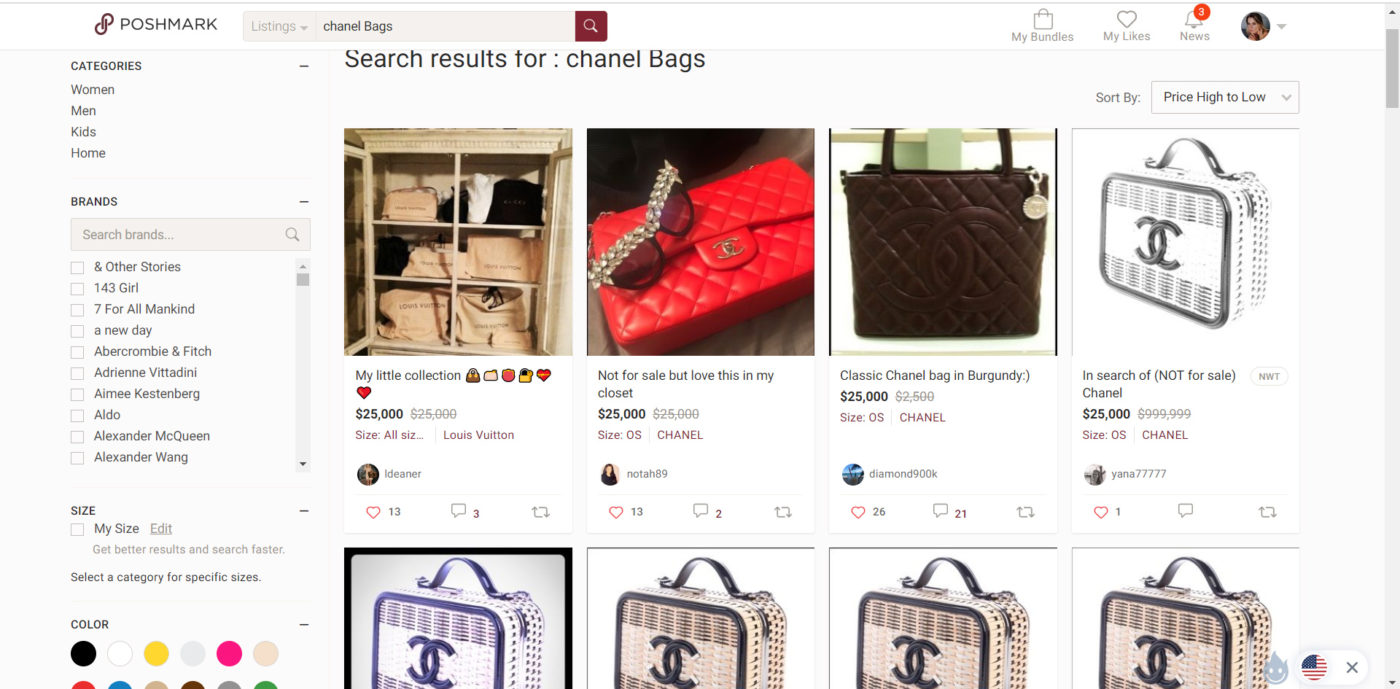 Product page
This page gives buyers a detailed description and several images to allow them to see the product from different angles with all details.
Payment
All transactions between buyers and sellers go through a payment gateway. This option allows buyers to pay using credit/debit cards or PayPal and enables sellers to get their money easily.
Apps like Poshmark use escrow payments, which means a third party regulates the payments between the two parties involved in the transaction. The escrow payments secure transactions since the escrow provider keeps the payment until all conditions are met. In terms of Poshmark similar marketplaces, until the buyers acknowledge receipt the payment will be withheld.
Trends: Poshmark vs Mercari vs Depop vs ThredUP
How do websites like Poshmark make money?
As we mentioned earlier Poshmark is a
peer-to-peer marketplace
where people sell new or used products to interested buyers.
If an item passes the threshold of 500$ (and thus classifies as a luxury good), Poshmark handles the authentication process. Other duties include the conducting of the payment and logistics.
Poshmark made many ways to monetize its user base.
Adding items
To list products on a marketplace, sellers have to pay fees. For example, Etsy charges sellers $0.20 to list one product on the website for four months.
Peer-To-Peer Sales
Poshmark does have any inventory but acts as a facilitator of the transaction. To provide this service, it takes a percentage from each transaction. Therefore, the Poshmark business model is called commission-based.
The platform focuses on making the process transparent as possible for its sellers, unlike its competitors. For every sale below $15, the company charges a flat fee of $2.95. Any sale above the $15 mark, a 20 percent commission is charged.
Boutique
Boutique sellers on Poshmark are sellers that operate more professionally, similar to a mortar store. To be a boutique on Poshmark means that the products sold are authentic, in new condition, and of good quality.
There is a couple of rules for boutique sellers, they should provide clear photos and product descriptions as proof of where the goods were bought. 
If you want to become a boutique seller, you need to get certified. 
Wholesale
In late 2015, Poshmark introduced a new service called Poshmark Wholesale. The portal allows sellers to buy bigger quantities of inventory to sell in their stores.
As such, sellers can take advantage of price discounts and make greater profits on their listings. To access the wholesale portal, sellers need to have at 10 or more sales, a rating of 4.5 or above, and the Boutique Certification.
Within the portal, sellers buy from established wholesale retailers such as April Spirit or Function & Fringe. Similar to the peer-to-peer transactions, Poshmark takes a percentage cut from each wholesale transaction. 
Promoted listings
There can be fees for items that a seller wants to be shown above others to get more visibility and attract potential buyers.
Get a consultation with Business Analyst regarding outstanding features for your application like Poshmark?
Is it possible to build a successful website like Poshmark?
It is better to have a detailed plan if you want to build a successful marketplace alternative to Poshmark. Here are several useful tips to consider while you building your application.
Positive customer experience
Providing a positive customer experience is very important for business nowadays. It means not only happy customers as a result of your performance but it can also bring you additional income.
Poshmark provides quick shipping with PoshPost (in cooperation with USPS). PoshPost doesn't require stamps and troubles. When people buy items, Poshmark offers a pre-paid, pre-addressed label ready to be stuck on the box. After the purchase has been packaged, the seller can drop it off at a USPS mailbox or even have it picked up for free from their home!
Build a community
The key feature of Poshmark is its wide community. It isn't only about fashion eCommerce but also a community where people can connect with each other and share their choices and preferences in fashion.
Posh Parties are organized by the platform and these shopping events allow people to meet up in the Poshmark app for shopping, sharing, and selling outfits and accessories. Posh Parties are a great opportunity to find listings and to get new followers.
Besides, Poshmark organizes PoshFests where people can meet their so-called Posh friends, listen to industry experts, learn how to grow a business, and get insights.
Creating a community and events are great engagement tools with your customers. Let's overview what benefits get Poshmark from its social activity.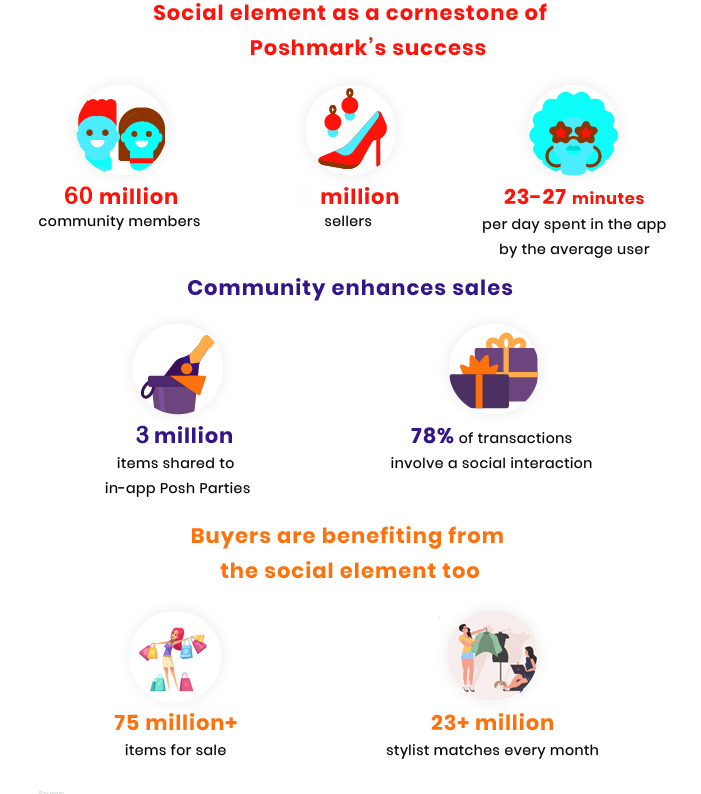 Prevent scams and inauthentic items
Fake goods as fashion items from exclusive designers are one of the main problems of online marketplaces. Poshmark fights with this issue via not releasing payment until the buyer confirms they've received the order that matches the description. Buyers have three days to return a product to the seller in case an item is misrepresented. If there is no claim is made within three days after delivery, payment is automatically sent to the seller. After that buyers won't be able to get a refund.
Yes, it is a definitely promising avenue. There is a forecast that brand clothing (that was used before) market will reach $25 billion till the end of 2025, and its growth, although slowing, will still be well above the average growth of the trade market of clothing. We should admit that the secondhand market is really big and fast-growing. Only in the United States is the branded second-hand clothing market was $18 billion in 2019, or about 4% of the American clothing retail market according to the ThredUP report.
The price depends on many factors, including the number and complexity of features, development company rates, and whether the project is going to be developed from scratch or not. We recommend you to start development from an MVP that helps to understand how the users perceive a product, the barriers to its performances, and the improvements that can be made for improving the usefulness of the product in terms of UX, UI, and the technical aspects. After all these aspects get analyzed, then you can invest confidently in the future development of a product, think about premium features and services, and expect to get a good return on the investment. According to our estimation, the custom development from scratch will cost approximately $100 000.
Building your unique solution can be a risky business so before start, you should better plan everything properly. It starts with an idea but if you do not know how to shape that idea and what audience will use your solution, then you will not uncover the full potential of your future project. So how to avoid this and create a solution that your potential audience needs? The answer is – concern the discovery phase before you initiate the software development. According to our experience whatever you represent (a startup or a successful company that needs digitalization), you need to dive into the discovery phase even if you think that you know everything about your business, future app, and potential users. On top of that, holistic research and gathering of information can help you to identify and eliminate all possible risks. More info about the discovery phase you will find
here
.
How much does it cost to build a website like Poshmark?
This is a matter of common interest, we can calculate the approximate cost of developing a social commerce application like Poshmark. The cost consists of many factors, including the number and complexity of features, development company rates, and whether the project is going to be developed from scratch. 
The development from scratch of an MVP will take 3-5 months. The development of a social commerce marketplace like Poshmark in the US and Europe will cost you around $160 000. To build such a project in Ukraine, it will cost approximately $100 000. That's the cost of custom development from scratch.
Need free consultation in an MVP marketplace development?