Building a business online includes making a lot of choices. One crucial decision you can't leave unattended is choosing the best payment gateway that allows your customers to make purchases on your web site. Find the right gateway, and you'll be able to accept any payment, interface with the online shopping cart of your choice, and probably the most vital thing, be able easily to transmit your customer payment data to another system if you decide to change gateway provider in the future.
Business Insider Intelligence expects that as global retail e-commerce volume continues to rise, revenue the companies processing these payments can collect as fees will increase from $82 billion in 2018 to $138 billion in 2024.
If you just started eCommerce, your first question might be "What is a payment gateway, anyway?" The simple way to define a payment gateway is a software application that acts as a conduit between an eCommerce merchant's website and the bank that will authorize (or decline) a customer's credit card payment. Regardless of the payment method used, the primary function of the payment gateway is to securely transmit sensitive credit/debit card or bank account information from the customer to the customer's issuing bank and all other parties that are involved in the transaction.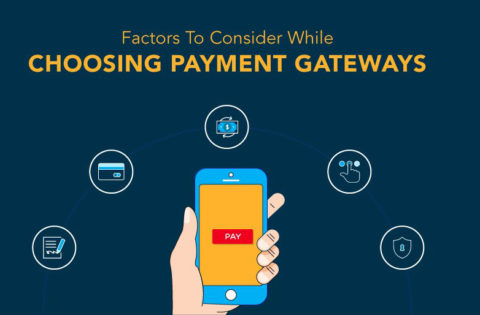 What Do Payment Gateway Services Include?
There are some useful "extras" except the main functions of transmitting and receiving credit card transaction data through the Internet that most payment gateways have. Features that you should draw the attention  while choosing a payment gateway:
Payment Information Storage
Any customer doesn't want to enter their credit card information every time they place an order. Payment information storage forms a customer information database, so it's simple for a customer to choose a card that was used before on your site.
Encryption
All payment gateways encrypt sensitive credit card information before they pass it along to the processing bank.
Recurring Billing
Subscription-based pricing is very popular today, and this feature can allow you to automate this process. You can also customize things like billing intervals and set up trial periods for your subscriptions.
Virtual Terminal
A virtual terminal is a browser-based version of the physical credit card terminal. You can enter a customer's credit card information and process a transaction using a virtual terminal directly through your computer's web browser. Virtual terminals can also be set up to run on mobile devices, including smartphones and tablets. In a retail setting, you can attach a USB-connected credit card reader and take advantage of lower, swiped (or card-present) processing rates.
PCI Compliance
Several gateways on the market today simplify PCI compliance for eCommerce merchants. Transactions are conducted on the gateway provider's servers, instead of the server hosting your website. Because the gateway interface is integrated into your website, the customer never needs to leave your site to complete an order.
API Tools & Dev Information
One of the most interesting features of payment gateways is you can set them up on your website without coding. On the other side, if you're a software programmer (or you have access to a web developer who can do it for you), most gateway providers offer some APIs (application program interfaces) that will allow you to customize the gateway functions on your website. Each gateway provider has its own unique set of APIs that you can access.
According to a recent study conducted by Research Nester, the global market for online payment gateway is expected to grow at a moderate CAGR of 16% during the forecast period 2018-2027. The online payment gateway market is anticipated to generate USD 89.5 billion in revenue by the end of 2027.
The global payment gateways market reached a value of US$ 11.9 Billion in 2019. The market value is further expected to reach US$ 18.3 Billion by 2025, exhibiting a CAGR of 7.5% during 2020-2025. 
Nowadays, the companies modify their businesses and revenue strategies by implementing towards a digital approach. This has to encourage the growth of the payment gateways market during the next several years. Additionally, the increasing usage of mobile wallets, which provide a convenient way for users to make in-store payments, has emerged as another major driver. Besides, an increasing number of customers are using smartphones or tablets for making online reservations and payments, thereby stimulating the demand for payment gateways. Moreover, various banks are collaborating with retail vendors to provide cashback offers so as to attract new customers and retain the existing users.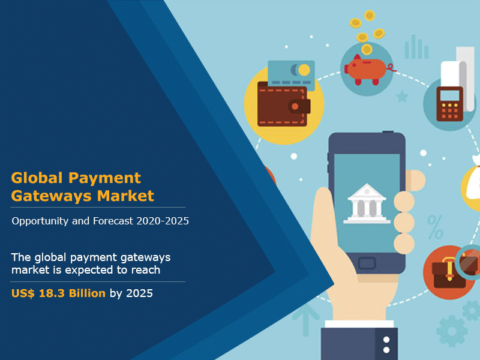 We made a payment providers analysis on a regional-basis here you can find information about market of North America, Europe and Asia Pacific. Amongst these, North America represents the largest market, holding largest share globally.
The USA Market of Payment Gateways
Geographically, North America keeps the biggest market share for the online payment gateway market. The main reason for North America's market growth in the online payment gateway is the growing dependency of consumers on electronic payments for online shopping. So let's see the most popular payment gateways in the USA: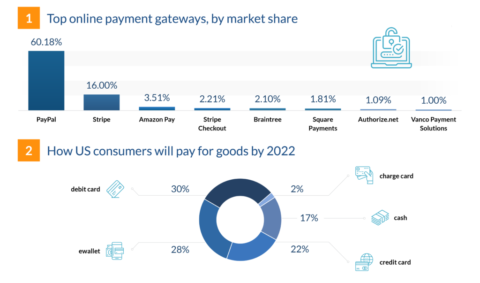 #1 PayPal 
Boasting more than 220 million active accounts around the world, PayPal is the most widespread payment platform. PayPal provides payment processing services for e-commerce vendors, auction sites, and other businesses globally, and allows you to accept credit cards including Amex and Visa. It also offers easy cart integration, plentiful customization options, online invoicing, and facilitates credit card payments over the phone. 
Pricing is pay-as-you-go and based on a flat rate of 2.9% + $0.30 per transaction (4.4% + $0.30 per transaction for international transactions). While this is certainly the least expensive option, realize that as a PSP, PayPal is not giving you a full merchant account. Instead, your account is aggregated with those of other sellers so that you won't have a unique merchant ID number for your business.
But the higher price of this service forces customers to look for a better option.
☝
Interesting fact
PayPal will soon make it possible to conduct transactions in cryptocurrency. In other words, if you use the services of this payment provider, then you will be able to accept payments from clients in cryptocurrency. Such an opportunity will appear in the coming weeks in the United States. As for international payments, such a service will be available in the first quarter of 2021. Please note that only four cryptocurrencies, Bitcoin, Ethereum, Bitcoin Cash, and Litecoin, can be traded.
2. Stripe
Another powerful payment platform created for internet businesses, this company conducts billions of dollars transactions annually. The specific feature of this service is that it has a range of flexible tools to modify your payment processes. 
Stripe is made for larger companies, it provides numerous APIs that allow you to design your subscription services, on-demand marketplaces, etc. It is supported by a range of development languages, including Ruby, Python, PHP, and Java. 
Moreover, Stripe works with more than a hundred currencies and offers functions like mobile payments, subscription billing, and one-click checkout. More about it's pros and cons you can read it this article.
This payment gateway requires a strong technological knowledge from the user than most providers that's the way it's not so popular as a previous one.
The cards processing fees are a more standard 2.9%, plus $0.30 per charge. Additionally, for larger volume needs, it has a customized plan with volume discounts.
3. Amazon Pay
An online-only third-party processor using which customers can make purchases, give donations, and set up periodic payments on a merchant's website by making payments through their Amazon.com account. Its features are streamlined integration with merchant websites, inline checkout, and access to Amazon Seller Central, Amazon's dashboard, from which you can manage chargeback claims, view reports, and more.
Amazon Pay's pricing structure is quite simple and straightforward – 2.9% processing fee + $0.30 authorization fee per transaction.
There are no contracts to sign, no account setup fees, no monthly fees, no PCI compliance fees, nor any other fees that make this payment gateway attractive.  But you should consider that your bank account must be associated with your Seller Central account to receive funds from Amazon Pay. As well, you'll have to wait a bit longer than usual to receive your funds. Amazon uses a reserve system, so when you first begin processing payments, Amazon holds all of your initial transactions in reserve for 14 days. Afterward, Amazon holds funds for seven days, and there is disbursement scheduled for every day. 
The Picture of the Top Payment Processors in Canada
 When evaluating the Top Payment Processors in Canada, there are a couple of things to keep in mind. No matter the type or size of your business, you need a merchant account to accept credit cards. Some processors set you up with your own merchant account, while others add your business to a shared account. With your own merchant account, there will be different types of fees, but you will get customized – and often times more competitive – rates and plans. You will also have access to a wider range of payment channels/products which will enable you to do business in more ways and in more places. 
We reviewed key players in the Canadian's payment processing industry to help you make an informed decision about which processor to go with:
1. Elavon
Elavon is one of the largest merchant account providers in Canada. It processes more than 3 billion transactions every year in over 100 currencies. The total annual processing transactions exceed $300 billion.
The businesses that use this payment gateway save on a lot of costs and are able to collect payments relatively quickly than other services. Elavon also offers a full range of proprietary products and services. 
The business owners also save money from the cashback program by Elavon. Elavon charges $270 one-time fee + $10 monthly fee + $0.19 transaction fee + 2.65% for credit card payments.
2. Square
Square was launched in 2009, first with the idea of a swipe-based smartphone processing system before anyone else. When you sign up, you get an aggregated merchant account that is shared with other merchants using the company's service. You won't have a unique merchant identification number for your business, but you also won't have any monthly fees or a long-term contract.
With Square, merchants pay a rate of 2.9% + $0.30 for online transactions. Note that customized processing rates are available for businesses processing over $250,000 per year.
Square also provides a seamless transition between online and in-person through a free online store that synchronizes with in-app inventory counts and eCommerce integrations. 
Square also has a virtual terminal, stored card capability, invoicing and recurring billing, online ordering option, analytics, third-party app integrations (the reason we mentioned it in the blog), and a payment gateway API for developers.
3. Moneris
Moneris is the largest payment processor in Canada for businesses of sizes. When you use Moneris you will be sure that you are dealing with providers that care about security, their responsibility, and availability. This is a Toronto based payment processor that provides a multichannel solution with reliability. Moneris is ideal for small businesses looking to expand quickly.
It has partnered with companies like Sage Accounting, RBC, and BMO. With their assistance, Moneris also provides services like inventory and sales tracking capabilities for small businesses that are growing fast.
Moneris has a monthly subscription fee of $19.95 and also charges an additional credit card fee of 2.75%.
The payment processing industry in Canada has changed quite a bit over the last several years. There is a benefit for Canadian merchants in a Code of Conduct and the settings account providers must operate within.
The companies mentioned above strictly follow the "Code" so if you are looking for cost-effective, transparent, and worry-free payment processing in Canada, anyone of the 3 companies listed above would be a great choice.
Best Payment Gateway Providers in Europe
Are you paying more extra when you make operations on the European Union market? There are fee requests imposed by international systems and to cut transfer expenses you can't do anything. Do not despair, there are many popular EU payment gateways—as well as US-based ones—that offer Europe-specific plans. We are going to outline the best EU payment gateway solutions to help you reduce transaction costs. 
1. 2CheckOut 
It is an all-in-one monetization system serving companies in Europe and other continents. The platform makes it easy for you to conduct transactions quickly and securely through its comprehensive functionalities. It can process different currencies and display checkout pages in different languages to localize the transaction for each customer.
In addition to the above-mentioned features, 2CheckOut also gives merchants the option to set up subscription plans and recurring billing. 
This platform was created to help you ease your payment transactions. For starters, it can integrate with hundreds of shopping carts and invoicing systems. If that's not enough, it also comes with open API capabilities that allow it to connect with virtually any other third-party application.
2. Vapulus
It is a digital payment processor that's made for E-commerce. By integrating Vapulus into your online store or website, you can receive online payments without a transaction fee. There are other advantages: no monthly fees, no cross-border fees, and no hidden charges.
Vapulus has a free trial and you can test all its features during this period.
It's a dashboard for sellers let to track your sales, customize your payment methods, and share discounts and other promos to your customers. Meanwhile, the Vapulus mobile app can let your customers pay for your products and/or services by linking their bank accounts, debit/credit cards, and even the Vapulus card. And all transactions are secured using the software's two-factor authentication.
3. SecurionPay 
One of the popular EU providers that have high conversion rates and reliable security. SecurionPay is designed for merchants registered within Europe, which is why it follows all EU policies and regulations and introduces innovations based on how this market functions. Other than its high conversion margins, it is recommended for compliance and administration excellence.
Developed to simplify card payments, while supporting a variety of payment methods. It needs to be mentioned that SecurionPay provides access to all major banks in Europe, allowing you to streamline credit card payments. It features a secure and elegant interface. Meantime, the service is backed by 24/7 tech support.
Its all-purpose APIs can create flexible workflows for different business requirements and payment scenarios. Moreover, SecurionPay is incredibly easy to use, suitable for both experienced and inexperienced users.
With 56 states and a population of almost 750 million, Europe certainly is an attractive market for any business. Considering that the number of mobile payment users is predicted to reach 150 million by this year, you'll need a payment processing service that captures the best this market has to offer, and which guarantees that your transactions are legal and instantly verified. 
Australian Payment Gateways for Your eCommerce
By 2022 retail eCommerce sales in Australia are expected to top the $16 billion mark
The right payment gateways for your online business has to satisfy the requirements to be recognizable so customers trust you, easy to use, and available for your growing Australian customer base. Besides, it has to be able to make international transactions.
Here is a list of top Australian payment gateways that covers essential features to generate the most money possible.
1. eWay
eWay is one of the largest payment gateways in Australian and services over 26,000 businesses. This gateway with more than 250 shopping carts and software integrations. 
Adding to this, your customers will trust handing over their personal and financial information thanks to eWay's robust anti-fraud toolkit Beagle. This tool detects potentially fraudulent transactions and gives you the ability to monitor flagged payments, all to reduce chargebacks and losses – without losing customers in the process.
The payment provider enables you to get detailed merchant reports for better bookkeeping and works with Apple Pay and VISA Checkout wallet payments.
eWay doesn't require contracts or setup fees. 1.5% + 25c per Visa, Mastercard, domestic, or international card.
2. Fat Zebra
Fat Zebra is an Australian payment gateway created to help emerging online businesses ease get payments from customers. It's also an authorized third-party processor for all major Australian banks, which makes it a reliable payment gateway.
With this payment gateway, you'll get a hosted payment page built to match your brand at no extra cost to you, making checkout super simple for customers. Plus, you can set up multiple billing cycles if you run a subscription website. Also you will have access to real-time analytics to monitor sales on your site.
At the end, Fat Zebra is a Tier-1 PCI-DSS certified payment gateway, meaning they've passed a comprehensive yearly audit from PCI Consulting Australia. With this audit, they pass tests regarding physical security, the storage and transmission of credit card data, data security, and more.
There are no contracts or fixed fees. They suggest individually pricing quotes so you must contact to payment provider for more information.
3. Afterpay
Afterpay is a unique payment gateway that works well in Australia, despite some people saying it encourages consumer debt. After all, 25,000 online retailers have bought into the idea of this payment gateway.
Designed after the "buy now pay later" model that meets the demands of today's online shoppers, this is how Afterpay works:
You sign up with Afterpay so you can offer the payment gateway in your online shop.

Customers choose Afterpay to pay for their items, fill out a form, and receive approval.

Afterpay pays for your entire order up front so you can ship orders right away.

Customers pay for their items across 4 payment installments (2 weeks apart) using the credit or debit card of their choice.

If a customer pays on time, there are no additional fees (late payments accrue late fees)
The great thing about Afterpay is they assume all the risk for non-payments, which helps cut fraud and encourage retailers to use their services.
To use this payment gateway you have to pay 30c for each transaction, plus a commission of 4-6%. No added cost for customers.
Selecting and then executing the right payment gateway isn't that tough or cost-restrictive if you understand your business needs. By doing it correctly, you can have an immediate and positive impact on your customer's experience, as well as, your cash flow and profitability.
What to look out for before integrating a payment gateway into your digital solution?
The variety of payment gateways on the market and their different integration options are often confusing. We recommend that you explore the aspects that can be most difficult when integrating payment gateways.
Processing speed
The speed of money transfers from your customers to your bank account when making a purchase is equally important for buyers and sellers. This is the hallmark of a modern end-to-end solution. Processing speed is critical not only for e-commerce gateways but also for any business that expects money to return for their goods and services.
Chargeback payments
Learn the ins and outs of a payment gateway's corporate and financial chargeback policies. Whether we like it or not, chargebacks and disputes arise in the relationship between merchants and buyers. The business owner's job is to figure out the following before locking himself into a particular gateway:
What is the general mechanism for delivering chargebacks in a particular gateway?
What penalties or fees must the seller pay for a refund?
What should a business owner do if a chargeback dispute arises?
Choose a provider based on the stage of your business development
Determine what stage of development your company is in and which payment provider specializes in your specific business type. Large businesses should work with multiple providers to diversify their risks. You need at least two to diversify risks and further withdraw funds.
Service support
Pay attention to whether the payment gateway is supported in the country you plan to do business and where your audience is located. It is also worth paying attention to the set of currencies that the payment gateway works with.
The licenses of the payment provider
Having a payment service provider license allows the company to provide merchant accounts for its customers. To do this, the company must register and obtain a license in the jurisdiction with the most suitable conditions for its business models, including the requirements of the financial regulator and the specifics of taxation. Some licenses allow you to work in several markets at once. 
Before Brexit, the British FCA allowed companies to go out on the terms of a practically domestic presence in any region of Europe. Under these conditions, business representatives will be able to work in the EU until the end of the transition period, which will end on December 31, 2020.
Choosing the right payment processor you should take into account the software architecture of your web-based or mobile app to avoid any software conflicts. Another factor to consider is a particular region you want to work with, the laws of that area, etc. There are many other factors that you should keep in mind when picking up the payment gateway.
Remember the payment platform is usually connected with plenty of processes including the CRM system and to replace it can be too difficult or even impossible.
To conclude
A business has many questions while Starting to provide services or sell goods online. Which payment gateway provider should you choose? How to integrate with an existing web or mobile app? What are the features needed? All these questions are critical because the payment gateway is vital for a positive user experience. After all, if a transaction fails, there is a risk of losing the client and profit. To not be mistaken in choosing a payment gateway, we recommend working only with experienced developers who will help you create high-quality digital solutions for your business and help you select a payment gateway.
FAQ
Not all gateways support transactions around the world, or the same goes for currency. Some gateways are limited by geography and currencies, which often limit e-commerce options. Be sure to choose a gateway that supports the countries and currencies you plan to do business. You might also consider using multiple gateways that allow them to route transactions based on their geographic location.
Not all payment providers work the same. When choosing a gateway, you should know the following information: How quickly can they connect new customers? It is essential to understand how many days it takes to get started and what it takes to create a new merchant account. Do they have established relationships with the respective banks? Most businesses have existing relationships with the bank and prefer to maintain them. If you want to change gateways or expand your business to new countries, you need to know whether the gateway will allow you to continue working with the same bank, or you will need to look for a new one.
The payment gateway should be as secure as possible since customer data passes through it. The gateway must comply with PCI DSS requirements. It should include advanced tools like intrusion detection, firewalls, and secure credit card storage to avoid the risk of fraud. PCI DSS (payment card industry data security standard) ensures that all businesses store, process, and receive card information in a very secure manner.