Have you heard that video-on-demand service (VOD) is a fast-growing industry? Sure you do, if you are thinking about building VOD service. By the service, customers get access to the unlimited video on demand on a subscription basis that more comfortable than watching a video at a scheduled time. Let's give the definition of VoD and what kind of types there are.
Definition of VoD and its types
Video on Demand is a system for delivering video content that allows viewers to choose the appropriate content and watch it at a convenient time on any device designed to play videos (Smart TVs, tablets, smartphones, gaming consoles, etc.).
There are several types of VOD services based on their functionality and method of monetization. Overviewing the categories will help to help you understand them better: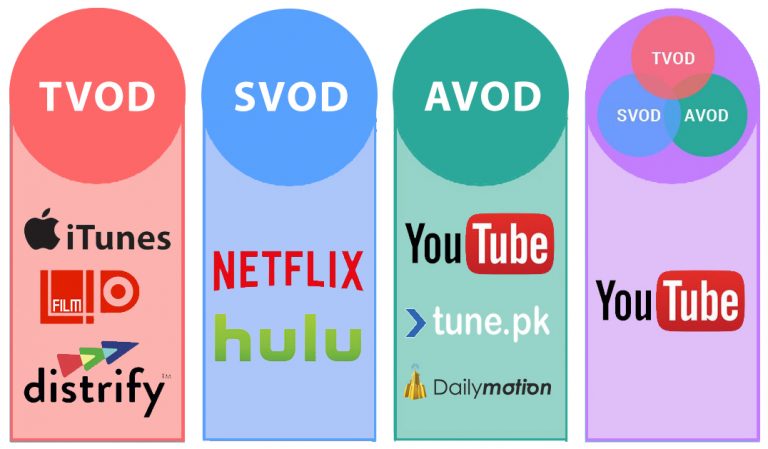 Transactional VOD
Transactional video-on-demand means to purchase every show or movie separately for watching. For its part, TVOD can be divided into – electronic sell-through (EST) and download to rent (DTR). The first one allows you to watch the purchased content whenever you wish to and unlimited times. In contrast, the second has certain time limits after you've opened the content.
Catch-up TV
There may be a situation when you don't have access to your TV or can't make it in time for a show due to work or personal engagements. Catch-up TV makes it possible for people to watch the shows later through TV stations or set-top boxes even though the original broadcast date/time has passed already.
Subscription modes
The most widespread system in the world is Subscription-based VOD. The services mentioned above, such as Netflix & Hulu fall into this category. Users pay a nominal cost for unlimited access to high-quality content. You may know that Netflix has created an enormous content library.
Push VOD
Push video-on-demand service providers "push" movies or shows to the customer's set-top box without making any purchases or selecting them in advance. PVOD also uses a system by which users can pre-load the most important content to the set-top box. It is quite unlike most of the other "streaming" types mentioned on this list.
Advertising VOD model
Hulu is the most significant example of AVOD services, although they've recently switched to the subscription model. However, many VOD sites or apps provide free content from time to time interrupted by short commercials, which is how they earn their revenue.
Integrate ads, promos, or personalized messages into your live or VOD stream while still providing a seamless, device-agnostic viewing experience. The result is more significant, easier monetization for you, and thoughtfully tailored content for your audiences.
What are you waiting for? Want to start your YouTube & NetFlix Today?
Someone may mix up live streaming and video on demand because both may be used for improving your brand. Most people prefer to consume content, and this is the best way to grow online. While many content creators go straight to VOD when coming up with a strategy, overlooking the power of live streaming is a mistake. The same goes for those who don't consider VODs. In the battle between live streaming vs. videos on demand, both can bring incredible benefits to your brand. Both also have their drawbacks. So we are going to find out which way to choose.
Benefits of VOD for Your Business

Benefits of Live Streaming for Your Business

Accessibility – technology transforms things and makes life easier. The development of technology made VOD content is always accessible. Everyone can watch your content whenever and wherever.

Multiplicity – VOD includes content that can be enhanced and edited before putting online. Also, it is much easier to go viral with VOD than with live streaming. You have plenty of time to record, edit, and preview your videos. 

Feasibility – when live broadcasting is not required and the content can allow delays in publishing VOD is a great option. Easier implementation




and good video quality attract users.

Real-time experience – a live-streamed event is a great tool to 

engage with your audience and increase your brand perception. This provokes people a sense of belonging to what happens because people love being part of stories. They interact actively with your company and share details with everyone they know.

Collaboration –  live streaming gives a sense of presence for your audience. The live stream itself is inherently about building a community. 

Cost reduction – live streaming may be used as part of the training programs for employees. The company provides the same training simultaneously to different offices from their chain that saves the company's budget. 
Consider that live streaming is more resource-demanding in contrast to VOD. Content is delivered by small blocks but there are many of them. Shorter transmit packets minimize the delay between streaming events and the players are used for watching.
When to use live streaming vs videos on demand?
Concerts, sports or awards shows

such types of events are perfect for live streaming.

Although they can be used on an on-demand basis for highlighting the events.
You can do this by offering your content to an OTT channel. The audience enthuses about extra content they wouldn't see even if they had attended the event, for example behind the scenes footage or an interview with a star during the event.
Conferences are a good case for live streaming but can be offered later as on-demand. The live broadcasts can provide new business opportunities and customers. Live streaming of conferences is a useful tool to facilitate people who can't physically present to interact with your content another way. This tool increases national or global coverage and gains a new online audience.
Educational purposes. Educational events are primarily covered by VOD so users can watch a lecture or webinar when and where they are comfortable. Moreover, education videos extend beyond the lecture concept, educational institutions use live streaming for demonstrating scientific experiments, performances, etc. Professors can schedule a live lecture and then deliver that content on-demand for their students.

           

Have an idea of how your business can benefit from VoD?

Media events. News from the scene is crucial so that customers can listen or watch in real-time. It provides a huge opportunity to exploit a splash before the event and offer a live-stream link for anyone who can't attend. It's vital to the timeliness that the audience can listen to or watch in real-time. There can be an ability to answer questions from reporters and consumers.
Brands can also use live streams for product demos, press releases, and to address news events as they happen. This kind of real-time messaging keeps audiences informed and employees in the loop with product or service updates.
And frankly, an online video business should use both types of content:
VOD content creates a basis.

Live streaming provides an excellent experience.
This approach helps you to make additional layers of value in your business. You have a sound foundation and emotionally-driven options. Let's take as an example of TINT Yoga.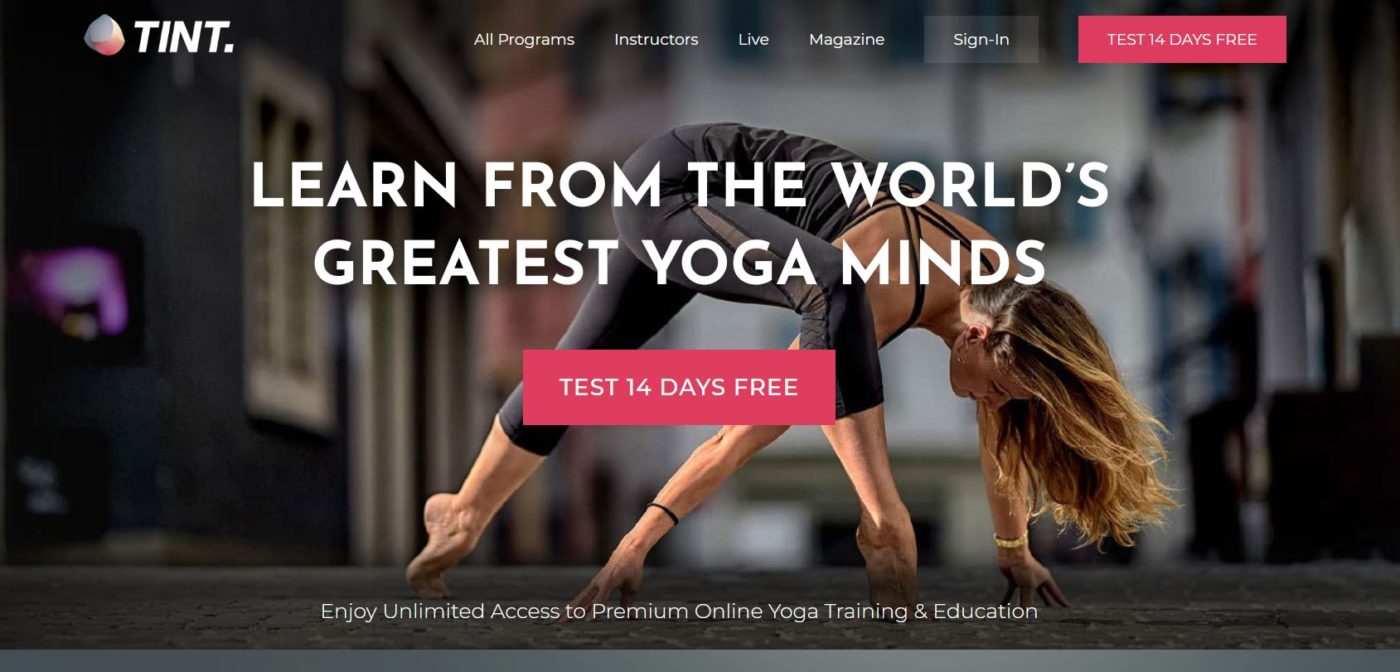 The app offers the audience an extensive library of yoga exercises they can watch on-demand. They can tap into their practice anytime and anywhere: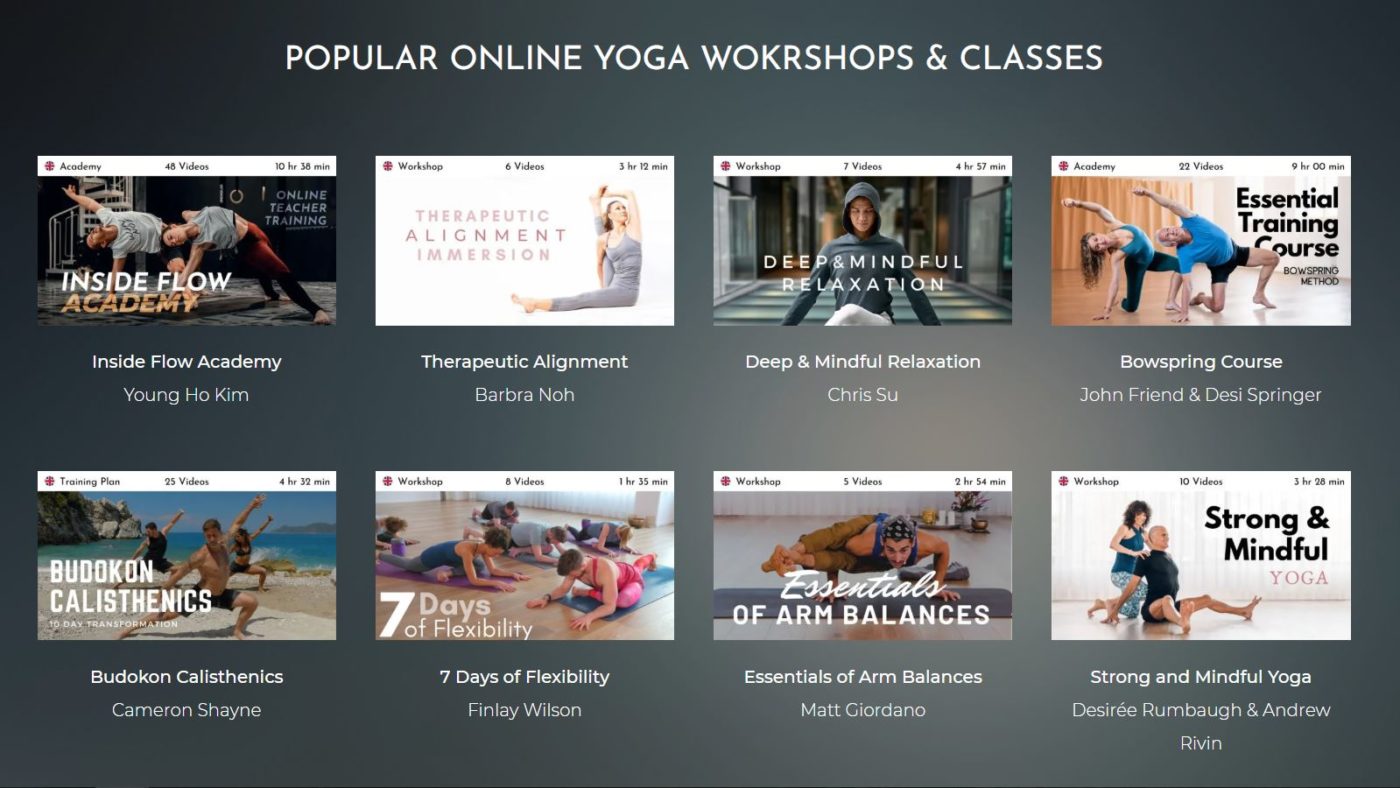 There you may find a timetable of live streams for customers who want to get a unique experience. These some in the form of flows, workshops, and more specific teachings: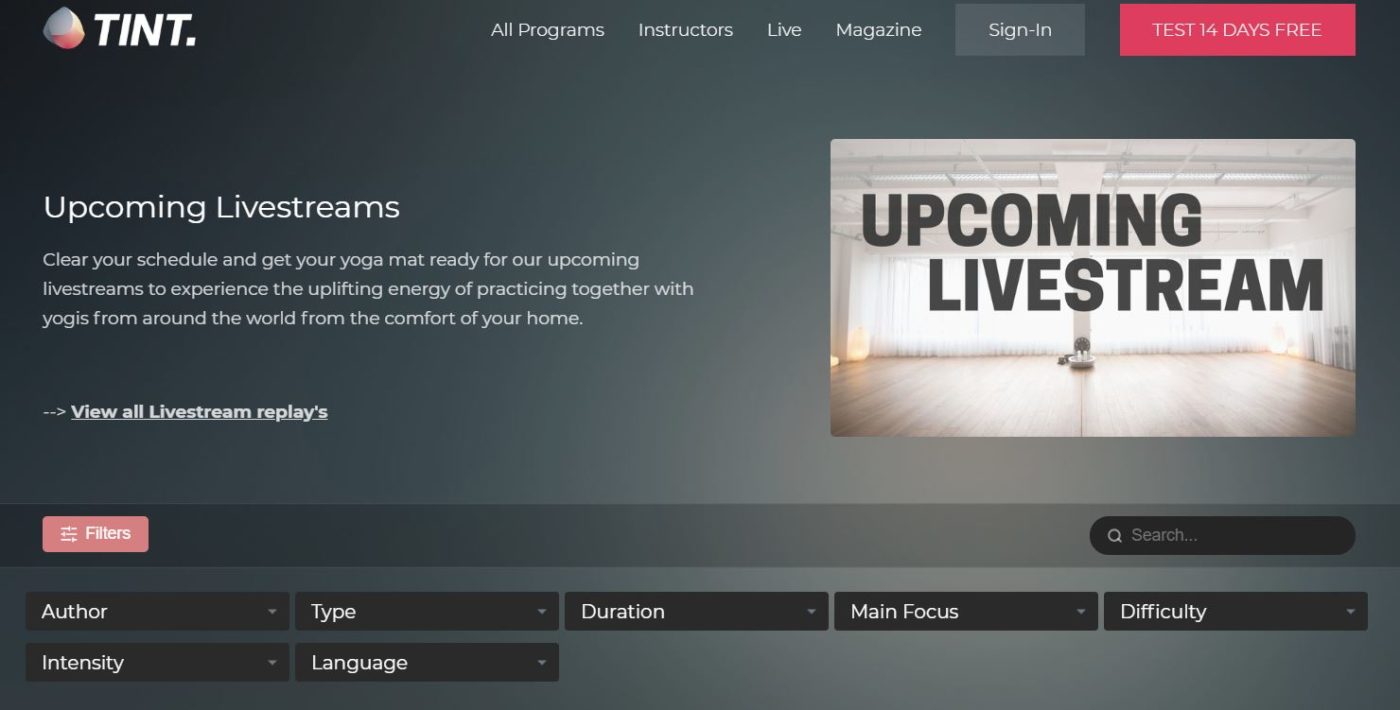 TINT Yoga's users enjoy high-quality content. Then, they are excited to participate in something new several times a week!
You can easily adapt this method to any type of community-focused business:
If you're a dance instructor: you could create a catalog of follow-along tutorials and use live streams to present new techniques.

If you provide cooking classes: you could create a catalog of follow-along recipe videos and you can use live streams to (virtually) take students on your next shopping tour.
When you start with VOD you free yourself up to create higher-value content for your customers. You have the time, space, and reliable income to focus on the future!

Analyzing the video-on-demand market 
If you still concerned about whether to build VoD service or not then let's see the numbers and the forecast for this market. 
The video-on-demand (VOD) market and it is poised to grow by USD 33 bn during 2019-2023, progressing at a CAGR of almost 14% during the forecast period.

To thrive in the market it's better to concentrate more on the growth prospects in the fast-growing segments:
Concerning content, Internet Protocol Television (IPTV) shows high growth in the market, owing to the latest technological innovations in the domain. The growing availability of broadband internet services has a positive impact on the rising demand for IPTV as a contrast to standard television services. IPTV uses various servers for delivering streaming content to viewers, which minimizes the latency issues and optimizes the delivery speed by maximizing the available bandwidth.

Several service providers are providing advanced content delivery networks, considering the growing demand for advanced media content, to gain a competitive advantage. The IPTV market is expected to grow rapidly during the forecast period (2019-2023) with the growing technological advancements, along with the establishment of infrastructure.
Transactional video-on-demand (TVOD), like iTunes, and subscription video-on-demand (SVOD) business models are among the most adopted models. However, many new entrants adopt the advertising video-on-demand (AVOD) model, mainly to gain customer base initially.
Companies are developing better applications to deliver effective and efficient VoD services on the user's device to enhance the viewing experience. By the way, the key market trend on the VoD market is the improvement of customer viewing experience that facilitates the growth of services.
The main reason for watching video content is the ability of many users to watch particular programs on different devices at the same time and at the same place. The popularity of binge-watching enhanced customer viewing experience.

Another key reason is the continuous integration of various contents across different devices is critical according to increasing customer preferences to watch the content anywhere.

The widespread usage of mobile devices and increasing access to the internet helped the customers to stay up-to-date with the digital world that reduces the need for waiting. The need for instant satisfaction is evolving as a powerful force in the consumer world, where the users are adopting online platforms for their entertainment purpose using devices like smartphones, tablets, and PCs.
The growing adoption of video on demand (VoD) services has led to the enhanced presence of global and regional VoD service providers across the world. Therefore, VoD service providers are facing competition in price and quality of service offerings. Besides, VoD service providers are facing strong competition from local service providers due to the availability of content in regional languages.  
Video on Demand (VoD) is an interactive TV technology that allows you to watch video-on-demand anytime and anywhere in the digital format. VoD at the user level allows them to browse the available video via Internet Protocol TV. The video data is transmitted by Real-Time Streaming Protocol.
There are several ways to benefit from the VoD service. You may provide access to a particular video on subscription modes (payment per video, monthly subscription and etc). Also, you may build an advertising VoD model. Integrate ads, promos, or personalized messages into your live or VOD stream while still providing a seamless, device-agnostic viewing experience. The result is greater, easier monetization for you and thoughtfully tailored content for your audiences.
It's better to carry out market research and get a consultation of a Business Analyst for making the right choice. Experience has shown, however, using both can bring you a huge advantage over your competitors. More about it you can
read here
Summary
Video-on-demand services allow users to pick content like TV shows, live games, or movies without reference to a specific schedule or place. Tablets, mobile phones, and laptops have replaced TV screens, adding to easy accessibility.
The need for instant satisfaction became a dominant force in the business and marketing world. This consumer impatience may provide multiple opportunities for the video-on-demand providers to make more profits which would also lead to the growth of the global video-on-demand market.
Every time you create new content, consider: what is the best way to present it to your audience? How can you deliver the most value? Perhaps one topic might be a great piece of VOD content, and other works best live. It's up to you!
Analyze as you go and grow your brand with video in 2020!
Don't know where to start your video streaming service? Get a free consultation