Can you imagine even a day without your smartphone? Today technologies possess all spheres of our life. They are created to optimize our timetable, make some processes easier and productive, and give us more spare time for personal life. The educational sphere is not an exception and it also requires modern technologies. It is important to keep up to date your knowledge and widen your outlook.
Students and pupils just don't have enough spare time to receive and process the amount of information that goes from the internet. So they can use mobile or web apps to make an educational process easier and more effective.
Different devices were created to make education better, more effective, and modern. Books and libraries go to second place as now we can choose where we get fresh information. Laptops, smartphones, computers – they are all not a limit. Students can listen to the audio lesson or book, make voice notes, write another task, and get the latest news in notifications on their wearable devices simultaneously. Can you imagine how much time it saves, and how many benefits students gain? It is a new generation of wearable compact devices that you can put right in your pocket, and sometimes they have even more functions than a laptop. Some of them are:
 recording and saving information;

 step and nutrition tracker;

 pulse tracker;

 notifications and reminders;

 calls;

 paying the bills;

 ARVR;

 motions tracker.
All these functions are useful not only for students or pupils but for parents and teachers. These educational apps can help to control children more properly. Parents can always check where the kids are by using a GPS system, see the state of their health while the kids are at school. Teachers also can set up reminders about home tasks and important tests. This and many other options can be performed with wearable technology. This sphere is constantly developing, many new apps appear yearly. So talking about real investment, you should definitely choose wearable technology. It is the technology of the future able to improve the educational system and bring you a great income.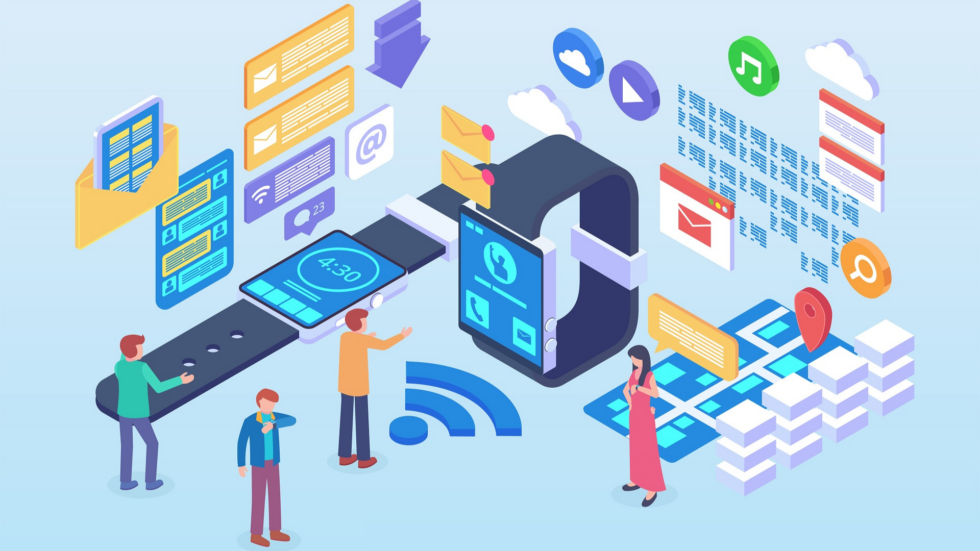 The development of wearable technologies continues to grow on a daily basis. According to the statistics, the number of downloading of mobile apps has grown from 140 billion to 204 billion forms 2016 till nowadays. Smartwatches, glasses, bracelets, and even rings – these all are hand-free wearable devices that will make your education a real pleasure, not a disaster. All these devices are usually connected to the app on your smartphone. Also, a good decision is to use cloud-based storage where all gathered information is held for years. So all you have to do is to register in the base and then check any doc or data wherever you need.
For example, Instapaper is a mobile app that is connected to Apple Watch. It is used as unlimited storage for books, articles, and compendiums. 
Narrative clip is an app that makes videos and photos during the day and is connected to your wearable device by Bluetooth.
Already have your own educational app for wearables in mind but need professional consultation?
What benefits wearable devices offer?
Nowadays almost all spheres of our lives are filled with technologies. Some of them we do not even notice. Several years ago we couldn't dream of seeing a person in a real-time who is far away from you. Now we can see a huge step of development in this industry and it continues to get even more optimized. We don't need a mobile phone to call or read a message, as we have smartwatches. We don't need a map or a plan of a building, as we have smart glasses.
 The benefit of that should be mentioned is people becoming smarter with the usage of wearable devices. It is not just a nice accessory. When you buy any kind of wearable, you start to learn how it works, what functions it has, what technologies were used to produce it. You widen your vision and open the world of technology for yourself.
Also, wearable devices develop the creativity of many students. This technology cuts all the boundaries and saves your time. Wearable devices make education suitable for all people, especially with illnesses or disabilities. All lessons, lectures, tasks, marks, tests can be gathered in one place – app or website, for example. And you will have the access to any documents 24/7. You can choose any time you want to do your task, of course mentioning the deadlines. It is not only about schools or universities. People tend to study during their whole life. Wearable technology is already used in-company courses, training, language courses. All these studying processes become faster and more productive thanks to wearable devices and data processing that holds all the information.
Unlike many technical processes, wearable technology is being simultaneously embraced by individuals and organizations. This combined ability of wearables provides the perfect decision for businesses looking to sync already existing customer relationship management systems (CRM) with wearables. 
 If you worry about the quality of this type of education, it means you haven't heard about the latest software developments. We are talking about a sensor that is connected to the brain of a student and transmit pulses to your computer or smartphone. So you can always check when a student does any activity and when not. These smart wearable devices are useful not only for tutors and students but for parents. For example, with the usage of fitness bracelets and special apps connected to your smartphone, you can check the health of your kids, know where they are with the help of GPS, and know what they eat and how many steps they take. Generally, wearables will help parents to be calm and their children to be safe and sound.
Already have your own educational app, portal, or system but want to develop a solution for wearables?
Here below you can read about the most well-known wearable devices that are definitely useful in education: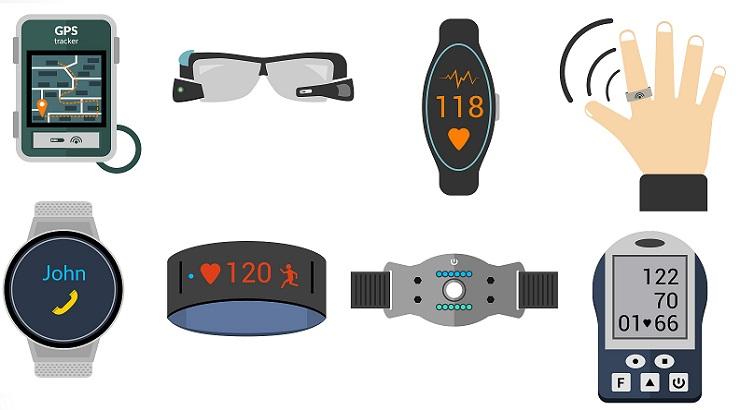 smart watchesbracelets

– recording lectures, compendiums, tests, and any other tasks for subjects, sending notes and voice messages that will be recorded with the help of an app to your smartphone, also, you can see your daily activity, the state of pulse, check your steps, etc.

smart glasses

-a hand-free wearable device that performs voice commands, show the direction you need and lead you there, take the calls, record and save the video and audio of everything that happens to you during the day, take photos and videos, a bright example is Google glasses – one of the first developments in that area of wearable smart devices. With the usage of Google glasses, you can easily find the classroom you need, record the lecture to remind it later, and many other things that are useful for education.

VR devices

– give the ability to be fully engaged in the real situation, for example, creating the presence in the classroom, while sitting at your home or wherever, exploring the areas, countries, or places of interest which you can not visit in reality. For example,

ThingLink

is a VR course for students that allows them to travel around the world. You can use it on an iPad or iPhone but it would be better to use VR glasses.

Brain sensor devices

– the impulses in your brain are transmitting and recording in the app that connected with your and tutor's smartphone, so your teacher or professor can always check your real activity and understanding of new information about a topic (pressed and relaxed brain). Headband

Muse

is a successful example of recording the state of your brain in the app.

GoPro

– a compact camera that gives the ability to shoot a video clip at any place you are: underwater, high in the sky or mountains, places where big cameras are forbidden and show all of this to your students if you are a teacherprofessor or your classmates, it helps to share the reality with others.
Want to develop an educational app for wearables but not sure what features it should have?
Modern trends in wearable technology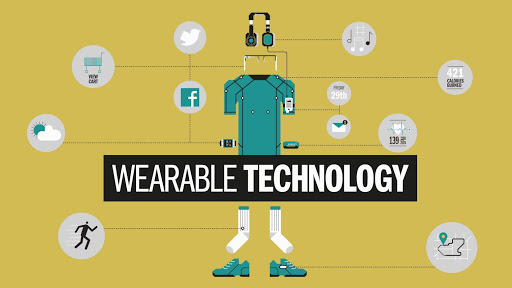 If we are talking about convenience and trends, there should be emphasized some types of wearable devices. Smartwatches and smart rings are irreplaceable nowadays. You can see all your notifications and reminders, pay in markets or shops via PayPass and record all this information to your smartphone with the usage of an app. These devices help you not to interrupt and stop doing your task but also showing you the most important messages as you can filter and pick the notifications you need. 
The second place of modern and popular wearable devices goes to fitness trackers. It is suitable not only for sportsmen. It is the best way to check the activity of every student or pupil during the day, especially at a lesson of physical training.
8sense is one of the latest wearable inventions. It is a sensor that is put on the collar of clothes. It defines your level of activity, any movements, and gives recommendations on how to improve health. Also, it creates a complex of exercises that depends on your lifestyle.
Player Maker is another one startup of 2019 that is considered to be a virtual football coach. It is a sensor situated on the foot of a player that collects data with AI and saving it on the app of a smartphone. It gives the ability to analyze the game and shows the weaknesses and strengths of every player. 
Carv is a wearable device that supports you as a teacher. If you like outdoor winter activities, then that's what you really need. This sensor analyzes your skiing skill and gives tips on how to improve it.
Wearable technology is irreplaceable in modern society. It is constantly growing and developing. You can become a great part of this development and show the world your latest ideas on how to make education different. 
Ready to turn your idea into reality and build an educational app for wearables?
There are several world-known companies that produce wearable devices that have become irreplaceable in an educational sphere.
Apple is supposed to be one of the most famous and successful corporations in the world of devices. Annual new models of iPhone, MacBooks, smart devices. Apple's smartwatches innovated the world of software. This implement almost replaced a smartphone. Calls, messages, voice commands, and notes, pulse, steps – so many functions are gathered and connected to your iPhone. It is a good business idea because if you want to have modern devices than you have to buy a device with a definite operation system, IOS in this case. Also, you can buy space on iCloud and make your storage boundless, so you can save all your notes from the first form till the last grade at university.
Fitbit created wearables to control the state of health. It sounds really necessary and important if talking about responsibility for pupils or students during the day, especially at physical training classes. It will let to choose the right and suitable level of activity for everyone. This app is available for IOS and for Android.
Pocket is an app that gives the opportunity to save and share any information – videos, photos, books, guides. You can have a look at the document you need wherever and whenever. It is usually connected to an iPad or iPhone. And now there is an option of connection to smartwatch Samsung Gear.
Element Science produced a medical device that helps to learn the algorithms of therapies for patients or people who care about their health. It shows the need for a transition to the hospital and an effect of treatment whether it is appropriate or needs some changes.   
Huami is number one in the list of companies that produce wearable devices. One of them is a smart bracelet Mi Band that is known all over the world. Its aim is to spread a healthy lifestyle. It shows your daily activity, defines your norm, and saves this data on a smartphone. 
Data Privacy and Concerns in Wearables
There should be mentioned that while using wearable devices you can face some problems. One of them is privacy concerns. Before using the app that will be connected to all your data, passwords, e-mails, you have to read the conditions of privacy of that app, as there are companies that legally or legally can share your personal information with the third parties. The U.S. Center of Digital Democracy made an investigation and it has shown that there is a growing loss of private information if talking about health wearables. Consumers tend to expect more security than it is in fact. 
There are several tips on how to protect your data from wearable devices:
check the default settings

– read the privacy settings carefully; some apps are connected to social media or use your location, so check if your data is not being published for a wide audience; additional privacy settings can be shown only on the website

to save your data,

turn off location tracking on your smartphone

as it is the most well-spread issue about identifying the person and its private information;

constantly

check the updates of the Private Policy

of the app you use and your credit reports to see unknown or suspicious activity.
Conclusions
It is high time to create something new, something innovative and revolutionary. The educational process is never-ending is always looking for more effective ways of digestion of new information. If you want to become a part of this world of wearable technology and establish a new app or computer program, then you've come to the right place. By choosing us, you can be sure that your project will be successful. 
Students are looking for new methods of studying every day. They want to save their time, learn and know more, and develop their personality by adding technologies to their lives. Don't make the world wait for your own concept. It is not only about saving information and sending notifications to users. Students are curious to keep abreast of developments all over the world. 
Taking everything into account, technologies fulfilled people's lives and they are constantly waiting for new innovation. Don't let them wait, it's time to create your own revolutionary solution.
Today there are not many wearable devices and apps that are capable to send the impulses from your brain to your smartphone. It is still innovative and not well-spread in educational establishments as, for example, smartwatches. Also, this would be a function of alerting about the topics the users are interested in. This would help them in the education process, like doing a home task, any type of experiment, or scientific investigations.
Your application can be posted on app markets, for free or for an appropriate for students fare. Also, you will have to create an advertising company via social media or conclude the official agreements with schools and universities.
It depends on the range of functions the app will have. The price starts at $25000. To find out more details, send your application and then we will estimate your app. Also, we recommend reading the article about the apps` prices on our blog to be more designated.