Uber for Drones
Aquiline Drones
Drone services have never been so accessible! Meet new app that is like Uber but for drones.
Discovery phase
App development
Maintenance
QA
Integration with social networks
See what Altamira can do for you
The initial idea was to create a mobile solution that can connect Users (people ordering drone services) with Drivers (people who can transport drones, launch them and make sure they do what they are supposed to).
Taking this idea in mind we have built an app that turned out to be functional, intuitive and visually appealing. Aquiline Drones app allows to create a User or Driver profile in no time and makes order making process much easier despite of wide variety of options all Users can select. Now all on-demand drone services are a single click away!
While developing Aquiline Drones we used two separate step-by-step algorithms because there are two user roles in this app – drivers and customers. The first ones are responsible for drone transportation and launching, and the second ones can make orders and select desired date, time, type of drone and its flight perimeter.
Both Drivers and Users perform basic registration and create their profiles in the app to start using it. They need to add their names, phone numbers, photos and emails to complete registration in Aquiline Drones.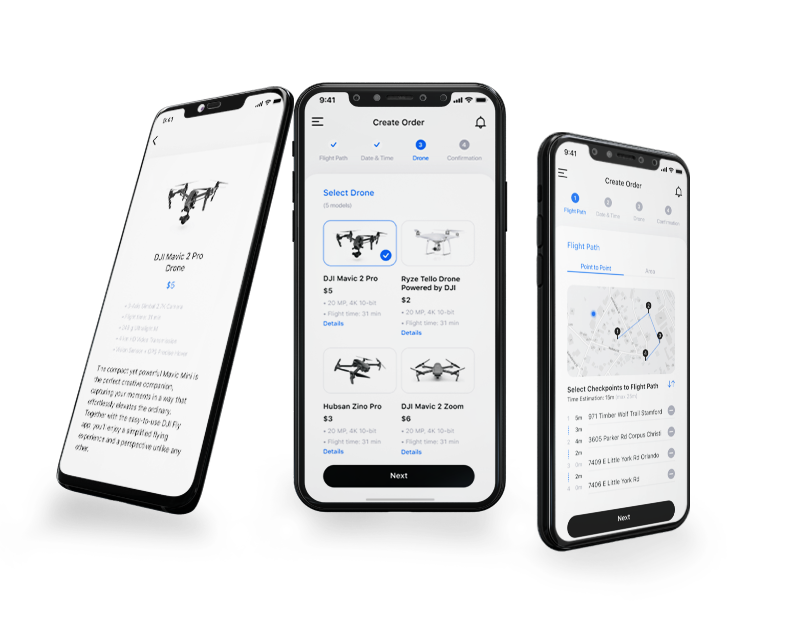 Geolocation
The idea was to let users select the flight path of a drone, specify necessary location, radius of flight and its duration. We have performed integration of the app with Maps and added two flight path options – "Point to Point" and "Area". Using the first one, the user needs to specify checkpoints between which the drone will fly. "Area" option implies that the user will simply select the location on the map.
Book a drone
If a customer wants to book a drone for some special occasion, he can do this effortlessly. While placing an order it is possible to select a desired date and time when drone services are needed. So the customer can book a drone and be sure that it will be available on that day.
Select a drone
We wanted to make drone selection very intuitive, so the customers can complete an order in a couple of minutes. When choosing a drone model the customer will see its main parameters, the cost, and available flight time. So it is really easy to select necessary drone depending on the occasion it is needed for.
Profile
Both drivers and customers can create their profiles in the app, add name, picture, email and phone number. The profile can be easily connected with social network accounts such as Facebook, Apple or Google. It is also possible to add payment card details and check them in the Payment Info section.
Our client wanted the design to be minimalistic and stylish.
So when choosing a color palette we took black and white as primary colors since it is a classic combination. A beautiful shade of blue was selected as a secondary color since it goes so good with black and white, and allows to create stylish highlights. We also added a pop of red color for displaying crucial notifications and errors that the user can receive while using the app.
We also decided to add some creative touch to preloader. When a user selects certain options and needs to wait a bit till the selection is applied, he will see an animated loader shaped as flying drone.
Aquiline Drones design turned out very fresh and visually appealing, since we understood the concept of our client, selected a suitable color palette, and added well-thought-out graphical elements.