Trader Platform
Ticker Tocker
Trading streaming social network
Discovery phase
Product development
Maintenance
QA
6,000+ development hours for Android and iOS
3,300 development hours for Web
See what Altamira can do for you
All businesses want to stand out from the competition and our client was not an exception. He came to us with a working trading solution that, at that time, had been existing for a few years already. At the dawn of its history, such solution had been considered a top product on the market. Yet, as new technologies emerged, things changed and our client realized that he's not just losing his leadership position, he's actually lagging behind the rivals.
Of course, the easiest way was to just to upgrade the old system to make it look up to date. But our client is quite a perfectionist – he did not need a fast and temporary solution that would still be obsolete and much worse than other trading platforms offered on the market.
What he really wanted is to develop a truly innovative trading application with high-end functionality. As a result, it was decided to create a completely new and feature-rich product that can fully satisfy users' needs.
Yet, trading is not easy. The industry has its specifics, complicated terminology and even more complicated system, so the bar was set high. We clearly realized that to understand our client's business objectives, we have to take a deep dive into all the aspects of the stock market. Fortunately, the challenges just make our hearts beat faster. We took up this project and the journey began.
The trading success greatly depends on how fast you can make the right decisions. And it's well-known that we perceive visual information better and need less time to process it.
Our client believes that all traders regardless of their experience in the industry should have an opportunity to earn good profits. That's why we decided to put a great emphasis on designing charts. Our task was not only to saturate them with all possible data but also make all graphical elements visually convenient for people to notice.
A user may choose a chart view and layout based on individual preferences. For example, market data may be displayed as candlestick chart, line chart or bar chart.
Traders can also pick the color they like for different chart elements, for example for bars and lines.
A user may choose a criterion and time period of their interest and the relevant data (realtime or historical) will be plotted onto a chart. Moving averages, Bollinger Bands, relative strength indexes, stochastic oscillators and other technical indicators are calculated and displayed in just a couple of clicks.
We used bright colors for curving lines to make the most crucial information easily noticeable. We also used arrows to show the trends.
The app allows users to see the summarized data gathered based on many indicators in view of a comprehensive table. Contrasting colors of different boxes help traders understand what actions (buy or sell) it's recommended to take to receive the maximum gain.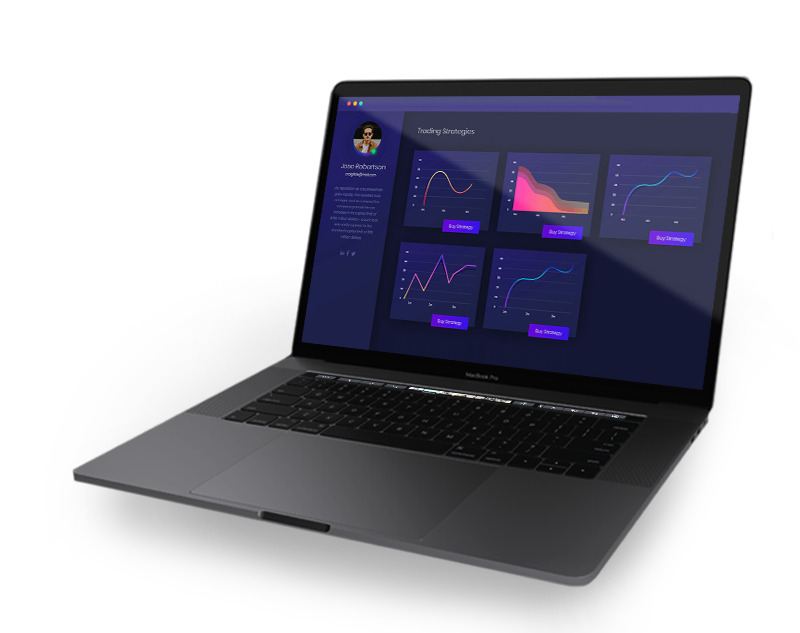 Monetization of innovative strategies
Our client wanted to make cooperation between experienced and novice traders beneficial for both sides. That's why we had to think about functionality that would encourage users to share their ideas within the community.
With this app, traders have an opportunity to make money on their innovative strategies. Once a user nails a particular trading method, he or she can sell it to other people via the platform. A simple win-win solution for sellers and for buyers.
Our client believes that communication between key players on the trading market – traders and brokers – should be easy and efficient.
That's why it was decided to create a base of trusted brokers a user can choose from. After adding a particular broker to a personal list, a user can manage his or her connections and place orders without limitations on the number of trades.
As a professional trader, our client realized that profitable trading is more about observing patterns and executing proper algorithms rather than making good individual decisions. For this reason, he asked us to add autotrading functionality to his application.
With the help of automated trading, a trader can set a number of criteria he or she considers favorable for taking a particular action. The app then monitors the market and places buy or sell orders when the relevant criteria are met.
How can one become a professional trader without losing all his or her money on testing new strategies? With the help of backtesting, of course! When developing the app, we not only aimed at creating informative report, but we also focused on making it easy to use for every particular user.
The app allows traders to tailor the screen with results to their specific needs and algorithms. We implemented on-demand elements and customizable settings so users can choose the fields to be shown on a screen.
Subscription to top traders
One of our client's dream was to engage more people in trading activity. Yet, he realized that the main obstacle is people's fear to lose all their money.
Subscription to top traders is the feature that was specifically created for the people who don't feel confident enough to rely on their own decisions. By following professionals, users can watch their activity and copy the steps they take.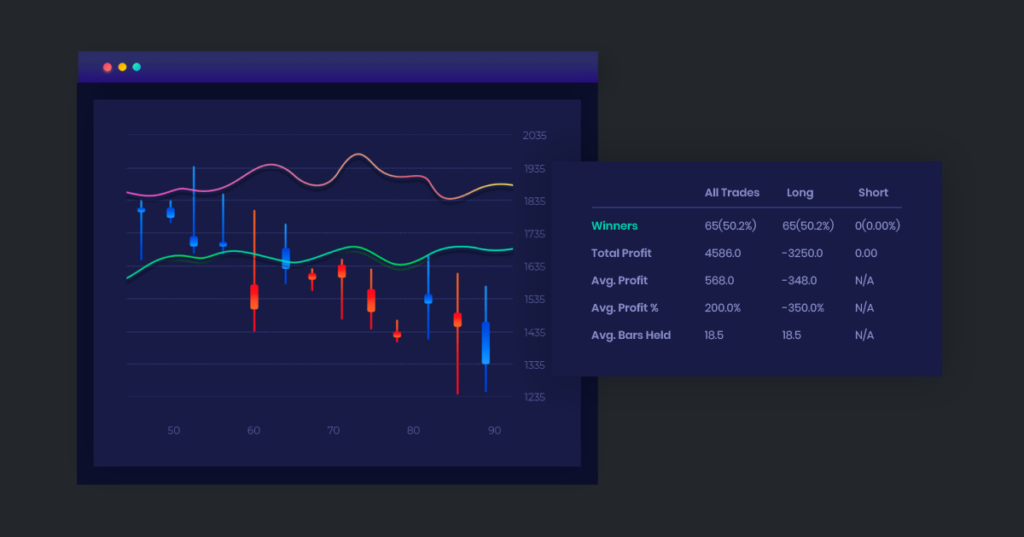 Cluttered interface. No bright colors. Hardly noticeable icons. If you've ever used any trading software, you've probably noticed that it usually looks rather dull.
But we just couldn't make another app one would want to close right after it's opened. Creating a trendy yet clean and subtle design became the challenge our team was glad to accept.
For this platform, our designers chose a dark color scheme. This is because dark mode gives a better opportunity to highlight important elements, and that was exactly the task we wanted to accomplish.
We selected deep violet as the main color of the application because it's indeed bewitching and is traditionally associated with wealth and money. Primary buttons and lines are either purple – that is the color of the year for 2018, or green – that is classy.