In today's digitized world, having a website is no longer optional, especially for large and rapidly growing businesses. And it doesn't matter whether you work in a B2C or B2B segment – your online presence often makes the first impression and judgment. For this reason, making a business website not just visually appealing but also high-functioning is of utmost importance.
But how much money does it cost to build a decent business website? Unfortunately, no one can tell you the exact numbers beforehand. In general, the level of accuracy of the estimation you may receive from a development team greatly depends on the amount of background information you've provided them with.
Many business owners face the same problem because it's quite challenging to plan a budget. But there is also a piece of good news. If you know the average cost of web development and factors that influence the price, you'll be able to get pretty much realistic budget forecasts.
Types of business websites
The type of business website you choose depends on the purpose it will be used for. For example, it can be a simple informational website with a few options, an internal web (Omni) portal for connecting all company`s branches, etc. However, not all these websites are highly functional and can bring the desired results to your business. 
 At this point, we would like to highlight the most frequently used types of corporate websites and which are worth investing in.
Brochure website
The brochure website is considered to be an outdated small business website as of 2021. It only contains information about the company's brand, history of the foundation, client reviews about the work with the company, contact details and that is pretty much it. It is not designed to acquire potential customers or sell the services or products, it just tells a story. Of course, brochure websites are quite simple to develop from scratch as they provide very limited functionality.
This website is some sort of a business card but to create a particular reputation for your organization. It can be helpful, though, when you're just starting a new business. But there is no point in making a brochure website if it doesn't bring the expected outcomes and business growth. 
E-Commerce website
E-Commerce business websites are designed for selling goods or services online by showing all available products to customers online. This type of website usually provides the online payment option via integrated secure payment software. Such websites are like storefronts for the different kinds of stores. E-commerce websites have more complicated functionality than brochure websites. Along with showing the available products, the e-commerce website is tasked with managing the inventory ( what things are in stock), financial operations, sales, and email campaigns.
Lead generation website
The main focus of lead generation websites is to acquire visitor contact details via different types of interactions so that the sales department can later use this data. These are dynamic websites that provide visitors (potential clients) with high-value topical content that they can usually access for free in exchange for contact information.
It does not just sell services or products; this type of corporate website educates website visitors about the necessity and importance of the company's products. Talking about high-value content, we mean thematic articles with different interactive elements, downloadable files, contact forms, CTAs to increase the engagement of each website visitor. All these elements are designed to interact with the website visitors for the purpose of converting prospects into sales leads.
The success of this website is defined by the appropriately built marketing and sales strategies that allow smooth progression from the first interaction with the website and to the final stage (which is usually a sale). Commonly lead generation websites require constant changes and upgrades in order to remain efficient and prospective for the company.
Average prices for a business website
On average, how much do organizations spend to create a website? The range is indeed huge as the costs depend on the company's specific business needs. We will discuss this later in the article. Let's first take a look at the numbers.
Basic website costs
The upfront expenses on a basic custom website will vary between $30,000 and $50,000. What do we mean by 'basic website'? Well, it's an informational or brochure website that doesn't have many pages but clearly shows a company's brand identity. Its functionality is not very complex but it covers a few core functions a particular business needs.  
Medium-sized website costs
The next category covers business websites that can be developed within the range of $50,000-$100,000. Such websites usually contain quite a few pages, and their development requires a high level of technical complexity. The sites from this category also have rather sophisticated functionality, including an application programming interface (API) which allows integration with the external systems.
Large-scale website costs
The average price for large-scale
web app development
costs start at $100,000. We don't want to specify the upper threshold because, well, it doesn't exist. It can be a million US dollars or even more. The average costs for web development would depend on how much 'stuffed' with features and the latest technologies (like AI or machine learning) you want your website to be.
Large-scale web solutions are considered to be the most suitable for large business companies. It is not just a simple informational website with a few pages. It is a huge and highly functional business software solution that commonly include web and mobile version and provides the following functions:
Database (preferably cloud-based);
Inventory management 
Sales management
Finance management
HR tools
Employee tracker
Data analytics
Custom reports based on the analyzed data about the efficacy of the company's strategies in different departments
The list of these functions can go on for a long time: the large-scale business app can contain any features your company requires in order to provide maximum efficiency and productivity for your business.
These days the web version of the business app is not enough so many business companies feel the need to develop a mobile version of business solution that would be accessible for customers as well as for employees. Mobile application gives the ability to manage the company workflows from any location, have access to company data 247 and attract more potential clients as modern customers tend to use the mobile app more frequently rather than websites.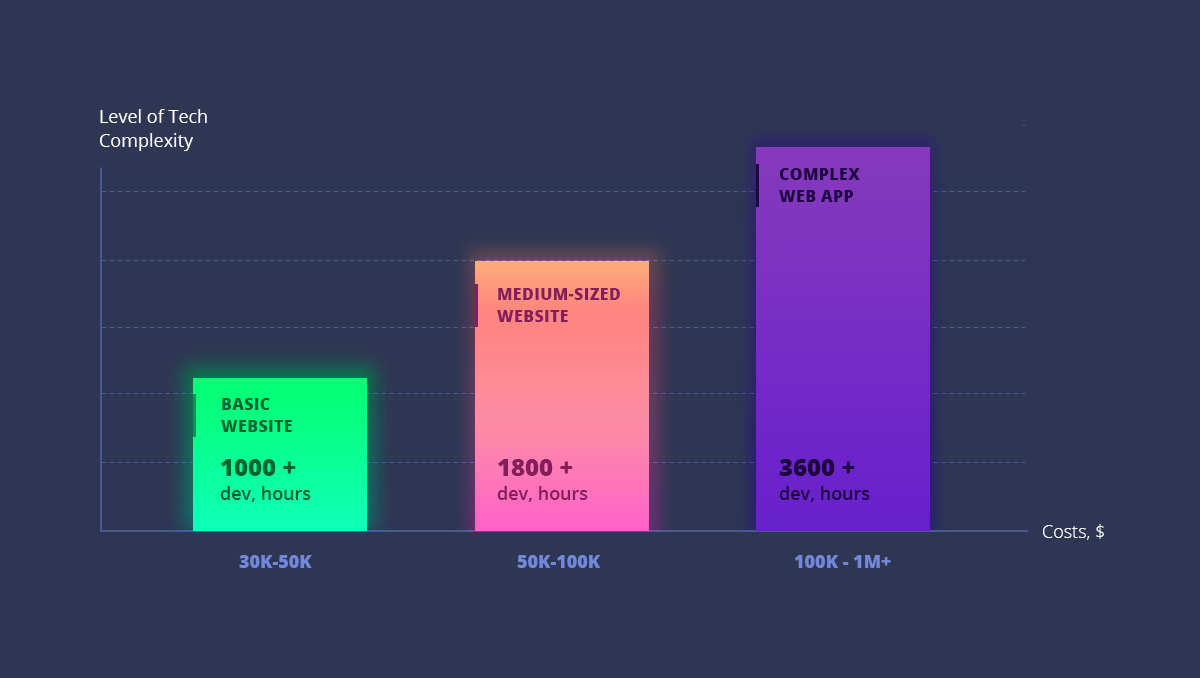 How to make a business website?
Creating a website for your business doesn't include only development time since the involvement of other professionals is also required. This is because building a software product is not limited just to writing a code and creating a design. The process of a large-scale business web app is complex includes many different components and requirements depending on the specific business industry and the company itself.  
Discovery stage
The discovery stage is the first pre-development stage of your project. This development step is really needed and important. It is about conducting deep research into your industry, finding the latest trends in business website development, comparing competitors, and providing potential directions for your project. This stage allows Business Analysts or Product Owners to deeply analyze your company and define its business goals and requirements. The Discovery stage aims to analyze each of your requests as a company to the website to better understand your project details and business needs. Software requirements specifications are a document with a detailed description of the product to be developed. 
Design
The main benefit of developing a custom website for the business is the possibility to design the solution according to your particular requirements so that the future website would be convenient, user-friendly, and suitable for your company's needs. It includes wireframes and UX/UI design. 
Coding
This is the actual development part. You will need HTML, frontend, and backend developers that will be chosen based on your project specifications. 
Environment
That's a process of establishing a development environment for the code provided by the DevOps engineers.
Quality assurance 
In simple terms, it's the process of testing if everything works as intended. If you initially develop an MVP version of your business website, the QA specialists will execute the suitable test to figure out the possible bugs and errors and fix them before the full deployment. 
Project management
It covers arranging a web development process and ensuring effective communication between a client and a development team. The professionals that are required: a project manager or a Scrum master (for a Scrum project), an account manager.
At GBKSOFT, we give preference to Scrum methodology that is considered to be the most flexible and convenient software development framework. It aims to keep clients engaged in the development process. Our privilege is to keep our client aware of all changes and updates about the project by constant communication via messengers or video calls with the development team so that no detail about the development process could go unnoticed.
On average, custom websites may be developed in 2-3 months. The minimum time required is one month. Yet the development process of complex web applications may last for a year or more.
We also suggest you find out about the real use cases from the video below of how the business website redesign can change the overall attitude of the users to the company. 
The cheapest stack for web development
One of the essential factors influencing the total price for web development is the tech stack software engineers will use to build your corporate web application. In short, the technology stack is a combination of all technologies needed to create a software product. If we speak about web development, it comprises two components: front-end and back-end.
Website is a software solution that includes many layers and components. So talking about what technologies are the best for building your business website, we would like to note the top programming languages used for website development:
JavaScript (JS) programming language is the most common choice for the front-end part. The average hourly rate for JS development is $21-$49.
Speaking about the service-side or the back-end, there are more alternatives. For this reason, your web development costs will greatly depend on a chosen programming language or a framework. 
As you may see, even in the US (the most expensive country in terms of software development) average salaries of PHP developers are lower than the average salaries of programmers specializing in other languages. But it's not because it's the worst one. On the contrary, PHP is one of the most popular choices for web development.
Actually, nearly 82% of all websites existing today are built with PHP. The costs are lower because the PHP community is indeed huge and there are many programmers willing to help you create a PHP-based website. The average rate of a PHP developer for your project would be around $21-$49, depending on the level of experience of each PHP developer involved in your project. For this reason, the tech stack with this scripting language will always cost you less.
Success story: HDR PRint
HDR Print is an extensive printing company that was forced to look for efficient ways of staying in business online by quarantine limitations. 
Talking about the success stories related to the development of business websites, there is one case that comes to mind. The GBKSOFT team was asked to redesign the existing corporate website for a huge printing company. The old version of the website wasn't efficient and useful as it did not automate any operations, nor could it structure the orders accurately. That led to numerous confusion and order details losses of order details and eventually, to the poor customer experience. 
The main goal of this project was to rebuild the website so that all orders are well organized and managed by salespeople and their managers.
This corporate website needed to have all existing apps and company data in one single place. That is called an all-in-one business solution. After the goals and specifications of the future software system were defined, our team succeeded to develop and integrate:
Custom builder for order creation so that each customer could create the printing order with all possible details like material, size, etc., check the order price in real-time by using an in-built calculator and see the visualization of the final result;
Order management system where all orders are structured and accurately filled by customers or salespeople. This solution also allows tracking the order status of the order, its details, customer contacts, etc.;
Sales plan management  – this function allows the sales manager to set a particular sales plan for each salesperson and monitor the efficacy and productivity of their activities and how they contribute to the overall sales team goals.
Most common ways to reduce costs and risks
After reading the two previous sections, you probably got the idea why a good corporate website cannot be cheap. That's why we would not recommend ways to reduce web development costs such as using website builders like WP CMS or hiring freelancers. Instead, we'll talk about more sophisticated options like building the MVP and choosing a Scrum team.
Launching an MVP website
MVP stands for the Minimum Viable Product. And by saying 'a website MVP', we mean that it's initially launched only with basic functionality that allows receiving feedback from the early access users.
When do you need an MVP? We recommend choosing this option when want to create a complex web application and the development process is expected to take a while.

How does it reduce your costs and risks? Creating an  MVP will cost you less than building a complete website or web application. Of course, you'll still have to add all necessary features afterward. But you'll better understand what users need and spend your money more efficiently.
We also would like to provide you with an MVP estimation of the corporate website development. The numbers are approximate as the final project`s scope and costs depend on the individual requirements of your company.
| | |
| --- | --- |
| Specialist | Cost |
| Specifications | $3795 |
| Design | $2415 |
| HTML/CSS | $2041 |
| JS development | $2925 |
| PHP development | $15732 |
| Manual Testing | $4518 |
| Admin | $672 |
| Scrum master | $8611 |
| Total sum: | $40708 |
Choosing a Scrum team 
Scrum is a project management methodology that is widely used in software development. Its main distinctive feature is that a product creation process is split into short iterations and sprints. After every sprint, a development team releases a potentially shippable feature set.
When do you need Scrum? We recommend you choose a team that follows a Scrum approach whenever such an option is available. From our experience, it's really convenient for both sides — a development team and a client.  

How does it reduce your costs and risks? You'll receive deliverables every 2-4 weeks (common duration of one sprint). Due to this, you may terminate the work at any time by giving only short notice.
As we have already mentioned GBKSOFT prefers Scrum methodology due to its quick adaptation and agility. We have experience in developing business websites for multiple industries such as finance, healthcare, retails, printing, dating. Regardless of your industry or location, the key to successful corporate website deployment is providing a pre-development stage that we call the discovery stage. It allows us to define the main objectives of your solution and create a list of requirements. 
FAQ
Average web development costs start at $30,000 for a basic informational website. For $50,000-$100,000, you can get a decent large-scale solution. The most sophisticated web application may cost from $100,000 to more than a million.
A development team will need at least a month to create a basic website. The average time required to build a website or web application is 2-3 months. This, however, does not apply to complex web applications — their development and deployment may last for years.
Putting it all together
Let's briefly summarize everything we've talked about. The corporate website is a must-have for modern businesses in order to optimize the daily manual operation and efficiently use customer data to provide an excellent customer experience. However, the trends are changing, and in 2021 web version isn't enough as the use of mobile applications continues to grow all over the world. Because of our vast experience, you can surely entrust the development of your business website to GBKSOFT and make it really efficient, individual, and industry-compliant.
Business website is a must-have for businesses that aim to stay in-game.
Contact us for discussing the requirements of your corporate website and building an efficient business solution.