So, your company is in need of software app development, and you've made a decision to involve a third-party vendor to complete this task. Congratulations! An interesting path awaits you, and if you find a reliable software partner for software cooperation, you will get decent results.
But if you are new to the world of software outsourcing, you may not know how to approach the issue of the IT cooperation models. What software development business models are the most common, what are the differences between them, and what is the most suitable one for your project? In this article, we will cover the main aspects of software cooperation conditions, how the responsibilities can be divided between the client and software vendor, and what will be the best option for your business.
Outsourcing vs Outstaffing: the Crucial Difference Between These
IT Cooperation Models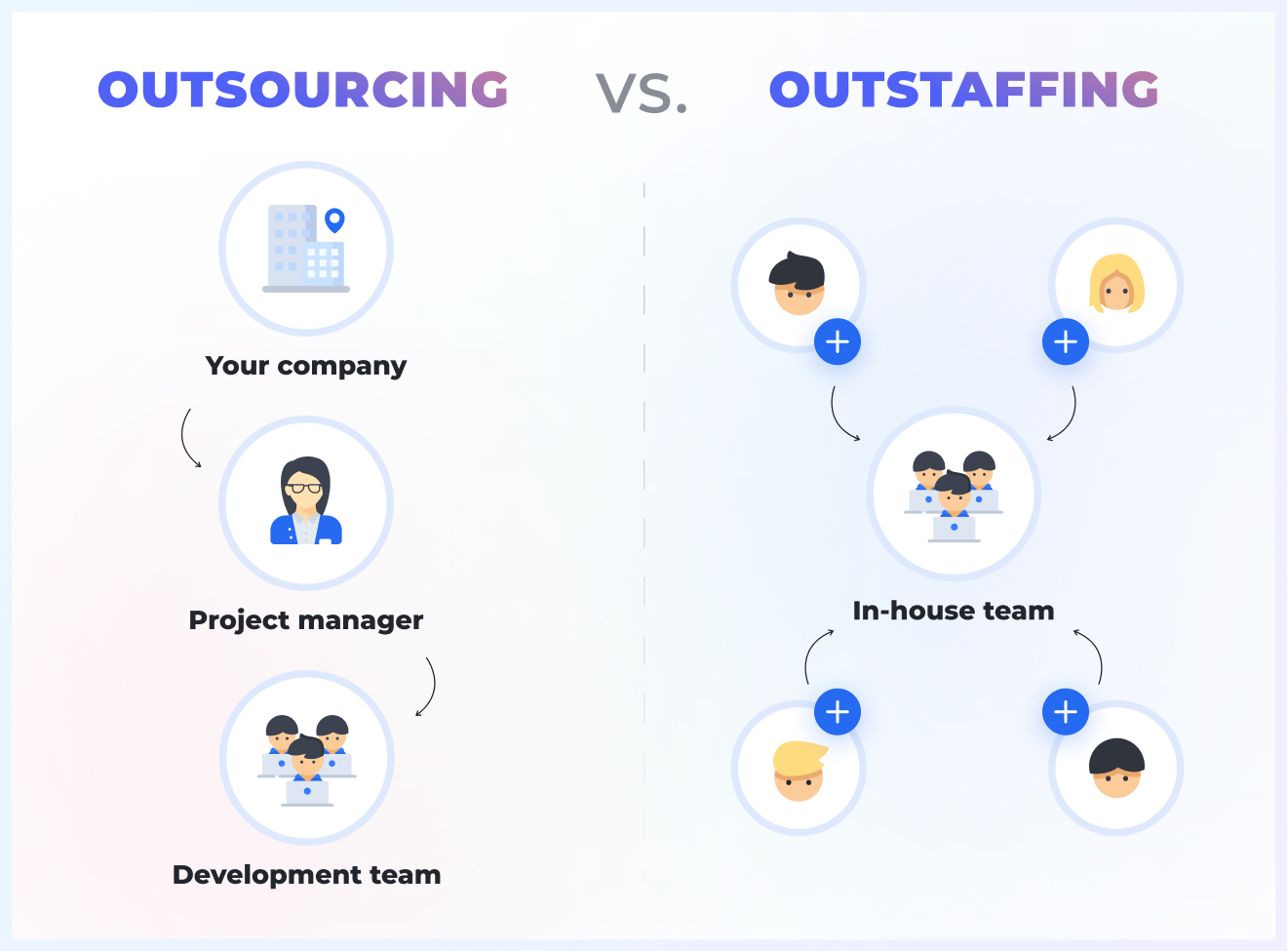 Outsourcing and outstaffing are two of the most simple and popular models, and both of them presume that a vendor will cover a significant part of the software development process. The level of engagement may differ, and parties can determine on a case-by-case basis. However, here is the distinction between outsourcing and outstaffing at its core.
Outsourcing means delegating the whole course of the project to the vendor. The vendor's team takes responsibility for all the development aspects, including project quality, delivery, adherence to deadlines, providing work conditions for employees, etc. The client usually doesn't communicate directly with the development team but keeps in touch with a project manager who leads the aforementioned team.
It's the best option for those businesses that aren't focused on technology and don't have a big IT team.
When the company resorts to outstaffing, they supplement their existing project team with individual specialists who play the role of remote employees. The software vendor here takes care of all employment issues, like compensations, taxes, workplaces, equipment, etc.,  while the client gets a team of specialists that does their part of the work.
This business model is suitable for companies that have an IT department but need to complement it with additional developers, possibly with rare industry knowledge (e.g, artificial intelligence or data science), and for a limited period of time.
Pros and Cons of Outsourcing
According to the 2021 Global Shared Services and Outsourcing Survey Report by Deloitte,  88% of businesses achieved the goal of cost reduction through outsourcing and global business services. However, the other benefits attract businesses as well, for example, the flexibility of the development, fast development progress, and simple access to various types of expertise and tools.
Pros of outsourcing;
No resources are required for team management;
The vendor is in charge of the project quality and success;
Fast time-to-market;
No HR or hiring efforts are required;
Flexible team composition.
Cons of outsourcing:
Limited control over the development process;
Costs more than outstaffing;
Difficulties in communication.
Pros and Cons of Outstaffing
Outstaffing is a lifesaver for companies that have to involve new developers but don't want or can't afford to go through the usual hiring process for in-house employees. Usually, the standard hiring process may take a few months, dozens of interviews, and a big amount of effort from recruiters.
But what if you need a specialist here and now, or otherwise the project will stop? Then, outstaffing will definitely be your option, as vendors usually have a list of developers who can start right away and carry on with their responsibilities.
Pros of outstaffing:
Access to the already assembled pool of different specialists;
No need to handle the financial or legal aspect of the employment process;
Lower rates compared to outsourcing;
Cons of outstaffing:
The necessity to manage outstaffed employees inside the company;
Full responsibility for the workload of outstaffed employees, their efficiency and performance;
Technical knowledge is required to select a suitable developer for your team.
Looking for an outsourcing / outstaffing vendor?
GBKSOFT can cover your software development needs.
Most Popular Pricing Models
Outsourcing and outstaffing and two umbrella terms that broadly describe how businesses can cooperate with software vendors. But let's talk now about how software outsourcing companies can calculate the development costs.
The dedicated business model presumes that a vendor provides you with a fully staffed team for your software development project. The team dedicates all of their working hours and effort to your project only. Thus, the dedicated team builds up expertise and insights applicable and valuable for your development over time. So, in the long run, investments in a dedicated team cooperation model will return.
So, let's put this simply! You should resort to a dedicated model, when:
you have a long-term development project;
the requirements for the development may evolve during the development process;
your company isn't experienced in hiring software engineers;
you want to keep the focus of your internal team on business-oriented goals.
The dedicated model helps your company to seamlessly enter the world of software development, regardless of whether your company has little experience here or just isn't focused on technological products or services at its core.
At GBKSOFT, the dedicated team usually includes the next specialists:
Business analyst;
Software architect;
UI/UX designer;
Front-end developer;
Back-end developer;
QA engineer;
DevOps specialist;
Scrum master;
Depending on the scope and the difficulty of the project, we can vary the team composition, for example, add several front-end or back-end developers if needed.
⌨
Project manager: hire or not to hire?
You can manage our dedicated team yourself if you like. However, we always suggest hiring a dedicated manager as well, and
here we explain
why.
The project budget for the dedicated model is defined on a monthly basis: you cover monthly compensation for every specialist and administrative fees. Usually, the team doesn't exceed their workload, and you have a stable budget you can count on. However, you are not restricted by the scope of work, and you can request extra working hours if necessary.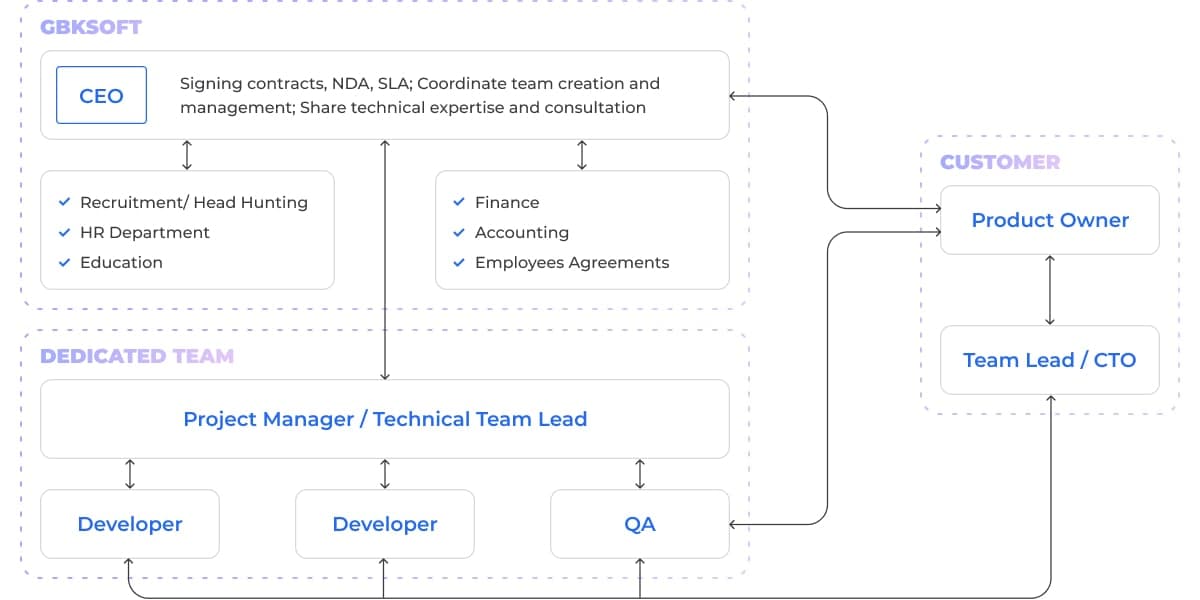 So, the advantages of the dedicated model are:
defined, stable budget every month;
the hand-picked crew of specialists who will focus on your project only;
self-managed team of experts;
flexible requirements and the scope of work;
accumulated expertise and knowledge that only improves the quality of the development;
stable team and development processes.
Of course, every rose has its thorn. Some aspects of this software development cooperation model may not match your expectations and needs, and some risks may push you to think one more time. So, what drawback does the dedicated software business model have?
No time or effort commitments from the service provider side;
team motivation and engagement may become lower over time;
low level of ownership from the service provider;
not addressing a client's business need or outcome.
Think that a dedicated model is perfect for your project?
Contact our managers and get an estimation for your project on these terms.
Time & Material (T&M)
This type of contract means that the client pays for the actual scope of work based on hourly rates and material costs. Basically, if the project requires the involvement of a developer for 20 hours, the client will pay only for this time upon the previously agreed rate.
T&M cooperation model will be suitable for software collaboration projects that:
tend to be average or long-term projects;
have an unclear scope of work;
are more likely to experience a change in requirements;
require the involvement of a lot of different experts for the small scope of work.
Time & Materials model pricing works perfectly with Agile practices like the Scrum framework that we use to ensure productivity, flexibility, and continuity of the development.
Related Article
Interested in Scrum? Check
our guide
on this management practice and learn why it has become so popular!
The main advantages of T&M are:
flexibility in the development and determining the scope of work;
quick ramp-up;
efficient and transparent development process due to hourly rates;
it's possible to see progress at any stage of development.
And let's not forget about possible risks:
final project cost and duration may significantly differ from the original estimates;
the clients should take an active role in communication and project management to ensure that the final product will match their initial vision and needs.
Fixed Price
Fixed price is the business model we rarely use, as it has shown its limitation for successful and flexible software collaboration. Unlike the dedicated model or T&M, the final budget and deadline are set and can't be adjusted later.
To have a good outcome here, the specifications and scope of work should be determined beforehand, and no additional changes or difficulties should arise along the way. Moreover, the estimation of all these factors should be precise.
Unfortunately, in our experience, it is very unlikely. Software development is a dynamic process, and it's impossible to avoid any drawbacks. The fixed price model doesn't allow accommodating these risks adequately, and hence, the final quality of the software can suffer.
Hybrid Model
Although three previous cooperation models are the most common ones, some other cooperation models exist as well. This business model is a combination of the Fixed Price model and the Time and Material model.
We suggest using a hybrid software business model option for:
long-term, large projects that can experience changes over time or that have unclear requirements (software functions) and objectives from the start;
it's the first cooperation with a chosen vendor.
The essence of this model presumes the next workflow: there are two teams, onshore and offshore that work together on the project. Basically, the responsibilities of the onshore team include business analysis, organizational work, and communication with clients, while the offshore team takes care of product development and delivery.
The onshore team usually works on a Time and Material basis, and the offshore one works on Fixed Price (however, it may be replaced with a dedicated model).
The benefits of the hybrid business model include:
cost-effectiveness;
efficient communication thanks to the proximity of the onshore team;
flexibility in payment, as the client can choose between hourly payments and one-time payments;
a guarantee of the high product;
mitigates a significant number of risks associated with Fixed Price or T&M.
But also consider the disadvantages that can possibly disturb the project:
won't be good for short or medium-sized projects;
the client can't manage the use of resources;
some risks of the aforementioned business models still should be taken into consideration.
Most Common
Software Collaboration
Services
So, we have looked through the main software outsourcing models and pricing methods. But let's be realistic: what kind of development services can you actually receive when reaching out to a software development company and initiating a partnership? Here we gathered the three most popular services that we provide for our clients.
Discovery
The Discovery stage is crucial when you plan to create a self-sufficient software piece. Consider it as a guarantee for the success of your project. Discovery is basically thorough research that will shape your project into a realistic and practical roadmap.
Hence, you will enter the development process prepared, knowing not only the estimated budget but also:
how your software will match with your business process;
the project scope and release priorities;
possible decision-making approaches and complete system automation;
the architecture and the tech stack of the application;
the complexity of the application, documentation that includes all custom algorithms, data centers, integrations with 3rd party services;
how data will be stored, processed, and transferred;
what team composition and resources are required.
For the discovery stage, we use the following specialists:
project coordinator;
business analyst;
solution architect;
UI/UX designer.
We strongly suggest our clients resort to these services because they significantly simplify further development by setting up clear and understandable goals and helping us synchronize the vision with the clients even at such early stages of our software collaboration.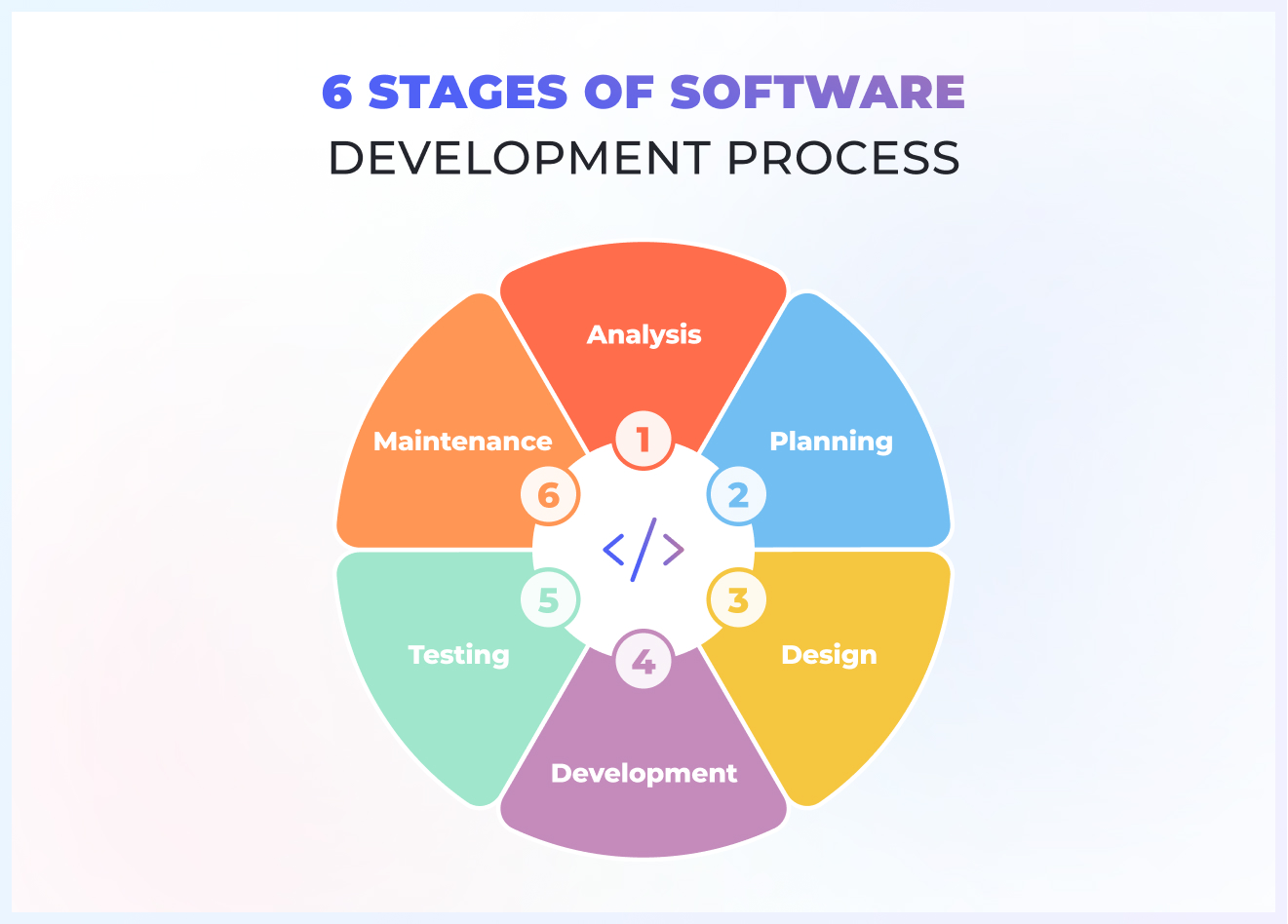 Product delivery is always in demand, as it helps companies to reach their goals, whether it is to automate their business processes, create additional value for their end clients, or enter the market with an innovative solution.
As a software development company, we cover the whole cycle of software development, including:
market exploration;
specification writing;
UI/UX design;
web development;
mobile development (Android, IOS, cross-platform);
quality assurance;
deployment and DevOps;
technical support.
From the start to the final release, our team guides you through the whole process, ensuring seamless development and implementation.
Related Article
Want to know what it is like to work with GBKSOFT? Check
the recent interview
with one of our other clients, the owner of Includmi app.
Staff Augmentation
Staff augmentation is pretty close to the outstaffing that we've already mentioned. In this model, a remote software engineer joins your team and works along with your other developers. It's a great solution when you need additional experts, but you don't want to go through the traditional hiring process, instead, you need an employee for specific responsibilities for a limited period of time.
So, you may consider staff augmentation outsourcing when:
you have an internal development team but you need to supplement it to ensure its success;
you look for specialists of rare expertise and knowledge;
you want to integrate developers into your team and communicate with them directly on your terms.
So, staff augmentation is a great way to save costs, compared with hiring a new employee or cooperating with a dedicated team model. Basically, you need to cover the compensation for an outstaffed developer and a fee to the outstaffing company.
Related Article
You're working with remote developers? Check
our article
and learn the main tips and insights of remote development team management!
With this IT cooperation model, we will take care of the hiring process and provide you with a pool of candidates according to your requirements (experience, level of expertise, English proficiency, etc.). We offer staff augmentation of the following specialists:
Back-end developers (PHP, Node.js, Next.js);
Front-end developers (React.js, Angular.js, Vue.js);
Mobile developers (Swift, Kotlin, Flutter);
Manual QA engineers;
QA automation engineers;
UI/UX designers;
Software architects;
DevOps specialists;
Our experts will be fully integrated into your team, and you will be able to fully focus on the development process, management, and performance, while we will cover mundane aspects like salaries, taxes, etc.
So, to sum it up, the advantages of staff augmentation are:
moderate expenses that will be lower than other software collaboration models;
flexible cooperation, as you are fully in control of the development team's workload and performance;
high efficiency, as a developer doesn't have any other work commitments;
fast start of cooperation;
easy way to cover important but short-term tasks.
But you need to think through the staff augmentation risks as well:
as with any new employee, your outstaffed developers will need some time for onboarding;
you are fully responsible for the management and performance of the outstaffed developers;
not suitable for long-term projects.
Need to add experienced developers to your team?
Check in with our managers and let's find a suitable candidate for your project.
In Conclusion
Software collaboration can live in different forms — and cooperating with an outsourcing partner is one of the most efficient and convenient nowadays. Different IT cooperation models allow companies to choose suitable terms for them, and thus, gain a positive result from software development.
Altamira offers different cooperation models and services. Talk to our managers, and they will help you to pick the best one for your case.
The dedicated team model means cooperating with a development team full-time, so a dedicated team would be the best for a long-term, large project development that needs a lot of flexibility.
Staff augmentation refers to the services when the vendor provides required specialists (developers, designers, QA engineers, etc.) to work as a part of the client's team. For the client, the specialist plays the role of a remote employee, while the vendor takes care of all organizational and administrative aspects of the specialist's employment.