This year will definitely go into history as the most unstable and stressful. Last year began with forest fires, coronavirus outbreak and economic crisis. No wonder that people from all over the world (who have to stay home and change the way they used to live) feel so stressed and anxious. Whether they want it or not, every day they are dealing with the huge influx of information, figures and future forecasts. So now is the high time we all start thinking about our mental health as well as physical. 
Apart from all usual ways to relieve stress (walking with friends, reading a book, listening to a calm music, etc.), people tend to try some new methods. Global digitalization gave birth to new trends even in the sphere of mental healthcare. So now when people are closely tied to their gadgets they try to find some calming things in their smartphones. And usually they end up downloading an app and actively using it. People are even ready to pay for a digital solution if it makes their lives easier and more emotionally balanced. 
Mental Health Care Market
According to the figures and report provided by Sensor Tower in last year users of mobile stress relieving apps spent $195 million on them. If you are reading this article, then you've probably heard about two such apps as Calm and Headspace.
They both are the most popular in their segment and the number of their users continuously grows as well as their income. The income of Calm was over $150 million in 2020, while Headspace earned $100 million thanks to its users. And here is how the number of Calm downloads has been growing.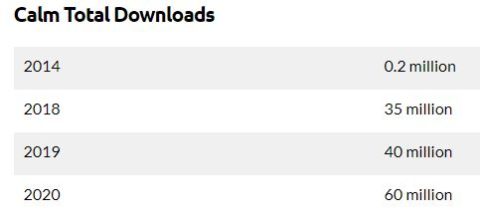 Image source: Business of Apps
COMPASS Pathways
has raised a total of $116.2M in funding over 3 rounds. Their latest funding was raised $80,000,000 on Apr 27, 2020 from a Series B round. Compass Pathways is a mental health care company dedicated to accelerating patient access to evidence-based innovation in mental health.
Mindleap Health
this company was acquired by NewLeaf Brands for CA$4M on May 21, 2020. This deal was done in Cash & Stock. This is very impressive success story!
These figures are enormous. But what if I tell you that stress relieving apps can bring their owners even more? As I've already mentioned, the last year was quite tense year and quarantine influences people greatly. So calming applications can become go-to solutions that will be installed almost on every device in 2021. 
Popular types of calming apps you can consider developing 
There are many ways to relieve stress. While some people prefer meditating, others feel relieved when they train or cook. That is why the mobile markets nowadays are full of various applications offering users different ways to reload emotionally. After taking a look at the most popular apps of this segment, we've selected the most interesting ideas that you can pay attention to:
Meditation apps
Meditation become more and more popular each year and the key to changing your stress response and reduce anxiety level is to practice on a regular basis. That is why application can be a great helper. You can create a full meditation guide, add feature with breathing practices, bedtime stories, implement journal for users to leave notes about their mood or feelings, etc. Headspace and Calm are two successful examples you can take a look at. 
Calming apps with gamification
Listening to the calming music, coloring pictures, writing your mood journal daily, playing positive mini-games and achieving small goals within the app can reduce the level of anxiety. Combine features mentioned above with online supporting community and you'll get a perfect stress relieving app.
Apps encouraging daily activity
We all know that physical activity is the best free antidepressant. So applications that track activity level, sleep quality, teach users some right breathing techniques and set daily goals can be quite effective in struggle with stress. It is also possible to make an app able to measure heart rate, identify whether a user is stressed and offer some activities to relieve that condition right away.
Chatting apps with AI
 Have you ever heard about Wysa app? This solution offers a chance to discuss your feeling in an AI chat. Wysa offers live therapy sessions, progress monitoring features and of course daily conversations. It is the best app for all people who are put in quarantine and do not have a chance to discuss their feeling with anyone. 
Get a quote
Already have your own stress relieving app in mind?
How to make your app bring money?
One more important thing you need to decide before initiating app development is for what devices with what operating system your app should be built. The thing is that the behavior of Android and iOS app users can differ. While the first ones tend to download more apps, the latter make more in-app purchases. So the decision whether to build your app for iOS or Android devices (or maybe you need an app for both) may influence the monetization method. 
We have already covered the topic of mobile apps monetization and it is highly recommended to read it before considering any particular option for your solution.  And below we will provide some brief information related to earning money through an app.
Among all well-known monetization strategies, we would recommend you to consider the following for your app:
Subscription

– whatever type of app you will build, it is possible to make it subscription-based. The users will make monthly payments and keep enjoying full functionality of your solution. It is preferable to offer a couple of different plants for users with different needs. The more expensive plan should offer access to more features. 

Advertising

– this strategy works perfectly for many app owners but it is a risky one. Sometimes users uninstall applications that have too many ads inside or if those ads are irrelevant. So make sure you do not offer space in your app for inappropriate advertising not related to mental health and calmness. It is also preferable not to promote any medications, etc. 

Freemium

– by offering some special features for a payment you can earn a god income. Almost

50% of digital solutions revenue

is generated due to in-app purchases. This strategy may work perfectly if you application has some gaming elements in it that are rewarded with some trophies. 

Fully paid app

– it implies that your solution will initially not be free. So to use any function users have to buy it first. Seems like a good idea to make an app like this, but unfortunately with so many free applications on the market, there are chances that people will not buy your app. It should either distinguish from other apps or offer something really unique and innovative so that people become interested in your particular app. 
Have an app in mind?
Great apps deserve great monetization strategy! Make your solution really popular and money-making!
Some great examples of stress relieving apps 
As we've already explained, there are several types of stress relieving solutions that you can consider developing. However, whatever type you'll choose for your business model, you need to know what features to add to make your users engaged. There are several successful solutions related to mindfulness on the market, and if you take a closer look at them, you'll definitely be able to identify what feature set will work for your solution. We have checked several great apps and prepare a short review of them for you.
Headspace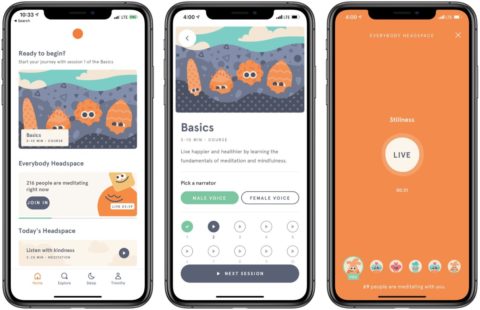 Headspace is probably the best meditation app on the market because it offers not only numerous themed meditations, but also teaches you the right technique. In Headspace you'll find meditations for work, on sleep, focus, stress, anxiety and many more. This app covers all age groups offering even the practices for kids. It is very convenient to use, the design is flawless and intuitive. All meditations have guides so all users definitely appreciate this approach.
If you consider developing your own meditation app, make sure you've added easy registration, meditations for all age groups, additional features with gamification elements and reminders so that you usrs never miss a daily meditation.
Happify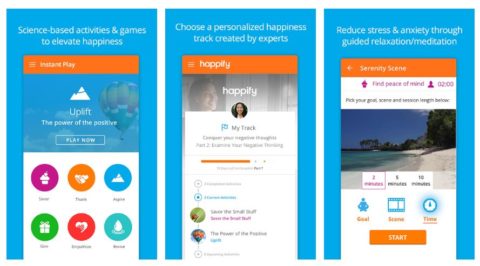 Image source: Happify app
Happify can be called a science-based solution that really helps its users to overcome anxiety and dark emotions. It helps to change your daily habits or replace them with the new healthy ones. This solution can be used on all devices – smartphones, tablets and even laptops and desktops. Happify offers its users to complete different activities aimed to improve their mood and discover their happiness score. This app is full of engaging elements, suggested exercises, games and mini-tasks. Every user will enjoy this way of combating bad mood on a daily basis.
If you have a similar solution on your mind, make sure it will offer exercises and tasks of different complexity to attract as many users as possible and keep them involved. It is also preferable to add feature to monitor the progress of a user. The suggestions on how to improve that score and get in a good mood are also a must-have option.
GPS for the soul 
This is one more great solution for mobile devices that helps to measure the stress level based on your heartrate. The application uses camera and other smartphone tools to measure your heart rate and provide results of this measurement with real suggestions on how to feel better and get back to normal. It acts like a GPS but for the soul by offering you a way to reach your calm place and showing you pictures, turning on music, poetry, or else.
Interactive nature is what makes this solution unique and attractive for users. Its sort of forecasts your mood and helps you to improve it in a blink of an eye. Such solutions are getting really popular on the market, and no wonder, because we all experience so much stress on a daily basis.
If you are interested in more detailed review of stress relieving apps, then we'd recommend you to watch the video below that demonstrates how some of those solutions work and what features are especially interesting.
Of course, it is always better to ensure overall digital presence. However, in case with stress relieving solutions it is preferable to go mobile, since smartphones are always at users hands. It is more convenient to use such apps on the go.
The total cost will depend on the app complexity and the feature set that you might want to add. The price may start from $25,000 and grow further . For example, apps encouraging daily activity may be more costly compared to meditation solutions.
When it comes to developement, you need a team of not only software engineers but also designers, QA engineers, marketing specialists, and Business Analysts. The latter will help you with defining feature set, tech stack and they will also explore the solutions of your competitors to make yours the best on the market.
Don't wait up
Looking for a professional developers team to build your application?
Conclusions
Pandemic made numerous people from all over the world care more for their physical and mental health. Self-isolation, uncertainty and economic crisis darken our days, so now even more than ever we all need something to distract us and make us feel better. 
Stress relieving app can be a good startup, especially if you choose the right idea, add necessary set of options and make your app truly useful and calming. The popularity of such apps can skyrocket now and they will also be popular even after quarantine is over, because we all will be dealing with COVID-19 consequences. And let's be honest, every day can be full of events and sometimes you just need to reload emotionally. And that is exactly why we all need stress relieving solutions.
Do you want to see such articles in your inbox?
Stay up to date with latest tech trends and products