IoT is a hot and popular topic of discussion among people working in the manufacturing industry all over the world, particularly people in management positions. Internet of Things enables dozens of new approaches to factory operations. According to the research made by IDC, the combined added value from the improvement in operations powered by IoT is predicted to be worth over $470 billion per year.
IoT and its smart sensors are already responsible for a great share of automation enhancements that are only possible to implement on modern smart factories. However,  the market is developing and manufacturers together with software development teams like that of GBKSOFT come up with new ways of how to make the most from IoT capacities. 
Our team has analyzed the latest developments on the market and collected the main insights we've naturally gathered over the years through cooperation with clients. Hence, we prepared top IoT trends in manufacturing that we predict will be on top in 2022 and later. 
⚙️
Related Article
Need to learn a bit more about Industrial IoT before contemplating the latest IoT trends? In this case,
click here
and check our full guide on IIoT.
IoT Trend
#1: Transforming Business Models with IoT
IoT sounds like an enticing technology to implement: there are dozens of reports, proofs, and successful examples of IoT implementation, where it was shown to clearly boost the performance of a factory by increasing its output or improve other business metrics and objectives.  However, don't become enchanted with it too much: it might be unwise to embrace IoT trends in manufacturing only for the sake of just having IoT itself.
IoT capacities have already gone further than and exceeded simply offering an opportunity for slight automatization. Now manufacturers can transform their entire business models into innovative, more productive ones. We can highlight three main aspects of the change: the approach to product, the approach to supply chain, and the approach to manufacturing itself.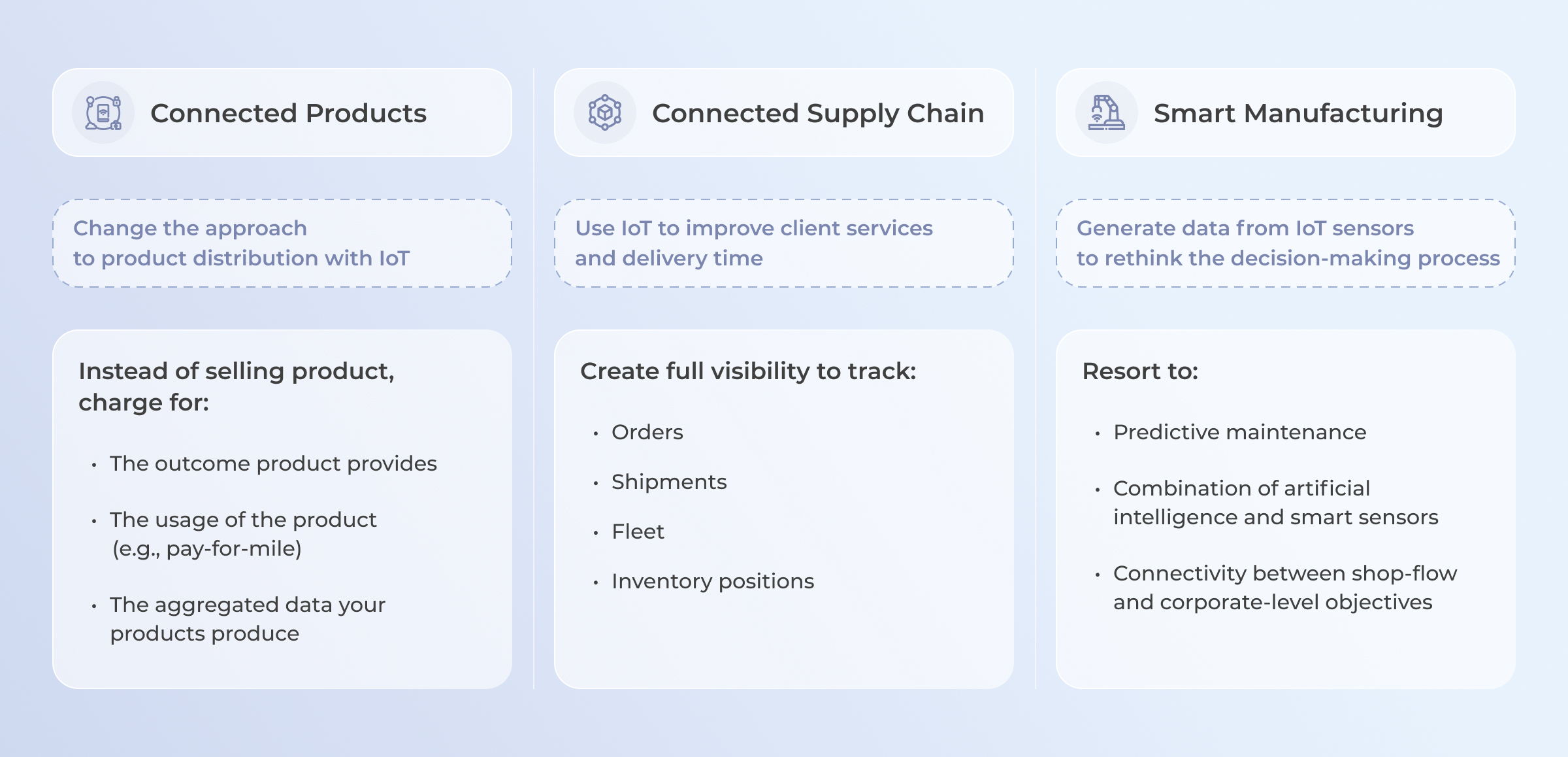 To make your IoT adoption smart, you need to approach the question consciously and build a clear strategy. You will definitely need to bring technical expertise to your knowledge of the industry. Our Business Analyst can provide you with appropriate guidance and run a Discovery Stage to determine the best approach specific to your business.
Request a consultation with our tech & business experts.
Our team is always ready to help you start the transformation.
IoT Trend
#2: Employee Safety
Manufacturing is one of the most dangerous industrial fields where more than 3000 accidents happen annually. IoT in manufacturing may help you improve safety and prevent work-related injuries. 
Once again, the concept isn't new, however, it is becoming much more profound than it was originally. The idea of connectivity and constant monitoring lays at the base of these industrial IoT trends. When there are active sensors that send real accurate info about the state of a facility or equipment, it is easier to evaluate the situation and detect potential risks and hazards, especially when also supplementing and using artificial intelligence. 
A few examples of use cases of IoT to improve safety measures:
wearables that track workers' heart rate, blood pressure and notify when it is dangerous for them to keep working;

smart sensors that can detect the exceeded level of heat, radiation, air pollution, or noise and send an alert;

fire sensors that react to dramatic  temperature changes and detect fire;

run predictive maintenance to decommission or fix faulty equipment before it may cause any damage or accident;

notify workers when they enter hazardous areas to pay attention to possible danger.
IoT Trend
#3: A New Approach to ERP
Enterprise Resource Planning Software is the piece of technology that changed the surface of enterprise management in the late 90s when it first appeared. They are still relevant to the current needs and requirements of enterprises, but the time to reinvent them has come. 
The main goal of ERPs is to create a unified ecosystem for data storage. Current industrial IoT trends amplify this capacity and open up new opportunities for manufacturers. Smart devices and sensors can collect data about almost any process, facility, or for any objective required, and automatically transmit these readings directly to your ERP system.
Hence, you spend less time on data collection and enjoy deeper, real-time process monitoring now. But in the nearest future, such integration may develop into a higher level of automation between manufacturer-client. ERP usually takes care of almost every aspect of a business: customer relationship management, supply chain optimization, etc. It is highly possible that the connectivity between ERP and IoT will allow clients to send direct requests to the machines, sparing the involvement of humans in this process.
Related Article
Considering updating your old
ERP system
? Learn what you need to develop a modern ERP in this article.
IoT Trend
#4: Manufacturers Gain Greater Visibility into Big Data
The truth is that all industrial IoT trends are based on the idea of data, and it's gathering. Industrial Big Data plays a great role in the new approaches typical for Industry 4.0. Basically, the concept of a smart factory is built around accurately gathered and precisely analyzed data.
While working with big data, there are several challenges: how to gather necessary data efficiently and how to give it value. The second objective may be solved with the help of artificial intelligence, and one of the IoT trends in manufacturing can contribute to the first one. 
The more data you get, the deeper insight you might receive. IoT devices may be tracking those parts of your production or supply chain that can be unreachable for other technologies, and this makes IoT so valuable in the context of big data and its role in manufacturing.
IoT Trend
#5: VR & AR with IoT Binding Physical and Digital Worlds
Virtual and Augmented Reality is a helpful way of answering the question of: "What to do with all this data?" VR and AR give an opportunity for real application of IoT data, hence it doesn't let the data go to waste and lose its original purpose. 
Like a lot of other possible integrations on IoT basic, the bunch of IoT and AR / VR brings significant economic benefits, like reduced costs, increased profit, new opportunities to product or service lines, etc. 
To paint a graphic picture of this IoT trend, let's dive into some examples of use cases of AR / VR and IoT applications working together:
Educating employees: it is possible to create a virtual prototype of equipment, machinery, or product, and with the usage of IoT data, construct a simulation in which your employees can learn how to correctly use it.

Managing spaces: AR can help to determine the best strategies for optimizing inventory locations on the factories or in the warehouses, as well as create the most optimal routes for workers to navigate through facilities.

Managing equipment: The data collected by IoT sensors on the state of equipment may be transformed into virtual elements that will visualize breakdowns and crashes in real-time.
Looking for a team to implement these IoT trends to your industrial ecosystem?
Our team has experienced specialists who will lead you through this process.
IoT Trend
#6: Combine 3D Printing and IoT for Customization
3D printing that powers additive manufacturing is a new word in product manufacturing. It makes creating a new product fast, easy and cost-effective, especially if compared with more traditional approaches to manufacturing. IoT in manufacturing helps you go even deeper and improve customer relations by making custom goods.
With these industrial IoT trends, you can collect behavior data from your clients and use it to redesign and update your goods. You can get a peek into the real struggles and problems your customers have while using your product, and hence, present a better version. 
As an example, you can think about sports equipment: rockets, bats, or golf clubs. IoT sensors can read the data on how players hit balls and later create equipment optimized for better player performance. The same principles may be used for manufacturing car tires or other parts.
IoT Trend
#7: Predictive Maintenance Applications Boosted by IIoT
Predictive maintenance is one of the most discussed Industrial IoT trends, so, if you haven't implemented it yet, it is certainly something worth at least considering. Investing in the technologies that support predictive maintenance is investing in:
the longer life cycle of your assets;

reduced maintenance costs and time;

better equipment monetization, as you will prevent breakdowns when your equipment can't work, hence can't generate revenue; 

increased physical safety of your employees, as risks of accidental breakdowns will decrease.
IoT, in comparison to other old-school solutions like SCADA (supervisory control and data acquisition), is able to generate a great amount of data for analytics that is necessary for predictive maintenance to work.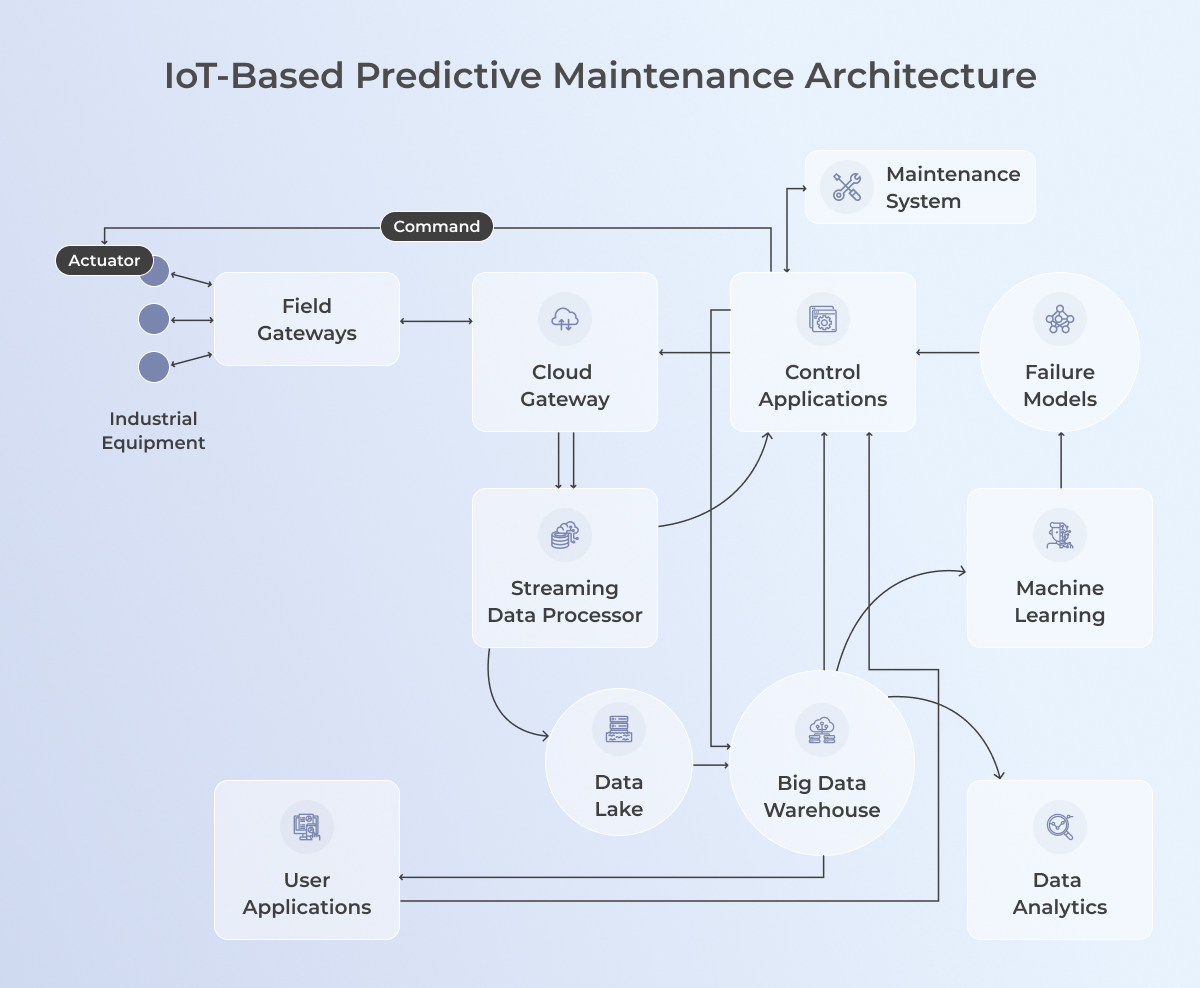 If the previous IoT trends were about new ways of how IoT implementation may boost or change your business, then the last one is more about important concerns you should consider when adopting IoT. 
Despite all the visible value IoT trends in manufacturing bring, it also exposes your system to cyber threats. IoT devices unfortunately are well-known for their unreliability in the matter of cybersecurity, and often get hacked. Hence, cybersecurity becomes a major focus for IT specialists.
This concern is valid for any IoT owners. But manufacturers have more at stake than regular users with wearables. In smart factories, IoT devices are responsible for a high level of automation and employees safety, so any misstep or breach may lead not only to data leaks or malware/ransomware infections but to production failure or accidents leading to employees' injuries. 
The main means to protect the IoT ecosystem include:
always keeping track of physical IoT devices and don't let them get lost or stolen;

regularly update them and take out of use those that have become outdated;

identify risks and run risk assessment; 

divide IoT devices into separate networks from other devices;

use encryption.
Adopt IoT to improve the performance of your business.
Choose GBKSOFT as your IoT software development company.
In Conclusion
Internet of Things has become an integral part of smart manufacturing in the Industry 4.0 Era. It was always about data and automation, and nowadays, as the technology proved its impact, it progresses further and creates new IoT trends in manufacturing.
You can get the biggest value from IoT by combining it with other top technologies and software pieces. ERPs, AR/VR, 3D printing can also increase their power by being back-uped with IoT. Determine what areas in your business you aim to improve through our prediction in IoT trends. GBKSOFT is standing ready to help you through your IoT journey. 
IoT has a wide implementation in manufacturing. The main goal of IoT there is to automate flows, reduce human involvement, increase safety, and generate data that will represent the state of the factory in real-time.
The latest IoT trends are mostly connected to IoT integration with other technologies, like VR/AR, 3D printing, ERPs, etc. The applications of IoT widen, there are more approaches on how to use it and get real impact on revenue and production quality. Another valid trend is the focus on cybersecurity, as IoT devices are prone to cyberattacks.
IIoT stands for Industrial Internet of Things. It includes smart sensors and other devices that are mainly used in manufacturing and related areas to automate manufacturing processes for greater economic benefits. This field is constantly growing, so a lot of new Industrial IoT trends arise.