These days time becomes a luxury resource. Busy with their daily routine people have less and less time for such ordinary things as shopping. And yet they still need to buy new clothes and sometimes they even need a professional advice to select the most suitable and modern pieces. 
Back in the days, wealthy yet too busy people hired personal shopping assistants who did all the job. This service was rather effective as professional stylists could pick matching outfits and create stylish look for each client individually. They were also responsible for comparing prices and finding best deals.  For example, such luxury chains like Barneys New York even offered personal shopping assistants as an additional service. Clients were only asked to visit a store and specify what clothes for what occasion they'd like to buy. 
But that was earlier and now online stores have changed shopping rules. Now consumers don't have to make a single step out of the room to get a new fancy clothing item. No more queues to fitting rooms, no more crowds during sales season, no more endless fittings.  All you need to shop now is your mobile device or a laptop. Jus a couple of mouse clicks – and voila, your dream pair of shoes will be delivered right to your door. The era of online shopping assistants has begun.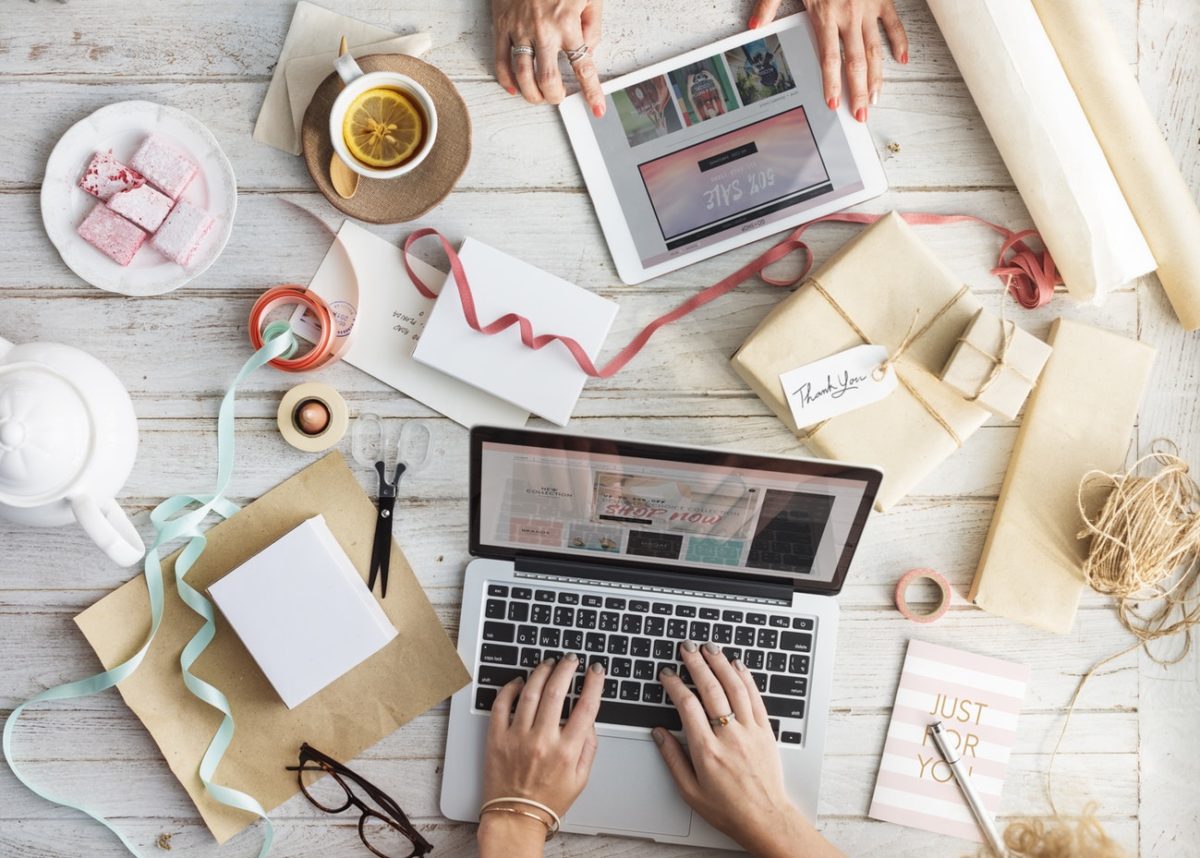 Taking into account how trendy personal shopping assistants are and how many companies invest into their development, we have decided to dedicate a whole article to such solutions. We will cover the obvious benefits of online shopping assistants, key features that you should consider adding and of course some great examples of personal shopping assistant apps. Can't wait to read it? Then let's get started!
A Piece of Online Shopping Research
Digital marketplaces like eBay, Amazon, Asos, etc. make online shopping convenient, fast and personalized. People spend millions of dollars online and they tend to go mobile when searching for new outfits. To prove our point we have looked for a recent statistics and managed to discover that while people from all over the world still make more orders via desktops, the larger amount of traffic comes from mobile devices, see: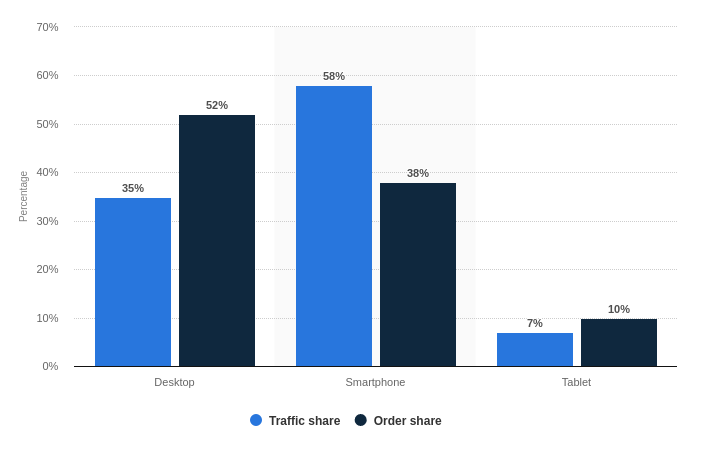 Image source: Statista
So taking into account this statistics we can say, that mobile personal shopping apps have a huge potential if you add a handy set of features, categorize everything in the app properly, and incorporate convenient payment method. Personal shopping apps are rather new niche and there is still a place for innovation. So if you want to enter the market with a new application, this might be a perfect option for you. This investment will definitely pay itself off.

Building a personal shopper app might bring new experience to the consumer market and enhance people lives with such scarce resource as time. But this is not the only one benefit of such solutions. Let's speak about others even more exciting. 
Benefits of Personal Shopping Assistant App
It is not a secret that customers like great and fast service. And now with the outbreak of pandemic they prefer not to leave the house and purchase everything online. So if you have a local store, showroom or just a department in a huge mall, it is time to think about personal shopping app. To have social media account and sell clothes on them is not enough. People need something better, that has more advantages. And among ones offered by personal shopping app you'll see the following:
It saves time and money
Online shopping might be fun but it can also be time-killer. You may still get hundreds of products, even when you have put a filter to find the black dress under $100 in a digital store. Why spend hours searching for the ideal dress when you can simply tell your personal shopping assistant to do it for you? And what if you could replace full-time employee (who requires a salary) with an automated technology? It's definitely a win win solution! 
It finds the best deals
Shopping assistant apps go far beyond simple price comparison. Add an item to favorites and wait until the app alarms you that desirable product is on sale. Such shopping application can obtain data from both retailers and online stores to inform users of best deals, sales, special bonuses or discounts. The main idea of virtual shopping assistant is to save your money instead of making you spend more on unnecessary services.

You've probably heard about the solution called Mona – an AI-powered personal shopping assistant. It is such a handy solution that it does all the job for the customers. It helps you find the best possible price and various promotions.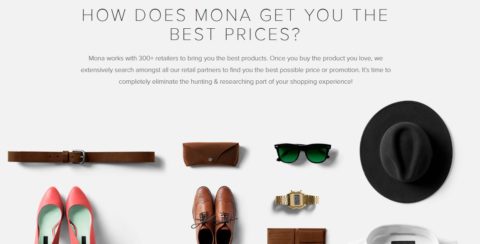 Image source: Mona
It keeps shopping records in one place
Shopping assistant app keeps all the purchases organized so you can review the shopping list anytime. An app constantly tracks transactions to make it easier to control spendings. Quite a handy feature for shopaholics, isn't it? With personal shopping assistant you don't need to worry about saving checks or else. 
It makes your shopping personalized
Modern marketplaces usually offer us trending goods or similar to those that we've reviewed. But such propositions may not fit your body type or the occasion you buying it for. However, the more time you use personal shopping assistant app, the more information about your preferences it collects, learns and, thus, gives you more personalized recommendations. Over time, built-in artificial intelligence will understand your preferences better and guesses your needs like an old friend.
Already feel inspired and want to build your own personal shopping assistant?
Contact our team to get a free consultation, shape your idea and get a quote.
Top Features of Shopping Assistant App 
Generally, shopping assistant apps are powered by pure Machine Learning or combine AI with real humans guidance. That means a real-time check of data proposed by intelligent assistant by human admins. In the meantime, thanks to computer learning and smart algorithms, apps can learn and analyze human tips and provide users with better shopping experience.
Below we'll briefly list the most common features that you should consider before building your own personal shopping assistant app:
Image recognition
This
is a great alternative to simple text search. Adding visual search allows users to find similar items for shopping. For example, you if find a picture of perfect coat somewhere across the internet you can upload it to shopping app and it will help you find stores where you can purchase it or propose similar coats.
Price filter algorithm
It tracks the prices within numerous retailers and online stores, discovers sales and discounts. Moreover, it can learn and predict price changes, so you'll never overpay.
AI-powered chatbot
This option can become virtual adviser, consultant and salesperson at the same time. It's available 24/7 and works as a client support manager. If you want to find a fancy hat at midnight, just type your query, answer a few questions and get the relevant result. Numerous brands have already implemented
chatbots
to cut expenses on call centers.
Personalized recommendations
They can be powered by artificial intelligence as well. The algorithm analyzes user's actions, brand or style preferences and provides recommendations based on the previous experience. Personal shopper assistant app can recommend items to finish the outfit or inform you about discounts of your favorite brands.
Tracking orders
This
is an essential feature for shopping assistants that support in-app payments. Search, order, purchase, and track your packages online!
Voice recognition
Needless to tell that these days
voice assistants
are very popular. And personal shopping apps can also benefit from this feature. Users search for clothing items using their voice, request the app to tell prices or give a personalized recommendation.
Coupons generating
All customers like special limited-time offers, so you can benefit from this option and offer coupons that will be generated in the app. The users will be able to apply them while making an order in one click.
Apart from these must-have option we have collected so-called honorable mentions that can also be appreciated by the users of your personal shopping assistant app. They are the following:
Convenient payment gateway so that your customers can have several payment options.
Booking a real appointment with personal shopping assistant in your clothing shop or showroom.
Wish-list creation so that the clients can add numerous items that can become their potential purchases.
Membership loyalty program to reward your regular clients and offer them special deals.
Live-streaming option to demonstrate some goods in real time and attract customers attention.
Chatting option so that your clients can contact real shopping assistant or ask your support team for help.
Email integration that will help you organize email marketing and recommend interesting deals whenever they are available (seasonal sales, Black Friday offers, etc.).
How to develop your own personal assistant app? 
When it comes to development, the first thing you should start with is holistic research. Search for the competitors solutions, examine the features they offer and technologies they use. And then start shaping your own app idea.
It is preferable to complete pre-development stage called Discovery with a Business Analyst that is usually provided by a developers team that you hire. Business Analyst will help you define the key feature set, determine a scope of work, select necessary tech stack and create specifications that will be a guide for your team.
Once the pre-development stage is over and you get all your technical documentation, the prototyping and design starts. The designer creates a unique look for your solution, wireframes that show what button and section will be located in an app and where exactly. When you agree on your design, the team proceeds to coding and performing third-party integrations (if needed). This is the longest process of all named, and after it is finished the quality assurance takes place. Our testers check if everything is compatible, if all functions work properly and if the performance of the app is great. Once the quality assurance is over, your app is ready for a release and use.
In general, the development process takes 3-6 month (depending on the app complexity and technologies used). And to build such a solution you need the following specialists:
Business Analyst;
Software Architect;
Web/Mobile developers;
Front-end coders;
QA engineers; 
Scrum Master. 
The development term depends directly on the feature set that you'd like to incorporate in your app and overall complexity of the solution. For example, it takes longer to develop an AI-powered app than an app with live-streaming option. On average your solution may be developed within 3-6 months.
An MVP
can be released a bit faster.
Based on our experience we can say that such solution powered by AI, ML and other innovative technologies costs around $100,000 – $120,000. A minimum viable product will cost you $60,000 – $80,000. It will contain a basic set of features that can be expanded in the future.
To conclude
In a modern world full of temptations, personal shopper app becomes a fairy godmother for many shopping admirers. Moreover, the market is not yet overcrowded with competition, giving you a head start on this ambitious project.
It does not really matter whether you own a huge store or a small local shop, you definitely need to develop a personal shopping app to expand your client base, boost sales and improve customers engagement. Just choose a basic set of options, spice them up with the latest technology like AI or live streaming and see the sales skyrocketing. 
Ready to build your own shopping assistant app?
Hire Altamira team that has 9+ years of experience and can build a solution of any complexity from scratch. You will get a great app at the best price/quality ratio.