The rental real estate management is not the most straightforward job since you need to find a tenant and take payment and perform many tasks related to real estate maintenance, accounting, etc. The more real estate objects you have for rent, the bigger is a need for software to automate processes and free up time and reduce costs.
By developing custom software, you don't get a solution here and now. After all, to make a high-quality solution, you need to conduct a discovery phase to study your business processes, your needs and create useful software that can make life easier and more comfortable, automate the processes associated with managing tenant data, payments, and more.
So in this blog post we'd like to talk about smart property systems and their must-have features, and point out why custom real estate software development is the best choice for your business. And, without further ado, let's get started. 
What is a smart property system for real estate?
When it comes to real estate business it is hard to imagine how all real estate agents and every property manager can work without a software. They have to control so many processes starting with rent collection and tenant management, and ending with online payments and portfolio management.
In 2022 real estate industry cannot function and grow without a reliable all-in-one and preferably cloud based software. And that is exactly what smart property system is.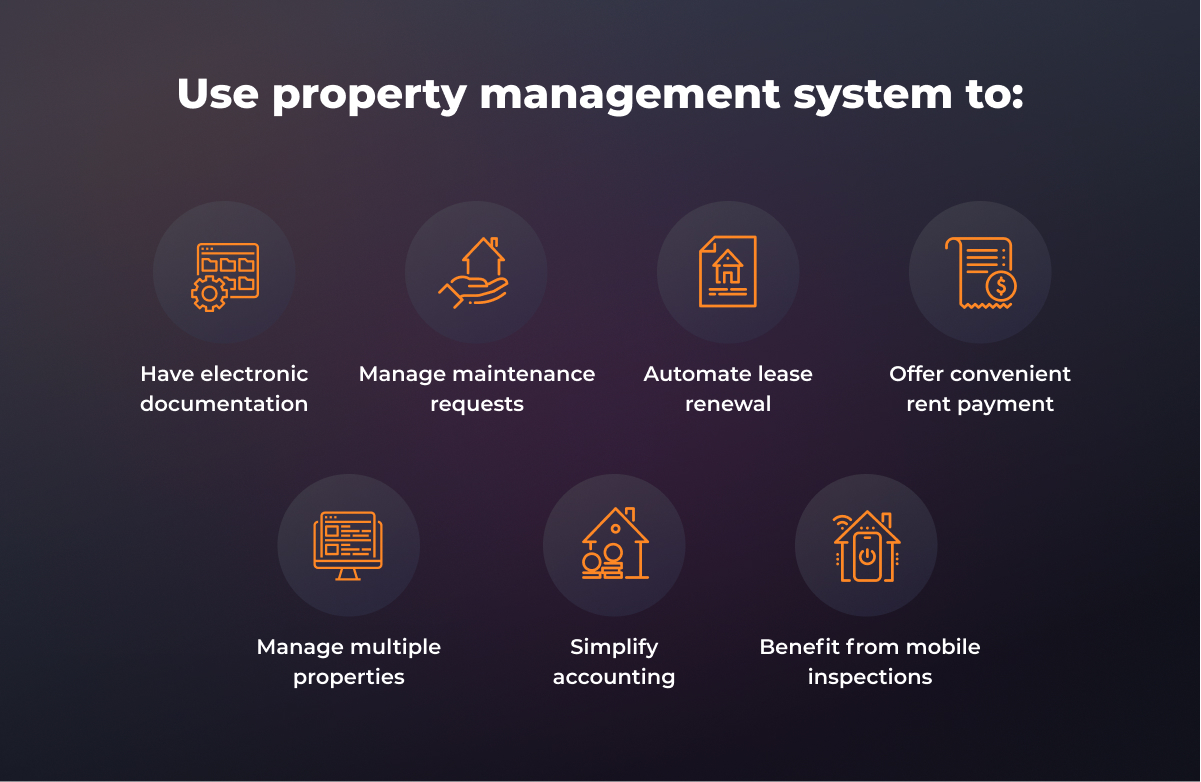 In general, such system is multifunctional solution that streamlines and automates dozens of real estate operations. Thanks to a smart property system with the right core features a real estate agent, building owner or property manager can:
perform lease management and vacancy management;
automate tenant and lease tracking;
set up and run marketing campaigns;
manage and track maintenance requests remotely;
take care of financial accounting;
use tenant portal for effective communication;
monitor performance indicators and earn great commissions.
Additional information
Usually smart property systems are powered up by the advanced technologies such as AI, ML, IoT or Big Data. So if you are interested in some real use cases, we would highly recommend you to read the post about
IoT in real estate
and specifics of
PMS solutions development
. 
Why build a custom property management software?
There are two types of modern property management software – commercial products and customized solutions. The former has fairly comprehensive functionality, but users often face certain limitations. So if you need all in one solution for your real estate professionals you need to choose custom property management soft.
It will perfectly match your needs and offer tremendous scalability potential. But in comparison with out-of-box software, custom solutions are more expensive and you need to be ready to cover these additional costs.
The benefits of a property management system are quite impressive. Here are just some main reasons why you should consider creating custom property management software:
simple navigation and control. Ready tables are good, but do you use all the fields there? Some areas are likely missing, and you have to put this information into separate documents that you cannot find today. By reducing the number of third-party tools, you can achieve better management standardization and efficiency.
unlimited channels for attracting tenants. With a personalized property management system, you can cover all distribution channels for your rental services.
24/7 customer support. Built-in chatbots and virtual assistants provide excellent support for your tenants in those moments when you cannot answer them.
data protection. The property management system is created under high cybersecurity standards, eliminating the risk of data leakage and fraud.
data analysis. With access to real-time data, you can quickly adapt your strategy to a changing environment. This approach helps your company grow and improve efficiency.
increasing loyalty. Thanks to a simple and intuitive application and instant notifications and personalized marketing, regular and potential customers will feel your respect and care. A personal account for tenants makes the user interaction more fun.
scalability. Custom solutions are always designed to be extensible so that missing modules can be added in the future to cover growing needs.
Let us help you add value to your business as you expand this state-of-the-art software technology platform and services to your tenants and other members.
What every custom property management system should offer
We hope that the benefits of a personalized digital rental property management solution have become more transparent for you and that you may already know ​​what kind of solution you would like. If so, we would like to help you with useful functions for your future proposal. To do this, we analyzed dozens of solutions to highlight the next options:
#1 Multi-calendar
It is only a must-have for a rental property management system. Multi-calendars display the existing leases and applications for vacant premises in one place, which come from different channels.
Usually, it also shows the number of tenants and the terms of their contracts. You can add information about each tenant to have a complete picture of each tenant. Also, you can add waiting lists if your property is busy.
#2 Automated processes
If you are faced with the choice "to automate or not to automate." It is worth choosing the first action. First, you need to analyze all the processes to highlight those that do not require human observation.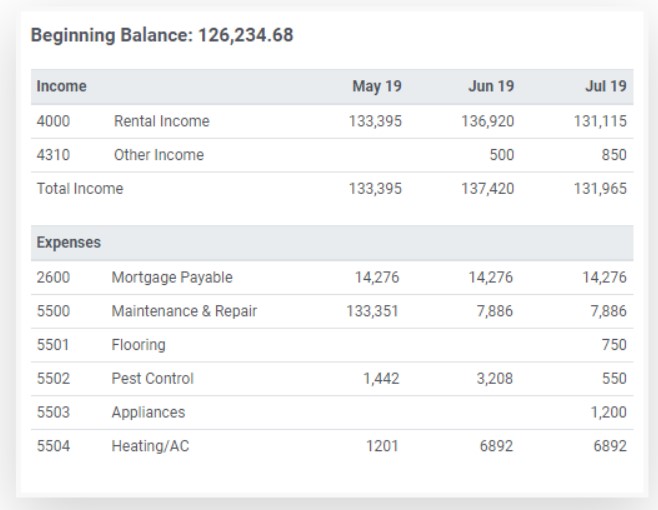 These can include accounting and communication, automatic notifications, autoresponders and payments, and more. You can also create various email templates to deliver more personalized messages and schedule times to send them.
#3 Centralize your business management
Agree that running any business, and even more so in the field of real estate, requires performing routine tasks that can distract from more important tasks. To develop rental management software, you can delegate some of your day-to-day tasks and consider integrating a task management module.
Operations that are repeated from day to day can be automated and delegated to a centralized computer system. As for individual actions, they can be processed manually. Developing a mobile task manager will allow your team to be flexible and complete assigned tasks on the go. Task reports and smart notifications can help you centralize your business even more efficiently.
#4 Payment
Today it isn't easy to imagine a custom property management software without a built-in payment module. A high-end solution should include the integration of deposit and balance payments, reminders, and email notifications.
Of course, it's crucial to track payment-related information so that you and customers can view payment information efficiently and seamlessly.
#5 Scalability
It doesn't matter how big your business is. One day you will want to expand. In this case, your solution must be ready for a new level of development.
For example, you decide to add new features, or you have a new apartment building. It is important that scalable software can be extended or integrated with third-party solutions at a minimal cost.
#6 Keyless experience
These days, you can add keyless entry to your app so that the customer doesn't have to use a key to enter the premises. Thus, you do not need to organize a meeting and waste time.
#7 Safety techniques
Today IoT technologies are gaining popularity among real estate companies. Adding an IoT connection to your software will enable you to manage your property better.
You can connect smart devices such as smoke detectors or stoves to your app. This way, you will receive real-time notifications if something goes wrong.
Before introducing new features, we advise you to consult with your employees about what would be useful to include in your solution's functionality and how they see the implementation of this. Thus, you can create the most convenient solution for your staff, saving time for training.
Must-have features of a smart property software
To illustrate the set of crucial features that your custom property management system should have we explored the market and several ready-made solutions. We stopped our choice on Smart Property Systems because it has the richest feature set by far, and we'd like to point out the ones that may spice up your property management software.
Work with all kind of real estate
your digital solution can support private, multi-family, residential and association properties, mobile parks, and commercial properties management. So your property managers can also work with owner associations using SPS.
Automatic rental accounting
all data can be collected and processed entirely as soon as it is entered. When the tenant pays for the rent, the system may simultaneously processes this information and keep track of funds. That saves a lot of time because nothing needs to be entered again.
Secure electronic rental management
I with a fully integrated electronic signature and signing process, you can be confident that your documentation is accurate, legal, and enforceable, and also manage
access control and security systems
.
Reports
Receiving reports on all business processes is an integral part of the activities of any company. The reports must be detailed and accurate so that you can make informed business decisions.
Schedule of inspections
It is crucial to carry out timely inspections of the rented premises to ensure their quality condition. The app can build a schedule of checks for each rental unit, which allows you to keep everything in one place, not in your head.
Service requests
The application may have a message center, through which the management company can communicate with all tenants and contractors who serve the property.
Tenant screening
This function allows you to select from potential tenants only reliable and with a good credit rating. Tenant verification reports contain credit ratings and recommendations. The report verifies identity and Social Security number, verifies convictions, and National Security records.
Automated alert for tenants
You no longer need to compile or send payments and notifications manually. Monthly reports are generated for you by the property management platform and automatically sent to your tenants. The statements contain all new and recurring payments and show the current balances reflected in each tenant's account history.
The cost of custom rental property management software development
The cost of rental property management software is mostly subscription-based. The price ranges from $ 0 to several hundred dollars per month (affecting the number of managed properties through the program). Undeniable – free software looks very attractive to landlords and property managers.
There is only one note that free software usually has a limited number of functions and does not have additional marketing and accounting tools. Also, you will rarely find the ability to access from anywhere in the world and the ability to track the insurance policies of renters. And most importantly, when using a free digital solution, no one guarantees data security, which is a critical point.
As for custom property management systems development, we recommend starting a project by building an MVP. Thus, you can get a large investment to get a digital product with a basic set of functions, and as users give you feedback, you can add the necessary features. Especially for this, we calculated how much it would cost you to develop an MVP.
| | |
| --- | --- |
| Development specialist | Hours |
| Product Owner | 660 |
| Design | 445 |
| HTML/CSS | 550 |
| JS Front End | 1656 |
| PHP Back End | 2006 |
| Manual QA | 1348 |
| Admin | 64 |
| Scrum Master | 1004 |
The estimate is approximate since each such software is an individual solution with a specific set of features created for the company's particular needs.
Want to know the price of your project?
Let's discuss its functionality
Choose our team to build your real estate solution
We are a team of tech experts who helped numerous real estate companies to digitalize and optimize their business. Our developers create multifunctional and cloud-based platforms for property management, maintenance management, employee engagement software with key performance indicators, IoT powered solutions for building owners and many more. So if you are focused on building custom property management system, we are your team.
We know that examples speak louder than words, so we'd like to share one success story with you. Recently our team has built and released smart software for real estate business called Highrise.
This is an advanced rental property management software built with the tenants and property managers in mind. Highrise helps tenants to book houses via a mobile app, and property managers to monitor properties from the advanced admin panel.
This solution automatically parses the data from the public boards of building violations, detects newly registered complaints and violations, and informs property owners about them. This helps to prevent many issues and fix them at early stages.
Highrise was created by our top software engineers who used Yii 2 framework.  Speaking about the features that, Highrise has, we'd like to point our the following ones:
Advanced admin panel;
Electronic documentation;
Integration with Stripe
Data synchronization;
Advanced properties list;
Notifications option;
Payments for services.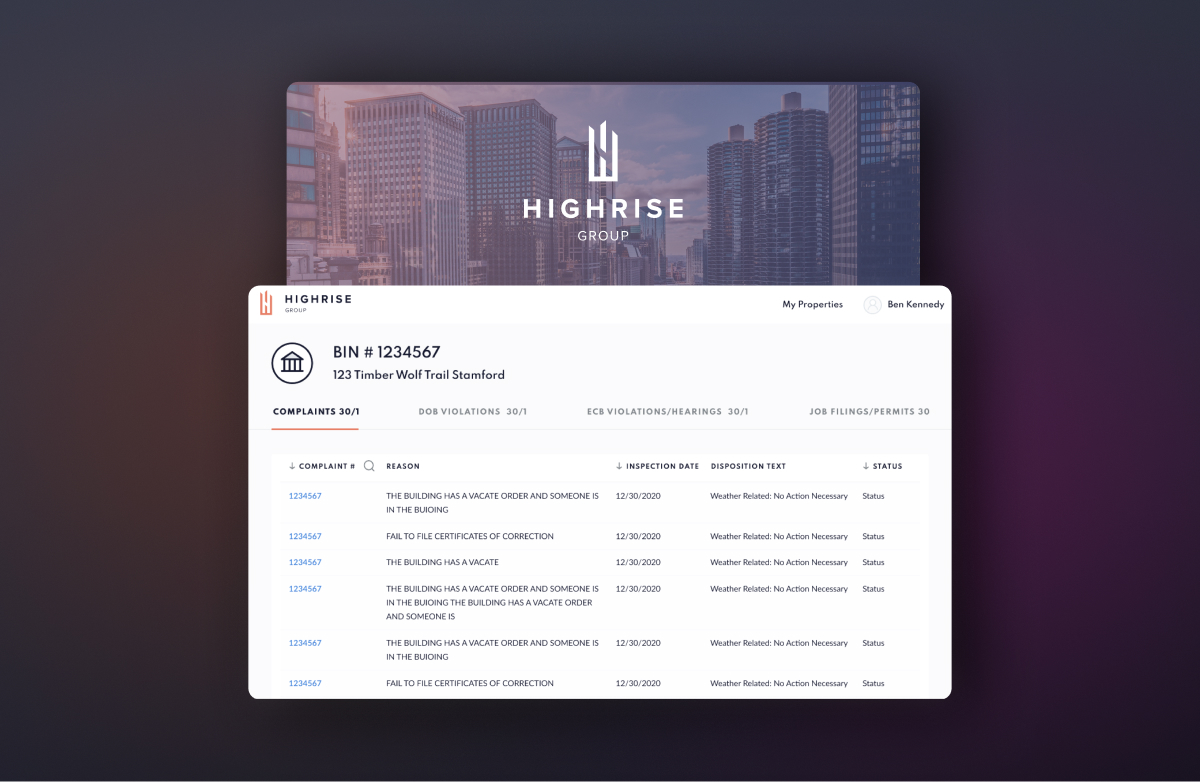 Rental property management software is a digital solution designed to help property owners, property managers, and companies who own real estate manage their multiple properties effectively. Good management leads to increased profits, which is why it is so vital that tracking all transactions is in one place and is as automated as possible. Property management software optimizes processes such as: screening tenants, rental management and maintenance requests management Also, some software includes accounting and marketing instruments, which can significantly reduce the time it takes to advertise vacant apartments and perform financial management.
When building your property management system, you may face the following obstacles: the ever-changing business environment requires constant software proprietary updates; overly complicated architecture and the interface can lead to usability problems; an ineffective cybersecurity system can lead to a guest data leak; incompatibility with pre-existing management systems can lead to problems with data import/export; systems without multilingual support are likely to be abandoned by users.
Yes. The software product allows you to view a renter's credit history and reviews from previous homeowners. It has the verification system that verifies the tenant's identity, felony conviction, social security number, and checks against national security records.
To conclude
Investing in custom software can seem expensive and daunting compared to turnkey solutions. However, if you count the numbers and consider the risks, you can see that custom property management platforms can bring tremendous benefits to your project.
In addition to reducing the amount of administrative work, a property management system will increase customer satisfaction, and you can also find good tenants easier. After all, quality rental property management system has tenant screening tools to help you find tenants with a clear track record and the ability to pay rent on time.
With the help of built-in tenant portal you can get instantly informed about maintenance requests and ensure the fastest repairs possible to keep your tenants satisfied and preserve great building conditions. Ad that's what matters the most when it comes to real estate business. 
Do you need a custom property management solution for your business or want to rebuild an existing system?