Technological changes cover the globe and continue to shape the ways people conduct their businesses. The IT industry is a driving force in the world's market so a demand for qualified IT specialists continues to grow. Now you might be thinking, where do I find these expert developers? Can the local market offer highly-skilled specialists on good terms?
Companies are trying to strike a balance between the costs of developing new projects/solutions and quality expectations. If you consider specialists from Eastern Europe, namely Ukraine, they are affordable yet not inferior in terms of the quality of custom software development services they provide, compared with the world's leading IT companies. It is worth mentioning that companies such as Skype, Boeing, and Bosch were initially among the first to see the potential in software developers in Ukraine and began to attract them to work on their projects.
In this article, we will talk about the benefits of custom software development companies in Ukraine, their target market, their detailed locations in Ukraine, areas of cooperation, and business models. Moreover, we will look through the list of top custom software companies in Ukraine so you can make the right choice for yourself.
Benefits of hiring custom software development companies from Ukraine
Ukraine is a quite famous destination for custom software development companies. Its popularity grows every year and it's obvious according to the range of advantages that can be observed. What makes it a recognizable tech pool on the global market? Let's give a look.
No doubt that it's an important feature because, before the start of cooperation, the client considers various opportunities and has approximate budget expectations. The fact that you can reduce the cost for the product without compromising on quality certainly looks like an advantage.
The hourly rate of Ukrainian software engineers can be twice as beneficial, compared to the US IT specialists. For example, an average hourly rate for a senior developer in the US is $65–$130 per hour while in Ukraine it's around $30–$60 per hour. 
Availability of high-skilled IT specialists
Amount of software engineers in Ukraine grows every year because more than 20,000 young developers graduate from universities. The availability of talented software developers and their high level of qualification means that the product will be valuable and of a high quality, and therefore profitable for the customer.
Ukrainian custom software companies provide innovative and high-quality products 
For example, at Altamira we use up-to-date technologies (like AI/ML, IoT and many more), our team of skilled developers values and follows high coding standards, makes data-driven decisions, and offers software solutions according to the business needs of a client.
Raise the effectiveness of the company
There is a professional team in the specific company which has significant experience and an established process of work, which performs tasks of various complexity and most likely has already worked with the project you are thinking about. Nearshore developers raise the effectiveness of your company thanks to available solutions and effective work.
A customer will pay attention to the company's development rates and client reviews. The high development rates of a company will prove the skills of its software developers. This fact helps to be sure of the quality of his future product and the cooperation as well. 
Attractive geographical location 
The time difference is insignificant, compared to the other European countries. Ukraine is easily accessible from every European city. As for the USA – it also has quite convenient time for cooperation, Ukrainian's afternoon and evenings are the appropriate working hours.
It's important when your custom software development partner has similar cultural values and lifestyle so it's easy to understand each other, share goals, and be on the same page. Ukrainians are a western-oriented nation with a European lifestyle, views, and opinions.
Language (high level of English)
English knowledge as an international language is an absolute paramount in Ukraine. It is also a preferred language of communication between clients and development companies. At Altamira, we have high-educated and certified English-speaking IT specialists.
Software development companies in Ukraine
Here we will look on Ukraine as a custom software development services provider by considering the following:
Ukrainian companies' growth (year-number ratio)
The target market of companies
Location of Ukrainian custom software companies by the cities
Leading areas of cooperation
The Ukrainian custom application development companies
Ukrainian companies' growth
Most Ukrainian software development service companies work with clients worldwide, and it has a positive impact on the IT industry in Ukraine. As it was mentioned before, the number of software development companies in Ukraine is growing steadily. 
The target market for software development companies in Ukraine
According to the report, the United States remains the primary target market for most software companies in Ukraine, accounting for about 80% of exported IT services. It is followed by the UK (64%), Germany (60%), etc.
Altamira is one of the top 20 mid-sized IT companies with the office in Ukraine. It builds long-lasting relationships with clients from various countries, mostly from the USA and Europe. We are growing and expanding our workforce and improving the technology stack that we're using. Our highly skilled specialists offer consulting services, can create software development solutions from scratch, or help integrate software into the existing working environment.
We offer the opportunity to download the booklet to get to know Altamira better!
Custom Software Developers by the Cities in Ukraine
There are five main IT clusters where most of the custom software development companies in Ukraine are located in Kyiv, Kharkiv, Lviv, Dnipro, Ternopil, and Odessa.
The above cities all have immense talent pools, but more than 40% of all software development companies in Ukraine are located in Kyiv. By the way, about 73% of all Ukrainian software developers are outsourced.
What type of software development is trending in Ukraine?
The most popular areas of business among software development companies in Ukraine are e-commerce (31%), finance (37.5%), education (19.2%), telecom (10.7%), and healthcare (32.5%), with most companies offering services in more than one domain.
Ukrainian custom application development companies
Most Ukrainian development companies tend to focus on iOS and Android development. In most cases, our clients prefer to go for iOS first and then Android. But since the last year, we have seen a trend of the growing popularity of Flutter development. Our developers at Altamira use this cross-platform technology because this framework allows you to get a product simultaneously for both operating systems quickly.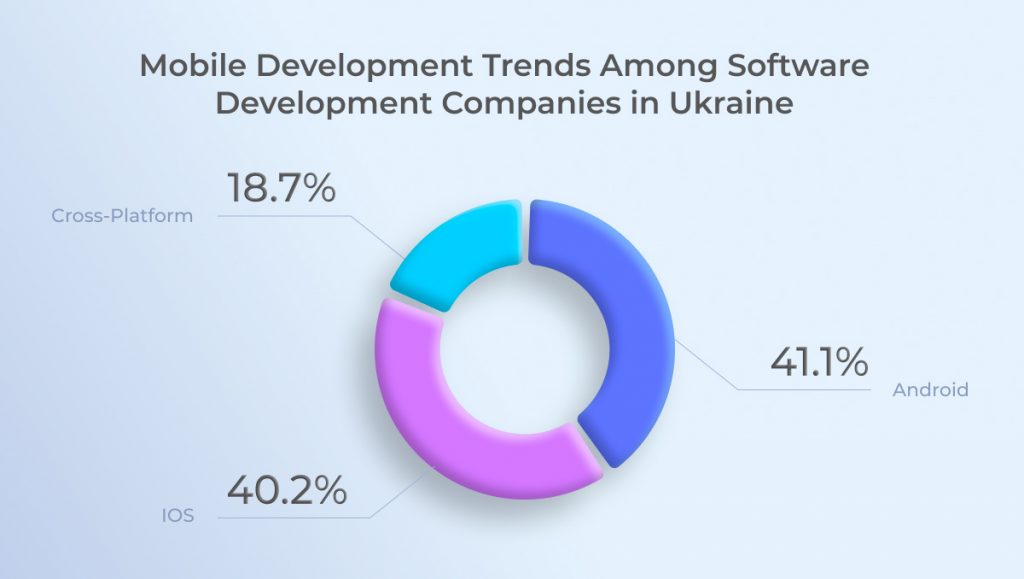 Among the clients who order the development of software for mobile devices are small and medium-sized businesses. Nevertheless, we have extensive experience in corporate-level projects: Ukrainian software companies have handled projects of the scale of Microsoft, Tiker Toker, Oracle, Amazon, Cisco, and Intel.
More than 60% of our colleagues do mobile app development also offer wearable solutions. In addition to this, many Ukrainian mobile application development companies have experience in IoT, AR/VR.
Altamira engineers develop iOS and Android mobile applications, leveraging high-quality UI/UX design solutions. According to the business priorities of the clients our software developers offer MVP, template-based app, polished app, maintenance, and outstaffed mobile web developers.
The Altamira mobile app development services include involvement, communication, delivery, project management, and and onboarding.
Top 10 custom software development companies in Ukraine
The tech world knows Ukraine as a country with a rapidly developing IT sector, highly skilled software engineers, and many reliable software development companies.
Which companies will lead the way and continue shaping the Ukrainian IT industry, providing the highest quality custom software development services in 2022?
We have selected the top 10 software development companies that have supplied software solutions to clients and well-known brands. Those companies have proven themselves to be reliable outsourcing partners. The list is based on such data sources as Clutch, GoodFirms, and customer testimonials.
Altamira (Kyiv, Bratislava)
A
custom software development company
with 10+ years of experience that offers a high-quality product service. Its clients include large companies, startups, digital agencies, and design studios from the United States, Western Europe, and Australia. Rather than just providing run-of-the-mill outsourcing services, Altamira prefers to establish and grow long-lasting relationships with its clients.
Expertise in BI, IoT, Fintech, Healthcare, Education, Social Network.
Services: web and mobile products from scratch, discovery stage, MVP, Flutter, social media apps, DevOps, consulting, marketin
The company is recognized internationally. Clutch recognized recently Altamira as a top software development company in Ukraine.
The team already has more than 700 different applications developed under their belt – creating a range of solutions starting from social networks and ending with corporate software. According to surveys, the level of customer satisfaction with the work of Altamira is more than 95%.
Kyiv, founded in 2002
A big software company has about 3,000 employees, placing it in the large-sized category of IT companies by Ukraine and even international standards. 
Services: enterprise application development, quality assurance, cybersecurity, and analytics. 
Ciklum is a recognized leader in DevOps and DevSecOps.
Ciklum sponsors many events, such as scientific conferences, seminars, and free programming training, supporting volunteering and social initiatives. 
Lviv, founded in 1993
This company also has offices abroad (London, Amsterdam, Sofia (Bulgaria), Wroclaw and Warsaw (both in Poland), and Stockholm) and in such Ukrainian cities as Kyiv, Dnipro, Kharkiv, Rivne, Chernivtsi, and Ivano-Frankivsk. 
SoftServe provides a wide range of services in cloud technologies, artificial intelligence, service design, cybersecurity, digital platforms, and robotics. 
It develops software solutions for the healthcare, retail, financial industries.
Kharkiv, founded in 2014
The company's team consists of engineers, developers, researchers, and analysts. 
Specializes in building the Financial Internet — a platform with improved high tech transact systems.
Distributed Lab's leading solutions are the development of TokenD, a modular system for accounting and asset management of any type. Based on TokenD, solutions for the tokenization of assets based on blockchain technology are created.
The company provides enterprises with a universal technology to connect their assets and accounting systems to the Internet.
Kharkiv, founded in 1994
The company is a leading developer of mobile applications and provides development services for enterprises, websites, mobile devices, and desktops. 
Services: web development, mobile development, consulting, graphic design.
NIX Solutions provides customized solutions for customers in the Americas, the European Union, and Asia.
Kyiv, founded in 2003
Software developer for online game industry. Over 70 online casinos cooperate with EvoPlay. 
Actively works with: in the CIS and European markets, and projects in Asia are also being prepared for launch. 
New b2b solutions and technologies are geared towards providing a great experience for millions of gamers. 
Now the company is actively developing a new direction – e-sport projects.
Kyiv, founded in 1991
The company's custom software developers deliver R&D, Application Management, Cloud & Infrastructure.
Company's services: software engineering, Microsoft services and consulting, infrastructure and cloud services, information security, SAP services, and consulting.
Recent proposals include blockchain as a service for enterprises and startups, robotic process automation, and anomaly detection.
 
Kyiv, founded in 1989 
Despite the fact that the company was founded in Ukraine, now Miratech's main activity is based abroad, with offices in Stockholm, Sweden and in Switzerland, Great Britain, Poland, and Slovakia.
Provides: the world's leading enterprises with high-quality outsourcing, business process automation, and IT consulting.
Develops: software in strategic innovation, cybersecurity, data analysis, smart enterprise, etc.
Lviv, founded in 2002
In general, Intellias is engaged in the development of complex software solutions. 
Specializes in: automotive industry, retail, Fintech, telecommunications.
Industries for cooperation: automotive, agriculture, transport, logistics.
The company is also one of the leaders in artificial intelligence.
Kyiv, founded in 2014
Terrasoft Ukraine is part of the international Creatio group of companies, which employs 600+ employees in offices worldwide. 
Provides products for: the management of sales, marketing, service, and operational business processes. 
The company's partners provide clients with consulting services and services for the implementation of Creatio products.
Prevailing business models among software development companies in Ukraine. How do they work?
Here are some of the most popular collaboration models used by software companies in Ukraine:
This model allows you to develop projects from start to finish where your software partner takes over all the development aspects. Outsourcing companies usually offer comprehensive services, including project management. It means that the customer does not need to have any technical expertise. A development partner will manage and oversee the entire process until project completion. Specifically, all aspects of the development process are performed by the vendor with minimal customer involvement.
Do you want to know the main reasons to opt for Ukrainian developers and software engineers? Please, take a look at statistics and facts — top Advantages of Web Software Development in Ukraine in our article.
This model is an improved version of the dedicated development team. In this case, the team is created specifically for the client's project requirements: you interview the developers and make your own hiring decisions. Moreover, you have complete control over the development process: from managing your offshore team as if it was your in-house team to scaling up and down at any point in your collaboration.
With direct communication and minimal involvement of third parties in the process, your developers are 100% committed to your project and achieving higher productivity. Besides, this approach is based on the so-called "Cost +" model, which includes salaries for software developers and a fixed monthly service fee.
Altamira's team has been working with all the above-mentioned business models so you can choose the type of collaboration according to your needs.
A dedicated team allows the customer to control the software development process better. It fosters more active team participation and collaboration because software engineers can only focus on one project at a time.
This model does not allow the customer to choose their software developers for the project (usually, you can only select from a limited number of candidates provided by the vendor). Moreover, project management is usually also carried out by the service supplier.
To sum up
Ukraine is a popular tech hub on the global market. Thousands of companies are ready to offer their custom software development services. Based on portfolio cases, client reviews, pricing, and cooperation approach it's easy to choose the right partner. 
Altamira advantages include flexibility, cost-effectiveness, fast-to-market solutions, and clear communication. Our specialists always stay one step ahead by applying best practices. They offer full involvement into your business processes by using an up-to-date tech stack (IoT, cross-platform solutions, web apps, and apps for mobile and wearables). Choose Altamira as your trusted partner and feel the benefits from high-quality products and excellent client services. 
FAQ
The most used web development tech stacks among Ukrainian companies are JavaScript (18,4%), Java (15,4%), C# (13,7%), Python (13,2%), PHP (10,8%), C++ (5,8%), TypeScript (4,4%). CMS solutions, including Drupal and WordPress, are less popular.
If you're serious about cost efficiency, outsourcing software development to Ukraine is your call. Look at it this way: the average hourly rate for a Ukrainian developer varies from $25 to $49, compared to the $60 to $100 a US engineer earns.
Most Ukrainian companies follow international security requirements such as ISO, PCI, HIPAA and devote a great deal of effort to training their staff and developing an effective security strategy. To check this, you can review the audit reports of the company that provide information about its security, availability, the integrity of processing, confidentiality, and privacy.