The past few years have been very challenging for all businesses. They experienced a crisis, a range of lockdowns, loss of stable income, and yet many companies started actively investing in digital transformation and looking for a new way to stay productive and profitable. Custom software has become a must-have for every modern company. However, not every company had a cohesive team to build that software. So what did they do? Well, they selected team extentsion services. 
According to statistics, the popularity of IT staff augmentation skyrocketed during the pandemic and grew by $132,9 billion compared to $95,3 billion in 2019. Speaking about worldwide spending on outsourcing recruitment, it was expected to reach almost $414 billion by the end of 2021. Very impressive, isn't it? 
Staff augmentation is a perfect option for companies that are trying to fill in the digital skills gap and build a high class custom project. However, despite the efficiency and cost effectiveness of this cooperation model, there are certain challenges that all business owners should carefully consider. Since we have been working as an augmented team for many years, we have some valuable insights we'd like to share with you. 
In this blog post we will talk about staff augmentation services, bust some myths, and suggest some effective ways that will help you overcome common staff augmentation challenges. We will also point out how to choose the right outsourcing partner and get the most out of your cooperation. 
All you need to know about IT staff augmentation services 
To begin with, let's talk about staff augmentation and what exactly it implies. Basically it is a remote working model where you find a company offering outsourcing services and hire necessary specialists from it. You can hire whatever specialist you need – quality assurance engineer, DevOps, developer of any seniority level, and even project manager. Everything depends on your particular needs. 
What's even better is that all hiring and recruitment procedures are handled by the outsourcing partner of your choice. By getting additional specialists you can be sure that you will have continuous access to those tech talents.
Team augmentation is the fastest and most effective way to expand your tech horizons and hire specialists that meet your project needs and requirements perfectly. The company of your choice will provide you with the CVs of their specialists, select the tech talents of necessary qualifications and experience, sign with you a contract or any kind of necessary agreement and help with the specialists onboarding process. 
As you can see, such a cooperation model is a win-win for both you and the company offering staff augmentation services. These days it is easier than ever to enrich your in-house team with highly talented and experienced professionals. Whenever you lack some extra hands you just reach out to a company and request what technicians you need and for what purpose. 
The Main Steps of Staff augmentation process
To get on with the staff augmentation process you need to accomplish several steps, which are the following: 
Identify your current skills gap; 

Think about the number of specialists you need and their seniority level; 

Consider your budget and approximate duration of a project;

Specify with what technologies your future team members should work;

Get in touch with the remote team and discuss all details;

Complete hiring and onboarding. 
Everything is just as simple as that. Team augmentation lets you save time, operational costs, and achieve a high level of scalability and productivity while having a full control over all processes and progress of your project. 
There are several main scenarios when staff augmentation becomes the best possible option for business. Let's take a closer look at them: 
Need for specialized skills

– when your team lacks certain tech knowledge, necessary skills or expertise to build or modernize your project, it is high time to resort to team augmentation and get that narrow expertise in no time. 

Need for increased capacity

– in case you need to scale your development very fast, choose staff augmentation and be sure that the hired specialists are of necessary seniority.

Need for a cost efficient alternative

– an in-house team is great, and yet hiring additional full-time employees may not be so affordable while team augmentation will be. 

Need for a long-term partnership

– if you are building a complex project, team augmentation will guarantee that the hired extra hands will stay with you up till the project end, generate expertise, and add value to the development. 
We have 100+ experienced technicians who can become a valuable part of your team and help you build an app of any complexity.
Advantages and disadvantages of working with augmented team 
Now when you know why businesses resort to staff augmentation, it is necessary to point out some pros and cons of such cooperation. After all, you've got to stay realistic and understand what to expect from such services. Let's begin with the advantages that team augmentation has to offer: 
Fast access to tech talents
software companies have a wide talent pool, so you will definitely find necessary specialists faster than if you'd looked for them on the market alone. 
Simplified hiring process
staff augmentation companies can guarantee you high quality of hire and high level of employee retention. All you need is to specify your needs and requirements, and the company will do all the job for you. 
Easy upscaling and downscaling
you can scale your team flexibly and expand or reduce it depending on your real need of resources. 
Lower operational costs
you do not need to worry about the salaries of augmented specialists, the taxes or the space where they will work. The company you cooperate with is in charge of all these aspects. You just pay the discussed amount of money according to the specialists' hourly rates you've agreed on. 
High efficiency
the hired specialists will be fully involved in your project, motivated, and they will also delve in your business specificities to ensure successful software delivery.
Control over your project
team augmentation implies that you will have total control over your project while the hired specialists will do all technical jobs and preserve set deadlines.
Faster project start
you can jump-start the development of your project and boost your time-to-market since the onboarding and preparation of selected specialists does not take much time.
It may seem that team augmentation is perfect for every business, however you should not forget that like any other cooperation model it has its drawback. And we think it would be unfair if we'd omitted them.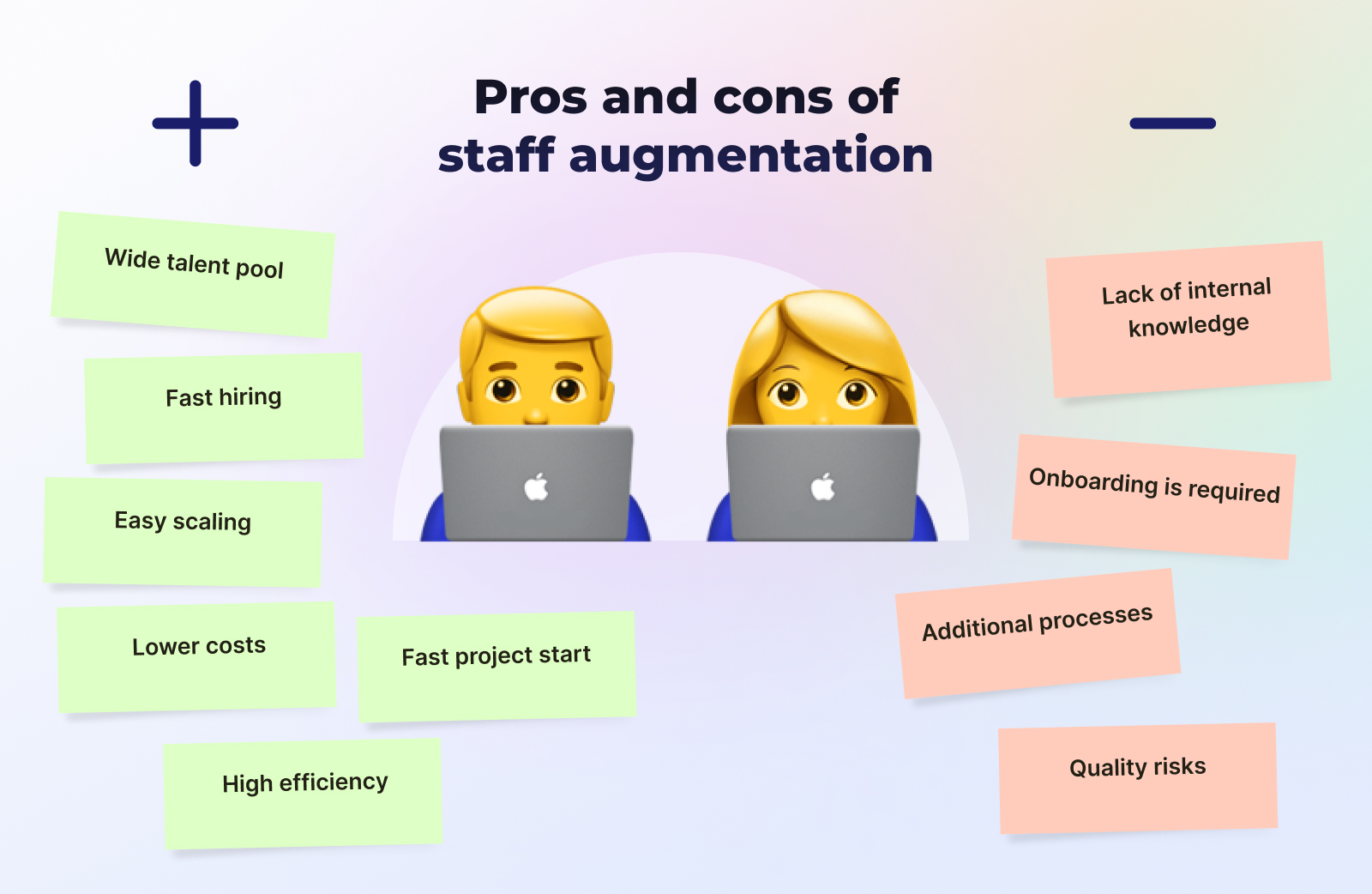 Here are some cons you should take into consideration before you choose team augmentation for your business: 
Lack of internal knowledge
yes, the team offering you services of its specialists will guarantee their involvement, but what it cannot guarantee is that they will have deep knowledge about your business. The technicians will quickly catch up with the coding, but they will need some time to immerse themselves in your business specificities and gain some knowledge from your in-house team.
Onboarding is your responsibility
whether you like it or not, you will have to arrange certain training sessions for your newcomers and put some effort into uniting your core team with the hired part-time specialists.  
Additional processes
you are working with the remote specialists and you also have a company you signed an agreement with. So there will be no communication barrier. The managers will arrange some learning sessions, and there will be some phone calls to discuss your satisfaction and progress of the project.
Quality risks
the project success depends on the effort of all team members, and of course it is sometimes a little bit harder to control remote specialists and establish transparent communication with them. And yet, if the company of your choice is reliable, these issues will never occur.
Additional information
In case you still cannot decide what type of cooperation to choose to develop your custom software, check out our blog posts about
team extension
,
dedicated team
, and
outsourcing
. Perhaps those posts can help you make the right decision. 
Key staff augmentations challenges 
As you can see, team augmentation has more advantages than disadvantages. By using it you can achieve your goals and even get a little bit of extra. However, this outcome is possible only if you do everything right and avoid some staff augmentation challenges. Software development is always a risky and costly venture, so it is always better to start it being well prepared. 
When it comes to cooperation with the augmented team, you should be aware of the certain challenges you can fase. Moreover, you should know how to deal with them and make the overall cooperation fruitful. And that's exactly what we are going to talk about right away.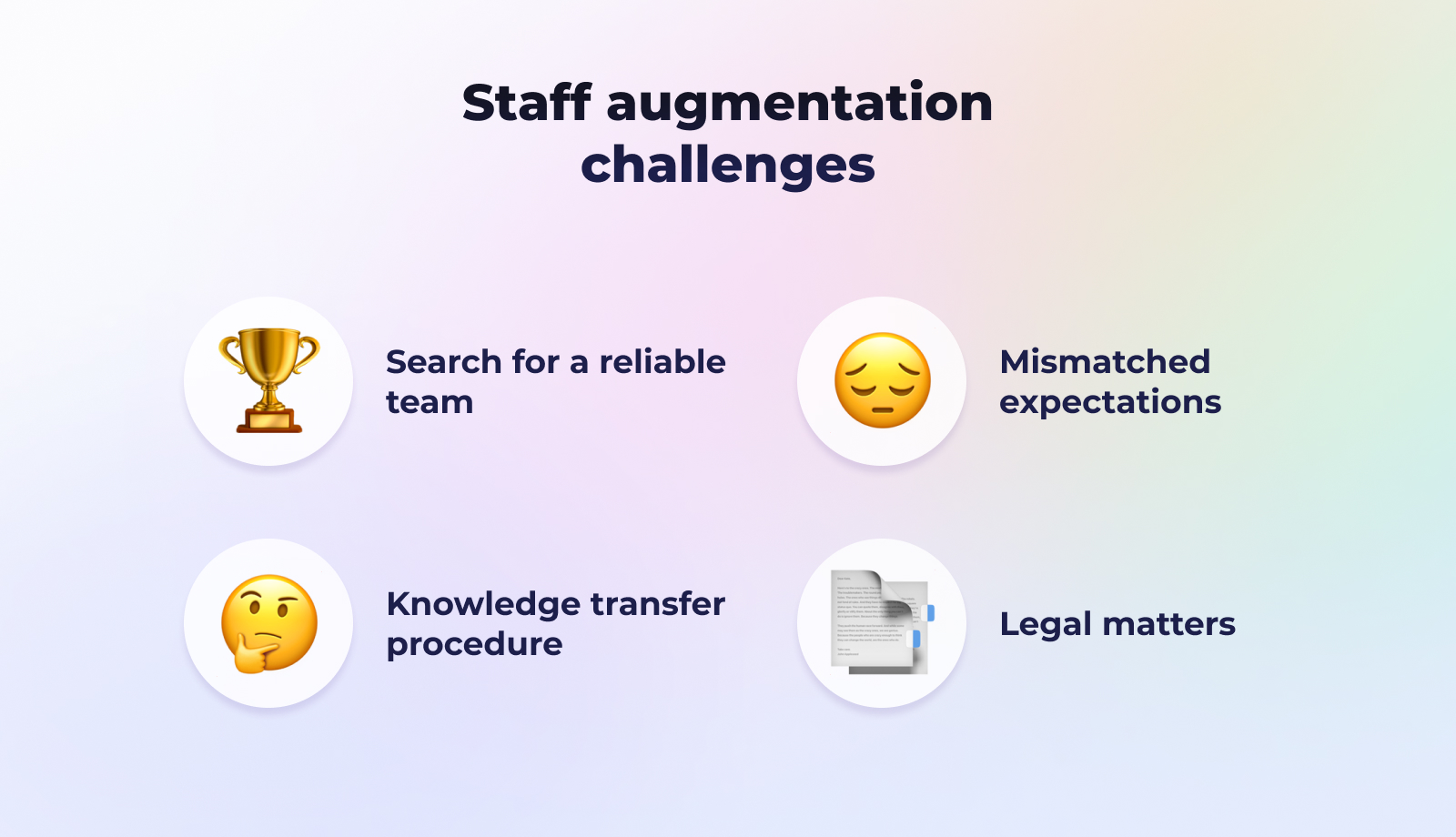 Challenge #1 – finding the right service provider 
The market is overloaded with software development companies. So it can be a major challenge to find the one and partner up with it. Also you may require some specialists of a narrow expertise that are hard to find and whose services cost a lot. When you start looking for an outsourcing vendor you may end up having a lot of questions in your head. What country is the best staff augmentation vendor? What is the appropriate hourly rate for the service of certain developers? How can I know that the company is reliable and responsible? 
Solution
Well, finding the right vendor is really challenging but not impossible. First of all, you need to explore the market and platform that rate companies (like Clutch or Good Firms). Second of all, you need to select several companies, get in touch with them, and check out their portfolio and list of technologies they work with. And last but not least, look trough their success stories and client feedback. 
We would also highly recommend you to ask as many questions as possible and find out the company's recruitment capabilities, standards and regulations they follow, their core values and approach to cooperation with clients, and their domain expertise. 
Interesting fact
Eastern European software engineers are the choice of many business owners. Our experts have completed research and discovered what makes Eastern Europe the best outsourcing destination. Read the results of that research
here
. 
Challenge #2 – arranging knowledge transfer 
Knowledge transfer is the key aspect you should take into account while cooperating with remote developers. It is extremely crucial to ensure proper knowledge transfer at the beginning of the project, preserve it during all development stages and project implementation. To make it possible you need to organize meetings of your team with the remote specialists (i.e. kick offs, planning, retrospectives, etc.). Otherwise you will face organizational waste. 
Solution
While it is the responsibility of the vendor to provide you with the knowledgeable and skilled developers, you also need that vendor to help you with effective knowledge sharing. There should be detailed technical documentation, some clear measurements of progress and success of the project, and of course regular Q&A meetings of in-house and remote teams. In this case you will achieve effective knowledge transfer. 
Challenge #3 – expectations vs. reality situations 
Sometimes stakeholders have to deal with mismatched expectations because they and their team have different ideas about how the end solution should have functioned or looked like. This happens because there is a lack of communication and properly set requirements. Both developers in-house and remote ones spend months on shaping the app idea, polishing its look and enriching it with functions. And sometimes all those efforts are left vastly underestimated. Why? Simply because the client imagined something different. 
Solution
To never face mismatched expectations you need to explain your goals, requirements and needs right at the beginning. Take care of all documentation, set your deadlines, use collaboration tools, create communication schedules and most importantly set right functional and non-functional requirements. Most staff augmentation companies like ours will gladly help you with that. So do not worry, you are not alone in this. 
Challenge #4 – legal issues 
Software development is a serious commitment, and when it comes to cooperation with an outsourcing company, you definitely need a good contract. It is crucial because during the development there can occur various issues such as unpredicted additional bills, compromised security of data, missed compliances of industrial standards. 
Solution
To avoid various legal issues and preserve transparency in your relationship with the vendor, you need to sign all necessary papers starting with NDA and ending with a contract that will include the following: 
Terms of payment and invoicing;

Guidelines for data use

Data protection rules;

Time frames for scaling up;

Clear responsibilities of both parties;

Retributions in case of one-sided contract termination;

Governing laws for interactional contracts, etc. 
Top 3 myths about staff augmentation: Busted! 
Although team augmentation has its challenges, they all can be easily resolved. And while some business owners are ready to face the risks and hire augmented teams, others hesitate to do this because they still believe in certain myths about this cooperation model. 
To make everything clear, we decided to point out and bust those myths. They all are really far from reality but for some reason some forums and Internet sources keep speculating about them. We think it's time to shed some light on this topic.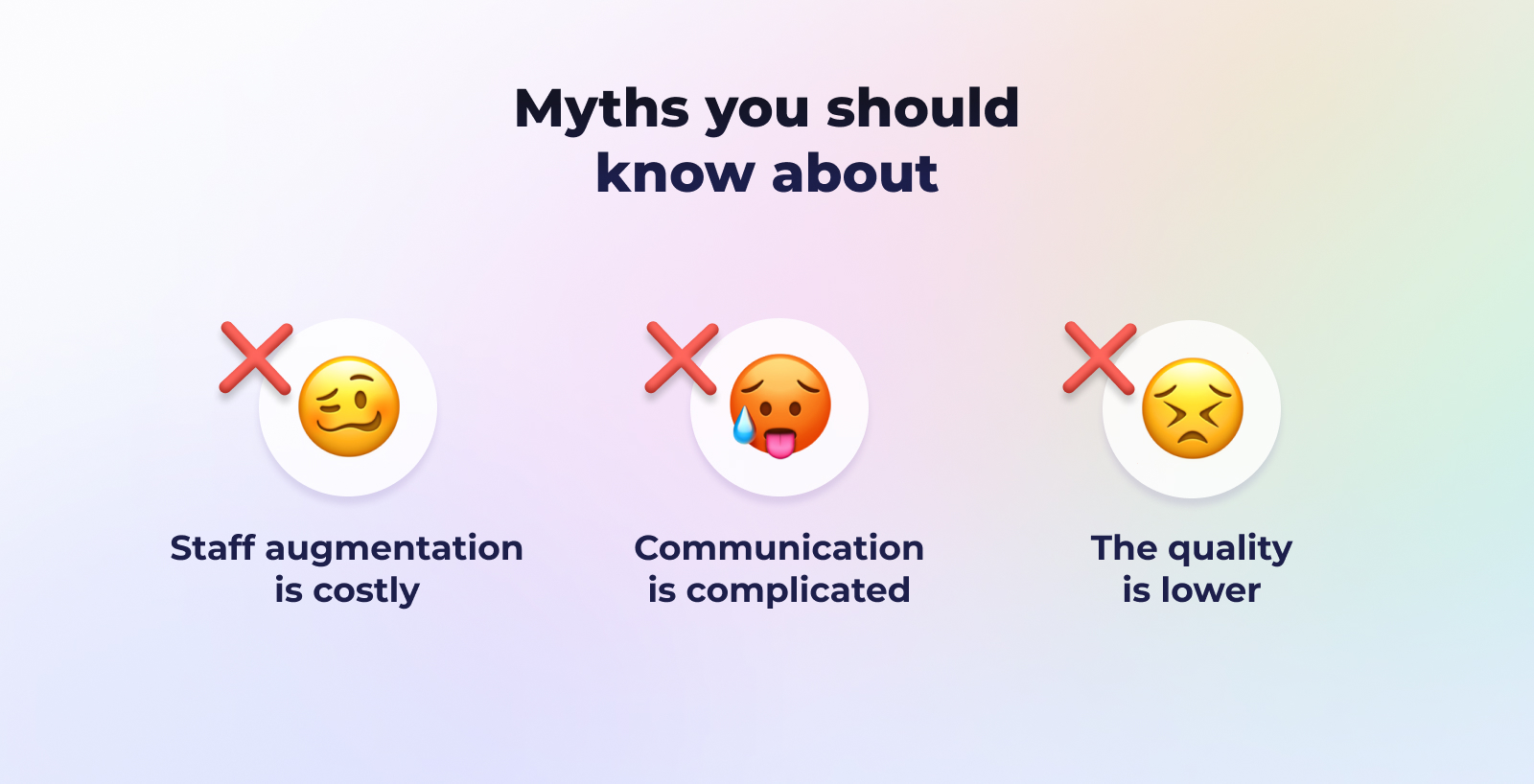 Myth #1 – it's too costly
Most business owners still believe that it is more beneficial to hire permanent in-house specialists than hire temporary ones. They take a look at hourly rates of remote teams, compare them with regular salaries of in-house employees and conclude that it is too expensive. 
However, what all business owners forget about is that all main expenses are covered by the service provider who offers remote specialists for hire. The expenses you can avoid by choosing team augmentation include taxes, legal, developers' employment benefits, social security, and other corporate spending. 
Myth #2 – communication is ineffective 
This is the biggest myth because remote teams have professional communication skills. Your staff augmentation service provider will always make sure that you are on the same page. Plus there are so many tools that make communication seamless. For example, teams like ours use Slack, Google Meets, Zoom and other tools that let us perform video calls and communicate with the client. 
All video calls are scheduled at a convenient time and the schedule of necessary meetings can be rather flexible. So there should never be any communication issues with the remote team. As for project management, traditional outsourcing companies work with common and widely used tools like Jira, Confluence, etc. So it will be easier to track progress, adjust scope of work, get reports, and control your finances. 
Myth #3 – the quality is compromised 
There is a belief that by hiring remote specialists you can get a product of lower quality, experience project delays, have some issues with tech documentation or soft skills of hired developers. In fact, this belief is false. You are not hiring some freelancers that cannot guarantee their knowledge and necessary skills, you are hiring specialists from a reliable software development company. 
The development service provider performs thorough candidate screening, testing and ends up selecting a perfect fit for your particular project. In most cases all candidates go through an interview process, do some test tasks, and also communicate with your tech lead. You can also initiate an introductory call and easily check whether the final choice works for you.  
In most cases hired specialists easily adapt to work in your team and demonstrate more than just satisfying results. They can be initiative, creative and point out some development aspects that were not so obvious to your development team. On top of that, the hired professional will likely use the best coding practices learned while making other projects. And this contributes greatly to the quality of your end solution. 
We are a reliable staff augmentation company 
Our team has been developing custom software projects and helping different companies to augment their in-house teams since 2011. By working with different business industries and teams we have accumulated vast experience and knowledge. So now by cooperating with us you get a reliable partner with tremendous tech expertise and deep knowledge of different business processes. 
We know how important it is to constantly expand our developers' knowledge base, therefore our team often arranges learning sessions for all technical specialists, and performs their evaluations and performance reviews. So you can be sure that you will get specialists of necessary seniority and skillset suitable for your project. 
How we can help you 
You can benefit from several staff augmentation options we offer. For example, you can hire only a couple of specialists that your team lacks or you can benefit from services of a cohesive part of our team (developers, project managers, QA specialists). Whatever option you choose, we guarantee that the whole process of hiring will include the following steps: 
Prescreening

– when we select candidates for your projects, present you them and send you their CVs;

Pre-interview

– you examine the CVs, select the candidates and we arrange your interview where you can ask all the questions, and get acquainted with the technicians;  

Technical interview

– the tech leads from your in-house team communicate with our candidates, offer them test tasks or discuss some technical matters;

Hiring

– you make a final choice, we sign all necessary agreements and the onboarding of the team begins. 
Here at our company, we have a vast technical pool of 100+ tech professionals of different seniority. So you can be sure that if one candidate does not meet your expectations or somehow seems not a perfect fit for your project, we will suggest another candidate. You will definitely get exactly what you need. 
Speaking about our expertise, it is necessary to mention that we work with a variety of advanced technologies the list of which includes but is not limited to: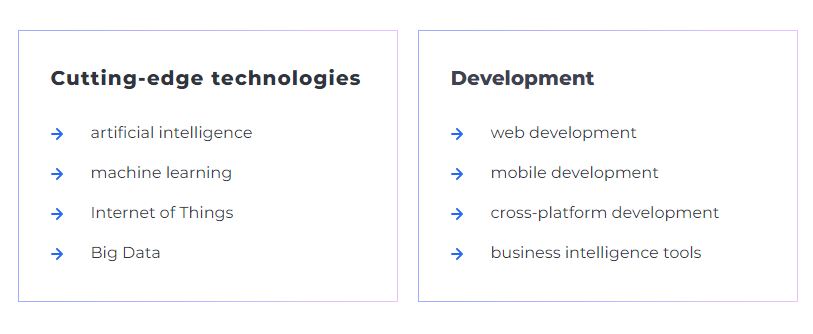 As to our tech stack, you can augment your team with the developers who mastered: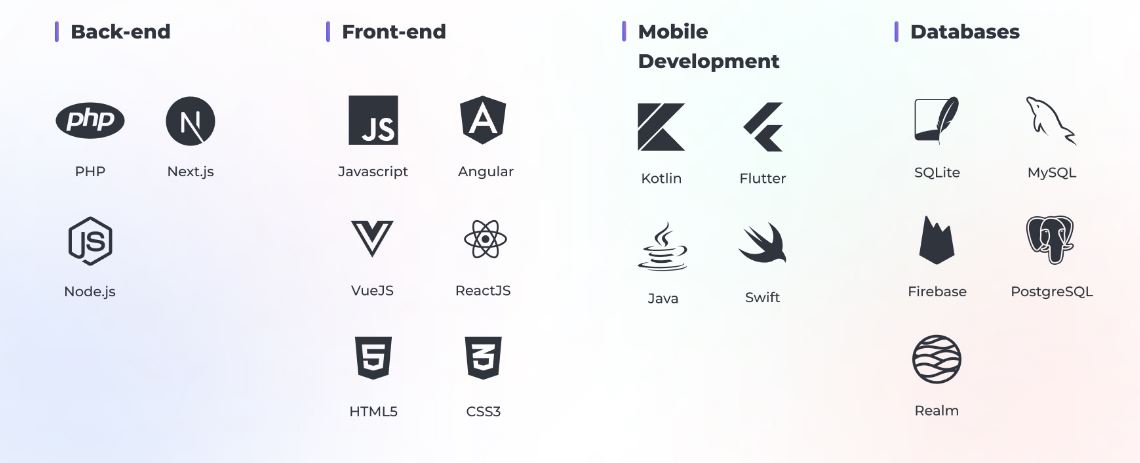 We can guarantee you high quality of hire, easy kickoff, perfect selection of developers, long-term cooperation and assistance with staff onboarding. Whatever development goal you have, we are here to help you. With our team you will definitely not experience any staff augmentation challenges. 
FAQ 
Staff augmentation is perfect for businesses of all sizes that need to scale-up their in-house team quickly, jump-start software development, and speed-up their time-to-market. For such businesses this cooperation model is a perfect way to expand technical expertise, stay within a set budget, and achieve predicted development outcomes. Although there are certain staff augmentation challenges, it is very easy to deal with them and get great results. 
Staff augmentation is the fastest and most effective way to fill in the technical gap and develop a custom solution while having total control over project management, budget and development scope. The company's internal pool of specialists may not be enough, and hiring temporary extra hands is way more convenient and affordable than looking for a permanent team member. By using staff augmentation services you get access to the best and most experienced tech talents in no time. 
The main difference between these main cooperation models lies in project management. In case with staff augmentation, you will be in charge of it, in case with
outsourcing
– your service provider will take all responsibility, risks, etc. You can outsource the whole project to the remote team and get all necessary progress reports. Also staff augmentation is perfect if you have an in-house team, and outsourcing is suitable for businesses that do not have different departments of technicians.
To conclude 
The demand for custom software development will only keep increasing in the upcoming five years. Technologies dictate new rules for businesses, and only those who keep in pace with them achieve incredible business growth. Companies understand new rules and will need to find reliable development teams to build and maintain new business solutions. And those who strive to achieve great end results and cost-effectiveness will resort to team augmentation.
We hope that we managed to bust all popular myths about staff augmentation and explained how you can resolve all common challenges. So now the choice is yours, just make sure you select a reliable staff augmentation partner like Altamira and establish effective communication upfront. 
Let's get in touch and discuss our cooperation options. We have all kinds of specialists who work with advanced technologies, utilize the best practices and follow the latest tech trends.